Issue #503
Issue #503 – 18 December 2014 / 26 Kislev 5775
Confirmed: Josh Nelson, Neshama Carlebach to Appear at CONNECTIONS 2015

Making History: Rabbi Julia Gris Becomes First Woman to Lead a Congregation in Ukraine
Israel's President Hosts North American and Israeli Movement Leaders of HUC-JIR
A SACRED Mission: Female Community Leaders from Different Religious Backgrounds Bond over Common Challenges
Budapest Bound: Rabbi Steve Burnstein Returns from a Most Illuminating Fact Finding Mission
Chag Urim Sameach from the WUPJ Family!

Live from Israel
Spotlight on: Leo Baeck College, United Kingdom
Netzer Notes
Facebook Find: Progressive News You May Have Missed
News Bits
Dear Reader
Confirmed: Josh Nelson, Neshama Carlebach to Appear at CONNECTIONS 2015
The prince and princess of contemporary Jewish Music, Josh Nelson and Neshama Carlebach, will provide the inspirational soundtrack to CONNECTIONS 2015, the World Union for Progressive Judaism's (WUPJ) worldwide celebration of our movement taking place May 13-16 in Rio de Janeiro, Brazil.

Dynamic duo: Neshama Carlebach and Josh Nelson to appear at CONNECTIONS 2015.
One of the most popular performers and composers in modern Jewish music, Josh Nelson has been bringing his powerful message of hope, unity and spirituality to concert stages and worship services across the globe. Josh is a gifted multi-instrumentalist and songwriter who was recently hailed by Time Magazine as a "star of the New Jewish Music." Josh is the music director for the Union for Reform Judaism (URJ) Biennial Convention.
Neshama Carlebach began singing with her father Shlomo Carlebach when she was 15 years old. Like her father, Neshama's talent and charisma captivate and endear her to people of all ages, faiths and backgrounds. She has performed and taught in cities worldwide, has sung on the Broadway stage, has sold more than one million
records. Neshama was one of the creators of the Broadway play "Soul Doctor", which stars Josh Nelson in the title role of Shlomo Carlebach.

At CONNECTIONS 2015, this dynamic duo will serve as scholars in residence for the musicians at the conference, who will provide the moving musical backdrop for the entire event. Carlebach and Nelson will also be conducting a workshop called 'Music for the Soul' that will explore the most stirring elements of traditional Jewish music. In addition, Nelson and Carlebach will take part in the highly anticipated Lashir Benefesh seminar, tailored for cantors and musicians from the Latin American region. For two days, seminar participants will learn, work, share, create and inspire each other, focusing on enhancing their repertoire and skillset.

CONNECTIONS 2015: embracing simcha, soul and solidarity!
Guided by such musical luminaries as Josh Nelson and Neshama Carlebach, seminar attendees will undoubtedly create some wonderful music together, wrapping the entire conference in a warm, welcoming musical envelope.
Start planning your CONNECTIONS 2015 itinerary: view the list of planned sessions.
Ready for Rio? Online registration for CONNECTIONS 2015 is now available!
Making History: Rabbi Julia Gris Becomes First Woman to Lead a Congregation in Ukraine
On December 7, 2014, Rabbi Julia Gris was officially inducted as the first female leader of a Ukrainian community, Temple Emanu El Progressive Congregation in Odessa. Ukraine's Chief Reform Rabbi Alexander Dukhovny performed the induction ceremony.
Previously, Julia had spent nine years with the community, working as a para-rabbinic leader.

New leader emerges: Rabbi Julia Gris at Temple Emanu El Progressive Congregation, Odessa.
Julia was born and raised in Bryansk, Russia, where she studied at the State Pedagogical University, majoring in IT management.
Julia's WUPJ roots are deep, having attended the World Union for Progressive Judaism's Machon (the Institute for Modern Jewish Studies).
Sacred moment:

Ukraine's Chief Reform Rabbi Alexander Dukhovny

and Rabbi Gris.
During her second year at the Machon, Julia worked at the movement's Reform congregation in Omsk. Her road to the rabbinate then brought her to Odessa, where she became a founding member of the Temple Emanu El Odessa Progressive Congregation.
In 2009, Julia enrolled in the rabbinic program at Leo Baeck College in London. During her studies, she worked in various communities in England, receiving spiritual training in the process.

L'Chaim!

Temple Emanu El

congregants toast their new rabbi, Julia Gris.
Five years later, Julia was officially ordained as a rabbi, having successfully completed a full course of study at Leo Baeck and King's College in London.
According to the Chair of Temple Emanu El Progressive Congregation Viktor Zonis, a rabbi's role is "…not that of a mediator between man and God, not the author of ultimate truth, nor the one who intends to punish sinners in the name of the Almighty. A rabbi is a teacher."
As such, the World Union wishes Julia much success and personal satisfaction as she officially begins her service to the Jewish People as a rabbi, a teacher.
Israel's President Hosts North American and Israeli Movement Leaders of HUC-JIR
On November 11, Israel President Reuven Rivlin hosted over fifty North American and Israeli Reform movement leaders on the Board of Governors of Hebrew Union College-Jewish Institute of Religion (HUC-JIR) at his residence in Jerusalem. Led by HUC-JIR President Rabbi Aaron D. Panken, Ph.D. and Chair of HUC-JIR's Board of Governors Andrew R. Berger, this was the largest delegation of Reform Movement leaders to meet President Rivlin to date.

A presidential welcome: Reuven Rivlin (center) hosts movement leaders.
President Rivlin welcomed the delegates and said, "I can say to all of you, we are one family and the connection between all Jews, all over the world, is very important to the State of Israel. I welcome you here, and want to tell you that I know so many Jerusalemites now that are grandfathers and grandmothers, and only came here to study at the Hebrew Union College, but have now been here for three generations."

HUC-JIR President Rabbi Aaron Panken, PhD. and Israel's President Rivlin.
In greeting the President, Rabbi Panken stated, "We are here to sustain and build the connection between North American Jewry and Israel. We are here to demonstrate our solidarity with the people and State of Israel and express our support for many of your efforts. In your days as President, you have shown true leadership in the areas of rights for the Arab citizens of Israel, reconciliation between diverse groups, and consideration of those in Israeli society who need help."
Among the delegation were Union for Reform Judaism (URJ) President Rabbi Rick Jacobs; Central Conference of American Rabbis (CCAR) President Rabbi Richard A. Block and the Dean of HUC-JIR's Jerusalem campus Rabbi Naamah Kelman, the first woman rabbi ordained in Israel.


A SACRED Mission: Female Community Leaders from Different Religious Backgrounds Bond over Common Challenges
On November 23, the South African Centre for Religious Equality and Diversity (SACRED) presented a program titled "The Role of Women in Religious Leadership." Representatives of Protestant, Baha'i and Cape Town's Open Mosque joined Bet David Jewish Congregation's Rabbi Julia Margolis.

Sweet sounds of religious harmony: SACRED 2015, South Africa.
In her keynote address, Rabbi Margolis pointed out the difficult road to acceptance as a Jewish leader—a path made easier by the role-model provided by her mother, Rabbi Ylena Rubinstein and earlier women rabbis including Regina Jonas. Rabbi Margolis and her mother are the first known mother-daughter rabbinic dynasty.

Pillars of interfaith dialogue: SACRED 2015 speakers.
Zaakhira Akram, a practicing lawyer, represented the now two-month old Open Mosque. She spoke with passion of the shifting social norms the innovative Mosque represents, in which females enter, pray, study and lead alongside men. Her mention of a perceived obligation for practitioners of Islam to blend into their surrounding society, bared a close resemblance to the beginnings of Progressive Judaism in the 19th century.
A common theme amongst the three main Abrahamic religions was that many of the obstacles in the path to full acceptance of female religious leaders derive not from foundational texts, but from later interpretations.

Teaching tolerance: SACRED 2015.
Another theme was the vital importance of female education, which was highlighted by Khwezi Fudu Cenenda, from the Baha'i Office of Public Affairs. The session revealed that each of the represented faith communities has reached a different stage regarding the roles women take and the acceptance of female leadership.
The SACRED discussion was moderated by Reeva Forman and featured a musical interlude by Rabbi Saar Shaked and Rev. Lutz Ackermann, of the Lutheran Church of Peace in Hillbrow.
SACRED is one shining example of the Progressive Movement's dedication to the principle of Tikkun Olam. In recognition of the vital Tikkun Olam programs being developed and implemented by Progressive communities around the world, the brand new Rabbi Richard G. Hirsch International Social Action Award was created to honor World Union for Progressive Judaism (WUPJ)-affiliated congregations and organizations outside of North America that put Jewish values to work.
Know about a social action program that is changing lives?
Learn more about the Rabbi Richard G. Hirsch International Social Action Award today.

From November 20 to 25, Director of the Saltz Center, Rabbi Steve Burnstein, worked with our Progressive communities in Budapest in a collaborative project with the European Union for Progressive Judaism (EUPJ). The initiative is designed to help strengthen Progressive Judaism in Hungary by providing a rich educational experience with a focus on leadership training, Progressive Judaism and Progressive Zionism.

Bright future ahead: Budapest's Progressive Jewish community assembles.
In the first phase, Rabbi Burnstein met with rabbis and leaders of both WUPJ-affiliated Progressive communities, Szim Shalom and Beit Orim, as well as other local rabbis and leaders who share our Progressive Jewish values. Rabbi Burnstein led a number of programs including Kabbalat Shabbat, Havdalah, and an Israel Update. He then facilitated a joint meeting of the leadership of local congregations to establish a framework for working together on phase 2: a spring seminar with the goal of creating an action plan for engaging young Jewish adult Hungarians in Progressive Judaism.

Class is in session: Rabbi Steve Burnstein leading a discussion with community members.
Reflecting on his visit, Rabbi Burnstein commented: "I was overwhelmed with the richness and diversity of Jewish life in Budapest. Further, our local Progressive communities are blessed with devoted lay and professional leadership who have built strong, albeit small, welcoming communities. They have established a solid foundation on which to build for the future. The Progressive Jewish communities of Budapest have tremendous potential to engage Jewish youth, young adults and young families in a meaningful Jewish life.

Progressive Rock: Rabbi Burnstein performs for Budapest's Bet Orim congregation.
"I believe that we are on the cusp of a significant leap forward strengthening the presence and impact of Progressive Judaism on the 100,000 strong Jewish community of Budapest. With the expertise and resources of the EUPJ and WUPJ, working in close partnership with our local communities, I am confident we can move forward with great success."

The project is funded in part through the generosity of the Roswell Fund for Central Europe.

Chag Orim Sameach from the WUPJ Family!
Spreading the Light of Progressive Judaism, by Rabbi Steve Burnstein
During this time of year when the days are short, we welcome our Festival of Lights, adding new meaning to the ageless story of the Maccabees. In our struggles for freedom, we find courage, strength and power in the blessing of community.

In a world darkened by racial prejudice, religious discrimination, bias based on sexual orientation, and fear of the other, may the flames we kindle on the Chanukah menorah shine the light of peace, and increase warmth, love, and understanding in our lives.
הנרות הללו אנו מדליקין על הניסים והנפלאות
We kindle these lights to recognize the wondrous miracles of life
With warm wishes for a joyous and bright Chanukah.



Live from Israel
The World Converges in Jerusalem: Netzer Prepares for its Annual Conference
The WUPJ's global youth movement Netzer Olami is currently putting the final touches on its highly anticipated annual conference, to be held in Jerusalem, from January 15 to 21, 2015.

Jerusalem Inspiration: Netzer Olami's annual conference, January 15-21, 2015.
Each country in which Netzer is represented will sendone or two delegates, usually elected movement leaders, to the gathering. Once in Israel, Netzer representatives from around the world will discuss issues of common concern to the worldwide movement, deciding on an effective course of action for the year ahead.
Without a dedicated Education Coordinator currently on staff, the entire Netzer team has taken upon itself the organizing and managing of the upcoming Veida Olami (worldwide conference). Their efforts and talents will no doubt bear fruit: a smooth running, compelling and ultimately successful conference.


Serving Justice: IRAC and WUPJ Join Forces to Present a Seminar for Legal Professionals
Between March 22 and 25 2015, the WUPJ's Anita Saltz International Education Center and Israel Religious Action Center (IRAC) are offering eligible participants an utterly unique opportunity to visit Israel and grapple with some of the pertinent legal issues being faced by Israeli society. This extraordinary seminar will bring participants into contact with inspiring Israeli attorneys, judges, leaders and activists.

Woman of the Wall: Anat Hoffman will be speaking at the Seminar for Legal Professionals.
Some of the seminar's highlights include an Opening Dinner with Executive Director of the Israel Religious Action Center, Anat Hoffman and a presentation by Israel Supreme Court Justice (emerita) Dalia Dorner on Israeli democracy.
For complete registration details about the Seminar for Legal Professionals, please visit the Saltz Center website today.
Stay tuned for complete details about the Saltz Center's exciting webinar series: 'Dateline Everywhere: Latest News from the Progressive Jewish World'
R4R 12 is just around the corner! The Israel Movement for Reform and Progressive Judaism (IMPJ) is once again organizing an event that will provide an opportunity for Israelis to visit Reform and Progressive communities, enjoying the beautiful scenery that Israel has to offer along the way.


The route of the ride will include the width of the Galilee, passing through the Carmel region and Emek Jezreel.
In addition, this year's 'light' route has been made easier, enabling more people to participate. Combined with the original 'challenging' course and the walking track, the R4R event is suitable for all levels of riders and walkers.
For the first time in its history, the ride will take place in April. R4R participants will be hitting the road on April 26. Riders will be crossing the finish line, located at the Sea of Galilee, on April 30. For more information about the route click here.
Ride 4 Reform is pleased to provide this poster of the event that you can print and hang in your community. In addition, this handy e-mail version of R4R can be quickly forwarded.
For more information, kindly send your questions here.
For Art's Sake: New Beit Shmuel Exhibit Explores Israeli Landscape
Beit Shmuel-Mercaz Shimshon, the World Union for Progressive Judaism's headquarters in Jerusalem, recently premiered its latest well-received exhibit, 'From Where I Stand' that convincingly communicates how the energy of the outdoors resonates with artist Zavi Apfelbaum.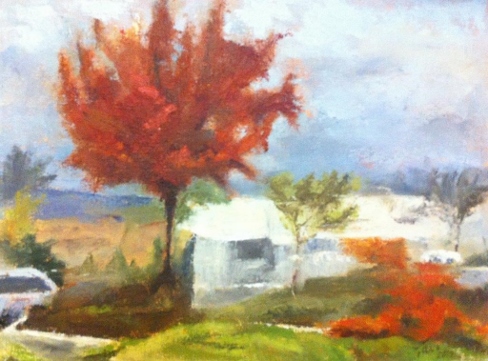 The subject of her work reflects the artist's immediate environment in the community where she lives, as well as landscapes across the country. The majority of the work begins outdoors, while observing the landscape. In addition to the local landscape, the exhibition includes some landscapes from European cities such as Paris and Venice.
Zavi Apfelbaum was born in the US and raised in Los Angeles. She is a graduate of Columbia University in New York having earned degrees in both Visual art and Psychology and holds a Master's degree in Journalism and Communication from the Hebrew University. She immigrated to Israel in 1990, and has served at the Israeli Ministry of Foreign Affairs for the past 20 years.
Over the years, she has studied with various Israeli artists including Jan Rauchwarger and Israel Hershberg.
Spotlight on: Leo Baeck College, United Kingdom
Leo Baeck College is a pre-eminent WUPJ-affiliated institution of Jewish scholarship and learning that is open to all. Leo Baeck College combines inspirational, high caliber teaching with a commitment to enriching the intellectual and spiritual lives of the Progressive Jewish Community.
Scheming Buddies: Leo Baeck Students to Participate in Christian-Jewish Dialogue Program
The Council of Christians and Jews (CCJ) has launched a new program to pair Jewish rabbinic students and Christian trainee ministers in a 'buddy scheme.' The initiative, which the CCJ has pioneered in partnership with the Leo Baeck College, was launched at Lambeth Palace on October 6, where the participating students were introduced to their 'buddies'.

Friendships begin here: launching of the 'buddy scheme', Lambeth Palace, London.
Principal of Leo Baeck College Rabbi Deborah Kahn-Harris, who attended the launch, said to the students: "What I hope each of you will gain from this opportunity is not just someone to phone to find out about things, but that each of you will become a blessing in each other's' lives."

Ten students from each faith will participate in the program in its first year. The 'scheme' aims to provide a new channel for interfaith dialogue for rabbis and ministers in training, which is currently only a small part of the curriculum for both Jewish and Christian future community leaders.
CCJ's Fiona Hulbert and the Dean of Leo Baeck College Rabbi Charles Middleburgh will administer the course.
There is still some time to sign up for Leo Baeck College Lehrhaus 2015.
Looking to feed your enthusiasm for Progressive Jewish learning? Do you have an unquenchable desire to discover yourself in Judaism and Judaism in yourself?
If so, then you should consider studying at the Leo Baeck College Lehrhaus.
All the courses are taught by Leo Baeck College's faculty: teachers who are both passionate about their subject and deeply knowledgeable.

2015 course offerings include:
| | | | |
| --- | --- | --- | --- |
| Biblical Hebrew with Dr Alinda Damsma: Tuesday evenings from January 27 to March 24 2015 | Spinoza's Jewish Philosophy with Rabbi Mark L. Solomon: Tuesday evenings from February 3 to February 24 2015 | Jewish Sacred Music (Nusach, melodies and text) with Dr Annette Boeckler: Wednesday evenings from February 4 to March 25 2015 | Why did God Laugh? Introductions to Midrash with Rabbi Colin Eimer: Tuesday evenings from March 3 to March 24 2015. |
Questions? You are encouraged to contact Jarek Lodzinski
Busy Winter: A Summary of Netzer's Recent Activities
The 13 participants in Netzer's most recent 10-month gap program ('Shnat'), the Southern Hemisphere group, concluded their adventure in mid-November. Most of these young men and women are back home in Australia, preparing for their new roles as leaders and Madrichim in upcoming summer camps.
The 25 participants of the Northern Hemisphere program that started their Shnat program in October have completed an intense, rewarding month of bonding. The group is comprised of participants from Britain, USA, Canada and Germany.

Northern shadows: Shnat participants in Carmiel, December 2014.
The group has since split into two, with 11 staying on at Kibbutz Lotan and 14 others temporarily leaving their new friends down south for the northern Galilee city of Carmiel, for two and a half months of volunteering.
Meanwhile, the Masa program, based in Jerusalem, began in September. This year, the group is comprised of five participants, the majority of whom are from Ukraine. Most of the Masa participants are veteran movement leaders who intend to return home and take upon themselves missions of leadership in the FSU.
Facebook Find: Progressive News You May Have Missed
Shanghai Jewish Communities Come Together to Aid Family of Fallen Israeli Solider
On July 17, Israel Defense Forces (IDF) Officer Kasahun Baynesian was killed when his brigade's jeep was struck by an anti-tank missile fired by terrorists from Gaza. Three of Kasahun's fellow soldiers also perished in the attack. What exacerbated this tragedy is that Kasahun's wife, Galeitu, was nine-months pregnant with the couple's fourth child when her husband was killed.

A hero's death: IDF Officer Kasahun Baynesian, Z"L.
In response, Kehilat Shanghai launched an initiative to support the widow Galeitu and her four young children. The Kasahun family had immigrated to Israel from Ethiopia and currently live in Netivot - a small town in the south of Israel.
Kehilat Shanghai's goal was to present a substantial financial contribution to the Kasahun family in an attempt to secure, at least in part, its financial future.
The result? Just in time for Hannukah, each of Kasahun Baynesian's four children received a sum of NIS 15,000, sent to four separate accounts that had been opened shortly after Kehilat Shanghai organized this inspirational example of Tikkun Olam.
Read the whole incredible story here!
Australia's Moetzah Chair Meets with WUPJ Leaders
Rabbi Adi Cohen, the new chair of the Moetzah - the Rabbinic Council of Progressive Rabbis in Australia, New Zealand and Asia - recently met with leaders of the Progressive movement during a trip to Israel.
Rabbi Cohen, leader of Temple David, the Progressive Synagogue of Perth, Western Australia, spoke with WUPJ VP and COO Shai Pinto about ways to bolster the connections between the Moetzah and the World Union.

The Moetzah meets the WUPJ: Rabbi Adi Cohen (right) and Shai Pinto.
WUPJ leaders in Jerusalem and Rabbi Cohen also analyzed the current state of educational programming, content support, financial resources and the need to strengthen the support network provided to Progressive rabbis around the world.
Rabbi Cohen also had the opportunity while in Israel to meet with representatives from MARAM, the Israeli Council of Progressive Rabbis, HUC-JIR and the IMPJ and discuss initiatives aimed at addressing issues of common concern.


Now Accepting Applications: Hillel and Ernst Ludwig Ehrlich Sponsorship Program (ELES)
The International Jewish campus organization Hillel has expanded its global footprint into Germany, Austria and Switzerland with the aim of strengthening Jewish identity, Jewish life and building bonds with Israel.
A partner in this endeavor is the Ernst Ludwig Ehrlich Scholarship Fund, under the leadership of Rabbi Walter Homolka, Rector of the WUPJ-affiliated Abraham Geiger College.

Strengthening Jewish identity in Europe: Rabbi Walter Homolka (l) at Hillel launch.
The program will bring Jewish and pro-Israel programming to more than 1,000 students, a 150 percent increase over the 400 students presently served by ELES alone.
ELES requirements: above-average academic performance, social commitment, knowledge of German, membership in a Jewish community, studying at a German university.
The application deadline is January 1. Considerable financial aid is available, including support for PhD studies.
Go to the Ernst Ludwig Ehrlich Studienwerk website for complete details.