Issue #497
Issue #497 – 18 September 2014 / 23 Elul 5774
Featuring

Welcome, Mr. President: Rabbi Daniel Freelander Assumes Role as WUPJ Chief

CONNECTIONS 2015 Goes Live!

Going to Press: New Progressive Siddur for Poland
Israel Up Close: Bergman 2014 Seminar for Progressive Jewish Educators
Spotlight On: Rabbi Julia Margolis
Community in the News:

Breaking News: UK's Liberal and Reform Movements Form Progressive Jewish Alliance

Holocaust Survivor, Resistance Fighter, US Congressman: Tom Lantos Synagogue to be Dedicated in Budapest, Hungary
Live From Israel:

Something's Happening in Jerusalem: Young Professionals Flock to
'Urban Midrash'

Chag Sameach! Celebrate the High Holidays with Israel's Reform Movement

Ernestina's Journey: New Beit Shmuel Exhibit Focuses on One Life, from Birth to Death
Netzer Notes:

Inspiring Adventure: For Ella Grodzinski, Repairing the World Begins in Amsterdam

!Job Hunting? Netzer Wants you

Countdown to CONNECTIONS 2015:

My ARI: Marina Ventura Gottlieb

News Bits:

Torah's New Home: All WUPJ Commentaries Moved to One Online Location

Dear Reader

Upcoming Events


Welcome, Mr. President: Rabbi Daniel Freelander Assumes Role as WUPJ Chief
On September 1, Rabbi Daniel Freelander officially began his tenure as President of the World Union for Progressive Judaism (WUPJ). Rabbi Freelander had previously served the North American Union for Reform Judaism (URJ), beginning his career in 1975 and rising to Senior Vice President.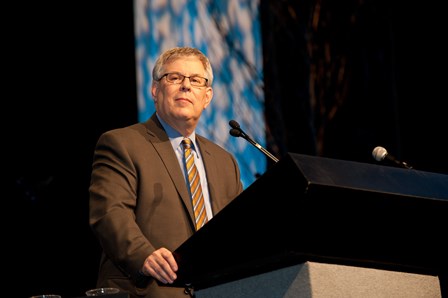 New Era Begins: WUPJ President Rabbi Daniel Freelander.


WUPJ's new chief executive did not waste any time, beginning his presidency with a journey to Wroclaw, Poland (Breslau). There, he participated in Abraham Geiger College's ordination of new Rabbis and Cantors who will serve Progressive congregations across Europe.

Next, Rabbi Freelander arrived in Israel, where he spent a couple of weeks with the staff at WUPJ's worldwide headquarters in Jerusalem. While in Israel, the president learned about the inner workings of the international Movement.

Regarding the centrality of Israel to the Jewish people, this tenet of the WUPJ mission will remain unchanged. According to Rabbi Freelander, "… we are putting a stake in the ground to build up progressive Judaism in Israel."

With the move from the URJ to the WUPJ, Rabbi Freelander's responsibilities have changed from national to international in scope, and from the Reform movement in particular to the larger Progressive Jewish world, of which Reform Judaism is but one, albeit significant, stream.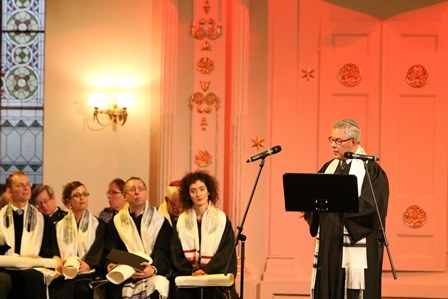 WUPJ President Rabbi Daniel Freelander Speaking to Geiger College Graduates.


Rabbi Freelander is a native of Worcester, MA, and hold degrees from Trinity College, Hartford, and the Hebrew Union College–Jewish Institute of Religion (HUC-JIR) in New York. He serves on the boards of the Zamir Choral Foundation and Odyssey Networks, an interfaith media group.
Rabbi Freelander is married to Rabbi Elyse Frishman, editor of the Reform siddur Mishkan Tefilah, and rabbi of the
Barnert Temple
in Franklin Lakes, NJ. They have three adult children and live in Ridgewood NJ.
Learn more about WUPJ President Rabbi Freelander here.
Stay tuned for Rabbi Freelander's inspirational Rosh Hashanah message!
Back to Featuring


CONNECTIONS 2015 Goes Live!
The Progressive Jewish World Meets in Brazil in 2015: See You There and Then!

The WUPJ is pleased to announce the launching of the dedicated CONNECTIONS 2015 website, www.wupjconnections.org.
With one click, you can discover much of what we have in store for you at WUPJ's 37th biennial international convention, taking place in the 'Marvelous City' of Rio de Janeiro, Brazil.
The CONNECTIONS 2015 website will give you a tour of the global celebration that we have planned: unique hands-on Tikkun Olam activities in the Favellas of Rio, inspiring keynote addresses, workshops, discussions, Beit Midrash study opportunities and more!

Time to Celebrate: CONNECTIONS 2015, Rio de Janeiro, Brazil, May 2015.
The CONNECTIONS 2015 website is your portal to discovering the best of Rio. Learn about our programmed Rio city tours; fall in love with ARI , the leading Reform congregation in Rio; enjoy first class Latin American entertainment, and the most uplifting international Shabbat celebration observed anywhere in the world.
CONNECTIONS 2015 is your gateway to an exciting Latin American adventure, with options available for pre and post conference tours. Or, you may want choose to join our group mission to Argentina and get to know the unique Fundacion Judaica family of Buenos Aires, the legendary 'Paris of South America'.
Or, you may mix and match as you so desire.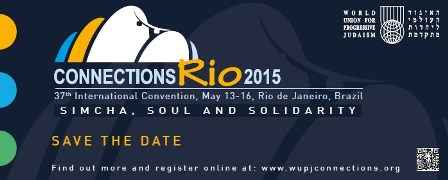 Latin American textures will infuse CONNECTIONS 2015 with a look, feel and sound that is simultaneously familiar and refreshingly exotic. How does
Havdalah
on Copacabana Beach sound? How about Ivrit at the Sugarloaf?
Tune in to the unique rhythms of the Latin American Reform Jewish community by visiting the CONNECTIONS 2015 website today!
Simcha, Soul and Solidarity have never been closer!
Going to Press: New Progressive Siddur for Poland
Beit Polska is proud to announce the publication of a historic prayer book for the Union of Progressive Congregations in Poland, Siddur Bejt Polin.
This is a milestone in the renewal of Polish Jewry. For over two years, congregants from local Progressive communities have used this prayer book as a springboard for learning, discussing, and debating the great issues of the day.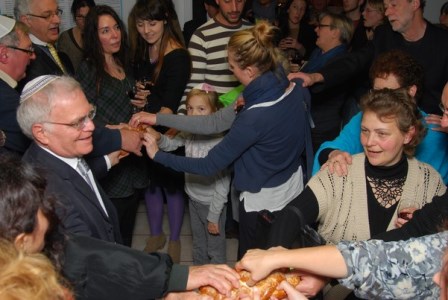 Much to Celebrate: Rabbi Gil Nativ, Leader of Beit Warszawa, Flagship Congregation of Beit Polska.
This siddur is the first Progressive prayer book to be published since before World War II. The prayer book is gender sensitive, an innovative idea in Polish religious life. The siddur features a contemporary Polish translation to Hebrew and transliteration. Siddur Bejt Polin contains Shabbat and festival prayers as well as home ceremonies.
This beautiful series of readings and meditations will hopefully lead people back into prayer.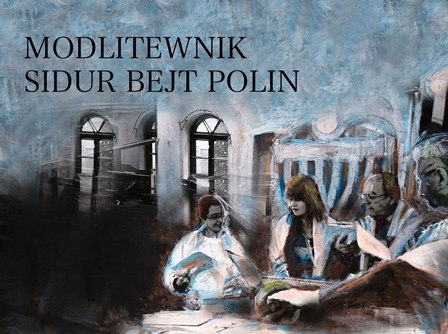 Polish Jewish Renaissance: Progressive Prayer Book: Soon to be Published.
A unique feature of this prayer book will be internet links to essays in Polish about the history and development of the siddur. Editors of the prayer book are Rabbis Gil Nativ and Burt Schuman. Translators include Katka Mazurczak, Joanna Auron-Gorska, and Marek Jezowski.
Supported by the WUPJ, nine Progressive synagogues in Poland have come together to form Beit Polska.
Learn more about Beit Polska and the Jewish renewal flowering in Poland here.

Back to Featuring


Israel Up Close: Bergman 2014 Seminar for Progressive Jewish Educators
(Part III)
By Rabbi Steve Burnstein, Director
Anita Saltz International Education Center

In the last edition of the WUPJ Newsletter, we met the Bergman Seminar participants as they explored the museums of Jerusalem and the street art of Tel Aviv. Now, the memorable conclusion…
Part III: Digging Archeology, Witnessing Coexistence
"…We visited the Zippori (Sepphoris) archaeological site with senior educator Sigalit Ur of the Galilee Foundation for Value Education. There we addressed the evolution of Judaism and its dialogue with other cultures while learning how to effectively use an archaeological site as an educational tool.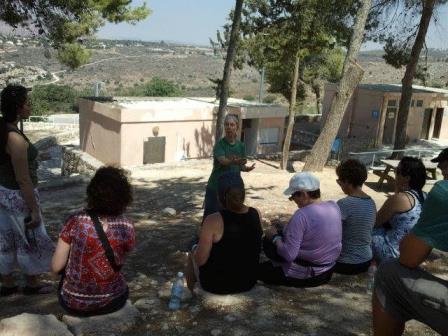 Archaeolo

gy

as Education: Sigalit Ur Talking to Seminar

Participants

At Zippori.
One of the highlights of the seminar was the Galilee Arab-Jewish Youth Circus. Here, we learned that while the "Circus will not bring peace to the Middle East, it can help make dialogue possible by reducing fears, lowering barriers, and building trust."
During the final evening of the Seminar, we celebrated Havdalah next to the beach on in southern Tel Aviv. We stood close together, protecting the candle from the wind, and began singing. A small group of Arab children who were picnicking nearby with their families came to see what we were doing. Our seminar participants welcomed them into our circle as we sang and swayed, arms around one-another. The children smiled, joining in as we sang Shavuah Tov.
Seminar

Participants

Look Through the Archives at the Palmach Museum in Tel Aviv.
Together with our young Arab "cousins", we made a connection. Looking at the flame reflected in their and our eyes, we saw a spark of the divine – and a spark of hope – in each of us.
The Bergman Seminar for Progressive Jewish Educators is sponsored by the Bergman brothers, Stanley, a longtime supporter of Progressive Jewish causes, and Leslie, President of the European Union for Progressive Judaism (EUPJ)."


Spotlight On: Rabbi Julia Margolis
On September 2, in the city's first rabbinic ordination since before World War II, four rabbis and three cantors were ordained at a ceremony in the White Stork synagogue in Wroclaw, Poland.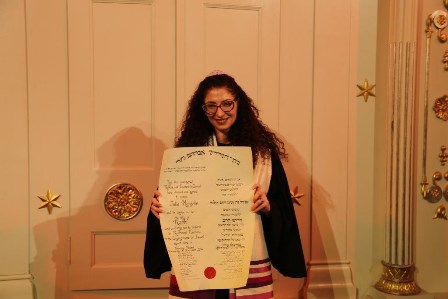 Welcome Johannesburg's Newest Rabbi: Julia Margolis.
At the ordination ceremony, held in the former home of the German Theological Seminary, Julia Margolis of Johannesburg received her Smichah from Potsdam-based Abraham Geiger College, becoming the first woman ordained in Poland.

It must be in the genes: Rabbi Margolis's mother is also an ordained rabbi, Helena Rubinstein, who serves the Progressive community in St. Petersburg. The phenomenon of a mother-daughter team of rabbies is exceedingly rare. Even more extraordinary, Helena Rubinstein was the first Russian-speaking female rabbi to be ordained in Jerusalem.
Rabbi Margolis was presented to Geiger President Rabbi Walter Jacob by her mother and Congregation Bet David's Rabbi Robert Jacobs, who shared in her training in Johannesburg.

Behind Every Great Rabbi is a Great Team of Family, Friends and Spiritual Guides.
Rabbi Margolis will return home to South Africa, where she will embark on what promises to be a significant career as a community and spiritual leader.
The historic event coincided with numerous significant anniversaries including the start of World War II on September 1, 1939: the 140th Yahrzeit of the seminary's namesake, Abraham Geiger, and the 15th anniversary of the Geiger College, Germany's first Rabbinic training institution after the Shoah and a member of the WUPJ.
Read more about each Geiger College graduate here.

Community in the News:

Breaking News: UK's Liberal and Reform Movements Form Progressive Jewish Alliance
The Liberal Judaism (LJ) and the Movement for Reform Judaism (MRJ) announced on September 18 that they have launched an alliance between their two movements. Already accounting for nearly a third of synagogue-affiliated Jews with 82 communities, the UK's two Progressive movements are seeking to capitalize on the 30% growth in those identifying themselves as sharing their values.

The alliance will see an expansion of collaboration between the two movements in areas such as student chaplaincy, social justice and social action. It could also involve a strengthening of existing joint work such as rabbinic training, gap year programming and representation on Israel, cross-communal and other institutions. The alliance will see a sharing of resources and expertise across the two movements, wherever practical.

Rabbi Danny Rich
, Liberal Judaism's Chief Executive, said on Thursday that "The biggest dividing line in British Jewry is no longer Orthodox or Progressive, but religiously engaged or secular. We believe that, together, the two movements can provide an outward-looking, modern and relevant alternative to a merely secular form of Judaism, which could otherwise become the primary expression of Judaism within a couple of generations."

Rabbi Laura Janner-Klausner
, Senior Rabbi to the Reform Movement, noted that "There is so much more that unites the Reform and Liberal movements than divides us. The more we can cooperate, the stronger our voice and the stronger the expression of the core values we share in common: inclusiveness, integrity and informed choice.

These are the values which our movements believe will enable Judaism to survive and thrive in the 21st Century."

Read more about this historic development here.

Holocaust Survivor, Resistance Fighter, US Congressman: Tom Lantos Synagogue to be Dedicated

Congregation Bet Orim is pleased to announce the dedication of the Tom Lantos Synagogue that will be built in Budapest, Hungary. The naming ceremony will take place on Friday, September 19 at 6:00 PM during the regular Shabbat eve service of Bet Orim.
Rabbi Ferenc Raj will speak on behalf of the congregation and Annette Marie Lantos Tillemann-Dick, Tom Lantos' daughter, will address the community on behalf of the Lantos family.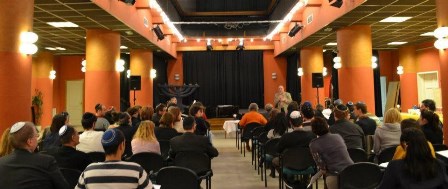 In Memoriam: Congregation Bet Orim will Honor the Life and Work of Lantos.
Tom Lantos was a survivor of the Hungarian Holocaust who was active in the resistance movement during World War II, delivering food and medicine to Jews living in safe houses, thus assisting the heroic efforts of the Swedish diplomat Raoul Wallenberg.
After the war, he was awarded a scholarship to study in America, where he earned a PhD, built a successful career and married his childhood sweetheart, Annette Tilleman, whom he had met in Hungary in one of the safe houses of Budapest's Jewish district.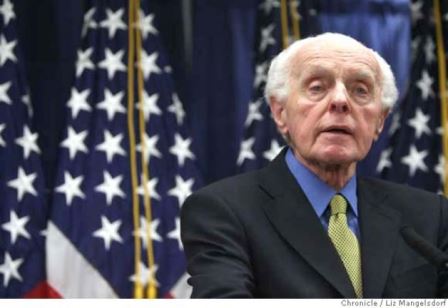 One Man Who Made a World of Difference: Tom Lantos.
Determined to make a difference, Tom decided to participate in American politics. He ran and was elected to the US Congress in 1980 and served as a Democratic member of the US House of Representatives until his death on February 11, 2008.
Everyone at Congregation Bet Orim is deeply grateful to Tom Lantos's family for enthusiastically supporting its endeavors.
Something's Happening in Jerusalem: Young Professionals Flock to 'Urban Midrash'
For the second straight year, the Kehilat Tlamim community organization hosted an "Urban Midrash" that appealed directly to Jerusalem's young, professional men and women, regardless of their religious affiliation. "Urban Midrash 2: Jerusalem" took the city by storm from Friday, September 12 to Saturday, September 13.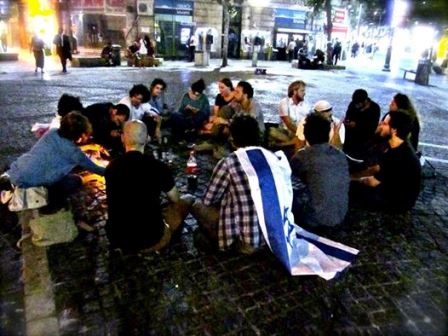 Zion Square Study Group: Urban Midrash Spreads Reform Values to Jerusalem Locals.
Though organized by members of Israel's Progressive community, "Urban Midrash 2: Jerusalem" consisted of events that drew in dozens of people from every conceivable background.
The festivities kicked off on Friday, with a musical Kabbalat Shabbat event that was held at Mishkenot Sha'ananim, one of Jerusalem's most popular cultural institutions.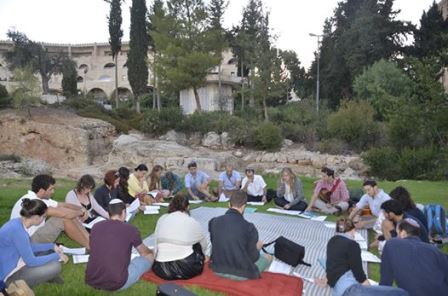 A Most Pleasant Way to Bring in the Sabbath: Jerusalem's
Mishkenot Sha'ananim.
On Saturday night, close to a dozen Jerusalemites met up at downtown's Mitte Bar for an evening of 'Poetry Slamming'. The spoken word session featured three poets who addressed the issue of 'Societal Crisis and Repair' in three utterly unique ways.
Saturday's festivities also included a writing workshop built around the theme of 'Societal Change, or Personal Change: What Comes First?'
The atmosphere created by 'Urban Midrash 2: Jerusalem' was one of warmth, inclusivity and, above all, excitement.
The good people leading the Kehilat Tlamim are already planning 'Urban Midrash 3'.
Will Jerusalem ever be the same?
Chag Sameach! Celebrate the High Holidays with Israel's Reform Movement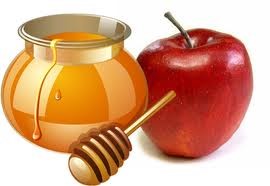 Rosh Hashanah begins in just a few days. This year, the Israel Movement for Reform and Progressive Judaism (IMPJ) is proud of the fact that it will be conducting Yom Kippur services in close to 50 communities across the county. Tens of thousands of Israelis will flock to Reform congregations, where they will experience a Progressive, egalitarian, spiritual service.
You are cordially invited to check out the IMPJ website and follow its Facebook page for updates on High Holiday-related events.
If you are in Israel during the High Holidays, please join the IMPJ.
For more information, contact IMPJ headquarters,
or by phone at +972-2-6203448.
Ernestina's Journeys: New Beit Shmuel Exhibit Focuses on One Life, from Birth to Death.
Mercaz Shimshon / Beit Shmuel, headquarters of the World Union for Progressive Judaism, recently unveiled its newest art exhibit. In 'Ernestina's Journeys', artist Sylvie Sani explores the meeting of two ends of one particular person's life cycle, her mother.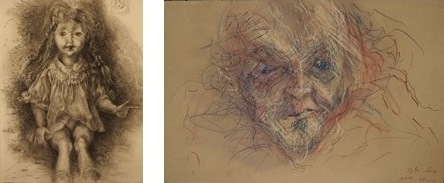 Ravaged by Life: 'Ernestina's Journeys', Now on Display at Beit Shmuel.
Working mostly with drawings at the exhibit, Sani's captivating series tracks the transformation of a once vibrant, beautiful young lady into a brittle, withdrawn, helpless old woman.
Sani, a resident of Jerusalem, was born in Romania and immigrated at the age nine with her family to Israel. From early childhood, she showed artistic tendencies, winning several awards for excellence in the field.
Sani honed her craft at the Thelma Yellin High School of the Arts and later the Bezalel Academy of Arts and Design.


Back to Featuring


Netzer Notes
Inspiring Adventure: For Ella Grodzinski, Repairing the World Begins in Amsterdam
Ella Grodzinski is 18 and about to embark on the Shnat Israel gap year program with RSY-Netzer. She was also one of the leaders of a recent Tikkun Project in Amsterdam. Here are Ella's notes on the team's adventure in the Netherlands and its vision for the future of the summer Tikkun Project in RSY-Netzer.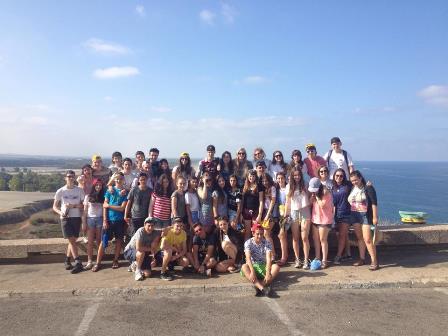 From Amsterdam to Israel: RSY-Netzer Israel Tour 2014 (file picture).
"Year one of the Tikkun Project paired us up with RSY-Netzer's Dutch counterpart Jong LJG Netzer on a five day trip to Amsterdam. With our Netzer Amsterdam friends, we volunteered with many people and organizations.
After listening to the stories of Holocaust survivors, visiting the zoo with people with significant disabilities and attending the spectacular Gay Pride parade, we decided to make the first year of the Tikkun Project all about celebrating who we are.


We plan to run four events throughout the year, kicking off with a 'TikkunTastic' fair in September, during which we'll be empowering children with disabilities to run their own stalls and celebrate individuality, and culminating in a Tikkun Project float at the London Pride Parade this summer.
We're determined to show people just how amazing we believe the Tikkun Project is and how incredible it can be in the future…"
Read Ella's entire report on the Movement for Reform Judaism website
here.
Back to

Featuring

Job Hunting? Netzer Wants you!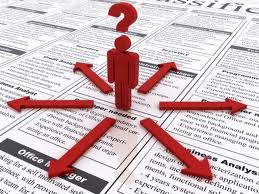 Are you is looking for meaningful work in the field of education that is guided by the Reform Movement's values​​?
Job description:
1. Coordinate Netzer Olami (Zionist Youth Movement) activities.
2. Development and delivery of educational content.
3. Work with a team of young leaders.
4. Work is entirely in English.
5. Work is based in Jerusalem.
6. Suitable for students.
7. This is a part-time position.
8. Estimated start date: October/November, 2014.
Interested or know someone who may be? Please send a resume

Back to Featuring



Countdown to CONNECTIONS 2015

My ARI: Marina Ventura Gottlieb
CONNECTIONS 2015, taking place May 13-16 in Rio de Janeiro, Brazil, will be hosted by the Associação Religiosa Israelita (ARI). Marina Ventura Gottlieb has been an active member of Brazil's Jewish community for most of her life.
Beginning with the local Zionist youth movement, Chazit Hanoar, Marina proceeded to take on roles of increasing responsibility, including that of WIZO Federation of Brazil's vice president and then World Chairman of Aviv WIZO.
Marina has also served the ARI, first as a vice president, then as its president for four years. Currently, she serves the community as a board member. Marina is a proud mother of three children and four grandchildren.
In a recent interview with the WUPJ Newsletter, Marina spoke about her deep roots in the local Reform Movement, as well as the centrality of ARI in promoting and perpetuating Progressive values in Brazil.
Below, are highlights of Marina's conversation with the WUPJ:
Rio Roots: My parents emigrated from Istanbul in 1959, where I was born.
Which aspects of ARI life do you find most inspiring? Mainly Progressive Jewish education. I also derive much satisfaction from working with the youth. Ultimately, the sense of belonging I feel at ARI is what inspires me most.
When in Rio, where would you take a visiting WUPJ member? Brazil's great outdoors: floresta da tijuca, the botanical garden, Corcovado and Pão de Açúcar. At night, I would take our WUPJ guests to Lapa.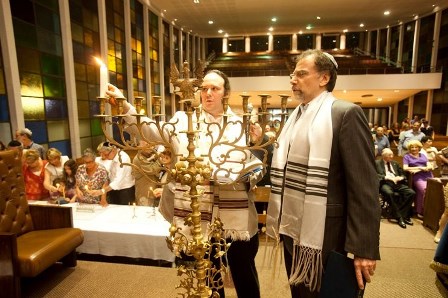 Many Spirits, One Soul: ARI's Services are Inclusive, Innovative and Inspirational.
What Drives the Rio Reformed Community? We take our role as ambassadors of Israel and liberal Judaism very seriously. Relations between Brazil and Israel have become very cold recently…
Learning from the Rest of the Reformed World: I am very interested in learning about how communities around the world are dealing with the growth of anti-Semitism.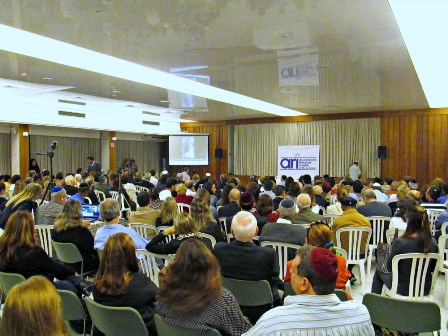 Eyes on ARI: the Congregation Serves as a Frequent Forum for Timely Discussions.
Spreading the Word, One Page at a Time: For our WUPJ friends to learn about us, I recommend that they read our Devarim magazine, which is successfully spreading our Progressive way of thinking all over Brazil!
Torah's New Home: All WUPJ Commentaries Moved to One Online Location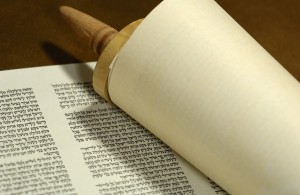 The highly acclaimed 'Torah from around the World' series of commentaries have been gathered up and archived in one, easily accessible, place. The list of commentaries will be updated on a weekly basis.
Visit the Anita Saltz International Education Center here for your weekly Dvar Torah!

May 13-16, 2015

–

Connections 2015, World Union for Progressive Judaism(WUPJ) 37th Biennial Conference, Rio de Janeiro, Brazil



May 28-June 7, 2015

-

The Israel Study Kallah, Israel



July 2-12, 2015 -

Bergman Seminar for Jewish Educators, Israel



June 9-19, 2015

-

Australian Council of Christians and Jews Multi-Faith Seminar, Israel