Issue #496
Issue #496 – 4 September 2014 / 9 Elul 5774
In This Issue:

Polish City Marks First Rabbinical Ordination Since World War II

WUPJ-LA Conference Showcases Vitality of Region's Progressive Movement

My ARI: Ricardo Gorodovits

Can WUPJ Rally to Save a Texas Boy's Bar Mitzvah? (Part II)

Israel Up Close: Bergman 2014 Seminar for Progressive Jewish Educators

Quotable Quotes:
Highlights from WUPJ President's Ordination and Investiture Address

Netzer Notes:
'Mifgash' in Porto Alegre: Tamar Encourages Young People to Develop Professionally and Spiritually

Community Spotlight:
24th German Progressive Jewish Community Officially Established

Live From Israel:
Curtain Up! Beit Shmuel Set to Open Jerusalem's Newest Movie Theater

Condolences

Dear Reader

Upcoming Events
Polish City Marks First Rabbinical Ordination since World War II
On September 2, in the city's first rabbinic ordination since before World War II, four rabbis and three cantors were ordained at a ceremony in the White Stork synagogue in Wroclaw, Poland.
The new clergy graduated from the Abraham Geiger College in Potsdam, Germany, a Reform rabbinic seminary founded in 1999 and named for a 19th-century pioneer of Reform Judaism. Geiger was rabbi at the White Stork synagogue for more than 20 years and was instrumental in founding the Jewish Theological Seminary in Wroclaw, a city that before World War II was in Germany and known as Breslau.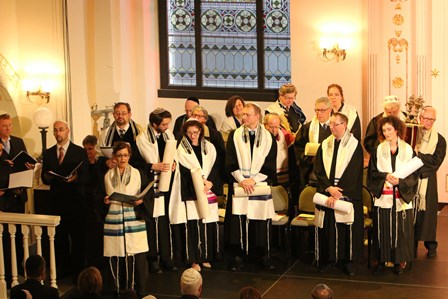 Class of 2014: Abraham Geiger College's New Clergy.
In total, where were approximately 350 people in attendance, including Germany's foreign minister, the representatives of Poland's Jewish Community and the three Reform rabbis officiating in Poland, as well as guests from Jewish communities from all over Europe, including Norway, Switzerland, Spain and Romania.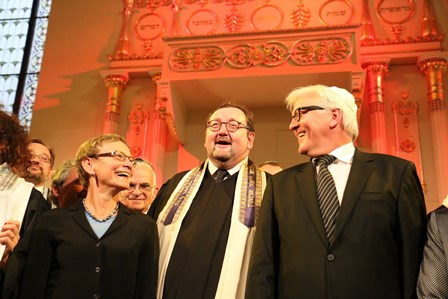 Reasons to Smile: German Education Sabine Kunst (l), Abraham Geiger Collage Rector Rabbi Walter Homolka (c) and German Foreign Minister Frank- Walter Steinmeier (r).
On September 3, Geiger College, the German education minister, the Wroclaw municipality and the city's Jewish community marked the 75th anniversary of the German invasion of Poland with a memorial concert.
Ceremonies were also held to mark the 160th anniversary of the Breslau Jewish Theological Seminary and the 140th anniversary of the death of Abraham Geiger.
Geiger College, the first rabbinic seminary founded in central Europe after the Holocaust, is a member of the World Union of Progressive Judaism (WUPJ).
(See the complete Jewish Daily Forward article here.)
WUPJ-LA Conference Showcases Vitality of Region's Progressive Movement
Between August 17 and 19, Latin America's thriving Progressive communities took center stage at the WUPJ-Latin American region conference that was held at the Sociedade Israelita Brasileira de Cultura e Beneficncia (SIBRA) in Porto Alegre, Brazil.
Close to one hundred people from various countries participated, representing congregations and Jewish communities from Argentina, Chile, Colombia, United States, Israel, Guatemala, Spain and Panama.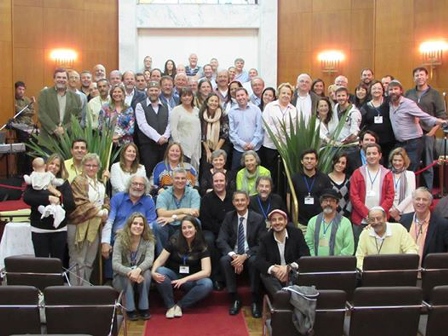 The Faces of a Latin American Renaissance: WUPJ-LA Conference.
The conference featured workshops for lay leaders conducted by Raul Gottlieb, the WUPJ Latin America President, Miriam Vasserman, Vice President and Sergio Napchun, the newly appointed Executive Director.
Rabbi Joel Oseran, Vice President of International Development for the World Union, assisted regional rabbis in establishing the first ever Council for Progressive Rabbis in Latin America.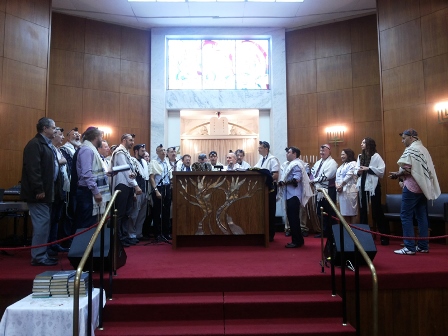 United in Prayer: Conference Participants Take Part in a Religious Service.
Conference highlights included the Rabbinical Kallah, tailored to rabbis and religious leaders; Lashir Benefesh, a festive concert of regional musicians and chazzanim and the 'Mifgash' event aimed at young adults (read more in article below).
Guest teacher Professor Josh Holo, Dean of the Los Angeles School of Hebrew Union College-Jewish Institute of Religion - and a Portuguese speaker, shared his copious knowledge and fascinating insights.
The conference's program also featured debates that explored topics relevant to Judaism in contemporary society.
The conference successfully facilitated a lively exchange of ideas and experiences. Jewish men and women from a wide variety of backgrounds discussed education, tzedakah, assimilation, citizenship, community development, leadership and social action.
Missed out on Porto Alegre? Check out the WUPJ-LA conference photo gallery here.
Ricardo Gorodovits is, presently, the President of the ARI, the host congregation of CONNECTIONS 2015, which will be held in Rio de Janeiro, Brazil from May 13 to May 16, 2015.
Rio Roots: My grandparents came to Brazil from Europe in the twenties, and my parents were born in Brazil. My mother's Brazilian roots were in the northern state of Maranho, which had a very small Jewish community. Her family was not connected to religion, although they kept traditional dinning for major festivals. My mothers
family came to Rio on a ship around 1944, when she was ten years old.

ARI: Here, Every Jew Will Find His
Judaism
l
She was repeatedly frightened by the threat of German submarines that at the time were regularly firing on Brazilian flag vessels.
My father was born in Bahia, in northeast Brazil, and was from a much more religious family. They moved several times. He was living in Recife when he and some friends were invited to study and work in Rio in 1952.
ARI Roots: My parents connected to ARI at the end of the 1950s. My father was immediately impressed by the ARIs grandeur, especially during Rosh Hashanah and Yom Kippur. He loved the services' melodies and the messages of humanity and openness conveyed from the bima by Rabbi Lemle (Zl).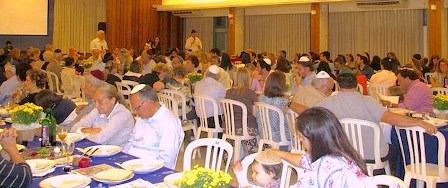 Welcoming Every Jew: ARI Members Celebrating Pesach Together.l
A Perfect Balance: I enjoy the sense of balance that ARI services promote. Our liturgy is centered on reading Amida silently, chanting aloud with the congregation, listening to our rabbis' sermons as well as our cantors' beautiful voices, simultaneously strong and soft.
Our Judaism is wide open, offering everyone a guide to living in the modern world, facilitated by lots of questioning and the beautiful opportunity of finding different answers. This quest is what allows people to deepen their Jewish connections.
That is also what our meeting next year is all about.
Ricardo's Question to the WUPJ Family: How is Progressive Judaism evolving in Israel? This issue has always been one of my core interests.


Can WUPJ Rally to Save a Texas Boy's Bar Mitzvah?
Part II: the Dallas-Istanbul-London-Jerusalem Connection.
By Barbara Boyd Cohen, Proud Mother of Cameron.
When we last saw Barbara, Cameron and the entire Cohen family, the prospects of a Bar Mitzvah actually taking place were looking rather dim. However…
… I was pleasantly shocked then when upon arriving in at our Istanbul hotel, I received an e-mail from Miriam Kramer, Chairman of the European Union for Progressive Judaism and a London resident.
Amazingly, she had tracked down a rabbi located in London. The good Rabbi Larry Tabick from Congregation Shir Hayim had graciously offered to assemble a group of his congregants to celebrate our son's Bar Mitzvah the following Friday evening.
Though none of what happened next was planned, every moment of it was deeply meaningful. The service was a lovely, intimate experience, with Rabbi Larry humorously contrasting the old, plastered wall of his synagogue with the Western Wall in Jerusalem.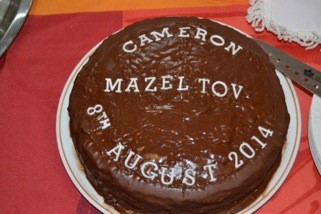 WUPJ Takes the Cake! Shir Hayim's Sweet Gift to Bar Mitzvah Boy Cameron Cohen.
Cameron made us very proud with his grasp of Hebrew as he led the service. In addition, we spent a thoroughly enjoyable evening with the gracious congregants of Shir Hayim, who had prepared a magnificent feast for us, including a chocolate cake with Cameron's name on it.
As it turns out, our daughter will be studying in London next semester and we will be going over to visit her in October. When next in London, we look forward to visiting Shir Hayim, our new synagogue away from home.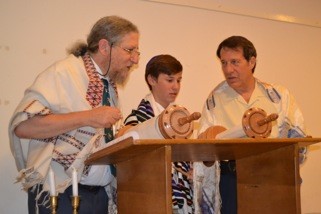 It Nearly Wasn't So: Cameron Cohen Becomes a Bar Mitzvah.
The speed and responsiveness of the World Union for Progressive Judaism and Rabbi Larry were beyond anything my husband and I could have imagined. We will be forever grateful for their rallying efforts to make our son's Bar Mitzvah a reality.

We also look forward to rescheduling that family trip to Israel…
Israel Up Close: Bergman 2014 Seminar for Progressive Jewish Educators (Part II)

By Rabbi Steve Burnstein, Director
Anita Saltz International Education Center

In the last edition of the WUPJ Newsletter, we met the Bergman Seminar participants as they embarked on a memorable 10-day experience. The adventure continues now
Part II: Jerusalem' Museums, Tel Aviv's Graffiti
…Exploring Israel's museums and streets with Professor Paul Liptz, social historian and Saltz Education Director provided unique insights. In small groups, participants explored an assortment of Jerusalem neighborhoods, with the assignment of talking to the people who lived there.
We visited the Israel Museum, Tower of David, Beit Hatfutsot (Museum of the Jewish People), Palmach Museum and Yad Vashem where, in addition to the amazing content of the sites, we experienced different methodologies and approaches to using museums in developing educational curricula. One participant remarked that "Steve and Paul remained focused on the pedagogical aim of the different topics we dealt with, and constantly challenged us to create different ways to bring these topics home and transmit them. They helped us read between lines and gave us insight into different ways to approach a particular topic."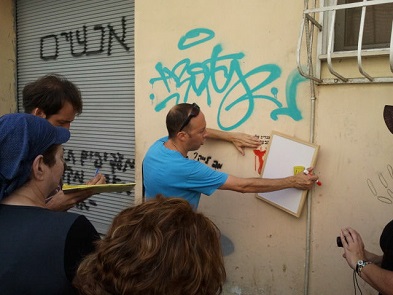 Street Literature: Bergman 2014 Seminar Participants Take in Some Tel Aviv Graffiti.
The group then explored the graffiti of Tel Aviv's Florentine neighborhood, gaining insight into some of the current social issues in Israel while learning an unusual technique for reinforcing the teaching of history, culture and Hebrew language.
Master educator
Sally Klein-Katz
, on the faculty of the Hebrew Union College in Jerusalem, welcomed the Bergman group to her home for an interactive session on Israel engagement through the lens of ethical and ethnic dilemmas. Then, Klein-Katz introduced the group to the work of some of today's leading thinkers in the field of Israel education.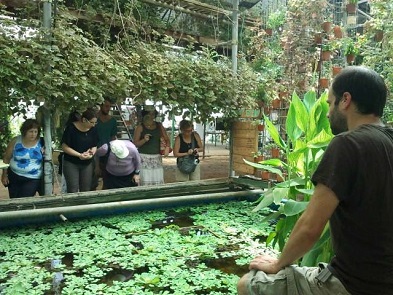 Cultivating Coexistence: Kibbutz Ein Shemer Greenhouse.
At the Kibbutz Ein Shemer Greenhouse, participants encountered an innovative and inspiring ecological educational project that successfully engages the diverse population of Israeli society: secular, religious, Arab, Jewish, children, adults, and people with special needs…
Where on earth will the Bergman Seminar End? Stay tuned for the final installment!
Highlights from WUPJ President's Ordination and Investiture Address
Below, are highlights from WUPJ President Rabbi Daniel Freelander's September 2 address in Wroclaw, Poland: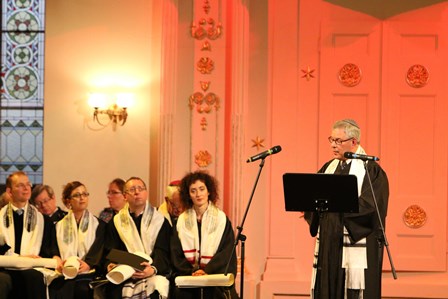 WUPJ President Rabbi Daniel Freelander Speaking to Geiger College Graduates.
"Today I stand here to offer the congratulations and support of the World Union for Progressive Judaism…We represent almost 2 million Jews worldwide who assert that one can be a full, productive, creative partner with the societies in which we live without abandoning or compromising our Judaism or our civic responsibilities."
"The role of contemporary liberal Rabbi and Cantor is to create and nurture Jews who comfortably, proudly and joyously straddle all the worlds in which they live."
Fabulous Foursome: The Newly Ordained Rabbis Are…

Nils Ederberg, Jonas Jacqelin, Julia Margolis and Fabian Sborovsky
"Today, we proudly welcome four new rabbis and three cantors to our worldwide community. They represent our commitment to a vibrant Jewish life in Europe."
"Today, we invite you to help lead us into the future."
"We need you. We need you to lead us forward. We need you – not as religious functionaries, but as religious leaders with vision, and the skill and energy to translate that vision into reality."
Songs of Praise: Meet Abraham Geiger College's Three New Cantors…




Sofia Falkovitch, Aviv Weinberg and Alexander Zakharenko
"Our progressive Jewish community stands at a crossroads. The tragedies and transformations of the 20th century are behind us, but the opportunity and challenges that Judaism in the 21st century will present are still unclear. We have reformed our liturgy, we have reformed our rituals, but we need you to help us reform our spirits, our neshamot"
"Yours is the responsibility to create 21st century Judaism. Yours is the privilege of engaging individuals who do not yet fully appreciate the beauty, power and wisdom of Judaism."
Read Rabbi Freelander's complete address here.
Learn more about Abraham Geiger College's Class of 2014 here.


'Mifgash' in Porto Alegre: Tamar Encourages Young People to Develop Professionally and Spiritually
Between August 17 and 19, WUPJ Latin America hosted a highly successful conference in Porto Alegre, Brazil, which included 'Mifgash', an event organized by Netzer Olami's Tamar movement that was aimed at young Jewish professionals.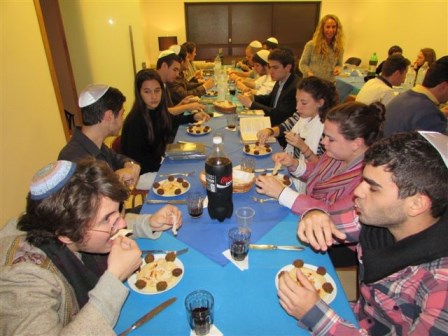 Meeting while Eating: Tamar's 'Mifgash', Porto Alegre, Brazil.
Along with Tamar with the SIBRA Reform Movement in Porto Alegre as well as WUPJ made this meeting a reality.
The theme of 'Mifgash', 'Our Judaism Today', explored various facets of living life as a young Jewish person in today's world. Of special relevance was the focus on developing professionally without sacrificing one's Jewish identity.
Anabella Esperanza, Spanish and Portuguese Desk Coordinator, represented Tamar's Jerusalem headquarters and met with 24 young Jewish men and women, aged 18 to 33, from across South America, including Brasilia, Curitiba, Sao Paulo, Rio de Janeiro, Argentina, Panama and of course Porto Alegre.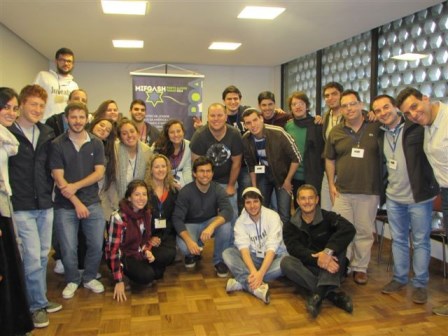 Next Stop, Rio: Participants Established a CONNECTIONS 2015 Steering Committee.
In addition, emissaries from the Jewish Agency, the World Zionist Organization and Hillel, Rio de Janeiro delivered a series of topical lectures and organized several educational activities.
The excitement generated by 'Mifgash' was palpable, with its participants showing great initiative by establishing a steering committee that will help develop content related to Tamar's participation in next year's CONNECTIONS 2015 international convention in Rio.


24th German Progressive Jewish Community Officially Established
The Union for Progressive Jews in Germany (UpJ) is pleased to formally announce the establishment of its 24th congregation, Bet Haskala, located in Berlin.
Bet Haskala has effectively been up and running since March of this year and is the second Progressive community to be established in Germany's capital city.
In May, Bet Haskala celebrated its inaugural service with much pomp and circumstance, highlighted by the bringing out and transferring of the Torah scroll to the synagogue's Aron Hakodesh (pictured, below).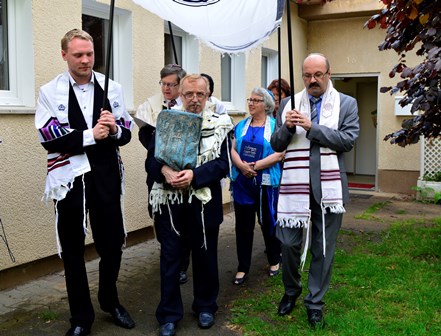 Sacred Moment: Torah Scroll Being Brought to Bet Haskala's Aron Hakodesh.

(Photo courtesy of Rinah Neubauer)
Still, there a number of challenges that Bet Haskala is currently dealing with. The community consists of a mere 25 members and there is no room in which to regularly conduct services and community activities. Even the Torah scroll is on loan.
Ever resourceful, the community has managed to find different locations in which to perform services. Regarding Bet Haskala's cultural offerings, events are conducted as part of the regular 'Salon Haskala' series (pictured, below).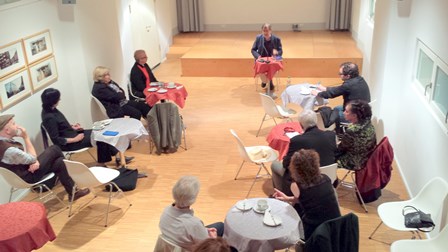 Culture, Progressive Style: Bet Haskala Members Meet in their Salon.
In the near future, the community is looking forward to participating in the 'Long Night of Religions', an annual event held in Germany to promote inter-religious understanding.
Sonja Guentner, who is currently UpJ's Chairman, European Union for Progressive Judaism's (EUPJ) Vice-President and a World Union for Progressive Judaism (WUPJ) board member, will be speaking at this event.
With G'd's help, Bet Haskala hopes to contribute to the diverse life of Progressive Judaism in Germany.
To help Bet Haskala fulfill its mission of strengthening Progressive Jewish life in Germany, please contact Rinah Neubauer, Vice-Chair of Bet Haskala: Rinah.neubauer@gmx.de


Curtain Up! Beit Shmuel Set to Open Jerusalem's Newest Movie Theater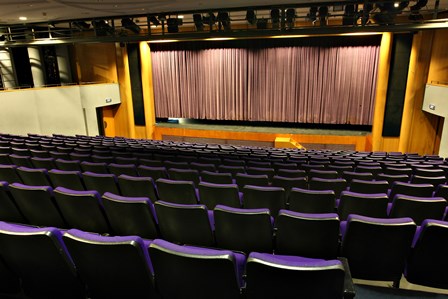 Filling up Rapidly: Beit Shmuel is Brining Some Movie Magic to Jerusalem.

Mercaz Shimshon / Beit Shmuel, headquarters of the World Union for Progressive Judaism, will soon open the doors of its Hirsch Theater to the highly quality films of Orlando Cinema.
Grounded in and guided by such Progressive values as pluralism and inclusion, Beit Shmuel has long offered a variety of weekend activities, including 'Children Create Shabbat', Friday evening performances, walking tours and much more.
Indeed, Beit Shmuel is one of the few Jerusalem-based cultural centers to be open on Shabbat.
By operating on weekends, Jerusalem's newest movie theater will enhance the city's cultural landscape by delivering the timeless mystique of a night at the movies to residents who do not have time during the workweek to indulge in such charming distractions.

The inaugural screening will take place on September 19.
For a limited time only, Beit Shmuel will be offering a special deal to moviegoers: buy one ticket, get the second at half price!


Condolences

The leadership and staff of the World Union offer their sincerest condolences to the family of Eve (Chava) Sachs, mother of Lesley Sachs, current Director of Women of the Wall, a former Vice President of the WUPJ and one of the founding members of "Isha L'isha – Haifa's Feminist Center".

May Chava's memory be for a blessing.

The leadership and staff of the World Union offer their sincerest condolences to the family of Akiva Barkin, father of Rabbi Nir Barkin, who has been an active part of the Kehilat YOZMA Reform congregation in Modi'in since his return to Israel in 2003. Among Akiva's mourning family members are his wife Simone, two sons, Nir and Yoel, a daughter, Adi and a brother, Baruch.

May Akiva's memory be for a blessing.

Back to In This issue


Dear Reader



Back to In This Issue


Upcoming Events


November 20-23, 2014 - Union for Progressive Judaism in Australia, Asia and New Zealand (UPJ) Biennial - "You and I Will Change the World", Adelaide, Australia

January 2015 - Netzer Veida Olamit, Israel

May 13-16, 2015

–

Connections 2015, World Union for Progressive Judaism(WUPJ) 37th Biennial Conference, Rio de Janeiro, Brazil



May 28-June 7, 2015

-

The Israel Study Kallah, Israel



July 2-12, 2015 -

Bergman Seminar for Jewish Educators, Israel



June 9-19, 2015

-

Australian Council of Christians and Jews Multi-Faith Seminar, Israel