Issue #494
Issue #494 – 7 August 2014 / 11 Av 5774
In This Issue:

* Call to Action: WUPJ's and IMPJ's Combined Donation Drive
* France and the Jews: Stephane Beder, Vice Chair, EUPJ, Reflects
* Connecting to Rio in 2015: Get to Know the Community!
Live From Israel

* Israel up Close: Bergman 2014 Seminar for Progressive Jewish Educators
* Home Front: Israeli Reform Congregations Open their Hearts to Displaced Citizens
* Solidarity Now: Members of Central Conference of American Rabbis Travel to Israel
* Creating Shabbat: Beit Shmuel Gets Children Ready for the School Year

News in Brief

* Peace Starts Here: Abraham Geiger College Student Speaks with German President
* The House is Now Whole: A Special Gift from the World to Russia's Ner Tamid Synagogue
* UPJ Gives Israel Jacobson Award to German Minister of Justice and Consumer Protection
* House of Jewish Learning: Leo Baeck Presents its New Adult Learning Program

Tisha B'av Special Contribution:
Shabbat Chazon – Isaiah Chapter One: A Lesson for our Time

Dear WUPJ Newsletter Subscribers: Like your Favorite Facebook Page Today!

Congratulations

Upcoming Events

Call to Action: WUPJ's and IMPJ's Combined Donation Drive

The World Union for Progressive Judaism (WUPJ) and the Israel Movement for Reform and Progressive Judaism (IMPJ) called on their communities and activists in Europe, Latin America, South Africa, the FSU, Australia and Asia to support an array of emergency response activities.

The WUPJ and the IMPJ were among the first organizations to respond to the Gaza escalation about a month ago, first assessing the situation on the ground and then responding accordingly.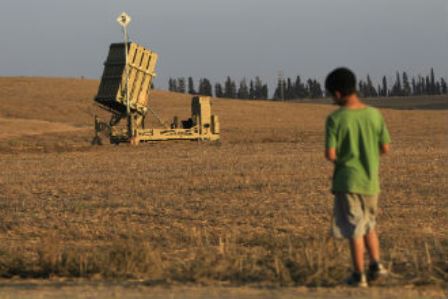 Keeping Israel Safe: Iron Dome Air Defense System.

A nationwide network of congregations, Reform Movement Kibbutzim,
Noar Telem Youth Movement
,
Pre-Army Mechina
,
the Daniel Centers
, Kol Haneshama,
the Leo Baeck Academic and Community Center
in Haifa, WUPJ's
Beit Shmuel-Mercaz Shimshon
and others have been working nonstop through Keren Be Kavod - the humanitarian aid arm of the IMPJ - to provide relief to people living under the threat of missiles and terror tunnels.
Relief efforts to date have encompassed the assembly and distribution of Emergency Aid Packages, 'Happenings' for Children under Fire as well as Respite and Housing.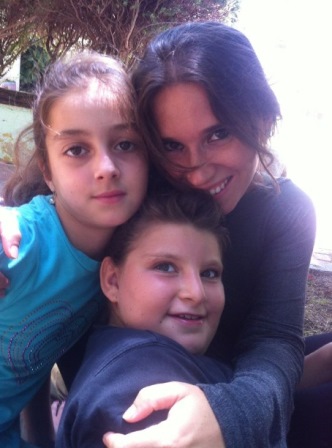 Aid and Comfort: Volunteering in Southern Israel.
On July 30, the WUPJ delivered 40 care packages to soldiers stationed on the Israeli-Gaza Strip border. The drop off was made at Talmei Eliyahu, a moshav in southern Israel, located in the northwestern Negev desert. The funds that were raised by WUPJ and Beit Shmuel staffers were matched by the World Union for Progressive Judaism.
While much has been done in recent days, the WUPJ and IMPJ are acutely aware that much more can and must be done.
And while we all hope and pray that the present cease-fire will endure, it's important to keep in mind that the most basic of needs of Israelis around the country will probably have to be addressed for an extended period.
Support for these and other activities that are being implemented on a daily basis would be greatly appreciated.

Learn more about how to give here.
"In the past few days I have received numerous messages of concern from friends from all over the world. They refer to media coverage of the anti-Semitic attacks that took place in Paris and often make comparisons to World War II (Kristallnacht, etc.)
While these are very serious events, the situation is far from apocalyptic.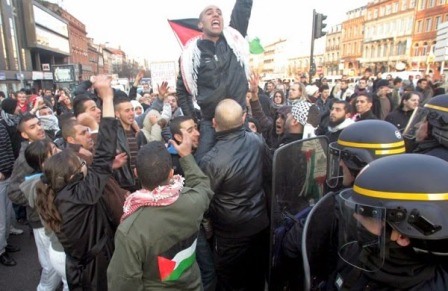 Hate-Filled Streets: Pro Hamas Rioters in Paris.
France is not an anti-Semitic nation. For a comprehensive description of how the country is actively combating this most ancient of hatreds, I encourage everyone to read the recent New York Times op-ed piece, co-written by France's Minister of Interior Affairs and Minister of Foreign Affairs.
So what is exactly going on in France?
Today's France still considers anti-Semitism as the ultimate taboo.
France has both the largest Jewish and Muslim communities in Europe. There is a fringe group of poor young suburban French Muslims who have not integrated well into French society and are thus receptive to the victimization narrative.
However, the French authorities have responded swiftly and strongly to any acts of anti-Semitism. Recently, the Prime Minister said in a speech that any attack against French Jews is an attack against France and will not be tolerated.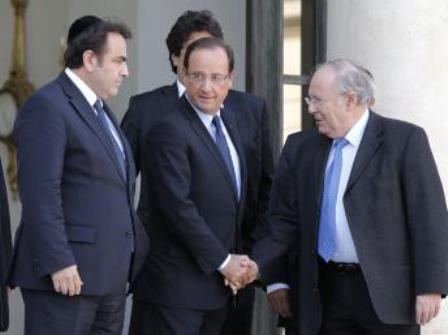 Voices of Reason: French President François Hollande Meets Leaders of the Jewish Community.
The question that most of my friends abroad ask is: what can we do?
Here is my suggestion:
Come, visit and support Reform Judaism in France.
We have a number of growing synagogues all over the county, yet there is a shortage of French speaking Rabbis and a lack of resources.
Also, there is a trend among Jews here to radicalize. Reform Judaism offers a unique opportunity to build bridges and provide wisdom as a guide to all our actions.
The words of Abraham Joshua Heschel come to mind:
'Racism is man's gravest threat to man-the maximum of hatred for a minimum of reason.'"
Connections 2015, taking place May 13-16 in Rio de Janeiro, Brazil, will be hosted by the Associação Religiosa Israelita (ARI). Community leader Raul Cesar Gottlieb is the President of WUPJ Latin America, board member of the ARI and Director of Devarim Magazine. In a recent interview with the WUPJ Newsletter, Gottlieb spoke about Rio's Reform roots, today's thriving community and tomorrow's challenges.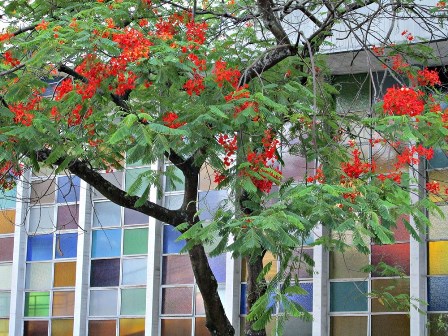 Welcome to Reform Rio! The ARI's Beautiful Exterior Invites you in.
WN: How far back is your family's connection to Rio?
RG: On my father's side, my great grandparent came to Brazil in the second half of the 19th century (1860-1870), attracted to the coffee trade.
On my mother's side, two brothers of my grandfather came to Rio from Rome after WWI – around 1920 – searching for work. My grandfather was able to join the rest of the family only in 1939.
WN: Which aspect of ARI life do you find particularly inspiring?
RG: I would not call it "inspiring". I would say ARI is a necessity. I feel it is mandatory to have a religious place that is inclusive, equalitarian, democratic, non-superstitious and rational. The ARI and the WUPJ fill that role. We need to take possession of the Jewish tradition and ARI is the place to do that.

Out of Many Congregants, One Vibrant Community: the ARI in Action.
WN: What would you like WUPJ members to know about Rio's Jewish community before they arrive?
RG: The Jewish community feels comfortable in Brazil. The level of anti-Semitism is low, but far from irrelevant. The community was outraged by the official Brazilian diplomatic position on Operation Protective Edge.
WN: What would you like to know about a particular progressive Jewish community around the world?
RG: How is the Movement progressing in Israel? What are the Movement's strategies to increase the amount of rabbis in Latin America?
WN: Thank you for speaking with the WUPJ.
RG: See you in Rio!



Back to In This Issue



Live from Israel
Israel up Close: Bergman 2014 Seminar for Progressive Jewish Educators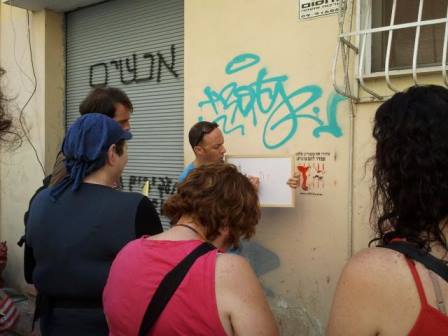 Insights from Inside Israel: Bergman 2014 Seminar.
Participants in this year's Bergman Seminar for Jewish Educators received and gave much more than they expected. It was no surprise that they met with innovative educators and cutting-edge projects while exploring together how to use these experience to enhance their own communities.
However, being in Israel during Operation Protective Edge added unforeseen meaning. Everyone they met: taxi drivers, waiters, shopkeepers, and educators, expressed tremendous gratitude to them for being here. They learned about the resilience, courage, compassion and strength of Israelis. They saw how life continues in tense times.
One participant remarked that the Bergman Seminar "has been my single most valuable experience in 25 years as a Jewish educator." We look forward to sharing more about the tremendous success of the program in the next newsletter.
Stay tuned for Rabbi Steve Burnstein's, Director
Anita Saltz International Education Center, complete report on the Bergman 2014 Seminar!
Home Front: Israeli Reform Congregations Open their Hearts to Displaced Citizens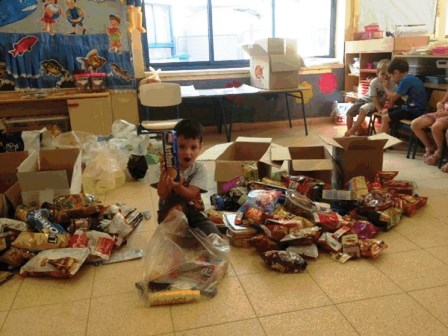 No Child Left Behind: Kehilat Yozma Assembles Care Packages.
Like countless other communities across Israel, the country's Reform congregations have opened their hearts to those who have been displaced by the incessant rocket fire coming out of the Gaza Strip.
Among the many members of Israel's Reform Movement, Kibbutz Lotan, Kibbutz Yahel, Yozma – the Reform Congregation of Modi'in – and Kehilat Raanan have designed a series of programs meant to provide Israelis most affected the Gaza escalation with some solace and refuge.
These and other Reform-affiliated communities have been opening their doors for daily, overnight, and weekend respites.
United by the desire for a peaceful resolution to the conflict and the resumption of quiet across Israel, Reform is epitomizing yedishkeit – as it always does.


Solidarity Now: Members of Central Conference of American Rabbis Travel to Israel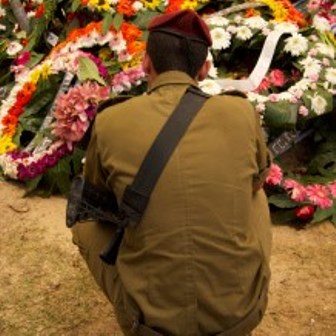 United in Grief: IDF Solider Mourns the Loss of a Comrade.
On July 27, a group Reform Rabbis from throughout North America representing the Central Conference of American Rabbis (CCAR) began a mission to Israel in an expression of solidarity and support.
"We know that the timing of this mission may not be convenient. But we also know this: Our presence in Israel, at this critical juncture, as North American Reform Rabbis… will demonstrate more eloquently to the people of Israel than anything else we could say or do that they are not alone in this struggle." said Rabbi Richard Block, Senior rabbi of the Temple-Tifereth Israel in Beachwood, Ohio, President of the CCAR, and a leader of the trip. (Rabbi Block previously served as President of the WUPJ).
This group of Reform Movement leaders met with influential members of the Knesset, senior government officials, and local leaders to discuss pressing issues related to the conflict with Gaza.
Full details about the CCAR's mission to Israel available here.
Creating Shabbat: Beit Shmuel Gets Children Ready for the School Year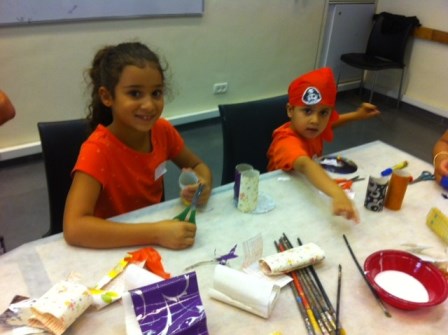 Ready, Steady…Draw! Kids Create at Beit Shmuel's Workshop.
On August 1, Beit Shmuel conducted the latest course in its acclaimed series 'Children Create Shabbat'.
This month, the theme that participating boys and girls had to grapple with was, 'Going Back to School'.
The workshop began with a discussion about how to keep our planet clean by using natural materials in our daily lives. Then, the kids got busy, creating key holders, pen stands and bookmarkers.
The workshops offer entertaining and educational activities that focus on Progressive Jewish content. 'Children Create Shabbat' is one of the very few programs offered in Jerusalem on the Sabbath, and has become a must-attend event for many local families.



Back to In This Issue



News in Brief

Peace Starts Here: Abraham Geiger College Student Speaks with German President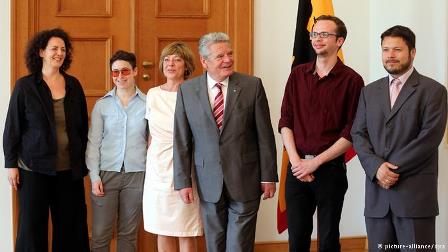 Talking Peace: Geiger College's Armin Langer (second from right) Meets the President of Germany.
"Salaam-Shalom" is the name of an initiative by Muslims and Jews in Germany that has been campaigning for peaceful coexistence. In Berlin on August 1, they demonstrated for reconciliation in the Middle East and then spoke with German President Joachim Gauchk.


Many members of the peace initiative have relatives or friends in Israel or territories controlled by the Palestinian Authority.


"We want to show that there is a different picture than that of Jews and Muslims as enemies," said Armin Langer, initiator of "Salaam-Shalom" and a student at Abraham Geiger College.
Following the meeting, a representative for President Gauchk stated that he was following the latest developments in the Middle East "with the utmost concern."
Read the complete article here.
The House is Now Whole: A Special Gift from the World to Russia's Ner Tamid Synagogue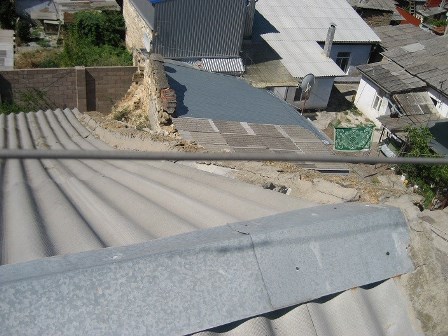 Let's Get Fixing! Ner Tamid's Damaged Roof Top.
Ner Tamid, the Progressive Synagogue in Simferopol on the Crimean Peninsula, recently received a much-needed donation from the World Union for Progressive Judaism, the Russian Jewish Congress, the Federal Jewish National and Cultural Autonomy (FJNCA), the Jewish Agency for Israel, the Joint Distribution Committee ('Joint') and individual donors.
The funds have quickly been put to use, allowing the congregation to repair the synagogue's badly damaged roof, as well as other structural renovations.
Ner Tamid community members are deeply grateful for the generosity displayed towards its synagogue, which recently celebrated its 120th anniversary.

UPJ Gives Israel Jacobson Award to German Minister of Justice and Consumer Protection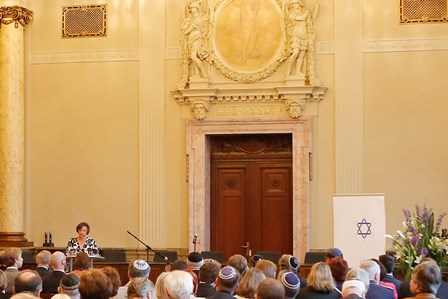 Hall of Justice:
Miriam Kramer, Chairman, EUPJ (bottom left) at Israel Jacobson Award Ceremony.
On July 24, the Union for Progressive Jews in Germany (UPJ) gave its Israel Jacobson Award to the Federal Minister of Justice and Consumer Protection, Heiko Maas.
The ceremony was held at the plenary hall of Berlin's Superior Court of Justice.
The UPJ awarded Minister Mass the prestigious prize in recognition of his establishing of the 'Rosenburg Project', which investigated the existence of Nationalist Socialist strains inside the Federal Ministry of Justice during the early years of the Republic.
The award is named after Israel Jacobson, considered the 'father' of Judaism's Reform Movement.
Former Israeli ambassador to Germany Avi Primor gave the honorific speech. More than 160 guests from the political, economic and cultural spheres as well as the UPJ's lay and religious leaders participated in this joyful event.

Stay tuned for a complete report on the UPJ's Annual Conference.
House of Jewish Learning: Leo Baeck Presents its New Adult Learning Program



Open your Mind: the Leo Baeck College Lehrhaus 2014-2015 Wants you!
There's still some time to sign up for Leo Baeck College Lehrhaus 2014-2015.
Looking to feed your enthusiasm for Progressive Jewish learning? Do you have an unquenchable desire to discover yourself in Judaism and Judaism in yourself?
If so, then you should consider studying at the Leo Baeck College Lehrhaus.
All the courses are taught by Leo Baeck College's faculty: teachers who are both passionate about their subject and deeply knowledgeable.
On offer this year:



· Biblical Hebrew

· Concepts of Kabbalah

· Two courses in Jewish Sacred Music

· High Holidays – nusach, melodies and texts




· Bible Stories for Grown-Ups

· Building fences, opening doors: Status in Jewish Tradition

· Spinoza's Jewish Philosophy

· Introduction to Midrash
Download the publicity flyer from here
Back to In This Issue


Tisha B'av Special Contribution

Shabbat Chazon – Isaiah Chapter One: A Lesson for our Time

Rabbi Bob Samuels, Leo Baeck Education Center, Haifa, Israel, reflects on the Prophet's theological, political, economic and religious mandate for today's Israel.
The Shabbat before Tisha B'Av is known as The Shabbat of the Vision - it is the vision of the 8th Century BCE prophet who warned our forefathers and foremothers of the coming disaster brought upon us by the Babylonians. It would be no less relevant for us today to heed his words than it was 2725 years ago.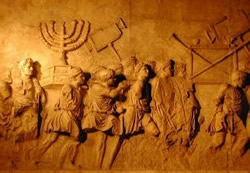 Israel, the Northern Kingdom, had already been defeated by the Assyrians, and the people of the 10 northern tribes sent off into exile. The Prophet Amos had warned the residents of Beth El and all of Samaria that their social, political, economic and religious actions were wrong, that they did not understand the terms of the Covenant nor the meaning of their God. He inveighed against the irreligious and immoral practices of the leaders and the wealthy. They were corrupt, exploited the poor and powerless without remorse, and their religious rituals were an abomination because there was no social justice.
Isaiah appeared in Judea, the Southern Kingdom, in the next generation. He lived through the predicted catastrophe of Israel. Then, he continued Amos' message to the leadership and the People of Judea. That is the theme of our pre-Tisha B'Av Haftarah, and is a last-chance message before destruction. He too was concerned with social justice and bitterly criticized the lifestyle of the rich. He was convinced that to believe in Adonai, our God, was to be compassionate, charitable and truthful with others - and that without them ritual and sacrifice were empty and meaningless rites. Even more, he counseled that Adonai himself never asked for those ceremonies, but rather each celebration had to have social justice as its goal or it was false and would bring disaster.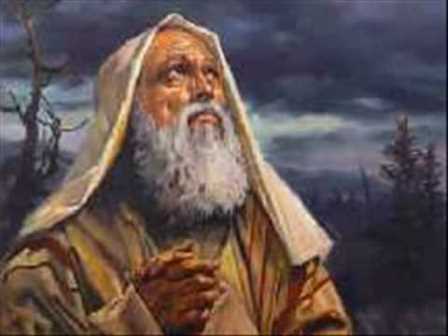 Isaiah was not heeded, and as a result, we experienced the tragedy of the exile to Babylonia and the destruction of the Temple.
And the Nimshal? (lesson learned) Quite obvious: 2725 years later so many of our leaders are corrupt; our rich get richer; so much of our middle class is concerned primarily with itself; our poor get poorer; our majority either believes in or tolerates an exclusive ultra-nationalism; so many of us hate and/or mistrust every Arab; so many of us persecute or try to silence those who believe in social justice, civil liberties, civil rights and multi-nationalism; so many observe rituals while living an immoral life; so many seek revenge rather than reconciliation; we go to war rather than negotiate for peace.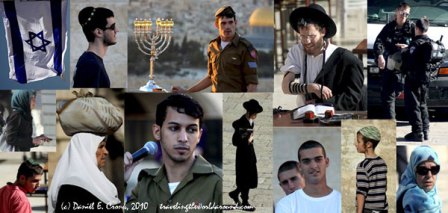 The Many Faces of Israel (photo courtesy of globe-trekking.com).


Amos and Isaiah warned us way back then. Their vision of the way of Adonai is a warning no less to us. We will not survive through corruption, hatred and war. It is not the DNA of our Covenant and Vision. Our people must demand that our leaders take the theme of our pre-destruction Prophets as our path.
"...However much you pray, I will not listen while your hands are full of blood!
Wash yourselves, cleanse yourselves;
Put away your evil doings, cease to do evil!
Learn to do good, seek justice, relieve the oppressed!
Uphold the orphan, take up the widow's cause" (Isaiah 1:15-17)
A powerful theological, political, economic and religious mandate for 2014 Israel.
Who will heed the message and who will lead us?
Dear WUPJ Newsletter Subscribers: Like your Favorite Facebook Page Today!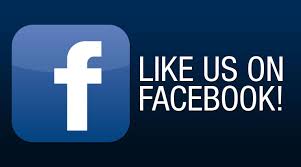 The
WUPJ Facebook page
is

your

page – the place where you can follow regional activities around the globe, learn about programs in other places and share important news about your community.
By clicking 'like' on the WUPJ Facebook page, you will be plugging into a worldwide network of friends and kindred spirits.
While the WUPJ Newsletter is chock full of important information about our worldwide family, the publication is only published every other week.
In contrast, our Facebook page is refreshed several times a day, every day.
'Liking' us will also enable you to engage in online conversations, exchange ideas and discuss hot topics with community members from Jerusalem to Johannesburg, Russia to Rio, and just about anywhere else you can think of.
Please click here to visit our page. If you like what you see, then by all means 'like' what you see and 'share' the WUPJ Facebook page's updates with your friends.
And for even more WUPJ news and updates, follow us on our newly renovated Twitter page
here
.



Back to In This Issue


Congratulations
All of us connected with the World Union for Progressive Judaism in 45 countries and 1200 communities around the world, join in joyful songs of praise for: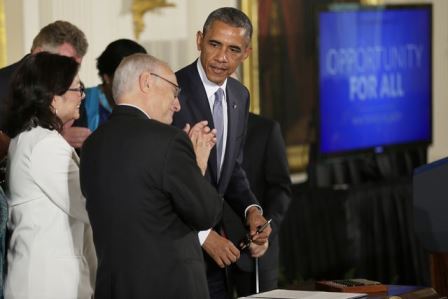 All the President's Men: Rabbi David Saperstein and Barack Obama.
Rabbi David Saperstein, who was nominated on July 28 by US President Barack Obama to serve Ambassador-at-Large for International Religious Freedom.
Rabbi Saperstein, the director of the Religious Action Center of Reform Judaism (RAC), appeared alongside Secretary of State John Kerry during the presentation of the 2013 Annual Report on International Religious Freedom.
"I am grateful that Rabbi Saperstein has chosen to dedicate his talent to serving the American people at this important time for our country," President Obama said in a statement.

Under Rabbi Saperstein's leadership, the RAC has firmly established itself as a key leader on a broad range of issues, including religious liberty, reproductive rights, LGBT equality, disability rights, the environment, economic justice and, of course, international religious freedom.

May 13-16, 2015 – Connections 2015, World Union for Progressive Judaism(WUPJ) 37th Biennial Conference, Rio de Janeiro, Brazil



May 28-June 7, 2015

- The Israel Study Kallah, Israel



July 2-12, 2015 -

Bergman Seminar for Jewish Educators, Israel



June 9-19, 2015

- Australian Council of Christians and Jews Multi-Faith Seminar, Israel