Issue #493
Issue #493 – 24 July 2014 / 26 Tammuz 5774
To Israel with Love: UPJ Reaches out with Letter Writing Campaign

WUPJ President to Attend Ordination of Four Rabbis at Abraham Geiger College



Netzer Notes



Stiff Upper Lip: During Time of War, English Youth Flock to Israel

Jewish Journeys: Young, Progressive Adults to Converge in Cracow, Poland


Our Israeli Adventure: English 'Shnatties' Look Back

, The World Union for Progressive Judaism (WUPJ) and the Israel Movement for Reform and Progressive Judaism (IMPJ) responded immediately the moment missiles began falling on Israeli cities across the country.
As the Israeli government fulfills its obligation to protect the country's citizens and enable them to pursue a normal way of life, the Reform Movement is developing its own action plan to provide support for families affected by the attacks.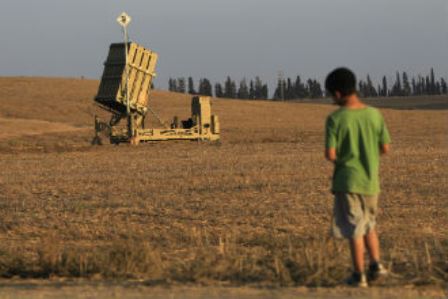 Keeping Israel Safe: 'Iron Dome' Air Defense System.
Beit Shmuel-Mercaz Shimshon, the World Union for Progressive Judaism's headquarters in Jerusalem, is providing free food and board to families who have been forced to flee their homes from the south. Furthermore, Beit Shmuel is organizing free walking tours and educational programs.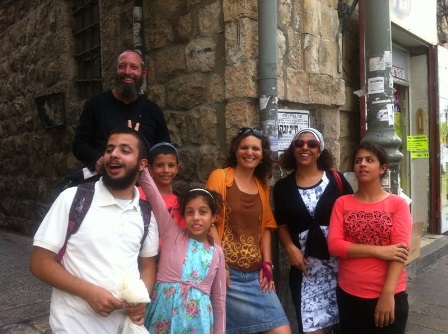 Well Deserved Break: Ashekelon Family Tours Jerusalem.
Simultaneously, the IMPJ has developed a series of responses to the emergency. Keren BeKavod, the IMPJ's humanitarian arm, has to date organized over 200 volunteers to lead activities in shelters, community centers, and other locations in cities and regional councils throughout the south. Where needed, volunteers are also handing out "Food and Hygiene Packages" in shelters. IMPJ volunteers have worked directly with over 1500 people.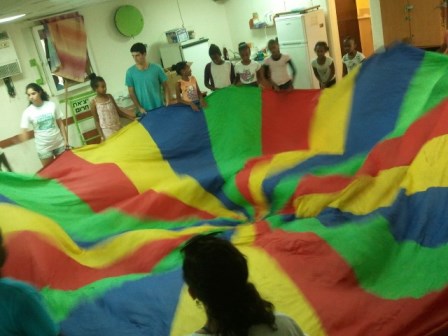 United we Stand: IMPJ in the Southern Town of Sderot.
Beyond the immediate steps taken thus far, the IMPJ is also facilitating a long-term plan to promote co-existence and positive relations between Arabs and Jews.
A delegation led by

Yael Karrie

, a student Rabbi in the Sha'ar Ha Negev Regional Council, and other volunteers visited the Bedouin city of Rahat, where they participated in a Ramadan fast-breaking meal.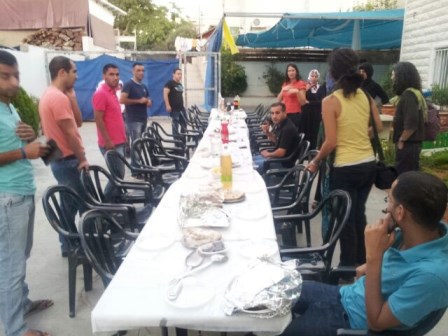 Together, in Peace: Fast-Breaking Meal in Rahat
Another example of IMPJ's outreach program is a day camp, run by the Birkat Shalom congregation, which includes both Jewish and Arab children from the city of Ramle.
During these difficult days, the worldwide Reform Movement continues to pray for an end to the conflict, minimal suffering, and peace.


Back to In This Issue



South Africa's Progressive Community Coping with Wave of Anti-Semitism
A report written by Alvin Kushner, National Chairman, South African Union for Progressive Judaism (SAUPJ):

Our big South African Progressive happening is the impending ordination of Student Rabbi Julia Margolis, which will take place on September 2 in Poland at the 160th anniversary of the Jewish Theological Seminary, Breslau. Julia has been involved with the Progressive movement in SA since 2009 and has since 2011 been working in different Johannesburg Synagogues, where she has been conducting life-cycle events as well as other ceremonies.
As I write this, Israel is in the midst of a dreadful conflict. As we all know, feelings have been running high in the diaspora as well. Before the escalation of the conflict, when three Israelis and one Palestinian youth were murdered, the Orthodox and Progressive movements held separate community memorial services throughout South Africa.



Alvin Kushner, National Chairman, SAUPJ.
In South Africa, we are currently experiencing a strong anti-Israel bias, from not only our country's vast Muslim Community and the ruling African National Congress, but - to our embarrassment - even from a small number of prominent Jews who are vocal in the local media.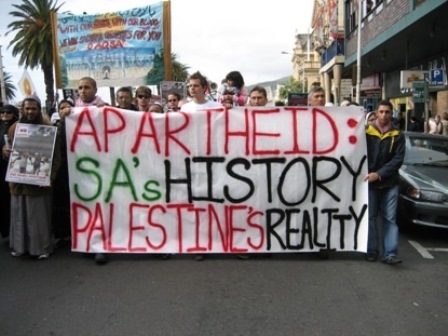 Hatred in the Streets: Anti-Israeli Demonstration in South Africa.
The continual stirring up of emotion by the media has left many South African Jews concerned about the fusion of anti-Zionism and anti-Semitism. It is now more important than ever for our scribes to present the true situation to the media, wherever possible.
Still, with the first meeting of our new SAUPJ Board having recently taken place via a teleconference held throughout South Africa, I am even more confident about the future of our community.
Rio's ARI Community: Empowering Latin America, Inspiring the World
For the first time in its history, the WUPJ International Convention will be held in a Latin American country. Connections 2015 will take place May 13-16 in Rio de Janeiro, Brazil. The host congregation will be the Associação Religiosa Israelita (ARI).
Established in 1942 by a small group of German Jewish immigrants that fled Nazi persecution, the ARI is today Rio de Janeiro's largest Jewish congregation with a membership of more than 900 families. A progressive Reform community, it is one of the most important centers of Jewish life in the city catering not only to spiritual needs but to cultural and intellectual pursuits as well.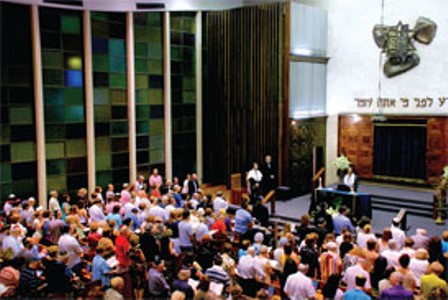 Kabbalat Shabbat at Associação Religiosa Israelita.
Despite its German roots, today's ARI is a melting pot, with a refreshing mix of Ashkenazi, Sephardic and Jews-by-Choice contributing their unique backgrounds.
More inspirational is the prominent presence of young people around the ARI. Every Friday night, approximately 45 kids stand on the bima for Kiddush.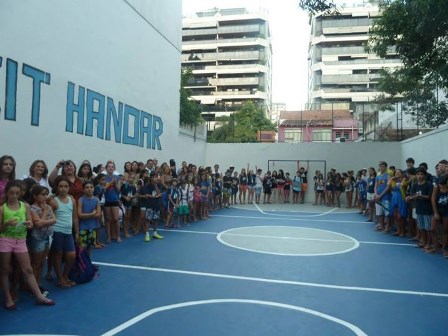 Game On! The ARI's Youngest Members are Serious about Sports.
The community is guided by Rabbi Sergio R. Margulies, a Brazilian who belonged to ARI as a child, and Rabbi Dario E. Bialer of Argentina. These gifted leaders are teaching the next generation of Rio's Reform community about the main questions and concerns of contemporary Jews.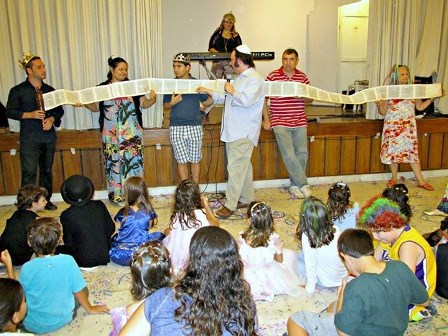 Putting on a Show: André Nudelman, one of the ARI's chazzanim.
With the ARI, Progressive communities across Latin America have a shining example to model their own congregations after.
And the rest of the Reform world is blessed with a profound source of pride.
Learn more about the ARI here.


Back to In This Issue



Uniting Jewish Latin America: Nahum Goldmann Fellowship
The recently concluded Latin American Nahum Goldmann Fellowship was one of the most successful in the program's 26-year history.
The Nahum Goldmann Fellowship is an evolving concept, aimed at inspiring both the Jewish leadership and Jewish community in a manner that simultaneously promotes Jewish values and positive relationships with the wider society.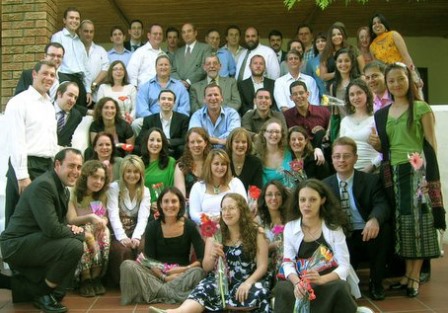 Out of Many, One Jewish Destiny: Nahum Goldmann Fellowship (file picture).
Held in Colonia, Uruguay, the 2014 Fellowship dealt with three themes: Jewish Identity in a Secular Age, Wrestling with Modernity and the Global Jewish Diaspora Community.
This year's seminar elicited enthusiastic responses from participants:
"…The educational environment brings an incredible opportunity for small and isolated Jewish communities, like ours, to get in contact with not just the real world, but the real Judaism as well. Getting to meet representatives from other small Jewish communities in the region, like Costa Rica and Dominican Republic, makes us feel that size is not important for you, while helping the Jewish people who are most in need is your top priority…"
Warm regards,

William Miller [a leader of the Cuban Jewish community]

The following excerpt is taken from a letter written by Therie De Sedas, a member of the Reform movement in Costa Rica, to Rabbi Joel Oseran, Vice President of International Development, World Union for Progressive Judaism:
"…Attendees varied from Orthodox to Reform; including representatives of all different denominations in between…It has been a great opportunity to be a part of this experience, and I believe our congregation and the UJCL [Union of Jewish Congregations of Latin America and the Caribbean] can make the most out of it, implementing small changes that will bring our communities closer to the region´s Jewish community in general, by being pioneers in the development of multi-denominational relations…"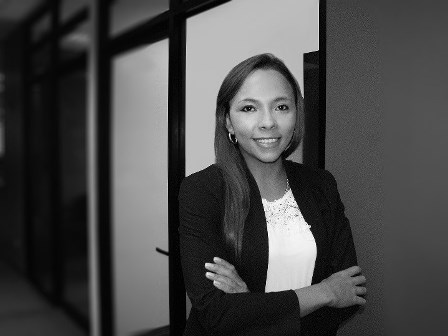 Nahum Goldmann Success Story: Therie De Sedeas.


Back to In This Issue



News In Brief
To Israel with Love: UPJ Reaches out with Letter Writing Campaign
In response to the stories coming out of Israel about adults and children forced to spend long periods inside of bomb shelters, the Union for Progressive Judaism (UPJ) has invited its members to reach out by writing Israelis personal letters of support.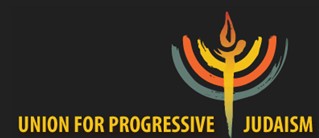 By letting displaced families know they are in the prayers of people in faraway Australia, New Zealand and Asia, the UPJ hopes that other communities around the world will initiate their own letter writing campaigns.
"We know that people around the world are feeling a sense of frustration because there is nothing that we can do to actually help Israel at this time," said Steve Denenberg, UPJ Executive Director. "But through this initiative, we can let Israelis know that they are not alone. It would be wonderful if this idea could be taken up by all regions of the WUPJ so that we can use it as a gesture of support for Israel and of the global strength and unity of the WUPJ movement."

WUPJ President to Attend Ordination of Four Rabbis at Abraham Geiger College
Abraham Geiger College announced that on September 2 WUPJ President Rabbi Daniel Freelander will attend the ordination of four rabbis and investiture of three cantors in Wroclaw, Poland.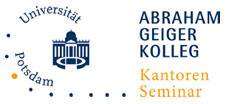 The ordination ceremony will be conducted at the White Stork Synagogue, which was Abraham Geiger's pulpit for over 30 years. Among the many luminaries and guests of honor, Dr. Frank-Walter Steinmeier, the Foreign Minister of the Federal Republic of Germany, will also be in attendance.
This celebration will be preceded by a day of remembrance. On September 1, Geiger College, together with the Municipality of Wroclaw and the city's Jewish Community, will mark the 75th anniversary of the German invasion of Poland with a memorial concert for the victims of World War II and the Shoah.
For further program information, please contact Alice Meroz

Back to In This Issue


Netzer Notes
Stiff Upper Lip: During Time of War, English Youth Flock to Israel
Despite the Gaza escalation, young adults from across the UK have continued as planned, embarking on their journeys to Israel. Currently, there are seven different groups of 15-16 year-olds: six from RSY-Netzer (280 participants) and one from LJY-Netzer (40 participants).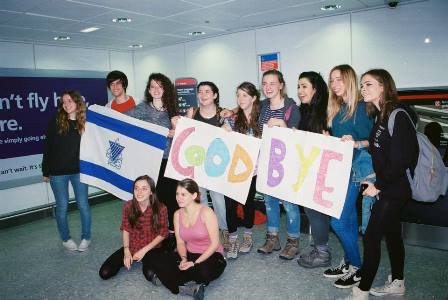 Bound for Israel: English Shnatties Saying Goodbye before Taking Off.
Despite the justifiable causes for concern, not a single cancellation has been recorded!
In the meantime, Netzer, the worldwide youth movement of the World Union for Progressive Judaism, has taken every precaution to keep its English visitors safe. Based on the changing security situation in Jerusalem, groups have been temporarily transferred to the relative safety of Reform congregations in either the north or south.
Netzer remains confident that the exciting and enriching program that has been developed for these special teenagers will not be substantially affected by the escalation.
Jewish Journeys: Young, Progressive Adults to Converge in Cracow, Poland
From October 16 to October 19, Jewish young adults from across Europe will have the opportunity to engage in high quality learning, while simultaneously getting to know other Jewish people from many countries. Jewish Journeys, established in 2008, is a collaborative program organized by TaMar Europe and Jung and Judisch Germany.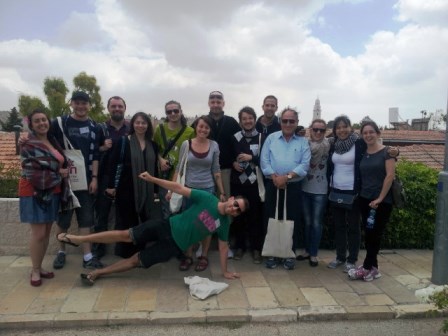 Young Adults enjoying a previous TaMaR seminar.
Once in Cracow, program participants will study with some of the best Progressive Jewish educators in Europe, celebrate services together and visit the many fascinating sights of Jewish Cracow.
For more information about the program as well as registration deadlines, please contact Netzer

Our Israeli Adventure: English 'Shnatties' Look Back
A few weeks ago, a group of English 'Shnatties' returned from an eight-month adventure in Israel, exploring Liberal Jewish principles, practice and ideology.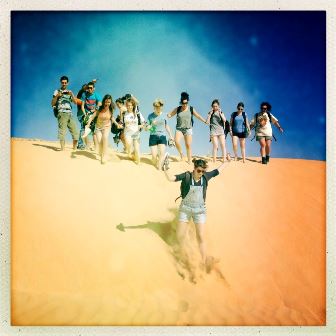 Taking Israel by (sand) Storm: English Shnatties in Action.
Here are some reflections from two of these Shnatties, Fran Kurlansky and Naomi Lane:
'Having never been to Israel before, I was shocked at the connection I felt. There was an ideological rooting in my decision to join the program, which has only grown as I've gotten older. I came to realize the importance of Progressive Judaism within Israel, youth movements, Reform Zionism, Tikkun Olam, making informed decisions and feeling empowered.
LJY-Netzer has always provided me with a feeling of community. Yet, until I came on Shnat, I could not harness the feeling that was evoked when I stayed at Machaneh Kadimah. I realize that this missing feeling was one of belonging…'
Read Fran's and Naomi's complete reflections on their journey here.


Back to In This Issue


Congratulations

All of us connected with the World Union for Progressive Judaism in 45 countries and 1200 communities around the world, join in joyful songs of praise for: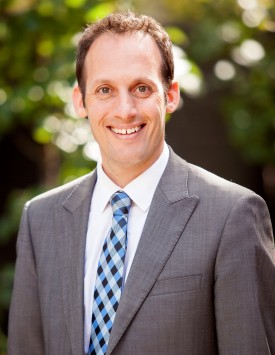 Marc Light, The King David School's New Principal.
Marc Light, who was appointed as the new principal of Melbourne's The King David School. March holds a Bachelor of Law/Arts as well as a Graduate Diploma in Education from the University of Melbourne. Having attended The King David School, Marc is the first alumnus to become a principal of a Jewish school in Melbourne. Marc and his wife Emma have three children, Daniel, Layla and Raphy.
Marc, who was raised in a dedicated Progressive family that has long been a part of the Temple Beth Israel (TBI) congregation, is looking forward to "the privilege of shaping values and capacities of the next generation of The King David School."
Lynn Maggid and Dale Lazar on the birth of a second granddaughter, Adar. Lynn is the immediate past president Women of Reform Judaism (WRJ) and is currently on the WUPJ North American Advisory Board (NAAB). Adar was born to Sage (Margaret) and Aaron (Lynn's son). Adar, Sage and Aaron are all doing fine and are spectacularly happy!
Get Stimulated: Beit Shmuel Launches Summer Season with Three New Courses
Beit Shmuel-Mercaz Shimshon, the WUPJ's headquarters in Jerusalem, kicked off the summer season with three brand new courses. These educational offerings opened under extraordinary circumstances, when a Code Red alarm went off across Jerusalem. Beit Shmuel staffers handled the situation calmly and professionally, escorting course participants a nearby bomb shelter. Once the siren had stopped wailing, 65 anxious but determined people embarked on their respective courses.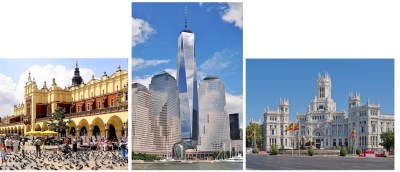 Feast for the Eyes: Beit Shmuel Travels to Madrid, New York and Cracow

Summer 2014 at Beit-Shmuel-Mercaz Shimshon is offering:
1) Armchair Journey: A Virtual Trip to the Most Architecturally Intriguing Cities in the World
2) Forever Young: Plants that Slow the Aging Process
3) Faith's Foundations, Faith's Secrets: Turning Desire into Creativity
Back to In This Issue


Condolences

The leadership and staff of the World Union offer their sincerest condolences to the family of Jane Siegel. A Women of Reform Judaism (WRJ) board member for many years, Jane was an extremely active member of our global family. Specifically, Jane dedicated herself to the Jewish communities of Latin and Central America, having most recently served as the Treasurer of the WUPJ's Yad Byad task force. Jane also played a central role in the organization of the UJCL Conference, held in January in Costa Rica.
Jane's straightforward yet welcoming attitude was an inspiration to many who had the benefit of working and collaborating with her.
Messages of condolence may be sent to Rebekah Siefel at 3174 Shady Avenue Ext., Pittsburgh, PA 15217
Contributions can be made to Women of Reform Judaism at 633 Third Ave., New York, or Temple Sinai, 5505 Forbes Ave., Pittsburgh, PA 15217, telephone: 412.421.9715
May her memory be for a blessing.


Back to In This Issue