Issue #492
Issue #492 – 10 July 2014 | 12 Tammuz 5774
Special Edition: WUPJ Statement on the Escalation in Gaza


The World Union for Progressive Judaism stands with Israel in its efforts to maintain security for all its citizens, and pursue peace with the neighboring nations and the Palestinian people. At the same time, we are deeply saddened and pained by the suffering and loss of innocent lives, and wish that compassion and care for human life were guiding the extremist Hamas leadership
.
As the tensions on the border between Israel and the Gaza Strip increase, Israel is preparing to call up 40,000 reservists for a possible ground offensive into Gaza. So far, 12,000 reservists have already been activated. The Israel Defense Forces commenced Operation Protective Edge on Monday night in order "to stop the terror Israel's citizens face on a daily basis," the IDF Spokesperson's Unit said.
Since the beginning of the military operation against Hamas, at least 200 rockets have been fired from the Gaza Strip toward extensive areas in Israel. One rocket reached as far north as the town of Zichron Ya'akov, much farther than Israelis had previously estimated Hamas arsenal's range to be.
There is a disconcerting sense of déjà vu to the escalation in Gaza. In 2005, the Israeli army withdrew from the area, dismantling all Israeli settlements in the Gaza Strip. Israel made this painful decision in the hope that it would advance the peace process. Disengaging from Gaza was also meant to convey a message to all of Israel's enemies: now is the time to consider the desirability of a negotiated agreement with Israel, improve the lives of the Palestinian population and thus sow the seeds of peace.
Instead, rockets and mortars have rained down on the inhabitants of small southern Israeli towns and villages in a wide parameter surrounding Gaza ever since.
In response to the escalation in Gaza, the WUPJ family is coming together to provide Israelis who have been affected by the attacks with strength and support during these difficult days. Beit Shmuel-Mercaz Shimshon, the WUPJ's headquarters in Jerusalem, is providing free food and board to families who have been forced to flee their homes.

Furthermore, Beit Shmuel is organizing free walking tours and educational programs with the aim of alleviating a bit of the tension being felt by Israelis living in the south. In addition, the Israel Movement for Reform and Progressive Judaism (IMPJ) has announced that it, the Israel Religious Action Center (IRAC) and Keren BeKaovd have embarked on a two pronged action plan to support citizens living under the threat of missiles and at the same time to develop co-existence and positive relations between Arabs and Jews. "


We fervently hope that reason and compassion will prevail, that Operation Protective Edge will end sooner rather than later, and that the world will recognize that neither Israel, nor any responsible democracy, can tolerate unending assaults on its people.
אמר אליהם חי-אני נאם אדני, אם-אחפץ במות הרשע, כ
י אם-בשוב רשע מדרכו, וחיה
.
(יחזקאל 33)
א
Say to them: As I live, says the Eternal God, I have no pleasure in the death of the those bent on evil, but that they turn from their ways and live

.
(
Ezekiel Chapter 33)
Rabbi Daniel H Freelander, President-Elect

Michael Grabiner, Chairman

Dr. Philip Bliss, WUPJ Advocacy Committee Chair

Leo Baeck College Ordains Three Rabbis
Change to Believe In: International Social Justice Program - The Roswell Seminar

Renaissance: Jewish Life Flowering across Poland

Barcelona Congregation Conducts Special Service in Honor of Women of the Wall

Spotlight On: Rabbi Julia Gris

NEWS IN BRIEF:


Come to Adelaide in November and join the UPJ at its Biennial Conference




Fifty Years Later: Rabbi Richard Hirsch Reflects on Civil Rights Movement



LIVE FROM LATIN AMERICA:


Reforming the World Cup: SIBRA Chosen as Official Synagogue of Porto Alegre




WUPJ Latin America to Hold Historic Gathering in Porto Alegre, Brazil



SNAPSHOTS FROM ISRAEL:


Jerusalem State of Mind: Make Beit Shmuel your Home Away from Home




Poll: Majority of Israeli Jews Favor Equal Status for Non-Orthodox Denominations



DEAR READER

UPCOMING EVENTS


Reform Movement Challenged to Think Big at Chagigah 2014

The Movement for Reform Judaism organized and hosted a sold-out Chagigah weekend that celebrated Britain's Reform Jewish communities.
260 people, including over 100 first-timers, attended the event, which took place at Eastwood Hall near Nottingham.






Strength in Numbers: Chagigah 2014 Participants Take Time to Say 'Cheese!'



Chagigah featured music-filled services and over 40 sessions with inspiring speakers and educators offering learning opportunities for all ages and levels. There were innovative and practical ideas and resources to take back to communities, with a strong focus on education and learning. There was also room for fun with quizzes, wine tasting, arts and crafts and storytelling.

Special guest for the weekend was Rabbi Dr Larry Hoffman, Professor of Liturgy, Worship and Ritual at Hebrew Union College in New York. Rabbi Hoffman is an expert in synagogue transformation who has worked with hundreds of communities globally. He noted that the Movement has changed since his last visit some 20 years ago seeing "more intimacy and spirituality."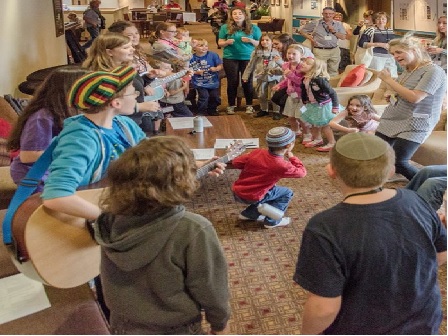 Rocking and Reforming: Kids Take Center Stage at Chagigah 2014.



Rabbi Laura Janner-Klausner, Senior Rabbi to the Movement gave a D'var Torah that echoed this challenge. Rabbi Janner-Klausner's sermon raised the question of "why bother being Jewish?" The rabbi then answered this rhetorical query, noting that Reform Jews are "uniquely placed to respond to this question and inspire Jews of all ages with a Judaism of greater meaning."

Tracy Israel of the Cardiff Reform Synagogue said that Chagigah "challenged me to "think in new ways, raising my awareness and broadening my horizons. I feel that my Reform Judaism has been reaffirmed and I'm looking forward to taking this back to celebrate Reform Judaism in Cardiff."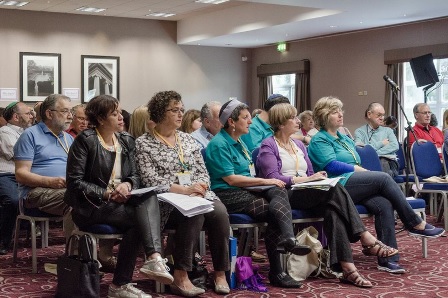 Focused on the Future: Chagigah 2014 Attendees Take in a Lecture.



Heather Harris from Hull Reform Synagogue commented on the warm and welcoming atmosphere: "It was easy to make new friends and strike up conversations."

Chagigah closed with an emotional musical ceremony challenging participants to return to their communities with a sense of purpose and mission to change lives and the world because of who we are as Reform Jews.


Back to

In This Issue





Leo Baeck College Ordains Three Rabbis

On Sunday July 6, Leo Baeck College ordained

Dr Kate Briggs, Julia Gris

and

Dr Rene Pfertzel

. The ordination service took place at the Edgware and District Reform Synagogue, and was conducted by faculty and alumni.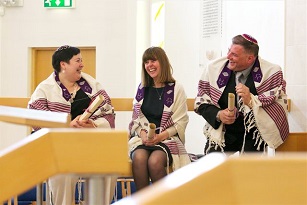 Power Trio: Rabbis Gris, Briggs and Pfertzel Have Much to Celebrate

.

Rabbi Dr Briggs will now serve at the Glasgow Reform Synagogue. Prior to coming to Leo Baeck College, Kate worked as a research fellow and psychologist at the Institute of Psychiatry and in Neuroscience, specializing in Alzheimer's disease. Rabbi Dr Briggs has a PhD from the University of London and has been published widely. Kate's home community is the Bromley Reform Synagogue.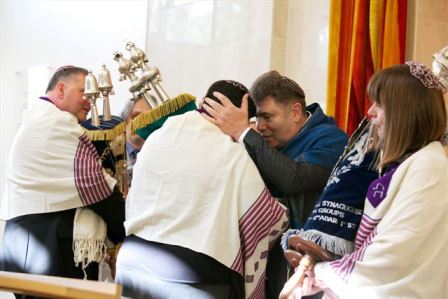 A Sacred Moment: Rabbi Alexander Duchovny Conducts the Ordination

.

Rabbi Gris will be returning to Odessa to assume a position of leadership at the Temple Emanu-El Reform congregation. Previously, Julia spent nine years with the community, working as a para-rabbinic leader. Julia was born and raised in Bryansk, Russia, where she studied at the State Pedagogical University, majoring in IT management.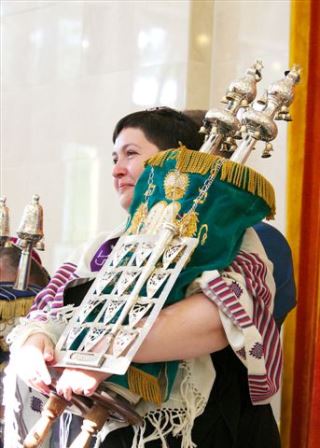 Congratulations, Rabbis Gris

.

Rabbi Dr Pfertzel, a native of Lyons, France, will be returning home to serve at the Keren Or Synagogue. Rene, who has been involved in the local Reform community for over a decade and worked in education for 25 years, will be dividing his time between France and the UK, where he will serve at the Finchley Progressive Synagogue.

These three remarkable individuals have already made impressive contributions to the Progressive Jewish communities they have worked in, laying the groundwork for even greater successes in the years ahead.


Back to

In This Issue





Change to believe in: International Social Justice Program - The Roswell Seminar

"Unbelievable." "Wow." "Brilliant." "A Gift" "Outstanding." "Amazing." These are but a few of the superlatives voiced by participants in the second Roswell Social Justice Seminar, run by the Anita Saltz Center of the World Union for Progressive Judaism in January 2014.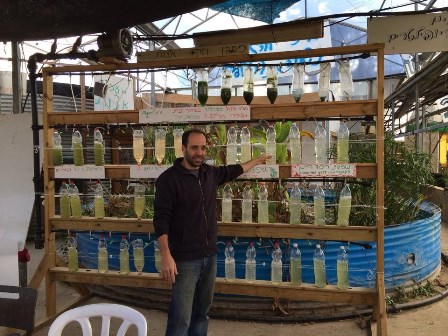 Social Action in Action: Roswell Seminar, 2014.



During the 2014 Seminar, participants met with

Rabbi Miri Gold

of Kehilat Birkat Shalom - just days after she received her first salary check from the government of Israel following an eight-year battle, with the support of the Israel Religious Action Center (IRAC,) to win recognition as a woman Reform Rabbi.

The third Roswell Seminar, being held January 8-15 2015, will build on 2014's success by providing a unique opportunity to travel through Israel and grapple with critical issues facing the Jewish People and the world.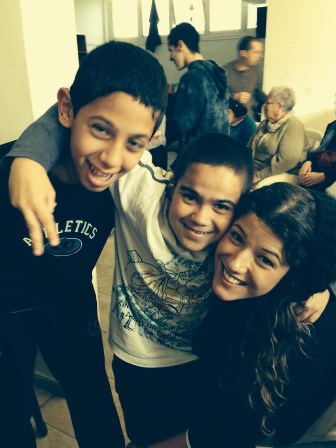 Roswell Seminar participant at Kabbalat Shabbat program with developmentally challenged children at the Beit Eden group home in Ramle

.

The program includes visits to the Knesset and Supreme Court of Israel, guided by IRAC staff members who are on the front lines: affecting social change by way of legislative efforts. The Seminar will cover such topics as pluralism, minority populations, the Israeli Social Justice Movement, GLBT and environmental issues.

According to

Rabbi Steve Burnstein

, director of the Saltz Center, the Roswell Social Justice Seminar's gift to participants is that "it introduces [them] to the personal stories and journeys of a diverse group of Israelis, all doing meaningful work toward social change".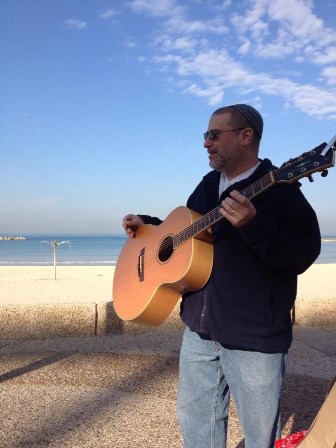 Rabbi Steve Burnstein



If you are passionate about social justice, you should come. If your community wants to learn and share techniques for involvement in social justice, you should send someone!

Change begins now: click here to contact Rabbi Steve Burnstein for complete Seminar details.


Back to

In This Issue





Renaissance: Jewish Life Flowering across Poland

Over the last two years,

Rabbi Gil Nativ

has converted 29 Polish men and women and has helped establish small, highly active new Progressive congregations in Gdansk, Poznan, Konstancin and Katowice. In addition, for the first time since the 1920s, a Polish-Hebrew Progressive prayer book was published, by Rabbi Nativ of the Jewish Renewal in Poland organization.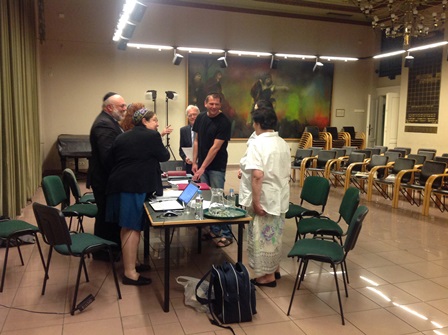 Renaissance Scene: Beit Din for Conversion - Beit Polska, Poland, May 2014

.

On July 8, Rabbi Nativ and his wife Zivah reported on their short but remarkably productive time in Poland during a presentation held at Mercaz Shimshon/Beit Shmuel, Jerusalem, the global headquarters of the World Union.

At this fascinating lecture, Rabbi Nativ noted that unlike 'Jews by choice' in the United States or Israel, converts in Poland tend to be people who were drawn to Jewish culture and tradition. Many of Rabbi Nativ's converts have long suspected a Jewish lineage in their ancestry.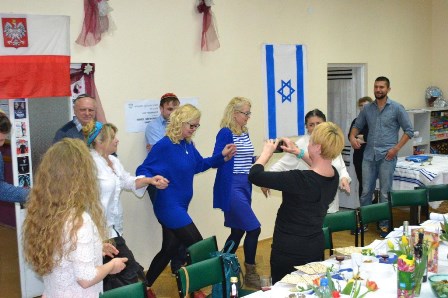 Seder Celebrations at Beit Trojmiasto (Tri-Cities: Gdansk, Gydinia, and Sopot)

.

Over the past decade, Progressive Judaism has demonstrated remarkable growth in Poland. Families who were able to hide their Jewishness during World War II did so, and then continued the concealment when Poland was dominated by the Soviet Union.

Now hundreds, perhaps thousands, of elderly Poles are sharing their secrets as they approach the end of their lives. Teens and young adults are suddenly discovering that they have a Jewish heritage, and a surprising number of them are embracing that heritage. Jewish studies is a growing college major. Each year dozens of Poles come to the Jewish community, many seeking formal conversion.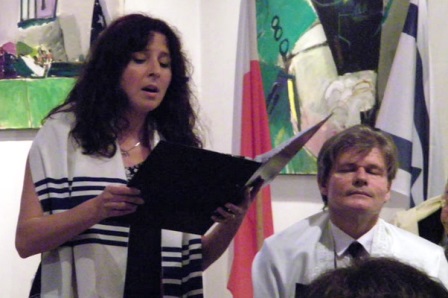 Prayer leaders Anna Jagielska-Riveiro and Piotr Kondrat at Beit Warszawa

.

Supported by the World Union for Progressive Judaism, nine Progressive synagogues in Poland have come together to form Beit Polska.



Rabbi Joel Oseran

, Vice President, International Development, for the World Union for Progressive Judaism, who attended the presentation by Rabbi Nativ and his wife Zivah, commented: "The Nativs are indeed doing Holy work in Poland and deserve our profound gratitude. They themselves comment that the work they do in Poland is no less pioneering as the work they did on Kibbutz Yahel, when they were among the first members of the Reform Kibbutz back in the 1970's."


Back to

In This Issue





Barcelona Congregation Conducts Special Service in Honor of Women of the Wall

The Barcelona Progressive Congregation Bet Shalom recently held a special service as a show of solidarity with the Women of the Wall organization.

In what has become an annual tradition at Bet Shalom, the women of the congregation expressed their commitment to WOW during Shavuot by leading the holiday prayer, singing, reading from the Torah and repeating the commandments in Spanish, Catalan, English, Russian, Italian, French and Polish.





Women, United: Bet Shalom's Gesture of Solidarity with Women of the Wall

.

This is how the women of Bet Shalom reiterate their belief in the values of equality, dignity, plurality and justice that the Reform Movement represents throughout the world.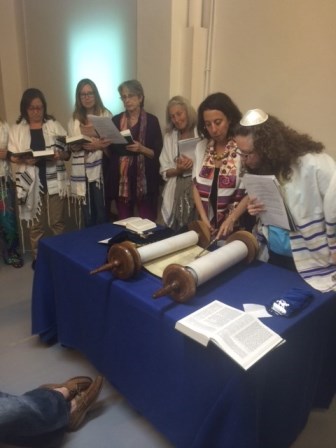 A Barcelona Moment: Bet Shalom, Shavuot 2014

.

Established in 2007, the Bet Shalom Synagogue community also organizes, as part of its social action projects, public events that disseminate information to the general Spanish society about the role of women in the Movement, including the prominent role of female rabbis.

From its founding, Bet Shalom has cooperated with many organizations, religious and civil, that advocate for the defense of women rights.

Since 2011, Bet Shalom has been collaborating with the Israeli Women of the Wall movement.


Back to

In This Issue





SPOTLIGHT ON: Rabbi Julia Gris

One of the most deeply moving moments at the recent Leo Baeck College ordination ceremony (full story here) was the sight of

Rabbi Alexander Duchovny

, an LBC alumnus and current Chief Rabbi to the Progressive Jews of Kiev and Ukraine, conducting in Russian the ordination of Julia Gris.

This was the first time in the history of the College that a Russian was ordained in Russian by a fellow alumnus.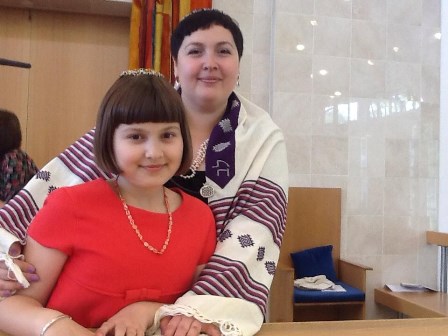 Proud Daughter: Izolda and her Mother, Rabbi Julia Gris

.

Julia's WUPJ roots are deep, having attended the World Union for Progressive Judaism's

Machon

(the Institute for Modern Jewish Studies) back when it was still operating in Kiev (it is currently based in Moscow).

During her second year at the Machon, Julia worked at the Movement's Reform congregation in Omsk. Her road to the rabbinate then brought her to Odessa, where she became a founding member of the Temple Emanu-El Odessa Reform congregation.

The World Union is proud of Julia's many accomplishments over these past years of study and work. We wish her much success and personal satisfaction as she begins her service to the Jewish People as Rabbi.


Back to

In This Issue





NEWS IN BRIEF



Come to Adelaide in November and join the UPJ at its Biennial Conference
The Union for Progressive Judaism's (UPJ) highly anticipated biennial conference will be hosted by the Beit Shalom synagogue in Adelaide, South Australia from November 20 to November 23.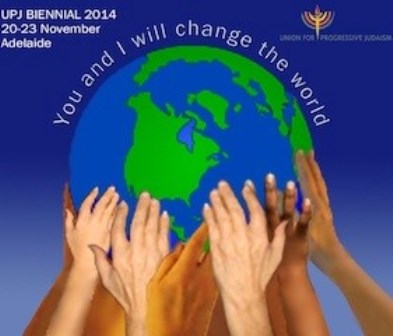 Program highlights will include:

• 4 Rabbis/8 Opinions: Why I am a Progressive Jew
• Changing Direction: Sharing our Progressive Jewish Journeys
• Hypothetical debate: Challenges facing Progressive Judaism
• Netzer for Dummies … Adults!
• Progressive Innovations: What's new regionally, in Israel and around the world
• Tikkun Olam: Initiatives that are changing our world

Fifty Years Later: Rabbi Richard Hirsch Reflects on Civil Rights Movement

On the fiftieth anniversary of the passage of the Civil Rights Act of 1964 in the United States, it is worth noting that the major deliberations on all the civil rights legislation of the 1960's were held in the conference room of the Religious Action Center of Reform Judaism (RAC). Beginning with Martin Luther King, Jr., leaders of all relevant groups and national religious bodies participated in these meetings.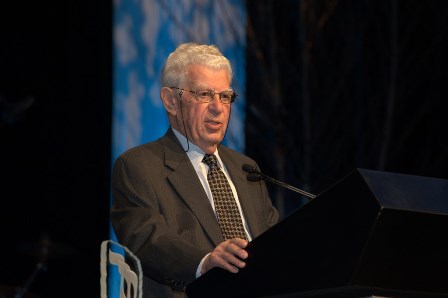 Civil Rights Leader: Rabbi Richard G. Hirsch



In commemoration of this historic role, the RAC has reproduced excerpts from the memoir, "From the Hill to the Mount," by the Center's founding Director, R

abbi Richard G. Hirsch

, Honorary Life President of the World Union for Progressive Judaism.



Read Rabbi Hirsch's inspirational reflections on one of the most turbulent eras in US history

now

.



Back to

In This Issue





LIVE FROM LATIN AMERICA

Reforming the World Cup: SIBRA Chosen as Official Synagogue of Porto Alegre
The Sociedade Israelita Brasileira de Cultura e Beneficência (Sibra) was chosen by the Municipality of Porto Alegre as the official synagogue of the FIFA World Cup in the city. Since the world's greatest football tournament kicked off on June 12, Jews from every corner of the globe have visited Porto Alegre, one of the host cities of the World Cup.






Mayor of Porto Alegre, José Fortunati (middle), Guershon Kwasniewski (L) and Spiritual Leader Sergio Caraver, President of SIBRA. (Photo: Disclosure)



Before the World Cup's opening ceremony, Sibra held a Shabbat of Nations, which was attended by Mayor José Fortunatti as well as diplomats from the Consuls of Germany, Canada and Spain. Ahmad Ali, the representative of the Islamic Cultural Center, also joined in on the festivities.

Beyond Porto Alegre, Reform Jewish congregations in São Paulo, Rio de Janeiro, Belo Horizonte and Salvador have also opened their communities to Jewish tourists from all over the world during the World Cup.

WUPJ Latin America to Hold Historic Gathering in Porto Alegre, Brazil

History will be made from August 17 to 19 when

Rabbi Joel Oseran

, Vice President of the World Union, will assist Latin American regional rabbis to establish the first ever Council for Progressive Rabbis in Latin America.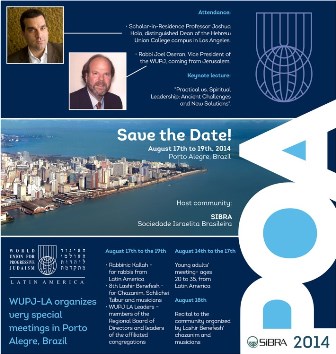 The
WUPJ Latin American region
will host a combined conference of rabbis, cantors and congregational board members in Porto Alegre, Brazil. Hosted by the Sibra congregation, the conference will feature workshops for lay leaders conducted by
Raul Gottlieb
, the WUPJ Latin America President and Vice President,
Miriam Vasserman
and
Sergio Napchun
, the newly appointed Executive Director.

There will be a festive concert of regional Hazanim called

LaShir B'Nefesh

as well as a Rabbinic Kallah, with guest teacher

Professor Josh Holo

, Dean of the Los Angeles School of Hebrew Union College-Jewish Institute of Religion - and a Portuguese speaker.


Back to

In This Issue





SNAPSHOTS FROM ISRAEL

Jerusalem State of Mind: Make Beit Shmuel your Home Away from Home

Planning a summer adventure in Jerusalem? If so, you may want to consider booking a room at Beit Shmuel, nestled amidst the charming Jerusalem landscape and directly facing the Old City walls.





Beit Shmuel is currently making it even more worthwhile to make a reservation, with the following promotions*:
1)

Save 15% on your room by 'Liking' the Beit Shmuel Facebook page. (valid through July 2014 with no minimum nights required)
2)

Book your summer vacation at Beit Shmuel Hotel & Guest House and get a 50% reduction on your room rate for the second night (valid for reservations of a minimum of two nights for August 2014).

Interested in learning more? Visit Beit Shmuel today.

* WUPJ members receive a 10% discount on the full price for a room that has not been pre-booked (no double discounts).



Poll: Majority of Israeli Jews Favor Equal Status for Non-Orthodox Denominations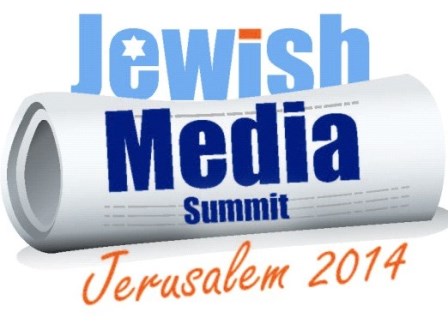 Some of the findings are of special relevance to the Reform Movement:
•

Status

: 51% of Israeli Jews believe that the Conservative and Reform movements in Israel should be given status equal to that of the Orthodox movement in matters of conversion and marriage.
•

Funding

: 40% of Israeli Jews support allocating government funds to Reform and Conservative communities and rabbis.
Representing the Reform Jewish perspective at the Jewish Media Summit was

Rabbi Joel Oseran

, who participated in the Unity of the Jewish People: Making Room for All Streams panel discussion.
View the complete IDI poll results
here
.
Back to

In This Issue
DEAR READER:

*

Stay Current

with newsletters from our regions. It's easier than you think! Click here for more details.
*

What Do You Think About our Newsletter

?
Please click here to send your comments or suggestions for the next WUPJ newsletter.
Back to

In This Issue


UPCOMING EVENTS
Back to

In This Issue