Issue #486
Issue #486 – 1 May, 2014 | 1 Iyyar, 5774
Rabbi Freelander is currently Senior Vice President of the Union for Reform Judaism in North America.


In announcing Rabbi Freelander's selection, WUPJ Chairman, Mike Grabiner highlighted the energy and leadership Rabbi Freelander will bring to the World Union. "Rabbi Freelander's appointment is exciting news for the World Union. He brings with him wide leadership experience and a deep understanding of how to strengthen Jewish commitment and identity. His passion for engaging Jews globally through the values of Progressive Judaism makes him the ideal choice to lead the World Union."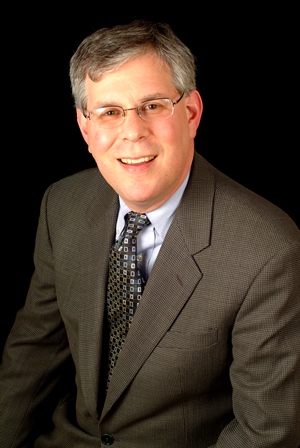 Rabbi Daniel Hillel Freelander



Click here for full press release.


Back to

In This Issue




Over 5200 people came together throughout the FSU communities
In Russia, a total of 1050 attended Sedarim and other Passover activities in Moscow: two Sedarim were held at the Moscow Center for Progressive Judaism. Both were very successful largely due to the hard work of Director Evgenia Rozental, staff and Machon students who led the Sedarim and organized different activities for both adults and children. Other activities included a Netzer-led youth Seder, communal Sedarim at the Severnanya Congregation and Meod (JCC), and Cantor Dmitry Karpenko led a Seder for the Moscow Jewish community and a special Passover learning session was held by Rabbi Lyskovy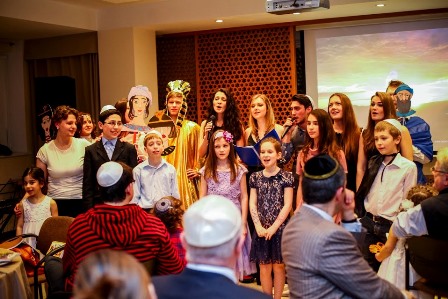 Special presentation by Machon student and community youth

See additional photos for Moscow: first Seder, second Seder, YouTube video of first Seder, and Netzer Seder.
The week of Passover was a very eventful one at Shaarei Shalom in St. Petersburg led by
Rabbi Yelena Rubinstein and Director of Programs, Alla Mitelman
with a total of 200 people who took part in a variety of Sedarim and other Passover activities: a communal Seder was held with guests from the interfaith council in the city. The Seder was televised on Russian television (
click here
for link).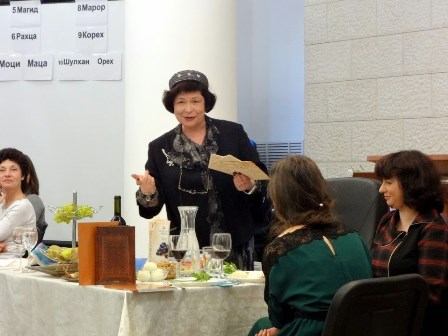 Rabbi Yelena Rubinstein leading the Seder at Shaarei Shalom
The Shatil Kindergarten held a Seder and the Iztoria film studio presented the completed film: "Tale of Four Seeds" (see video clip). Click here for
photos of Seder, here for photos of Shatil Seder, and here for Bar Mitzvah photos.


Eight students from HUC travelled to Belarus to conduct Sedarim in different cities as part of the annual Pesach Project. HUC rabbinic, cantorial and educational students Stephanie Crawley, Jesse Paikin, Maya Glasser, Julie Bressler, Laura Stein, Joshua Mikutis, Mathew Green, Samuel Kaye made a real difference, in 11 communities, taking part in 25 Sedarim and classes in Belarus. Once again, the annual International Cantorial festival took place in Minsk and was hosted by Rabbi Grisha Abramovich and organized by Irina Abramovich and Michael Dvilanski. A total of 200 people took part. Four HUC student took part and were the stars along with singers from Baranovichi.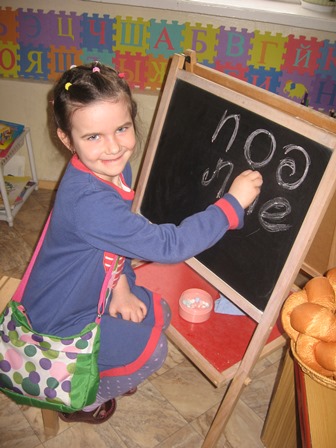 "Have a Happy Pesach" says this young participant in Mogilev

A total of 1605 participants took part in Sedarim, lectures, classes, and children's activities in Minsk led by Rabbi Grisha Abramovich, Executive Director, Michael Kemerov, Educational Coordinator Irina Belskaia, Netzer Coordinator Artur Raiski, and other RUPJ staff.


The HUC students led and assisted with Sedarim in Minsk, Gomel, Mogilev, Baranovichi, Lida and Minsk. An additional 450 participants took part in Sedarim in Borisov, Soligorsk, Slutzk. Two of these Sedarim were led by youth leaders who studied with Rabbi Abramovich and were organized by Jewish Family Services as part of the JFGA (Atlanta Federation) project.
A total of 2050 people took part in various Pesach activities in Belarus. Click here for additional photos.

A total of 5 Sedarim were conducted in Kiev, Ukraine
by Rabbi Alex Dukhovny, Executive Director Alex Haydar and other staff.
. Three took place in the kindergartens with 160 people (parents and their children). Rabbi Alex Dukhovny spoke about the history of the holiday and various traditions. The Hatikvah community held 2 communal Sedarim for 140 people. The first celebration was a Seder for community members. Among the guests that attended were the VAAD of Ukraine and a rabbi from the Conservative Movement and his family. The congregational program consisted of a field trip to the Puscha-Voditza, recreation zone near Kiev and included special games for the festival prepared and led by Netzer members and a barbecue. Among the participants were special guests from the Israeli Embassy and the Jewish Agency.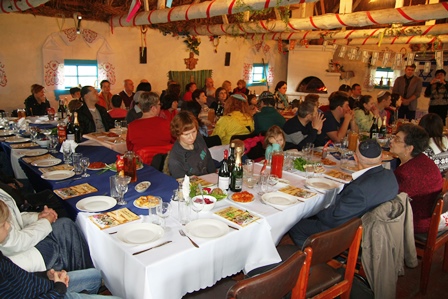 Communal Seder in Kiev

Other Sedarim in Ukraine were held in Poltava, Lutsk, Lvov, Cherkassy, Korsun and Odessa. Click here for photos.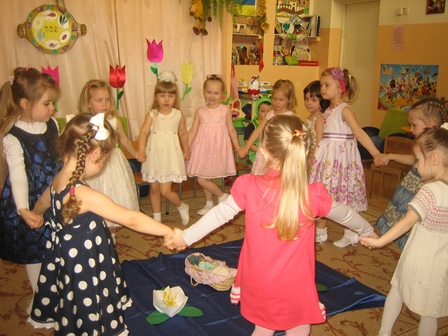 Finding Baby Moses in Ukraine
Nearly 1,000 people took part in Seders in Ukraine.
Rabbi Leonid Bimbat and 3 Machon students travelled to Crimea to conduct Seders for nearly 600 people in
Crimea, and in spite of the recent political upheaval, close to 600 people took part in Sedarim in Simferopol, Evpatoria (for the congregation and the Women's Club), Feodosia (for the congregation and for the children & youth group), Kerch (2 for the congregation and one for the children & youth), and Kirovograd. The story of Pesach and freedom took on a new meaning this year for the people in the region - with hope for a peaceful resolution in the near future. (Click here for photos).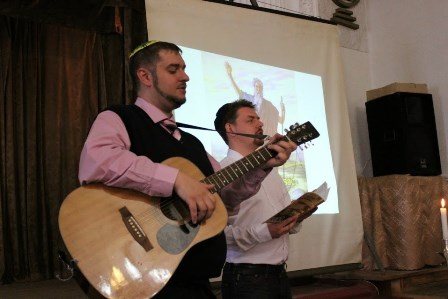 Rabbi Leonid Bimbat leading the Seder in Kerch
Over 70 participants at the at South London Liberal Synagogue

Led by Rabbi Janet Darley, and with an able team of volunteers, over 70 members of South London Liberal Synagogue in Streatham (South London) came together in a communal Seder. As Rabbi Darley said, "many surveys indicate that attending or holding a Seder is one of the most commonly observed personal religious practices for Jews… being with family and friends, storytelling, food, drink—all elements which add up to a great evening. The Sedarim we hold also tell us much about our Jewish identity."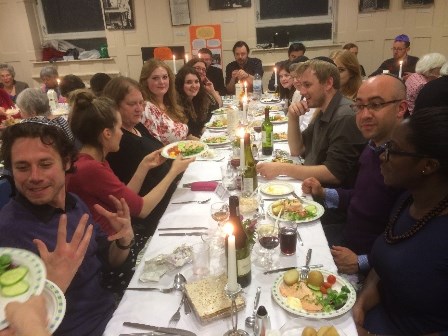 Storytelling in south London
Back to

In This Issue
Chad Gad Ya in Italian as Beth Hillel celebrates its first communal Seder
Evan Wilkoff, executive committee member of Temple Beth-El, North Carolina, attended the Seder held by Beth Hillel in Rome. Over 50 people attended this seder, led by a "charismatic, itinerant, native Italian, Rabbi Antonio who was incredibly thoughtful in trying to keep us 'in the loop' given the language barrier," says Wilkoff. He goes on to relay that while the components were the same, the tunes and language were very different to what they were used to. He also said that "it was interesting to note some of the older folks in attendance took the opportunity to relate stories of the Exodus/Seder to historical events of the Holocaust - which obviously touched many of their families' lives directly." Beth Hillel organized 2 communal Sedarim to accommodate the large demand in Rome for a Progressive Seder experience.


This visit portrays yet another example of the global family we are part of - in 49 countries with close to 1200 communities. (For more information on how to connect with one of these communities on your next trip abroad, please click here for Reform Judaism Magazine's 2nd Jewish World Travel Guide in partnership with the World Union).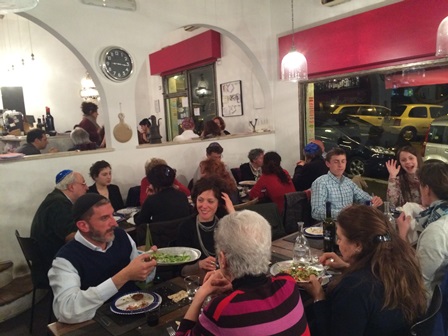 Pesach Seder in Rome with Beth Hillel congregation
Back to

In This Issue
Interfaith, Care Packages, and Pesach day camp at Natan-Ya

Rabbi Edgar Nof of Congregation Natan-Ya (Netanya, Israel), was busy in the days leading up to and including Pesach. On April 4th, a historic event took place when, for the first time in the history of the city, there was an interfaith event organized by the Universal Peace Federation with Druze, Muslim, Christian and Jewish religious leaders and laypeople. Participants came from all over Israel and gathered in the Natan-Ya Congregation.


In addition to their wonderful communal Seder, including a special discussion by board member Reuven Marko on "Many Songs of Freedom", the community was busy helping those less fortunate to prepare for the holiday: they assisted IDF veterans suffering from PTSD (post-trauma stress disorder); they helped collect and distribute food packages through the Keren Bekavod fund; together with volunteers from B4H led by Crystal Lionne, they distributed food packages to underprivileged families in Haifa; they held a special Pesach activating at the Lev Ganim Nursing Home in Netanya; and they held a special activity for Passover at the Italian Hospital. The annual pre-Pesach day camp was held for children of new immigrants where they were kept busy learning songs, reading about Pesach and doing special art projects.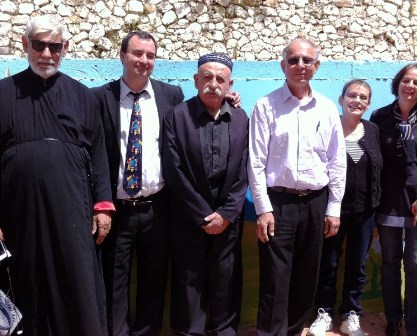 Rabbi Nof (second from left) and participants in Interfaith Event
Back to

In This Issue
Torah, Yoga and Matza in Shanghai

Rabbi Levi Weiman-Kelman and wife Paula Weiman-Kelman, a documentary filmmaker, were invited by Kehilat Shanghai to lead the Seder and other events for the community. The Seder itself was attended by close to 100 participants – for some it was their very first Seder. Other events included a special Shabbat service with guest Sam Moshinsky who was born and lived in Shanghai until 1951, later becoming the president of the Reform congregations in Australia; special activities for children; a Jewish Jam session; Torah & Yoga; and Morning Coffee with the Rabbi. For many congregants this was a wonderful opportunity to discuss personal issues with the Rabbi, including family matters, Bar Mitzvah, and weddings. (Click here to read a feature about the visit in the

Shanghai Jewish Light

).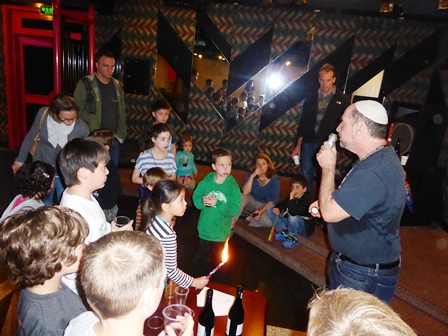 Rabbi Weiman-Kelman leading the children in Havdallah services

Paula Weiman-Kelman filmed a brief documentary about the rise of the congregation which will be used to help promote this Progressive community. The visit and community events were coordinated by Netzer-JAFI Shlichah Hadas Haham.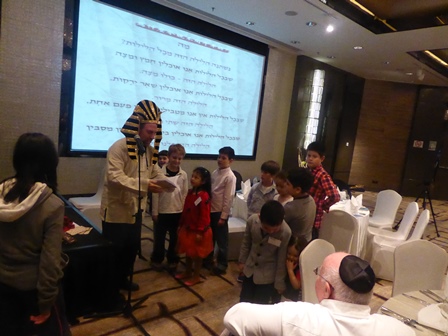 Rabbi Levi Weiman-Kelman as Pharaoh telling the story of Pesach
Back to

In This Issue
Charoset made with… beans at Adat Israel in Guatemala

Adat Israel in Guatemala planned a very special Pesach that included the entire congregation. They had special guests this year including visitors from the US Embassy, parents of congregants, relatives and old friends. Many people crowded together in a small space but all felt the sense of unity and joy. In different languages, in a range of age groups, all came together to enjoy the special meal that included a Charoset made in Guatemalan style with beans. Rabbi Elyse Goldstein, honorary rabbi of the congregation, sent them these touching words:


"May this time of liberation bring you all joy! We have been through many 'narrow places' of Mitzrayim together and I feel we have reached a beautiful place of promise"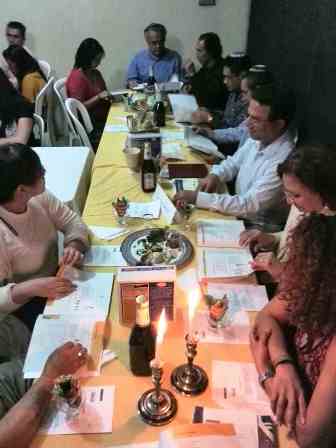 Celebrating Guatemalan style with congregation Adat Israel
Back to

In This Issue
Netzer and the Chocolate Factory Seder in Australia

Leave it Netzer to run a Seder that is not only incredibly fun and inspiring, but based entirely on… Chocolate! Yuval Nemirovsky, Netzer Shaliach to Sydney tells us that it was "an incredible Pesach Chocolate Seder, where we not just learned about peach, freedom and our story, but we ate lots of chocolates!"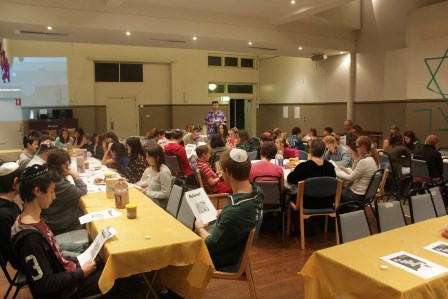 A very chocolaty Seder in Sydney
Back to

In This Issue
News In Brief
New Executive Director for Latin American region

The WUPJ-LA region is delighted to announce that Sergio Napchan has been hired as their new Executive Director. Sergio comes to us with vast professional experience with the Brazilian Jewish community, as well as academic training in the Jewish communities of Argentina and USA. He studied at LEATID in Buenos Aires and Brandeis University in Whaltham-MA as well as in Israel.
Sergio Napchan will continue the work that is being developed by the team of activists, rabbis and engaged professionals, affiliated and committed to the cause of Reform Judaism.


One of WUPJ-LA's main goals is to make the Movement's ideological message as accessible as possible, known and appealing to other congregations and families. The growth potential is significant, because it must follow the trend in major Jewish centers around the world. Another important goal is to consolidate a relevant presence in terms of formation of new leadership for the region, both volunteers and professionals, who are committed to a vision of a vibrant Judaism, hand in hand with the congregations, rabbis and professionals from the communities.
WUPJ-LA President Raul Gottlieb and Vice President Miriam Vasserman said: "We welcome him, with the expectation and hope that we can all together continue to grow as Congregations, promote and publicize our cause, a Progressive Judaism that is inclusive, equitable, relevant and meaningful in our lives, and our families."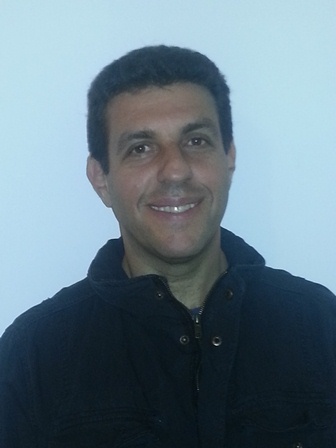 Sergio Napchan
TaMaR Olami to hold International Conference in June
The TaMaR Kenes Olami (World Conference) will take place in Jerusalem from June 2-7, 2014. We encourage young adults to come to the seminar, participate in the workshops, acquire educational and leadership skills, get to know Israel from various perspectives and take home the skills and lessons that they can pass on to their peers in their home communities.
Netzer and TaMaR executive director Maoz Haviv, together with Anabella Esperanza, coordinator for Spanish and Portuguese speaking countries and Miri Nahmias, Chinuch coordinator are developing the program, and it is shaping up to be exciting and innovative with interesting lectures, workshops and field outings, focused on Judaism, Zionism, modern and historic Israel, Progressive ideology, leadership training and much more. We are expecting delegates from more than 20 countries, including Australia, South Africa, Argentina, Brazil, Chile, Costa Rica, Panama, USA, Britain, Spain, France, Germany, Italy, The Czech Republic, Poland, Hungary, Russia, Belarus, Ukraine and Israel. As in previous years, TaMaR will cover the cost of the conference (not the flights).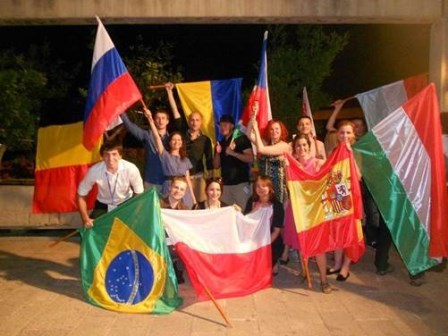 TaMaR gatherings showcase the global diversity of our members
TaMaR Olami is a WUPJ framework for Progressive Jewish young adults, a natural continuation for graduates of WUPJ's youth and teen movement Netzer Olami as well as other young adults from the Reform Movement worldwide.
If you are a young adult in the Progressive world, we would like to invite you to join our activities and participate in the TaMaR conference in June. Please visit our Facebook page or send us an email to find out more on how you can participate.
Rabbi Gersh Lazarow formally inducted at Temple Beth Israel, Australia
In a moving Havdallah service on April 12, Rabbi Gersh Lazarow was formally inducted as the new senior rabbi at Temple Beth Israel, Australia. Surrounded by family, friends and colleagues, Rabbi Lazarow signed a ketubah, marking his covenant with the congregation, alongside his two predecessors Rabbis Fred Morgan and Dr John Levi. Rabbi Lazarow remarked that "while this incredible congregation has been served by almost two dozen clergy over the last 85 years, only 3 before me – Herman Sanger, John Levi and Fred Morgan – have been fortunate and privileged enough to be entrusted with the mantle of Senior Rabbi. To have my name formally added to theirs is both humbling and inspiring and I stand here this evening, wholly committed to honoring them and their service through my work, efforts and energies."
Rabbi Levi noted that "the baton change of senior rabbi marked a boundary between eras in the eight and a half decades of TBI's existence". Rabbi Morgan reflected on the power of Judaism as a communal religion, stating "there are no Jewish Robinson Crusoe's".
In concluding the Havdallah service, Rabbi Lazarow remarked that "like the Israel Movement for Progressive Judaism declared 20 years ago,the time has come for us to proudly affirm that even in Melbourne - "yesh yoter, mi'derech echad lihyot yehudi" - there is more than one way to be a Jew. In so doing, we will finally and fully appreciate our flame is as important as all the other flames that feed the fire of modern Judaism. And we will accept the fact that the holy one blessing really did mean to borei m'orei ha-eish - the creator of all of the lights of fire. Like Herman Sanger taught 60 years ago, the time has come for us to recognize that our Judaism is intelligible and intelligent."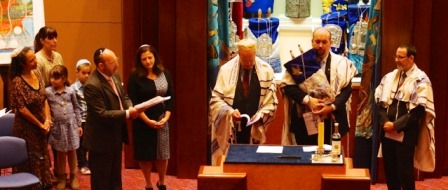 Rabbi Lazarow at induction ceremony

To read Rabbi Lazarow's remarks, please click here
WUPJ's Employment Corner

The following position is available in WUPJ congregations around the world:


Rabbi


Cheshire Reform Congregation – Menorah Synagogue requires a full time rabbi. Please click here for job description or contact Menorah Synagogue at

+44(0)161 428 7746
+44(0)161 428 7746

or email jbecker@menorah.org.uk. Closing date for applications is Friday 23rd May 2014

Questions regarding employment opportunities with WUPJ congregations or sabbatical opportunities serving WUPJ congregations can be addressed to Rabbi Joel Oseran, Vice President, International Development.
Back to

In This Issue
Upcoming Events
May 9–11, 2014

– Liberal Judaism (LJ) Biennial weekend, Reading, UK




May 23–24, 2014

– Israel Movement for Progressive Judaism (IMPJ) Conference, Israel




June 5–10, 2014

– TaMaR Conference, Israel




June 6-8, 2014

– South African Union for Progressive Judaism (SAUPJ) Biennial, Cape Town, South Africa




June 27-29, 2014

– Movement for Reform Judaism (MRJ) UK, biennial conference – "Chagigah"




July 24–August 3, 2014

– The Anita Saltz Education Center Bergman Seminar for Jewish Educators, Jerusalem, Israel




November 20–23, 2014

– Union for Progressive Judaism in Australia, Asia and New Zealand (UPJ) Biennial - "You and I Will Change the World", Adelaide, Australia




May 13-16, 2015

– Connections 2015, World Union for Progressive Judaism (WUPJ) 37th Biennial Conference, Rio de Janeiro, Brazil




November 4–9, 2015

– Union for Reform Judaism (URJ) 73rd Biennial Conference, Orlando, Florida


Back to

In This Issue