Issue #484
Issue #484 – 27 March, 2014 | 25 Adar II, 5774
Condolences

Upcoming Events



From Shushan to Shanghai, celebrating Purim in our communities around the world:

The recent situation in Crimea reminds us now, more than ever, how lucky we are to be able to celebrate our heritage despite the tenuous political situation. Our communities around the world celebrated this holiday of Jewish Freedom in the traditional way by sharing sweets and fruit, dressing up in fancy costumes, eating Hamentaschen and exchanging Mishloach Manot. Following is a selection of these celebrations worldwide:

Crimea crisis brings renewed spirit to our FSU communities

In

Russia,

Le-Dor va-Dor (Moscow) celebrated with over 100 people who gathered in the synagogue for the celebrations and reading of Megillah. Festivities began with Mincha services led by cantor Dmitry Karpenko and Executive Director Evgenia Rozental , followed by the reading of Megillah by Rabbis Alexander Lyskovoy and Leonid Bimbat.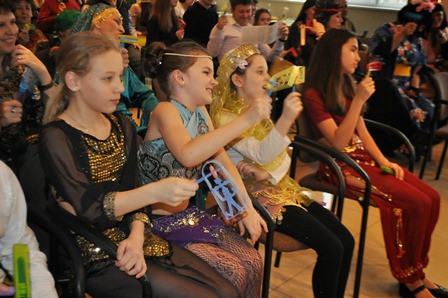 Groggers at the ready at Le-Dor va-Dor



The children, led by Evelyn Yavorskaya and Machon student Dasha Mihailova, sang songs and danced. The Machon students created Purim theatre puppets based on the sketches of Rabbi Lyskovoy. The Machon students represent the new generation of community leaders, and their talent, creativity and devotion shone through. The Purim masquerade had an "oriental" theme and members went all out with their costumes and fancy dress.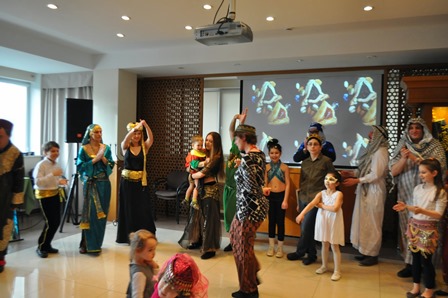 An "Oriental" Purim



Additional photos can be seen here.

In Shaare Shalom (St Petersburg), preparations started a month before the actual holiday with a community workshop on masks, costumes, and a Hamentashen baking class led by Alla Mitelman. Under the leadership of Rabbi Helena Rubinstein, the community fulfilled the mitzvah of Tzedaka (righteous giving) by donating tickets for the needy as well as partially covering costs of the festive feast. Rabbi Rubinstein remarked, "…members also supported the community by helping with cooking, transportation, entertainment and much more. As always, Jewish holidays bring out the best in us with everyone coming together as one big family."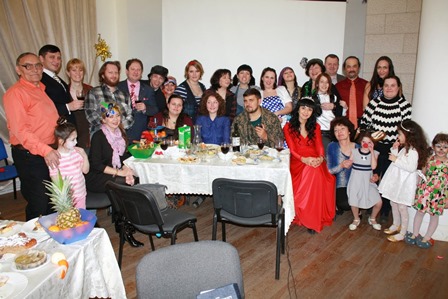 Celebrating together as "one big family" in St. Petersburg



The holiday began with the reading of the Book of Esther followed by Purimshpiel and a communal feast for about 60 people. Honored guests included Director of the Israeli Cultural Center and Head of the Uzbek community in St. Petersburg. The Israeli Consul gave greetings, as did representatives from the Council of Muftis of Russia, the Head of the Tatar Community, the Head of the Council of St. Petersburg and the Region, and other Jewish organizations in the city.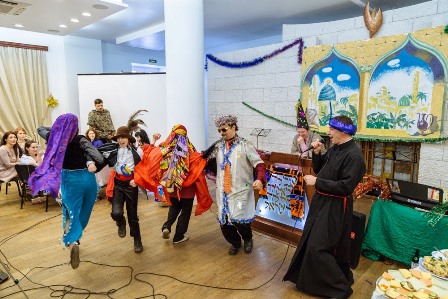 Lively and spirited presentation in St. Petersburg



The Shatil kindergarten held a 'big Purim surprise' with 50 people – children and their families.

Please click here for additional photos.

In Lipetsk, preparations also began a month early with lively discussions about the traditional Purimshpiel. As the community center is small, larger gatherings are held at a local café. For Purim, they had seventy people who enjoyed a discussion about the holiday followed by the reading of the Megillah and a wonderful Purimshpiel performance.
All the girls and women dressed up as Queen Esther, and everybody participated in the game 'Our Purim'





The Royal Court of Ahasuerus in Lipetsk



The Severnaya community held festive celebrations including an engaging presentation. Additional photos can be seen here.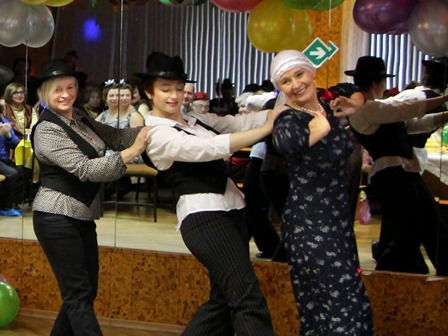 A special song and dance in Severnaya



In Belarus, over 250 participants gathered at the Sandra Breslauer Center "Beit Simcha". The annual Bar/Bat mitzvah celebration was held on Shabbat Zachor for the Bar Mitzvah School students. Rabbi Grisha Abramovich wished them "the gift of knowledge and many friends with less enemies like Amalek." Irina Belskaya, Educational Director, read from the Bar mitzvah book and said she hoped that "one day you would be able to deliver the book, and your knowledge to your own children."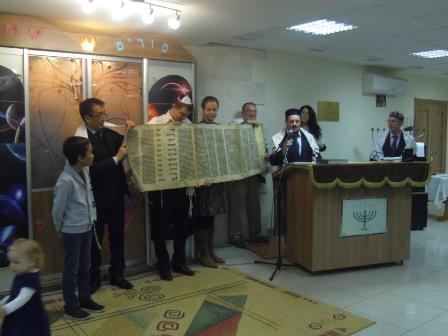 Esteemed guests help unroll the "Book of Esther" in Belarus



The Purim Family Festival, based on a Planetarium and space travel theme, began with Megillah reading and continued with a musical performance by the kindergarten children who were helped by staff and head teacher Alla Wolfson. Honored guests included the interim Charge d'Affairs of the US Embassy in the Republic of Belarus Ethan A. Goldrich with his wife, the First Secretary of the Israeli Embassy in the Republic of Belarus, Anna Keinan with her family, and the Counsellor of the Embassy of the Republic of Kazakhstan in Belarus Assan Alibayev with his family who helped to unroll the Book of Esther together with Rabbi Abramovich and Michael Kemerov.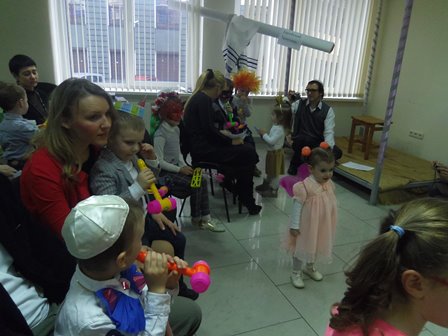 Lively and noisy party in Belarus



The three communities, Simcha, Tamar and Sheket, embarked on a Pay & Read project that combined the mitzvot of Megillah reading and charity, raising one million Belarus Rubles for an orphanage in Borisov. Two local clubs held a master class on Jewish cooking. Purim in Belarus will conclude at the end of March with the 20th Purimshpiel International Festival in Vitebsk.

Additional celebrations took place in other communities, such as Mogilev.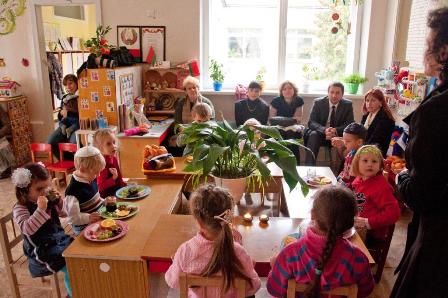 Mogilev children and parents enjoy a festive celebration





In Ukraine

, congregation Hatikva (Kiev) held the Megillah reading with Rabbi Alexander Dukovny who spoke about history of the holiday.

The colorful Purimshpiel performance was written by Chair Alexandra Gaydar and performed by the families of the Sunday school students, including songs, rap, dance and games.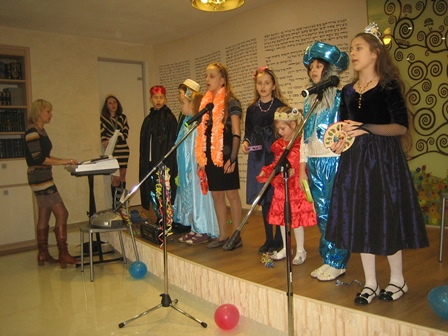 Rap, songs, dance - all come together to tell the story of Purim



The participants of the Netzer Leadership course prepared a fun game of bingo and Netzer coordinator Denis Burmistrov as Mordechai spoke about Purim and other important events in Jewish history and tradition. Professor Alexander Zlotnik, President of the Ukrainian Union of Jewish Communities, led the panel of judges and a festive communal meal followed the celebrations.

Netzer was an integral part of the preparation and celebration of Purim in the communities throughout the FSU. In Poltava and Odessa, Netzer put together the Purimshpiels. In Kiev, preteens helped create Purimshpiel, while the teens from the Group Leadership Course prepared a Lotto game. About 50 youngsters from Netzer youth clubs in the Ukraine were involved in preparing and Purim activities.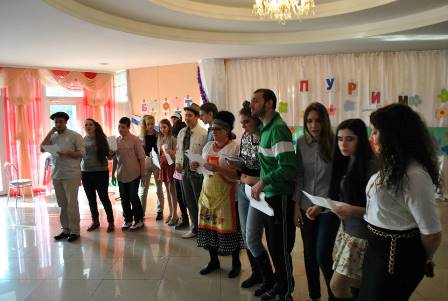 Future leaders putting on their Purimshpiel in Poltava





In Crimea

Rabbi Kapustin led the celebrations in Simferopol before leaving with his family to go to Kiev.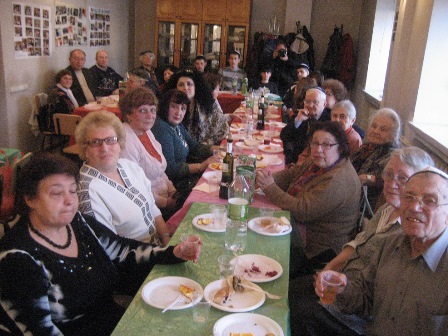 "L'Chaim" takes on a new meaning this year in Crimea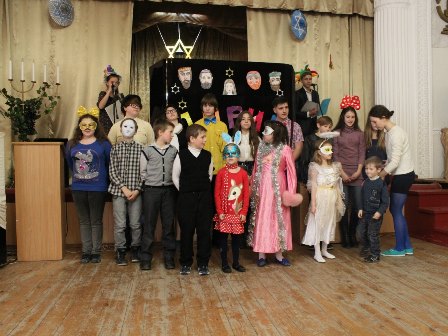 Children, masks, and costumes in Kerch
While our communities enjoyed the holiday celebrations, it was inevitable that the precarious situation in Ukraine was on everyone's mind, and, like our Jewish brethren in Persia 2500 years ago, we prayed for peace for all.


Back to In This Issue



Global Jewish Solidarity
If you ever find yourself thinking about what we do, how seeds we plant affect others in ways we could not imagine, and how the events unfolding today in Ukraine have a profound impact on our Jewish past, and more importantly, our Jewish future, read this important message by Rabbi Jen Gubitz. Rabbi Gubitz was a rabbinical student at Hebrew Union College (HUC-JIR) and was sent to Crimea to in 2008 as part of the annual Pessach Project run by HUC-JIR and WUPJ in the FSU.

Overcome with emotion, the young man confined to a wheelchair began to cry and then to sob. "Please tell them - tell everyone - that there are still Jews here…"

Walking outside into the cool, crisp, salty Black Sea air, there wasn't much to say. So we gulped in deep breaths, clearing away the smells of unkempt hallways, unsanitary bathrooms, uninhabitable bedrooms - inhabited by residents in this Crimean sanitorium; residents who were ostensibly forgotten, ignored, underfed and utterly disrespected - residents with disabilities ranging from moderate to quite severe - with few nurses or attendants in sight. We gulped in a harsh reality, unlike any we'd ever seen before.

It was March 2008. I traveled from Jerusalem to Crimea in the Former Soviet Union with two classmates, now-Rabbis Jill Crimmings and Aimee Irshay Gerace. This experience was the "Pesach Project" - where HUC students living in Israel were sent on shlichut - as emissaries to Russia, Ukraine and Belarus to spend Passover among Jewish communities in major cities and small towns.
Please click here to read the full report


Back to In This Issue



Beit Hillel (Rome) celebrates their first Purim as a community

President Fiorella Kostoris and vice president Fabio Benjamin Fantini report that our recently formed congregation in Rome held a festive Purim celebration with close to 100 participants with local members and international guests including readers and Cantors from Milan, US, Uruguay, and Poland, all led by Federico Fiamelli. Community volunteers prepared performances and food as well as a special Purim session for children.

A special thanks goes out to Rabbi Simon Moguilevsky of Temple Libertad of Buenos Aires for donating the ancient Megillat Esther – without which this event would have not been possible. (Report on the inauguration of this community will appear in next issue of WUPJnews).





A "global" celebration in Rome




Back to In This Issue



A Tikun Olam Purim in Brit Olam (Kiryat Ono)

The Brit Olam community in Kiryat Ono, Israel, decided to devote this holiday to a community-wide Tikun Olam effort. From young to old, the entire community came together to make this a better holiday for those less fortunate. They "adopted" a group home in Holon for children who were removed from their homes, and with the Bar/Bat Mitzvah class children, prepared Mishloach Manot and gifts. The congregation also raised funds to buy bedding and towels for an emergency center for GLBT youth.
Of course, they also held the traditional Megillah reading and costume party.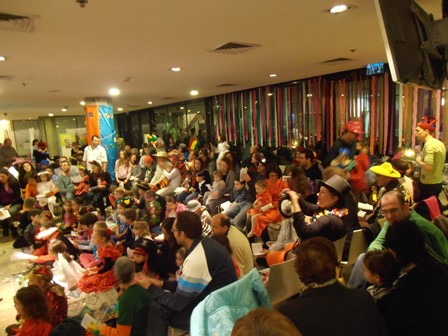 Tikun Olam in Brit Olam



Back to In This Issue



Spreading Purim joy around Netanya

Rabbi Edgar Nof, of Kehillat Natan-Ya, reports on his many recent activities. With his 130-year-old Scroll of Esther from Central Europe, he visited 5 elementary schools, 3 hospitals, and 3 organizations, as well as leading celebrations in his own community – which included special Shabbat services with IMPJ Board member Reuven Marko a special Kiddush for Purim, followed by a festive Megillah reading on Saturday night. One of the most poignant visits was to the Italian Hospital, run by nuns, where, together with cantorial soloist Vered Ivtzan and treasurer Gershom Lichtenberg, Rabbi Nof visited with about twenty terminally ill patients, to try to bring a smile to their last days.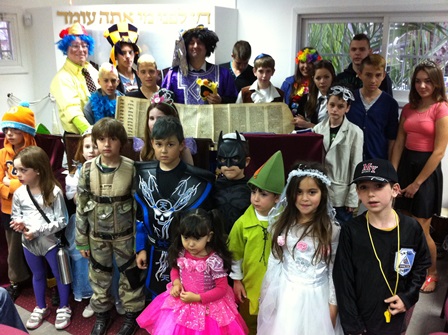 Clowns, Ninjas, Princesses and a 130 year old scroll
Back to In This Issue
IMPJ school students send some joy to needy families
The Israel Movement for Progressive Judaism (IMPJ) Tali school in Jerusalem prepared over 100 packages of Mishloach Manot which were sent to families in the south of the country. These families participate in a program run by Keren B'Kavod for families undergoing emergency crises such as families in Sderot who were living under continuous bombardments. These families receive ongoing support from Keren B'Kavod throughout the year that include humanitarian aid, workshops, and more. The IMPJ students collected and packed colorful packages with candy, canned goods, toys and games.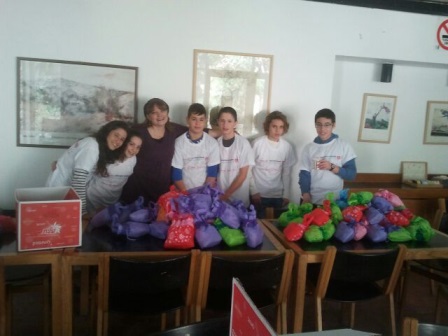 Tali students send much needed joy to needy families

Back to In This Issue



Children Create Shabbat – and Purim Fun!
A recent session of Beit Shmuel's unique "Children Create Shabbat" was all about Purim fun. What better way to teach young children about Jewish holidays and the environment than a fun-filled morning about Purim. The day started with a discussion about the holiday, the history, and the traditions, and then connected to the importance of protecting the environment. This was followed by an engaging workshop on making your own costume from "green" or recycled materials. It's hard to say who enjoyed this more – the parents or the children!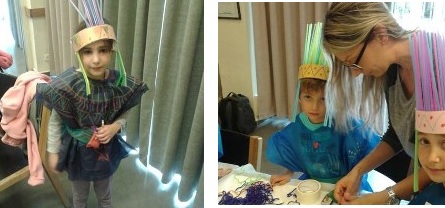 Going Green at Beit Shmuel's "Children Create Shabbat" session for Purim
The series offers a unique program for young families, with creative workshops that focus on Progressive Jewish content. It is one of the very few programs offered to families in Jerusalem on Shabbat, and has become a focal Shabbat activity for many families looking for a Jewish activity and connection that is both entertaining and informative for children and adults

Back to In This Issue



Here, There, and Everywhere – Purim celebrations for Netzer youth around the world

Our Netzer groups around the world, from Australia to Israel to South America, report that their Purim activities were highly successful and lots of fun.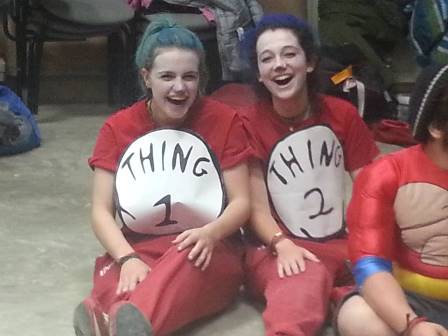 "The Cat in the Hat" visits Netzer-Shnat's Purim party



For example, Yuval Nemirovsky, Netzer Shaliach to Australia, reports that: "Purim is always a special event in the Progressive community in Sydney. Netzer leaders found their best costumes and dressed up to run amazing activities at the two synagogues… Netzer madrichim were helping to run the stalls of the amazing Purim Carnival for kids at Emanuel Synagogue, and an arts & crafts activity for the Sunday school kids in North Shore Temple Emanuel. In short, Netzer was everywhere!"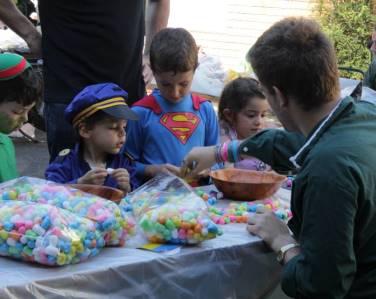 Netzer madrichim helping Superman and Friends at Emanuel Synagogue



Special parties and carnivals were held for Netzer Barcelona. And our Netzer-Shnat participants, enjoyed a festive and fun weekend at Kibbutz Lotan, complete with costumes, games, and Hamentaschen.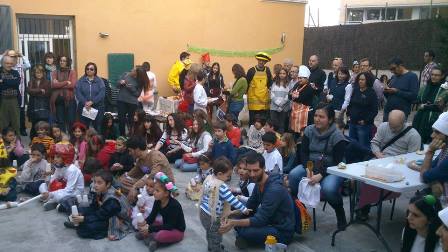 It's Fiesta time for Netzer Barcelona



Visit Netzer's Facebook page for more pictures and updates on Netzer's worldwide activities.


Back to In This Issue



Last but not least: Purim celebrations in Shanghai, China

So while we don't actually have a community in Shushan (yet), we do have one in Shanghai, China. This year for Purim they had several communal events in Hongqiao Freen Valey Shanghai, including a costume contest and party for about 30 children and their parents. Judging from the smiles on their faces – a good time was had by all.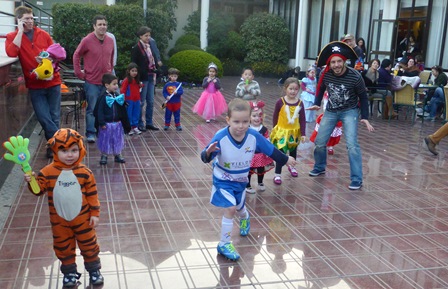 Superman, pirates... and Tigger too! in Shanghai


Back to In This Issue



And now that Purim is over, we need YOUR (make caps for help)help for the Keren B'Kavod Kimcha D'Pischa food drive

With Purim just over, and Pesach on its way, Keren B'Kavod –the humanitarian aid program of the Israel Religious Action Center (IRAC) – is busy with its Pesach food drive Kimcha D'Pischa, in honor of the holidays for the major religions in Israel: Pesach, Easter, and the celebration of the Prophet Shu'ayb. Holidays are generally times of happiness and togetherness, but for many disadvantaged people, the holidays are difficult times as they cannot purchase basic necessities, much less festive food, clothing and gifts. Keren B'Kavod focuses on helping individuals and families during these times, bringing joy and celebration to hundreds of families who otherwise would go without.

Thanks to your generosity, we are able to pack hundreds of food and care packages every year for Kimcha D'Pischa together with volunteers from the Reform Movement in Israel. We support people of all faiths and cultures in Israel through this annual drive. Click here for the flyer (pdf).

Your support for Kimcha D'Pischa is greatly appreciated. All donations to IRAC in the month of April will go towards this effort. We encourage you to donate online (click here) to help hundreds of families in Israel enjoy the spring holidays this year.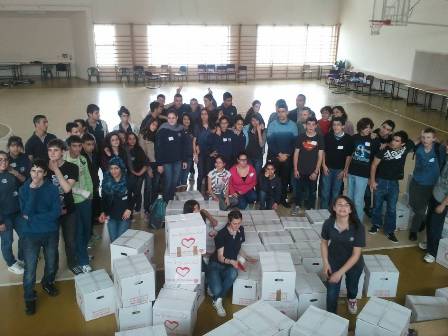 Keren B'Kavod volunteers after packing food and care packages


Back to In This Issue





Condolences


The leadership and staff of the World Union offer their sincerest condolences to Rabbi Robert Jacobs, rabbi of Temple Bet David (Sandton, South Africa), on the passing of his mother, Jane H. Jacobs z"l. May her memory be for a blessing.


Back to In This Issue



Upcoming Events



April 24–27, 2014

– European Union for Progressive Judaism (EUPJ) Biennial - "Faith in Action", Dresden, Germany



May 9–11, 2014

– Liberal Judaism (LJ) Biennial weekend, Reading, UK



May 23–24, 2014

– Israel Movement for Progressive Judaism (IMPJ) Conference, Israel



June 5–10, 2014

– TaMaR Conference, Israel



June 6-8, 2014

– South African Union for Progressive Judaism (SAUPJ) Biennial, Cape Town, South Africa



June 27-29, 2014

– Movement for Reform Judaism (MRJ) UK, biennial conference – "Chagigah"



July 24–August 3, 2014

– The Anita Saltz Education Center Bergman Seminar for Jewish Educators, Jerusalem, Israel



November 20–23, 2014

– Union for Progressive Judaism in Australia, Asia and New Zealand (UPJ) Biennial - "You and I Will Change the World", Adelaide, Australia



May 13-16, 2015

– Connections 2015, World Union for Progressive Judaism (WUPJ) 37th Biennial Conference, Rio de Janeiro, Brazil



November 4–9, 2015

– Union for Reform Judaism (URJ) 73rd Biennial Conference, Orlando, Florida




Back to In This Issue