Issue #483
Issue #483 – March 6,2014 | 4 Adar II, 5774
:
Fully subscribed Beutel Leadership Seminar amazingly successful
From Interfaith Dialogue across the world with Rabbi Sergio Bergman
Spring is here – time for the spring semester at Beit Shmuel
Special Update: Kerch community (Crimea) on high alert
News in Brief
:
*Note to our readers
*Stay at Beit Shmuel for Two Nights – and get a free walking tour

Condolences


WUPJ's Employment Corner


Upcoming Events




Fully subscribed Beutel Leadership Seminar amazingly successful

For the first time in its 12 year history, the Beutel Leadership Seminar was filled to capacity and had a waiting list! By all accounts the program was a tremendous success for the 24 participants hailing from Australia, Poland, Israel, Belgium, the U.S., Italy, France, the U.K., India and Germany.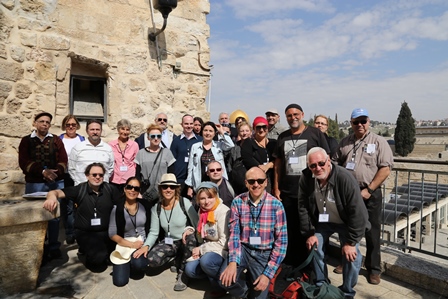 From around the world to Jerusalem - seminar participants in Jerusalem's Old City

According to Rabbi Steve Burnstein, Director of the Saltz Center, the 2014 Beutel Leadership Seminar, held February 13-23, 2014, underwent a significant renewal based on the feedback of prior participants. "Just as we encourage the Beutelniks to revisit the mission and vision of their congregations through a serious process of strategic planning, we examined our own goals giving great consideration to the changing needs of our WUPJ communities around the world."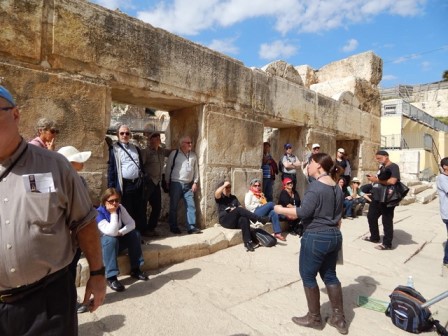 Letting the stones of Ancient Jerusalem tell their story

This year's program included sessions examining the lifecycle of a congregation; understanding the process of strategic planning; analyzing personal leadership qualities; and addressing specific issues facing our communities as identified by the participants themselves. One participant remarked: "the seminar was a unique blend of leadership development; connection with community leaders in progressive Judaism from around the world; and insight into the issues facing Israel today."

While Professor Paul Liptz and Rabbi Burnstein led most of the seminar, participants also had the opportunity to learn with other amazing educators. Sally Klein-Katz led an interactive session looking at leadership, ethical and ethnic dilemmas from biblical times to contemporary Israel to our own communities.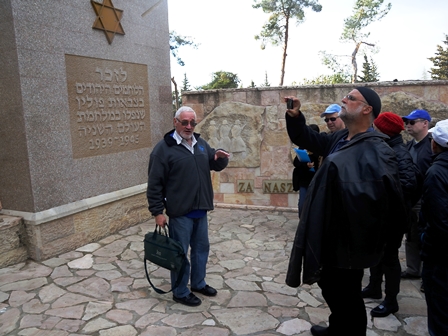 Prof Paul Liptz giving critical and meaningful background information

Using the old and modern cities of Jerusalem, master educators Alexandra Benjamin and Mark Lazar, helped participants find relevance for our own time in the poetry of Yehuda Amichai as well as the issues faced by the leaders during Temple period.

Over the course of the 10-day seminar, Beutelniks also encountered a variety of leaders from many segments of Israeli society. They met with religious Orthodox settlers living in Judea and Samaria; Bedouin in the Negev; activists working toward co-existence between Israelis and Palestinians, and idealistic young Israeli volunteers in the Mechina gap-year program of the Israel Reform Movement.




Walls that divide Israelis and Palestinians (left); barriers that are broken by Israelis and Arabs (right)

Paul Liptz provided in-depth analysis of the social and political issues we addressed. His critical insight gave a meaningful framework and background to the encounters and helped participants to unpack the complexities inherent in so much of Israeli society.

Throughout the seminar Rabbi Burnstein took the group on a journey exploring various roles and styles of prayer. Through the liturgy, music, story, meditation and humor he showed how tfila can be uplifting, enjoyable, educational and empowering. "Rabbi Steve taught me flexibility and different forms of expression. I understood that the service doesn't need to be stuffy and fixed," stated one of the participants. Beutelniks also joined worship at Kol HaNeshama and Kibbutz Lotan.

Clearly the highlight of the prayer experience was when participants volunteered to lead their own Shabbat morning service at Kibbutz Yahel. Rivka Foremniak from Warsaw inspired with her magnificent singing. Refy Reuben from Mumbai gave a wonderful teaching about the Shema. Brian Doyle read and explained the weekly Torah portion. And many others from the group shared, led, and gave of themselves providing an amazing and meaningful worship experience.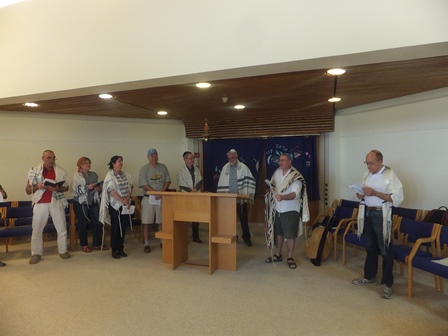 Rabbi Steve Burnstein with participant-led Shabbat morning worship services

To sum up the program, one participant remarked: "The Beutel Seminar is an exceptional experience. Not just for the workshops and the discussions or for meeting Reform Jewish community leaders from all around the world, but especially for the hope and the energy with which we go home at the end of these 10 days."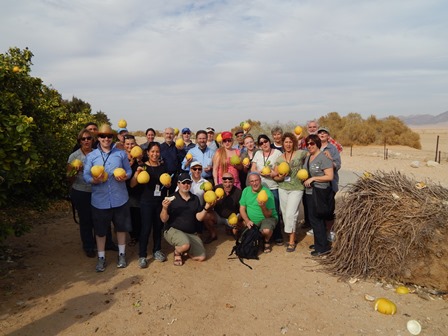 With the famous pomelas grown on Kibbutz Lotan – one of the Reform Kibbutzim in the Arava


Back to In This Issue



From Interfaith Dialogue across the World with Rabbi Sergio Bergman

Rabbi Sergio Bergman, founder of Fundacion Judaica and a newly elected lawmaker in Argentina's parliament, sent us the following article on Interfaith Dialogue. Together with an interfaith mission from Argentina, he visited several important cities including Jerusalem and Rome, arriving to Rome just a few days before the new congregation – Beit Hillel – was officially inaugurated (full story on Beit Hillel will appear in the next WUPJnews). While in Rome, he met with Fabio Fantini, VP of Beit Hillel, who – as it turns out – lived in Buenos Aires previously and knows Sergio quite well – it certainly is a small world! Sergio made additional headlines recently when it was announced that he would not be attending a mandatory parliament session as it was to be held on Shabbat. As he explained: "My fellow party members respect me on this point; it is part of the diversity and plurality of our party." (Click here for the full story on the JTA web site).

A New Legacy of Pope Francisco: From Interfaith Dialogue to the Meeting Culture, by Rabbi Sergio Bergman
I have recently returned from an interfaith pilgrimage among Argentine Christians, Muslims and Jews, driven by the initiative of the Interfaith Dialogue Institute under the sponsorship of the American Jewish Congress.

We affirmed the value of peace. As believers, we were able to listen to the arguments of all parties involved in the conflict and reaffirmed the power of dialogue and mutual understanding to settle conflicts, which in turn leads to Peace, Shalom, Salam. This is our goal in the Middle East and our task in Argentina. When Bergoglio walked among us he always insisted that the Country is a gift and the Nation a task. We assume this task with a new found faith, enthusiasm and hope; after returning from this trip, with the final stamp of his mark to find him in the Vatican as His Holiness, Pope Francisco. In front of Pope Francis, being the same Father Bergoglio we knew, we have committed to accept his legacy: from interreligious dialogue to the culture of meeting.

We have taken as an offering to Jerusalem, Ramallah, Aman and the Vatican, the testimony of what we as Argentines have achieved: unity in diversity, in the experience of interfaith co-existence.

In Argentina – our promised land – we still need to actively engage in transferring this dialogue to other areas of our society; refunding the utopia of social ties with histories and memories, so we can make our future in this present. According to Pope Francis' predicament we state that the real power is the service, that the whole is greater than the sum of its parts, and that the real action transcends ideas.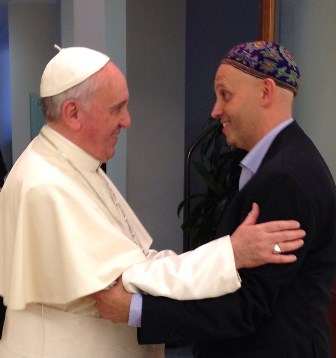 Two old friends reconnect in the Vatican


Back to In This Issue



Spring is here – time for the spring semester at Beit Shmuel

With spring in the air already, Beit Shmuel proudly opened their spring semester of courses with over 250 participants in seven new courses, as well as several established courses from previous years. One of the new courses this year is "Biblical Characters reflected in Jewish and Christian ancient sources" and studies key characters such as Joseph, Moses, Joshua, and David – all through texts, stories and anecdotes. Other courses include Erotica in the Book of Zohar (Kabbalah); God, Humans, and Happiness in the philosophies of Schopenhauer, Nietzsche and Kierkegaard; Love and Other Emotions; and Major Trials in History – from Joan D'Arc to Marie Antoinette, from Dreyfuss to Oscar Wilde.

A new activity offered by the courses department is "The Midrash of Games" (Midrash Mischakim – a play on words in Hebrew which sounds like "The Playground"). This innovative program combines theater and games with Talmudic texts. The first session was held at the beginning of the month of Adar and focused on Purim and ancient texts relating to Purim topics. Participants took part in a theater workshop and then presented their "show". With a lot of learning, laughing, singing and dancing they brought the ancient texts to life.



Bringing the ancient texts about Purim to life


Back to In This Issue



Special Update: Kerch community (Crimea) on high alert

As we updated you this week, concerns for the safety and well being of our communities in the Ukraine is growing steadily, especially in the rural areas and Crimea. Click here to hear a radio interview on NPR that includes a short interview with Ukraine's Chief Rabbi Alex Dukhovny (starting at 1.55). Israeli TV 10-News interviewed Rabbi Mischa Kapustin of Ner Tamid Reform synagogue in Simferopol, Crimea, about the situation as well - please click here for the 10-News page, then open the tab from 4.3.14 for the March 4 interview (starting at 11.30) and tab 5.3.14 for the March 5 interview (segment starts at 24.30, interview with Rabbi Kapustin at 25.30)

We hope and pray that quiet will return soon to the streets of Ukraine. In the meantime, our communities have reported that they are doing their best to hold communal activities and worship services in safe environments.

Alyth North Western Reform Synagogue (London) has been twinned with the Kerch Progressive Jewish Community for nearly fifteen years. Geoff Short (Chair of the Kerch-Alyth Partnership) and Rabbi Mark Goldsmith report that they have been in contact with the Kerch Jewish community ever since the unrest in Ukraine began. They recently received this e-mail from Zoya, the Jewish Community Administrator:

"We were so very deeply touched by your letter expressing the anxiety about the situation in our country. As you are probably able to follow it's getting worse and worse day after day. And it is definitely much worse than it's covered by mass media. We are all very worried but still hope that the conflict will be resolved without victims. All in all innocent people suffer.
Please, pass our words of gratitude to all our dear friends at Alyth who pray for us and who think about our community.
Thank you so-so much for your kind and supporting words. God bless you."

The WUPJ has initiated an emergency campaign to support our communities through this crisis, and hope to provide urgently needed security measures, supplies and equipment to the communities. If you are interested in joining this effort please click here. If you are donating from outside North America and are unable to use this link, please contact your WUPJ region to make your donation with the request that it be passed on to the WUPJ.


UKRAINE EMERGENCY RESPONSE FEBRUARY 28, 2014

TO MAKE A CONTRIBUTION, PLEASE GO TO:
http://www.wupj.org/Contribute/Giving.asp

IF USING A CREDIT CARD, in box that says, "ENTER DESCRIPTION" please indicate Ukraine APPEAL

FOR ANY QUESTIONS OR CONCERNS, PLEASE CALL RABBI GARY BRETTON-GRANATOOR, 212-452-6531
or email gary@wupj.org


Back to In This Issue
News In Brief
Note to our readers:
Please note that the next issue of WUPJnews will appear on March 27. The weekly Torah from around the World commentaries will continue as usual.

Stay at Beit Shmuel for Two Nights – and get a free walking tour
Passover is the perfect time to visit Jerusalem and stay at
Beit Shmuel
. Conveniently located near the Old City, walking distance to modern Jerusalem, and with beautiful views of the Old City walls, Beit Shmuel is a perfect place for your next family vacation. And to make your stay just a little sweeter, we are happy to offer a Passover Special – for every two night stay at Beit Shmuel, you can get a free walking tour through the Beit Shmuel Tour Department, or free tickets to one of Jerusalem's exciting sites such as the Biblical Zoo.
Please click on the banner below to visit the Beit Shmuel web site or
click here
to email our reservations department.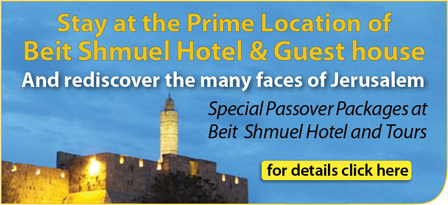 Back to In This Issue

Condolences

The leadership and staff of the World Union offer their sincerest condolences to Peachy Levy, children Richard and Dana, Jani and Bill, John and Victoria, and grandchildren on the passing of Mark Levy z"l.

Mark z"l was active in many organizations that touched the lives of tens of thousands of Progressive Jews, as well as the larger Jewish community, in Los Angeles, North America, Israel and greater Jewish World. Mark served the Union for Reform Judaism in North America as a vice-chair of the Board and at the time of his death was a honorary Vice-Chair of the URJ. Mark and his wife Peachy, established funds to send Reform youth in North America and Israel to Reform summer camps, were instrumental in the founding of URJ Camp Kalsman in Washington State (named after Peachy's late parents), were the moving force behind the establishment of the Kalsman Institute of Judaism and Health at HUC-JIR. Mark was also an active member of ARZA, frequent visitor to Israel and committed to Progressive Judaism in Israel. In addition to his service to the Progressive Jewish community, Mark served as the president of Mazon, a Jewish response to hunger, was active in the leadership of Hillel at the University of California at Los Angeles and the Los Angeles Federation, as well as his home congregation, Leo Baeck Temple in Los Angeles. Mark was a mentor to many men and women who rose to positions of top leadership in several Jewish organizations. He will be greatly missed by all who knew him.

May his memory be for a blessing.


Back to In This Issue



WUPJ's Employment Corner

The following position is available in WUPJ congregations around the world:

Rabbis
North West Surrey Synagogue, Weybridge, Surrey (UK) is searching for an Interim Rabbi for 6 months (possibly longer). Please click here to read a full job description. To apply for this role, please email your CV and a covering letter to Emile Snapper (NWSS Chair) on nwss@snapperfamily.com, or Peter Kammerling on pkammerling@aol.com.

Questions regarding employment opportunities with WUPJ congregations or sabbatical opportunities serving WUPJ congregations can be addressed to Rabbi Joel Oseran, Vice President, International Development.



Back to In This Issue



Upcoming Events

April 24–27, 2014 – European Union for Progressive Judaism (EUPJ) Biennial, Dresden, Germany

May 9–11, 2014 – Liberal Judaism (LJ) Biennial weekend, Reading, UK

May 23–24, 2014 – Israel Movement for Progressive Judaism (IMPJ) Conference, Israel

June 5–10, 2014 – TaMaR Conference, Israel

June 6-8, 2014 – South African Union for Progressive Judaism (SAUPJ) Biennial, Cape Town, South Africa

June 27-29, 2014 – Movement for Reform Judaism (MRJ) UK, biennial conference – "Chagigah"

July 24–August 3, 2014 – The Anita Saltz Education Center Bergman Seminar for Jewish Educators, Jerusalem, Israel

November 20–23, 2014 – Union for Progressive Judaism in Australia, Asia and New Zealand (UPJ) Biennial, Adelaide, Australia

May 13-16, 2015 – Connections 2015, World Union for Progressive Judaism (WUPJ) 37th Biennial Conference, Rio de Janeiro, Brazil

November 4–9, 2015 – Union for Reform Judaism (URJ) 73rd Biennial Conference, Orlando, Florida




Back to In This Issue