Issue #482
Issue #482 – February 20, 2014 | 20 Adar I, 5774
:
Highly successful youth leadership seminar held in St. Petersburg
TaMaR Olami to hold International Conference in June
Summer fun at Netzer's summer camps in South Africa and Australia
EUPJ's Faith in Action biennial conference is shaping up nicely
News in Brief
:
• Enhance your Pesach Holiday with a springtime walking tour in Jerusalem at Beit Shmuel
• TaMaR Gauteng, South Africa, hosts MP and Shadow Minister Ian Ollis
WUPJ's Employment CornerUpcoming EventsHighly successful youth leadership seminar held in St. Petersburg
The first of three leadership seminars supported by Sue and Jimmy Klau took place in St Petersburg, at the Shaarei Shalom Community Center on 14-16 February, with 35 participants from Belarus, Russia and Ukraine. Alex Kagan, FSU Director, and Rita Fruman, FSU Nezter Coordinator worked tirelessly with our professional staff in St. Petersburg – Rabbi Helena Rubinstein and Community Programs Director Alla Mitelman – ensuring the smooth running and success of this program.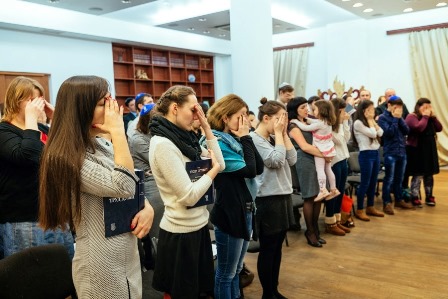 Praying together in St. Petersburg
These seminars play a vital role in enriching and developing the future generation of young Progressive Jewish leaders, enabling young leaders from all over the FSU to participate in workshops, hear lectures, pray together, share experiences and plan for the coming year, ensuring that the programs are rich in Reform Jewish and Zionistic content.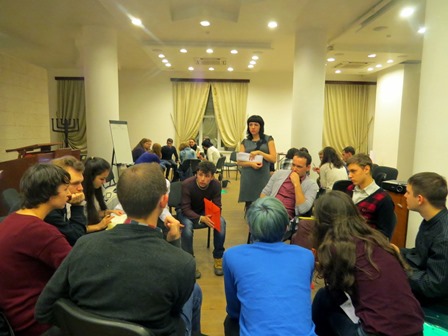 Alla Mitelman talks about Motivation and Decision Making
The topics covered at the seminar included: History and Reform in Judaism from Biblical Times to Modernity with Rabbi Helena Rubinstein; 'Leaders and Leadership' focused on modern leaders and types of leadership with Alex Kagan; Motivation and Decision Making with Alla Mitelman; and the Significance of the Netzer Movement Ideology in Developing Jewish Identity with Rita Fruman.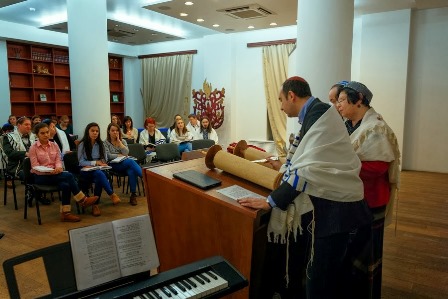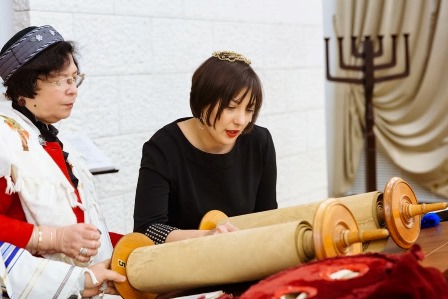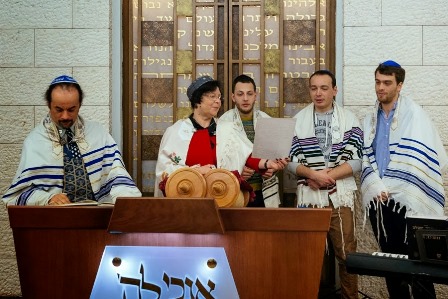 Three Aliyot with Rabbi Rubinstein at Shabbat morning services (top to bottom): Alex Kagan, Rita Fruman, and FSU Netzer Coordinators
The group toured "Jewish St Petersburg" with community member Michael Jukov, visiting the Choral Synagogue (renovated in 2006) and the 19th century 'House of Architects' which is rich in Jewish history and artifacts.
Kabbalat Shabbat, Shacharit and Havdala services were held in the warm, pleasant family atmosphere which characterizes the community, and Rabbi Rubinstein gave meaningful and interesting sermons. The congregation was honored by Edward Shapiro, Consul General of Israel in St Petersburg, at Shacharit.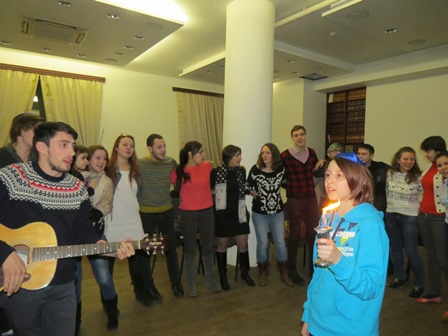 A lively and sprited Havdalah service
The event attracted media attention (
see TV coverage
with Alex Kagan and Rabbi Rubinstein). In his interview, Alex stressed the importance of investing in youth leadership seminars in order to strengthen their Jewish knowledge and connection with the Jewish People and Israel, and provide continuity to their communities.
In summing up the seminar Rita Fruman said: 'It was wonderful to see this group of young people… working together and learning from each other… The fact that each participant contributed a symbolic amount of money for their participation is another indication of their enthusiasm. They all agreed that Netzer influences their Jewish identity and values, which in turn influences their daily life… The fact that the seminar took place in the Shaarei Shalom community center gave a sense of security to the youth leaders, knowing that there is a facility with a supportive and creative rabbi and a very active community."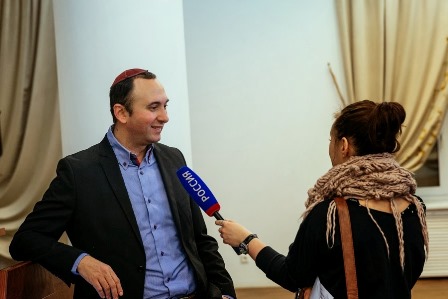 Alex Kagan discusses the importance of investing in youth on major TV station (click anywhere on the photo to access the interview)
We would like to thank Sue and Jimmy for their insight into the importance of the development of young leaders in the FSU. The participants join us in thanking the Klau's for their generosity and feel the responsibility to give back to their communities.
Please see
Netzer FSU Conference in St-Petersburg photos
and "
Thank you!" clip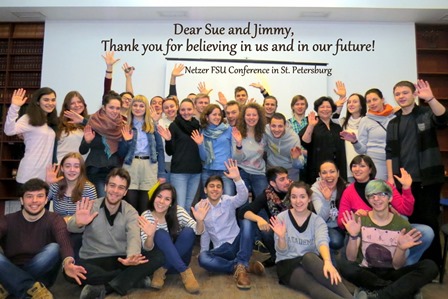 A picture worth a thousand thanks! (Click anywhere on the photo for the "thank you!" clip)
Back to In This Issue
TaMaR Olami to hold International Conference in June
The
TaMaR
Kenes Olami (World Conference) will take place in Jerusalem from June 2-7, 2014. We encourage young adults to come to the seminar, participate in the workshops, acquire educational and leadership skills, get to know Israel from various perspectives and take home the skills and lessons that they can pass on to their peers in their home communities.
Netzer
and TaMaR executive director Maoz Haviv, together with Anabella Esperanza, coordinator for Spanish and Portuguese speaking countries and Miri Nahmias, Chinuch coordinator are developing the program, and it is shaping up to be exciting and innovative with interesting lectures, workshops and field outings, focused on Judaism, Zionism, modern and historic Israel, Progressive ideology, leadership training and much more. We are expecting delegates from more than 20 countries, including Australia, South Africa, Argentina, Brazil, Chile, Costa Rica, Panama, USA, Britain, Spain, France, Germany, Italy, The Czech Republic, Poland, Hungary, Russia, Belarus, Ukraine and Israel. As in previous years, TaMaR will cover the cost of the conference (not the flights).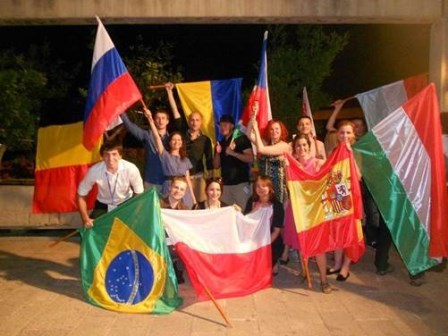 TaMaR gatherings showcase the global diversity of our members
TaMaR Olami is a WUPJ framework for Progressive Jewish young adults, a natural continuation for graduates of WUPJ's youth and teen movement Netzer Olami as well as other young adults from the Reform Movement worldwide. "TaMaR" is the Hebrew word for a date tree – a tree that is found mainly in hot and dry desert areas, but also needs lots of water and care to grow and flourish (not unlike our young adults). TaMaR is the acronym for
Tnunat Magshimim Reformit
– the Movement of Reform Fulfillers. TaMaR branches, which offer programming to some 600 young adults, are found today in Argentina, Australia, Brazil, Chile, Czech Republic, France, FSU, Germany, Panama, Poland, South Africa, and Spain, with two newly established branches in The Netherlands and England.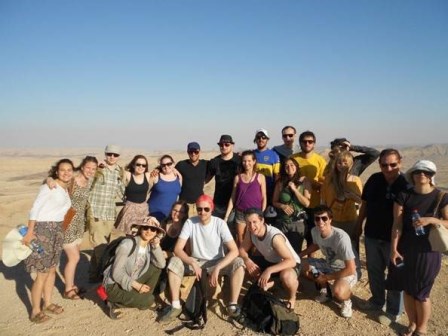 TaMaR delegates on field trip in Israel (previous TaMaR conference)
TaMaR Olami enables our young adults to connect in many ways – from spending holidays together, local and regional Shabbatonim (weekend seminars) that focus on ideology, Zionism and current events in the Jewish world, to the annual conference in Israel that brings together young adults from around the world. The local branches also get together once or twice a month for discussions or cultural activities (see for example
article on Netzer Gauteng in this issue
). In addition, the WUPJ takes special care to incorporate youth and young adult programming into regional and international conferences in order to engage with the next generation. In 2014, we anticipate some 30 seminars around the world including: Belarus, Russia, Ukraine, Spain, Britain, Germany, the Czech Republic, Poland, Italy, France, Panama, Costa Rica (took place already), Brazil, Australia, South Africa and Israel.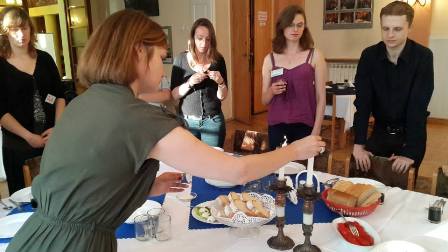 Welcoming Shabbat together at TaMaR Shabbaton in Poland
If you are a young adult in the Progressive world, we would like to invite you to join our activities and participate in the TaMaR conference in June. Please visit our
Facebook page
or
send us an email
to find out more on how you can participate.
Back to In This Issue
Summer fun at Netzer's summer camps in South Africa and Australia
While the rest of us were battling the snow, rain, and cold, our Netzerniks in the southern hemisphere were enjoying the warm weather.
In South Africa
, the "Back to the Future" camp united the Netzer South Africa family in Glen Cairn. The madrichim arrived in Cape Town beforehand to plan the camp and participate in leadership training. Camp was small this year but the strength and ruach (spirit) was stronger than ever! The program included Israel Day, Tiyul (our hike), Tikkun Day (our social action day) and Colour Wars. A new initiative this year was South Africa day.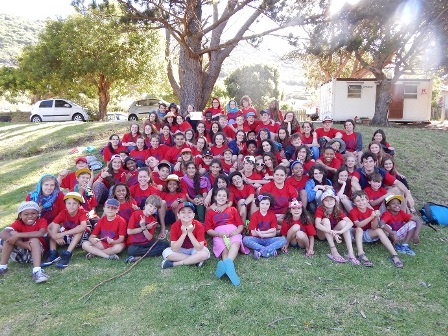 It's "Back to the Future" at Netzer South Africa's summer camp
By going "back to the future" our participants were able to explore the past, learn from it and see how it shapes the future – retrospection, introspection and a little bit of fortune telling were just some of the ways the participants were able to learn and grow at the camp.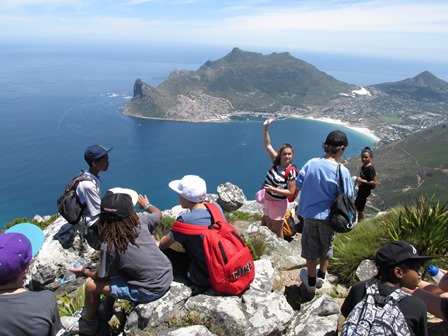 Just can't beat these views – on Netzer South Africa's hike day
The movement took this opportunity to bid farewell and thanks to former madrichim Sofia Zway, Marni Riese and Nina Hoffman (who have gone on the shnat program), Jessica Mayson, and Mor Arbel whose year in Cape Town was so beneficial to Netzer and the Jewish community at large that it was so hard to let her go. The new shaliach, Natanel Ashtam, was warmly welcomed into the Netzer family and he got a great first look at Netzer SA at the camp.
In Australia
,
Netzer Shlichim
Yuval Nemirovsky and Nadav Sachmon report that it was a very busy month filled with "little sleep but lots of education, Judaism and Zionism… couldn't asked for a better way to finish a great 2013!" The shlichim led training programs for the Bogrim that focused on Israel, Judaism, Zionism and included a great Shabbat together. The Federal camp for over 100 participants was wonderful with lots of great activities and ruach. The campers were honored to host Rabbi Keren-Black of the Leo Baeck Centre who helped lead Shacharit services.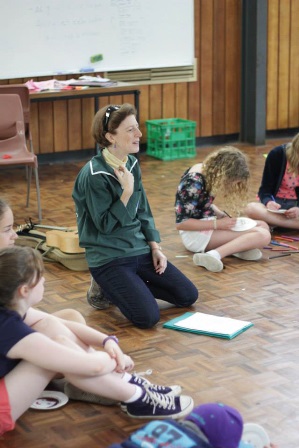 Lots of Netzer Ruach at the Australian summer camps
The Junior camp was held at the end of January for over 50 kids. Although it was the first time that our nine young leaders led a camp, they did exceedingly well. Rabbi Nicole Roberts visited the camp and ran fantastic activities for the groups.
At the end of January, the movement held their "Farewelcome" event – welcoming home the shnaties who were in Israel while bidding a warm farewell to the new group of shnaties on their way to Israel.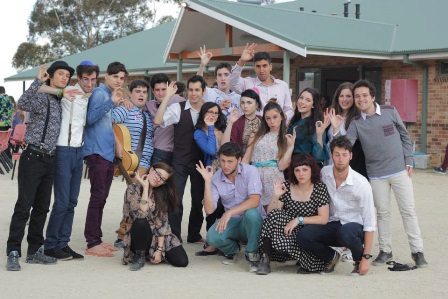 "It's All Good!" at Netzer's summer camps in Australia
Back to In This Issue
EUPJ's Faith in Action biennial conference is shaping up nicely
We're now just a little more than two months away from the start of the
European Union for Progressive Judaism
(EUPJ)'s Biennial Conference, entitled
Faith in Action
that will be held in Dresden, April 24–27. Delegate numbers are rising daily and are rapidly approaching 250, with 20 countries from across the world represented. There is a limit to the number of places we can accommodate so if you're thinking of coming, you are encouraged to register now, before we pull down the shutters and close for registrations.
We shall have a splendid opening ceremony to welcome everyone to the conference and to Dresden. Our keynote lecturers are preparing their addresses, service leaders have more or less completed their preparations and our workshops are shaping up nicely. Tours are filling up so fast that we've had to lay on two additional tours so, all in all, we're in very good shape.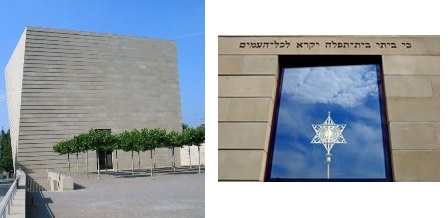 The New Synagogue, Dresden, (left) built in 2001 on the site of the 1838 Semper Synagogue that was badly burned in Kristallnacht 1938 and ultimately demolished. The Star of David that adorns the door (right) is the one of the only remnants from the original building. The outer wall incorporated a few stones from the original building
.
As indicated in the past, a parallel conference for young adults will be held at the same time as Faith in Action. The programs of both conferences will include sessions that will be of interest to all delegates so be prepared to be spoilt for choice.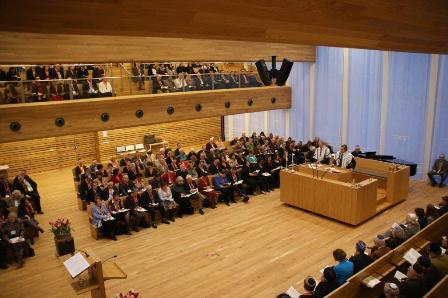 Uplifting Shabbat services at the 2012 conference, held at the newly built Synagogue Center of the Progressive Jewish Congregation of Amsterdam (LJG)
The WUPJ will be represented as well, with members from around the world attending this conference. The WUPJ's International Assembly (IA) will hold its annual meeting immediately prior to the opening of the conference (please
let us know
if you will be attending the meeting. The meeting is open for all conference participants but only IA members are eligible to vote). The IA is the legislative body of the WUPJ which helps to decide policy issues facing the World Union, plays a critical role in fundraising, helps with the branding and marketing of the organization, assists in carrying our message globally, advocates for our core values, and works to define the World Union's relationship with the institutions, regions and communities. IA committees and task forces focus on World Union activities in Israel, the former Soviet Union, emerging communities in Central and Eastern Europe, Latin America, and other areas around the globe.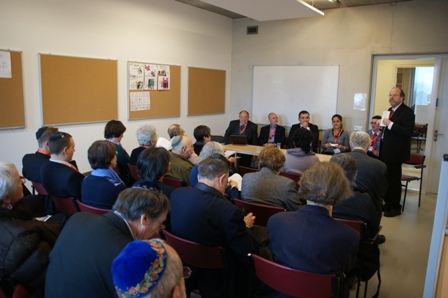 Workshop with Rabbi Joel Oseran and (L-R) Rabbi Haim Beliak, Rabbi Art Nemitof, Dr. Alek Oscar, Student Rabbi Tamara Schagas, Rabbi Hillel Athias-Robles at the 2012 conference
There will be plenty of time to spend with friends, old and new, and on the assumption that the weather will be kind to us, be prepared to treat yourself to the beauty of the city of Dresden when you're not participating in the wide variety of activities that the conference offers.
Remember, the time is fast approaching when we must declare the conference FULL so if you are planning to join us, don't hesitate - register NOW by visiting the
EUPJ web site today
.
Back to In This Issue
News in Brief
Enhance your Pesach Holiday with a springtime walking tour in Jerusalem at Beit Shmuel
Thinking about your Pesach vacation? Why not enhance your vacation with one of our brand name walking tours (
siyyurim
) which are a market leader in the field and offer educational Reform content.
Beit Shmuel's walking tours offer regularly scheduled tours in Hebrew as well as tailor made tours in English and other languages. Over 12,000 people joined our various tours last year, discovering hidden corners of Jerusalem and other parts of Israel, unique Jerusalem architecture, sampling the best hummus and halva in the world, and learning about extraordinary love stories!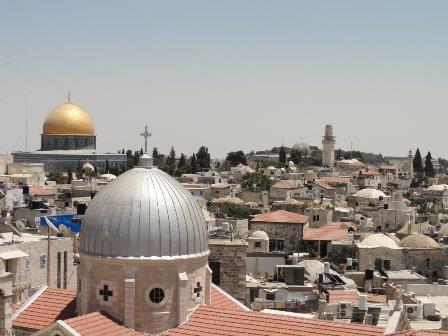 From the "Rooftops, Alleys and Artisans in the Old City" tour
Please visit our
web site
and contact our
tours department
for full details.
TaMaR Gauteng, South Africa, hosts MP and Shadow Minister Ian Ollis
On the 30th of January TaMaR Gauteng was delighted to host Democratic Alliance (DA) MP, and Shadow Minister of Transport, Ian Ollis to a talk at Beit Emanuel Synagogue. The talk was entitled "The future of Jacob Zuma and the Public Protector". Ian kept participants spellbound during the talk with his mixture of facts and opinion on the possible fates of these two figures – President Jacob Zuma and Public Protector Thuli Madonsela
The attendance of the talk was good, with a nice mixture of regulars and new faces - which ensured a lively question and answer session! Some particularly interesting questions concerned the DA's economic plans, especially regarding the reduction of poverty in South Africa and the merger between the DA and Agang (as members of the parties had not been consulted prior to the announcement). Ian stayed with TaMaR for almost an hour after the talk chatting with people as they helped themselves to the snacks and drinks on offer. He has kindly offered to give us another talk next year – a week is a long time in politics and so we can only imagine the topic of his next talk!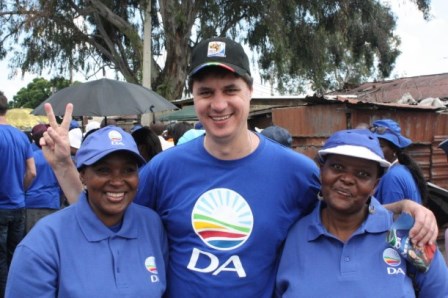 Democratic Alliance (DA) MP, and Shadow Minister of Transport, Ian Ollis
Back to In This Issue
WUPJ's Employment Corner

The following positions are available in Progressive communities around the world:
Rabbi and Cantor (one position each)

The Jewish Community of Stockholm is seeking Progressive professionals to serve as Rabbi and Cantor (one position each) full time.
The Community is eager to welcome its new rabbi and Cantor and to build a long-term partnership with them.
Please click here to find out more information
or
click here
to send them an email
Senior Rabbi
Bet David Progressive Jewish Community, Johannesburg, South Africa, is seeking candidates for the post of Senior Rabbi to commence employment around July/August 2014.
Please click here
for further information.
Questions regarding employment opportunities with WUPJ congregations or sabbatical opportunities serving WUPJ congregations can be addressed to Rabbi Joel Oseran, Vice President, International Development.

Back to In This Issue



Upcoming Events

April 24–27, 2014 – European Union for Progressive Judaism (EUPJ) Biennial, Dresden, Germany

May 9–11, 2014 – Liberal Judaism (LJ) Biennial weekend, Reading, UK

May 23–24, 2014 – Israel Movement for Progressive Judaism (IMPJ) Conference, Israel

June 2–7, 2014 – TaMaR Conference, Israel

June 6–8, 2014 – South African Union for Progressive Judaism (SAUPJ) Biennial, Cape Town, South Africa

June 27–29, 2014 – Movement for Reform Judaism (MRJ) biennial conference – "Chagigah" UK

July 24–August 3, 2014 – The Anita Saltz Education Center Bergman Seminar for Jewish Educators, Jerusalem, Israel

November 20–23, 2014 – Union for Progressive Judaism in Australia, Asia and New Zealand (UPJ) Biennial, Adelaide, Australia

May 13–16, 2015 – Connections 2015, World Union for Progressive Judaism (WUPJ) 37th Biennial Conference, Rio de Janeiro, Brazil

November 4–9, 2015 – Union for Reform Judaism (URJ) 73rd Biennial Conference, Orlando, Florida





Back to In This Issue