Issue #481
Issue #481 – February 6, 2014 | 6 Adar I, 5774
Special newsflash: The WUPJ stands with the IMPJ against MK Rotem's venomous remarks at the Knesset

In This Issue:

The UJCL celebrates its 14th conference in San Jose, Costa Rica with a focus on Israel-Diaspora Relations

Netzer welcomes a new group of youth for their Gap Year in Israel program

Unique opportunity for Reform Jewish Educators from around the globe at the Bergman Seminar

News in Brief:
Enjoy a winter vacation at a special price - Beit Shmuel's special offer for you!

Upcoming Events


Special newsflash: The WUPJ stands with the IMPJ against MK Rotem's venomous remarks at the Knesset

The Israel Movement for Progressive Judaism issued the following press release yesterday:

Yesterday, at a session of the Knesset Committee on Constitution, Law and Justice, the committee chairman, MK David Rotem of Likud-Beitanu stated: "The Reform movement is not Jewish… they are another religion."

The expression "another religion" was not used by MK Rotem by accident. The Israeli Law of Return uses this exact term to exclude non-Jews from making Aliyah, and therefore according to him, Reform Jews have no place in Israel.

In reply, the Israel Reform Movement's Executive Director, Rabbi Gilad Kariv said: "we were witness to this unrestrained declaration of MK Rotem about non-orthodox streams of Judaism. An assertion such as this makes it impossible for MK Rotem to continue to chair discussions on sensitive issues such as conversion, who is a Jew and other topics that are associated with Religion & State matters and the relationship between Israel and the diaspora." Rabbi Kariv further added: "Keeping in mind Proverbs 3:17, which says "its ways are the ways of pleasantness and all her paths lead to peace," we must all ask ourselves, with which religious hearitage MK Rotem identifies."

Rabbi Kariv sent letters of protest to this effect to the Knesset Chairman MK Yuli Edelstein, the Chair of the Knesset Ethics Committee and MK Rotem. We encourage you to make your opinion of this matter known to both Knesset Chair MK Edelstein and MK Rotem, himself.

To find out how you can support the work of the IMPJ, please click here.

The World Union for Progressive Judaism, representing 2 million Jews in 1200 communities around the world, stands strongly with with IMPJ against the stand taken by MK David Rotem.


Back to In This Issue



The UJCL celebrates its 14th conference in San Jose, Costa Rica with a focus on Israel-Diaspora Relations

One would not generally expect San Jose, Costa Rica to be the site of an international Jewish gathering featuring top lecturers on matters related to Israel-Diaspora relations. But then one may not have heard about the UJCL (Union of Jewish Communities in Central America and the Caribbean) and its 14th Conference which took place in San Jose, Costa Rica from January 29-February 1, 2014.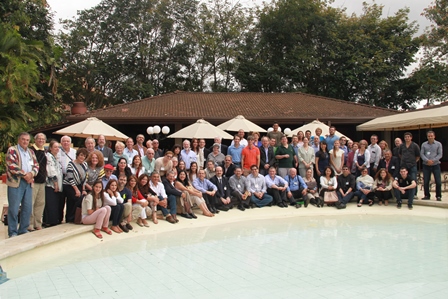 Conference participants in sunny Costa Rica

The UJCL is the network of 14 Progressive and Masorti congregations in Central America and the Caribbean which every two years meets in conference to strengthen ties of Jewish solidarity and focus on issues of mutual importance. This year's conference had as its theme: Israel and the Diaspora – Strengthening Our Ties. Invited speakers from Israel were: Shai Pinto and Rabbi Joel Oseran from the World Union, Gil Hoffman, Chief Political Correspondent from the Jerusalem Post, Peggy Cidor, Board Member of Women of the Wall and member of Jerusalem Progressive congregation Kol Haneshama and Dr. David Breakstone, Vice-Chairman, World Zionist Organization.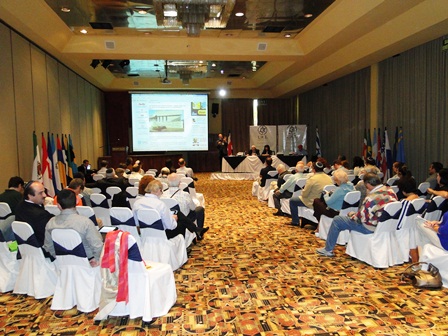 Rabbi Joel Oseran addresses the plenary on the State of Religious Pluralism in Israel

The opening night festivities of the Conference included remarks from the Honorable Abraham Haddad, Ambassador of Israel to Costa Rica and Dr. Luis Liberman, Vice-President of Costa Rica. During the course of Ambassador Haddad's speech, the audience was moved in a most unusual way – an earthquake hit San Jose (one of many which occur during the year in Costa Rica) and the audience in the hall was literally moved by the experience. After a brief time out to receive emergency instructions regarding how to exit the room in case…, we continued on with the Ambassador's talk. A good and moving time was had by all.

Gil Hoffman from the Jerusalem Post in his keynote address gave a presentation which focused on 65 reasons to be optimistic about Israel – a talk which set a great tone for the Conference. Peggy Cidor from Women of the Wall (WOW) spoke from the heart as she described the evolution of the campaign of WOW to reach a negotiated resolution to the issue of egalitarian prayer at the Kotel. Ms. Cidor is a member of Jerusalem's Progressive congregation, Kol Haneshama, and brings the spirit of Progressive Judaism to the cause of women's rights in Israel. She described in painful detail the acts of vandalism against her home due to her leadership role in WOW. The very day of her presentation at the Conference, word reached San Jose about the vandalism and ugly graffiti painted on the walls of Congregation Ra'anan, the Progressive congregation in Ra'anana, Israel (see also WUPJ Statement on this matter). It is all too apparent that the success of Progressive Judaism and religious pluralism in Israel are creating a backlash of blind hatred by those in Israel whose intolerance and closed mindedness lead them to acts of violence and degradation of the Divine name.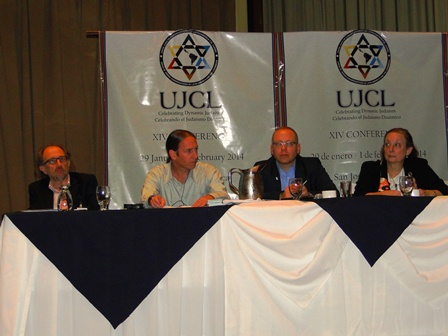 Shai Pinto on panel with Enrique Burbinski, Shay Salamon, and Dr. Jane Siegel

In his presentation to the Conference, Rabbi Oseran used the opening lines of Charles Dickens's classic novel, A Tale of Two Cities, to describe the current situation of religious pluralism in Israel: "It was the best of times, it was the worst of times." Rabbi Oseran cited the recent poll by the Israel Democracy Institute's Guttman Center which indicated that over 7% of Israelis self-identity as either Reform or Conservative Jews. This translates into a real number of over 400,000 Israeli Jews who define themselves as part of the non Orthodox religious camp. Yet, we are reminded that we are far from true religious pluralism in Israel which is based not only on diversity of expression but the ability of diverse groups in society to establish honest and respectful relationships with those of different beliefs and expressions.

Many Conference sessions dealt with practical ways Diaspora Jews can find personal connections to Israel. Shai Pinto stressed the important role which Zionist Youth movements and young adult organizations such as Netzer Olami and TaMaR can play in bringing Diaspora Jews closer to Israel and Israelis. He also explained how our Anita Saltz International Education Center is leading the way in terms of leadership training seminars for Diaspora congregational leaders, educators and social activists. Shai and Joel organized a most interesting session with the young adult representatives from around the region, listening to their vision for the future of young adult leadership and suggesting opportunities for the group which the World Union is prepared to provide.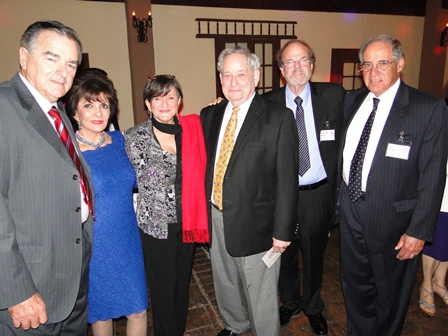 Jerry Tanenbaum, Chair of the Yad B'Yad Task Force, with friends


The San Jose Conference concluded the term of Mr. Ricardo Stanley (El Salvador) as UJCL President and initiated the new Presidency of Mr. Phil Gelman (Costa Rica). The UJCL board welcomed a delegation of World Union leaders to their board meeting to bring greetings and to discuss future cooperative efforts. Jerry Tanenbaum, Chair of Yad B'Yad and Dr. Jane Siegel, Treasurer of Yad B'Yad, were joined by Shai Pinto and Rabbi Oseran to represent the World Union at the board meeting. The UJCL was most gracious in acknowledging the important role played by the World Union over the years in support and encouragement of UJCL activities. Other World Union leaders in attendance at the Conference were Steve Breslauer and Steve and Laura Olsen. The point was made that the World Union is interested in supporting the Jews in Central America and the Caribbean not to increase membership in the WUPJ but because it is the right thing to do. Jews need to help other Jews – and that is why the World Union is so involved in the UJCL region.

At the closing banquet Shai Pinto and Rabbi Oseran presented a lovely World Union mezuzah to outgoing President Ricardo Stanley and brought words of congratulations on behalf of the entire World Union family for his dedicated leadership. The UJCL is an integral part of the World Union international family and we all look forward to continued partnership efforts in the years to come.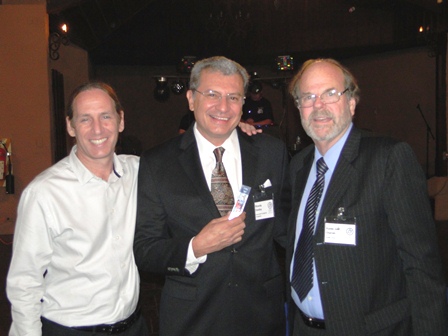 UJCL outgoing President Ricardo Stanley flanked by WUPJ COO Shai Pinto and VP-International Development Rabbi Joel Oseran



Back to In This Issue



Netzer welcomes a new group of youth for their Gap Year in Israel program

Netzer Olami – the worldwide youth movement of the World Union for Progressive Judaism – runs a unique gap-year program in Israel for Progressive youth from around the world: Shnat Netzer. A new group of Netzer youth (called "Shnatties") arrived in Israel on January 27th to start the Southern Shnat Netzer program – Shnat Kineret. This group includes 13 members from Australia.

The Shnat Gap Year program is a ten month leadership training program for young adults in Israel that develops the skills and knowledge to enable them to assume young leadership roles in their home communities. The program's mission is to develop leadership within Netzer and the wider Jewish community and to develop participants' understanding of, engagement with and commitment to Netzer's ideology. Netzer aims for Shnat Netzer to be a Progressive Jewish and Zionist hagshama experience that hones participants' leadership and managerial skills, promotes their personal growth, and nurtures their relationship with the Land, People and State of Israel. Most participants describe the program as "one of the best years of their lives", helping them develop personal skills and lifelong friendships with other Progressive Jews from around the world.

Participants spend time on one of the movement's kibbutzim, where they can experience a communal way of life, as well as studying and volunteering in Jerusalem and other parts of the country.

Their orientation seminar opened with a ceremony on the rooftop terrace of Beit Shmuel overlooking the Old City, with Rabbi Steve Burnstein, Director of the Saltz Center leading the singing and blessings for a successful year.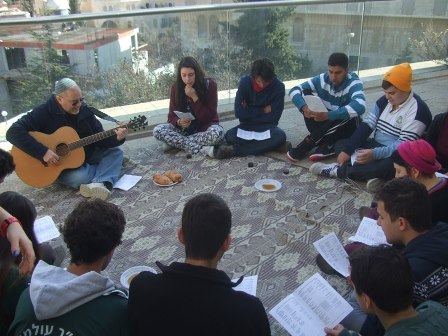 Rabbi Steve Burnstein welcomes the new Shnatties with song, ruach, and snacks

After their orientation seminar which took place in Beit Shmuel, the participants will start their four-month stay in Jerusalem where they can choose between studying in Mechinat Etgar or the JAFI-run Machon Le'Madrichai Chul (Institute for group leaders from abroad) where they focus on Zionism, Judaism and Israeli history, politics and society, as well as classes and workshops in education and group dynamics, and additional seminars focused on spirituality and Reform Judaism. During the second part of the program, the Shnatties will be embarking on a 6 day Yam Le Yam (Sea to Sea) hike where they will experience Israel by foot all while bonding together as a group. After the hike they have a Jewish Identity Seminar and then they will go to Tel Aviv to take part in a Tikun Olam program with BINA (the secular yeshiva). The final stage of the program takes place on the Reform Movement's Kibbutz Lotan in the Arava (about 30 miles/50 km north of Eilat). Lotan, unlike many kibbutzim today, has remained a fully communal kibbutz. The Shnatties will work alongside members in the kibbutz's various economic activities.

Click here to "like" Netzer's Facebook page and see more photos from the first week.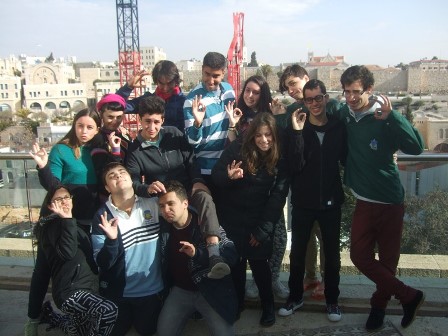 "It's All Good!" say the new Shnatties on the Beit Shmuel balcony


Back to In This Issue



Unique opportunity for Reform Jewish Educators from around the globe at the Bergman Seminar

The Anita Saltz Educational Center's Bergman Seminar for Reform Jewish Educators, that will be held in Israel from July 24 - August 3, 2014, is a unique opportunity for Reform Jewish Educators from across the globe to join together for a 10-day professional development seminar in Jerusalem. In addition to the amazing speakers and programs, the magic of the seminar is the diversity of the participants. Our last program included exceptional Jewish educators from South Africa, Brazil, the Czech Republic, Argentina, Israel, Australia, Panama, France and the United States.

Crafted to having a meaningful impact on our work in formal and informal Jewish education, the program incorporates arts & culture, spirituality & liturgy, Hebrew language, history, politics, text study, Jewish values, pedagogy and more.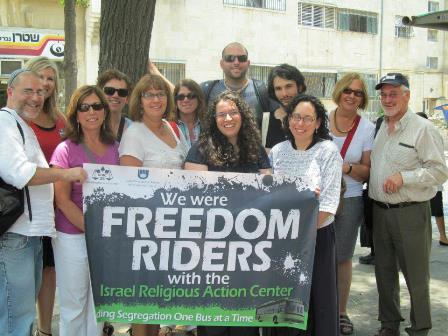 Previous participants experience social action with IRAC Freedom Riders

Join us as we:
• Spend 10 days with exceptional Reform Jewish educators from around the world
• Grapple with critical issues facing Israel and the Jewish People
• Use the sites of Israel to delve into issues vital to Jewish education
• Encounter top leaders in Jewish education
• Explore history, culture, spirituality, Hebrew, politics, pedagogy and more
• Only $1000 USD (including program, accommodations and most meals). 50% discount for additional faculty from the same school. First participant pays $1000. Additional participants from the same school pay only $500! Limited scholarships are available.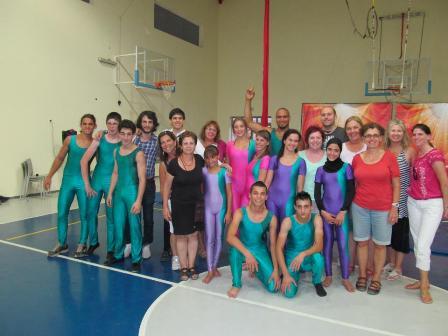 Previous participants "clowning around" with The Jewish-Arab Youth Circus, a project of the Galilee Foundation for Value Education, in Biene

The Faculty: The Saltz faculty includes some of the most accomplished scholars and educators in the world. Past faculty includes: Sally Klein-Katz, Rabbi Marc Rosenstein, Mark Lazar, Robbie Gringras, Anat Hoffman (chairwoman of WOW and executive director of the Israel Religious Action Center- IRAC), Rabbi Gilad Kariv (executive director of IMPJ), Rabbi Miri Gold (Kehillat Birkat Shalom, Kibbutz Gezer), Alexandra Benjaim, Steve Israel, Rabbi Benji Gruber, Rabbi Levi Weiman Kelman, and many more.

The Participants: This is a unique opportunity to experience Progressive Jewish Peoplehood while learning with leaders from around the world. The international makeup of our participants adds perspective and insight

The Location: Based at Beit Shmuel-Mercaz Shimshon, headquarters of the WUPJ, the Saltz Center overlooks the dramatic walls of Jerusalem's Old City.

From Past Participants. . .

We encountered parts of Israel and our larger Jewish story that I would never have access to on my own.

A wonderful opportunity to form community with Reform educators from around the world. I now have the tools to exchange ideas, build on relationships and bring home new, creative techniques. Knowing that we all share similar challenges gives us the ability to use the experience of others to improve the outcomes we hope to achieve. Thank you!

This course was excellent. The level of scholarship, the wide range of topics, the chevruta study, all programmes were outstanding. . . I really learned a great deal . . . Yasher Koach and Todah Rabah.

Participating in the Bergman Seminar enriched my personal and professional life and enables me to take the knowledge back home to my community and community-at-large. I'm bringing with me tools and techniques for teaching about Israel in a meaningful and realistic way, yet inspiring and magical. My hope is that more members of my community will visit Israel and continue to support it!

Although I had been to Israel several times this was the experience that allowed me to put all the puzzling pieces together. There was tremendous attention to depth, detail and knowledge - Israel's history and society is so complex - previously I felt like an outsider peeking over a Jerusalem stone wall into a mystical world - now I feel a part of this country and can relate to its challenges and accomplishments as if it is part of my own identity.

For more information, sample schedule,and application click here. To contact Rabbi Steve Burnstein, please click here.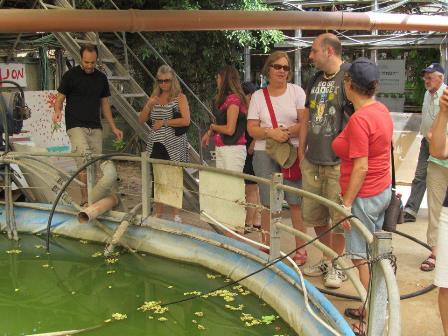 Previous participants learn about Israel's cutting-edge ecological solutions


Back to In This Issue




News in Brief

Enjoy a winter vacation at a special price - Beit Shmuel's special offer for you!
Beit Shmuel Hotel & Guest house, the World Union's global headquarters in Jerusalem, is a unique and friendly hotel and cultural center, close to the Old City of Jerusalem as well as to the center of modern Jerusalem. Its exceptional location, and outstanding cultural programs, make it a natural choice for international as well as local tourists. Our walking tours have become a brand name in this field and a market leader in educational Reform content. Over 12,000 people joined our various tours last year, discovering hidden corners of Jerusalem and other parts of Israel, unique Jerusalem architecture, sampling the best hummus and baklava in the world, and learning about extraordinary love stores!

And now, you too, can enjoy our special walking tours when you book your hotel accommodation with us. Please visit our web site and contact our reservations department for full details.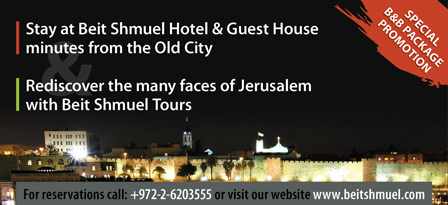 (Click anywhere on the banner to go to the Beit Shmuel web site)


Back to In This Issue



Upcoming Events

February 13–23, 2014 – The Anita Saltz International Education Center Beutel Seminar for Progressive Jewish Leadership, Jerusalem, Israel

April 24–27, 2014 – European Union for Progressive Judaism (EUPJ) Biennial, Dresden, Germany

May 9–11, 2014 – Liberal Judaism (LJ) Biennial weekend, Reading, UK

May 23–24, 2014 – Israel Movement for Progressive Judaism (IMPJ) Conference, Israel

June 2-7, 2014 – TaMaR Conference, Israel

June 6-8, 2014 – South African Union for Progressive Judaism (SAUPJ) Biennial, South Africa

June 27-29, 2014 – Movement for Reform Judaism (MRJ) biennial conference - "Chagigah", UK

July 24–August 3, 2014 – The Anita Saltz Education Center Bergman Seminar for Jewish Educators, Jerusalem, Israel

November 20–23, 2014 – Union for Progressive Judaism in Australia, Asia and New Zealand, (UPJ) Biennial, Adelaide, Australia

May 13–16, 2015 – Connections 2015, World Union for Progressive Judaism (WUPJ) 37th Biennial Conference, Rio de Janeiro, Brazil

November 4–9, 2015 – Union for Reform Judaism (URJ) 73rd Biennial Conference, Orlando, Florida




Back to In This Issue