Issue #480
Issue #480 – January 23, 2014 | 22 Shevat, 5774
In This Issue:

Second Roswell Social Justice Seminar exceeds expectations
Lively and inclusive program warms the hearts at Moscow's Le Dor Va Dor Family Winter Camp
Thirty future leaders, three new branches, seven jam-packed days: Netzer Olami wraps up a successful veida

News in Brief:
*Special Tu Bishvat program honors Rabbi Sergio Bergman at Beit Shmuel
*Abraham Geiger Medal awarded to Stuart M. Matlins
*Children Create Shabbat – and Tu Bishvat at Beit Shmuel
*Renew old friendships and make new connections at EUPJ's "Faith In Action" conference

WUPJ's Employment Corner

Condolences

Congratulations

Upcoming Events





Second Roswell Social Justice Seminar exceeds expectations

"Unbelievable" "Wow" "Extraordinary" "Inspirational" "Brilliant" "A Gift" "Outstanding" "Amazing" "I really loved this program" These are some of the reactions of participants in the second Roswell Social Justice Seminar run by the Anita Saltz Center of the World Union for Progressive Judaism (WUPJ) January 2-9, 2014.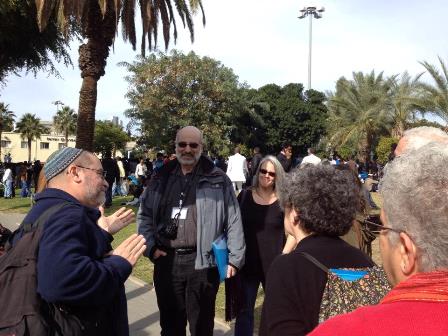 Going out there to learn about Israel

"The program and participants exceeded my expectations!" remarked Rabbi Steve Burnstein, director of the Saltz Center. The Roswell Seminar addressed difficult, sometimes painful issues facing Israeli Society. Several times during the 8 day program speakers and participants expressed concern about how easy it would be to become overwhelmed with frustration and despair.
However, the program was designed to bring participants into contact with inspiring individuals and organizations working toward change in Israeli society. As one participant noted, "with so many reasons to despair over the current situation in Israel, and to worry about the future, this seminar offers hope."

The seminar was designed with a multi-stage approach. First, delving into Jewish texts exploring what our tradition has to say. Next, meeting individuals and organizations working to address these particular issues in meaningful ways - hearing about their challenges and success. Finally, exploring social justice in our own communities.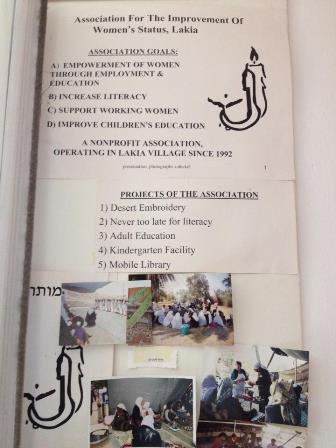 Women Empowerment at the Bedouin town of Lakia

Paul Liptz, the Saltz Center's Director of Education remarked: "All participants were extremely enthusiastic about being in Israel and saw the program as having direct importance in their various environments as they came from many different countries, they constantly compared their own challenges and discussed how they could learn from each other.

The timing of the seminar also corresponded with some important happenings in Israel. Months earlier the schedule was arranged to include a visit to Tel Aviv's Levinsky Park and meet with African asylum seekers. The day of our visit turned out to be in the midst of series of protests, marching on public squares, foreign embassies and government offices.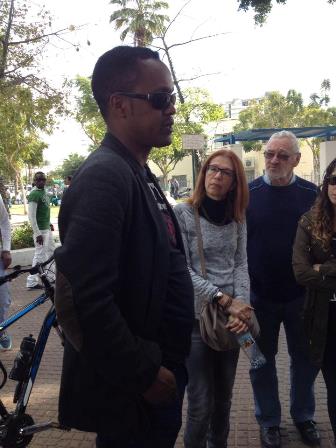 Walking in on a peaceful demonstration held by African asylum seekers in Tel Aviv

Participants met with Rabbi Miri Gold of Kehilat Birkat Shalom just days after she received her first salary check from the government of Israel following her eight-year battle with IRAC to win recognition as a woman Reform Rabbi (see also WUPJnews #479). After speaking with Miri the group joined her congregation for Kabbalat Shabbat worship followed by dinner in the homes of members of the shul.

Later in the week, while a heated debate was going on in the Knesset about creating and implementing fair and proper plans for the Bedouin communities, participants traveled to the Bedouin village of Segev Shalom and met with Kher Albaz, Co-Director of the Arab-Jewish Center for Equality, Empowerment and Cooperation. Following his presentation the group met with young Jewish and Bedouin Israelis working together as volunteers in a variety of schools in the Negev. The meeting took place at the Hagar bilingual, multicultural school which advances relationships between Arabs and Jews for children – who study and learn together, and parents – who seek to optimize their children's educational opportunities and to create a peaceful future.

The seminar included one amazing experience after another with visits to the Jerusalem Open House GLBTQ center; the Beit Eden center for developmentally disabled teens; the award winning Ein Shemer Greenhouse Ecology and Coexistence Educational Center; young Palestinian and Jewish Israeli peace builders; and much more!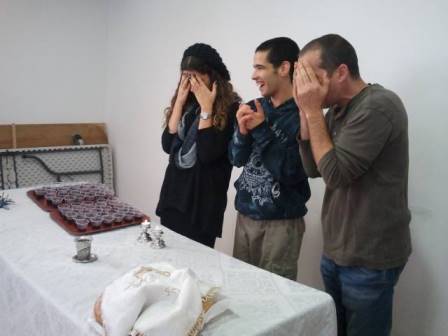 A different and special Kabbalat Shabbat at the Beit Eden center

Rabbi Burnstein observed: "One of the most memorable aspects of the seminar is that it introduces participants to the personal stories and journeys of a diverse group of Israelis all doing meaningful work toward social change". He continued, "It helps them appreciate just how important their role is in enabling their communities to be active in social justice work. I'm inspired to know that these people are involved with securing the Jewish future."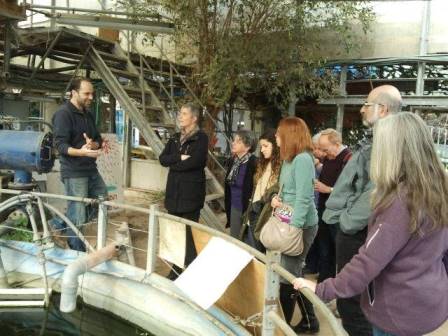 Reuse, Recycle, Reduce – learning about environmental issues and cutting-edge solutions.


Back to In This Issue



Lively and inclusive program warms the hearts at Moscow's Le Dor Va Dor Family Winter Camp

The annual family winter camp of the Le Dor va-Dor community, supported by the JDC, Federation of New York, the World Zionist Organization (WZO), and ROOPI WUPJ, in collaboration with the project "Integration" (JDC, Jewish Agency) took place in the first week of January at a site outside Moscow for 63 people (18 families, three of which included children with special needs).

The camp provides the families with an opportunity to spend several days together participating in discussions, educational lectures, outdoor games, field trips, Jewish songs and dance, Hebrew and Israeli input, and master classes. These camps contribute greatly to the feeling of community and family interaction, strengthening connections and ties to Zionism, Judaism and Israel, and have become a wonderful tradition which is looked forward to by the entire community.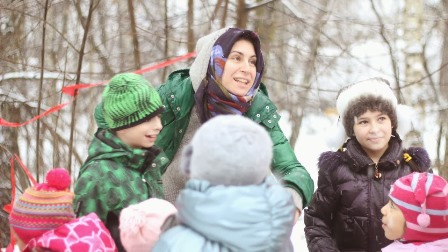 The snow and cold can't wipe those smiles away!

This year's theme was "Commentary and the Torah" and focused on the connections between ourselves and our Jewish heritage, and the relevance of Torah to the modern world.

The camp offered both joint activities as well as activities specific to each age group. The program included lectures, discussions and activities, and modeled integration, tolerance and acceptance. Our staff and volunteers – themselves former campers – carry on the tradition of 'generation to generation' (Le Dor va-Dor) and this feeling of continuity brings everyone much closer.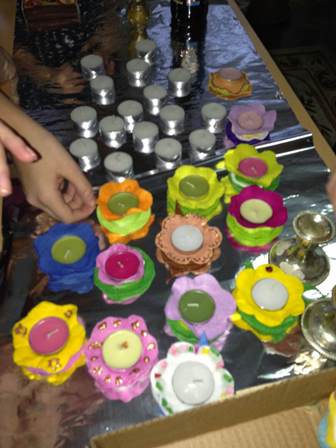 Unique hand-made Shabbat candle holders – made by campers

Amongst the many activities was an art class where the participants made holders for Shabbat candles, sugar cookie dough, and beaded trees for Tu B'Shvat. Alla Mitelman led an animation studio and Rabbi Lyskovoy held a lively discussion on "Everything you've always wanted to know about Torah but were afraid to ask".

The adults were not forgotten either and enjoyed hearing the guest speakers and the talks given by Rabbi Lyskovoy. Arkady Rybakov spoke about the "Geonic Period"; David Nisengolts discussed Rashi and the Talmud; Elizabeth Smirnova, a psychologist and coordinator of the project "Integration" spoke about "where to find strength as a parent in times of crisis"; and Fuad Aleskerov spoke about "Game Theory: God + Adam + Eve".

The fun evening activities gave everyone an opportunity to get to know each other better, and included an interactive dating game for all families, "Evening Midrash", intellectual games, team building exercises, ending with a "We Are Talented" – a lively family talent show.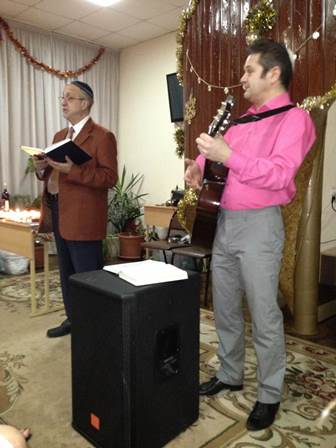 Lively Kabbalat Shabbat services led by Rabbi Alexander Lyskovoy and Cantor Dima Karpenko

The entire staff – camp director Evgenia Rozental, Rabbi Alexander Lyskovoy, program director Catherine Angelova,, AV technical assistant Michael Ulickiй, and group madrichim, Ruzmetova Aziza, Paul Kachkin, Ruzmetova Victoria, Rayskaya Alena, Dasha Mihailova and Misha Nezhenets – worked enthusiastically resulting in the success of this winter family camp, a most wonderful and unforgettable event!



An unforgettable experience at Le Dor Va-Dor Winter Camp

For additional material please click here for photos and here and here for YouTube clips.


Back to In This Issue



Thirty future leaders, three new branches, seven jam-packed days: Netzer Olami wraps up a successful veida (conference)

Netzer Olami, the World Union's international Zionist youth movement, held its annual Veida Olamit (World Conference) in Jerusalem from January 12–18, 2014, with 29 representatives from around the world who gathered to focus on issues central to Netzer ideology. This year's theme was "Israel in the 21st Century: The Challenge of Diversity". In addition, they convened for "asefot" (meetings) to discuss important challenges to Netzer today, in hopes of reaching meaningful decisions regarding the youth movement as a whole. We spent the week discussing, listening, sharing and growing together as we learned about different important aspects of our shared ideology.



Learning about co-existence between Jews and Arabs in Israel

The jam-packed schedule included sessions, workshops, field trips, and hands-on activities, all combined with fun and the inspiring ruach that accompanies Netzer activities worldwide. From a meeting with Ethiopian Rabbi Sharon Shalom, to the home of Zipora, an ultra-Orthodox Jerusalem woman, from shopping and packing food parcels for IRAC's Keren Bekavod project, to the Wadi Ara area to learn about co-existence between Israeli Jews and Arabs in Israel, the young adults were led on an amazing journey, exposing them to the different parts and aspects of Israeli society, and trying to answer the question: "What can I take home from these discussions and experiences and implement as a leader in my Netzer sniff (branch)?" And, as part of their leadership training during the convention, each snif also had the opportunity to lead a worship service or activity, and to present their work to the group.

This year we also welcomed to three new branches: Holland, Switzerland and Brazil!




Singing, talking, praying, and discussing – making connections and making a better world

This was a fantastic Veida – possibly the best Veida ever! It was a terrific opportunity to learn, a time to make new friends and strengthen ties between us, and truly become an international movement with connections all over the world. This was an opportunity to help Netzer Olami grow and our Progressive community flourish even more!

"Veida really made me think more about our ideology" said one of the participants. Another participant said that "Veida has made me grow not only as a Madrich, but as a Jew as well".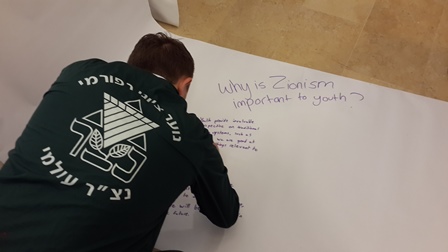 Taking home some important questions about Zionism and Israel 


Back to In This Issue



NEWS IN BRIEF

Outstanding Publisher Honored by Rabbinical School
The Abraham Geiger College of Potsdam University, Germany, honored Stuart M. Matlins with the Abraham Geiger Medal for his many achievements in teaching about Judaism among people of all faiths.
Rabbi Walter Homolka, Rector of the College, said: "Stuart Matlins is one of the most creative and innovative minds in the Progressive Jewish world. He publishes what gives us inspiration. We honor his unique service to contemporary Judaism."
The honor will be conferred upon him during the European Union for Progressive Judaism (EUPJ) biennial conference in Dresden at the end of April 2014.

Matlins, a longtime member of the board of supervisors of the Abraham Geiger College, is founder, editor-in-chief and publisher of Jewish Lights Publishing and SkyLight Paths Publishing. Both imprints focus on religion and spirituality from a broad non-denominational perspective. He is the author of several books and was the 2006 recipient of the American Jewish Distinguished Service Award, an annual presentation of Hebrew Union College–Jewish Institute of Religion. Before publishing took over his life, Matlins was a management consultant for over thirty years as a managing partner with Booz Allen Hamilton, Inc. and then heading his own consulting firm. He is the cofounder of an innovative synagogue in Woodstock, Vermont, with his wife, Antoinette Matlins, and served as lay spiritual leader for almost two decades. He has served for over twenty years on the Board of Governors of Hebrew Union College–Jewish Institute of Religion, and was chair of the Board of Overseers of its New York School.

Special Tu Bishvat program honors Rabbi Sergio Bergman at Beit Shmuel
The World Union for Progressive Judaism, in cooperation with the Israel Movement for Progressive Judaism (IMPJ) held a special Tu Bishvat program, featuring Rabbi Sergio Bergman. Rabbi Bergman was recently elected to the National Parliament of Argentina, after his PRO party won 34.5 percent of the vote – "and most of the votes for me were not even Jewish votes" as Rabbi Bergman said – and is one of the only rabbis seated in a national parliament outside Israel (see WUPJnews #478 and WUPJnews #474).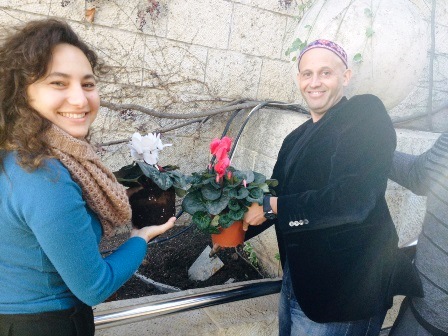 Rabbi Sergio helps to beautify Beit Shmuel with Netzer and TaMaR Spanish desk director Anabella Esperanza

Following WUPJ and Beit Shmuel's staff annual planting ceremony, Rabbi Bergman met with staff members and guests, where he discussed his political career, his social action work through Fundacion Judaica – the network of Jewish schools and projects that he founded in Argentina, the political situation in Argentina, and how we can apply his model to other organizations. The talk was interesting and thought-provoking and gave us all a chance to meet with Rabbi Bergman in a relaxed setting.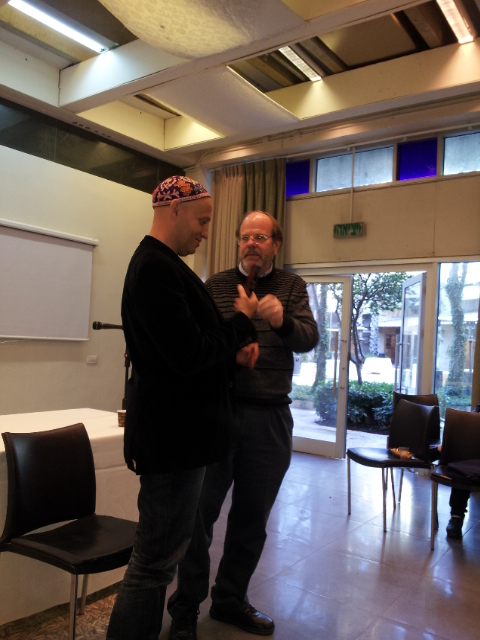 WUPJ VP-International Development Rabbi Joel Oseran thanks Rabbi Bergman and sends him back to Argentina with a WUPJ Mezuzah

Rabbi Bergman was awarded the WUPJ Micah Award for his strong commitment to social justice at the 2013 biennial conference in Jerusalem (see WUPJnews #462).

Children Create Shabbat – and Tu Bishvat at Beit Shmuel
Another session of Beit Shmuel's unique "Children Create Shabbat" was devoted to Tu Bishvat and held recently at Beit Shmuel. What better way to teach young children about Jewish holidays and the environment than a fun-filled morning about Tu Bishvat. The children learned about the origins of the holiday in the Jewish tradition, and discussed the importance of recycling and other environmental issues. Together with their parents, they prepared beautiful "vases" made of recycled milk cartons and filled them "flowers" made of recycled paper and locally grown grains.

The series offers a unique program for young families, with creative workshops that focus on Progressive Jewish content. It is one of the very few programs offered to families in Jerusalem on Shabbat, and has become a focal Shabbat activity for many families looking for a Jewish activity and connection that is both entertaining and informative for children and adults.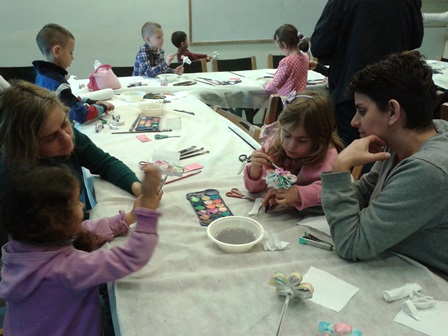 Parents and children create flowers together in honor of Tu Bishvat

Renew old friendships and make new connections at EUPJ's "Faith In Action" conference
The European Union for Progressive Judaism will be holding their biennial conference April 24–27 in Dresden, Germany. Many delegates are expected from throughout the region, as well as a considerable international group. The conference is shaping up to be exciting, inspiring and fun – with keynote lectures, uplifting Shabbat services, music, an "information market", and even a "talent show"!

Some of the topics that will be covered at the conference include: Marketing in the 21st Century; The Sofer; Diversity and Consistency; The Role of Synagogues; Israel; and much much more.

For more information about the program please click here. To register, please visit the EUPJ website – you can still benefit from the Early Bird rate.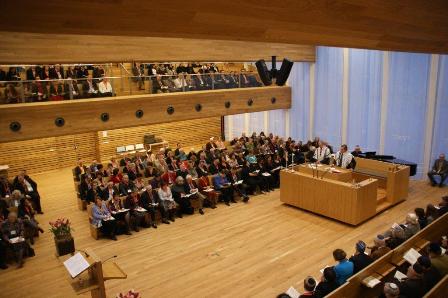 Shabbat services at the EUPJ conference in 2012


Back to In This Issue



WUPJ's Employment Corner

The following position is available in the WUPJ headquarters, Jerusalem:

Educators/Community work
Netzer Olami is looking for a Educational Coordinator in Jerusalem for a PT position (suitable for students). Training will begin end of February, start date in March. Please contact Maoz Haviv, executive director of Netzer for further details.

Questions regarding employment opportunities with WUPJ congregations or sabbatical opportunities serving WUPJ congregations can be addressed to Rabbi Joel Oseran, Vice President, International Development.

Condolences
The leadership and staff of the World Union offer their sincerest condolences to Rabbi Harry Jacobi and his children Rabbi Margaret Jacobi, Rabbi Richard Jacobi and David Jacobi, on the passing of wife and mother Rose Jacobi z"l. May her memory be for a blessing.

Congratulations
The leadership and staff of the World Union offer their hearty congratulations and Mazal Tov to Executive Board member Steve and Rahle Lurie on the birth of their grandson, to Shannon and Albano Prestia.

The leadership and staff of the World Union offer their hearty congratulations and Mazal Tov to Executive Board member David and Maureen Robinson on the birth of their grandson to Danielle and Alex Feigin and older sister Natalie


Back to In This Issue



Upcoming Events

January 29–February 1, 2014 – Union of Jewish Congregations of Latin America and the Caribbean (UJCL) Biennial, Costa Rica

February 13–23, 2014 – The Anita Saltz International Education Center Beutel Seminar for Progressive Jewish Leadership, Jerusalem, Israel

April 24–27, 2014 – European Union for Progressive Judaism (EUPJ) Biennial, Dresden, Germany

May 9–11, 2014 – Liberal Judaism (LJ) Biennial weekend, Reading, UK

May 23–24, 2014 – Israel Movement for Progressive Judaism (IMPJ) Conference, Israel

June 2-7, 2014 – TaMaR Conference, Israel

June 6-8, 2014 – South African Union for Progressive Judaism (SAUPJ) Biennial, South Africa

June 27-29, 2014 – Movement for Reform Judaism (MRJ) UK, biennial conference – "Chagigah"

July 24–August 3, 2014 – The Anita Saltz Education Center Bergman Seminar for Jewish Educators, Jerusalem, Israel

November 2014 – Union for Progressive Judaism in Australia, Asia and New Zealand, (UPJ) Biennial, Adelaide, Australia

May 2015 – Connections 2015, World Union for Progressive Judaism (WUPJ) 37th Biennial Conference, Rio de Janeiro, Brazil

November 4–9, 2015 – Union for Reform Judaism (URJ) 73rd Biennial Conference, Orlando, Florida





Back to In This Issue