Issue #479
Issue #479 – January 9, 2014 | 8 Shevat, 5774
:
Four Reform rabbis receive payment from the Israeli Government – ending a decade-long battle
Significant Reform input at international Limmud conference in the UK
News in Brief
:
•
Interesting developments in emerging Reform congregations in China
•
Alyth congregation (London) and Temple Israel (Cape Town) hold joint memorial for South African leader Nelson Mandela
•
An American Reform Rabbi in Queen Elizabeth's Court
Upcoming EventsFour Reform rabbis receive payment from the Israeli Government – ending a decade-long battle
After a long legal battle, four Reform rabbis received payment for their salaries from the Israeli Government. The
World Union for Progressive Judaism
, together with the
Israel Movement for Progressive Judaism
and
Israel Religious Action Center
and our supporters worldwide, have been at the forefront of this ongoing battle to bring about a real change in Israeli Society. Although the Israel Supreme Court's decision that the State will pay rabbis of non-Orthodox communities was reached in 2012 (see
WUPJnews #438
), the rabbis haven't received actual payments until recently.
Rabbi Gold is all smiles but "not resting on our laurels" as she receives the good news (photo: Elana Nemitoff)
The four Reform rabbis who received government pay are: Miri Gold of Kehilat Birkat Shalom (Kibbutz Gezer); Stacy Blank of Tzur Hadassah; Benjie Gruver of Kibbutz Yahel; and Gadi Raviv of Har Halutz – all rabbis serving in regional communities and not cities or towns. One Conservative and one secular rabbi also met the 2012 ruling criteria and received payment from the Israeli government. The IMPJ hopes to have eight regional Reform rabbis qualify for salary payment by 2017.
Rabbi Gold said that "It's important that this step was taken… and it's very important that Israel is recognizing us." She goes on to say that "We're moving in the right direction, however slowly. It's been very heartwarming to see the army of support [for this struggle] but there's much more work to be done...there's no sitting and resting on our laurels"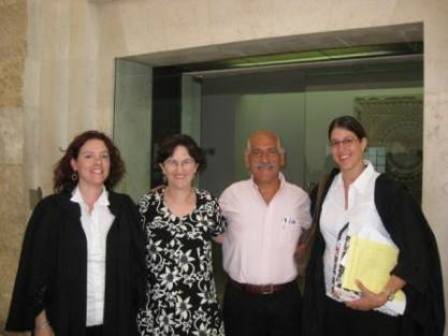 After June 2009 court appearance (Left to right: Atty. Einat Hurvitz, Rabbi Miri Gold, Gold's husband, David Leichman, and Atty. Orly Erez-Likhovski)
IMPJ's executive director Rabbi Gilad Kariv said: "We will continue to act to ensure that in every city and town in Israel there will be a feasible option of utilizing the services of a non-Orthodox rabbi and enjoy the variety of synagogues and communities associated with the different streams of Judaism."
IRAC's director Anat Hoffman said, "This is a historic and important step in the greater race towards equality and religious pluralism in Israel. Just because we have won one marathon does not mean that we will stop running others. With our foot firmly in the door, we will fight to extend this recognition by the state to neighborhood rabbis in Israel. We will continue to fight for personal freedoms of marriage, divorce, and conversion. We will continue to prevent the exclusion of women in the public sphere, and we will continue to run campaigns against racist incitement by state-employed Rabbis."
This achievement is hopefully the next step in bringing about changes for a stronger Israel that will be a more inclusive, open, and pluralistic state.
For some additional background material read WUPJnews Issue 361 on
Progress in the Rabbi Miri Gold Case
(June 2009); Issue 464 on
Recognition for community-chosen rabbis
(June 2013); Issue 438 on
Supreme Court decision
(May 2012)
Back to In This Issue
Significant UK Progressive input at what was the biggest and best Limmud conference in Warwick, UK
This year's Limmud Conference, held for five days at Warwick University (UK), was the biggest ever with more than 2,500 participants from around the world. This is a volunteer led and run event – described as a "jewel in the Jewish communal crown" and our members were central to its success with British Liberal and Reform rabbis and educators presenting more than 60 sessions at this year's conference.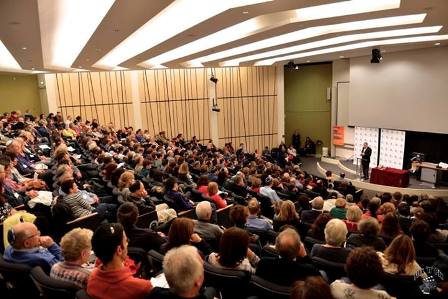 It was "Standing Room Only" at this year's Limmud Conference (photos in this article: Flix'n'Pix Professional Photography & Cinematography)

Ten Students and Young Adults attended Limmud as part of a program run by Jeneration in conjunction with 'The Blue Thread'. RSY-Netzer and Liberal Judaism (LJ)-Netzer bogrim (alumni) made up a considerable proportion of the conference steering group (including co-chairing programming and catering, chairing the Inclusion & Accessibility Team and working on social programming support).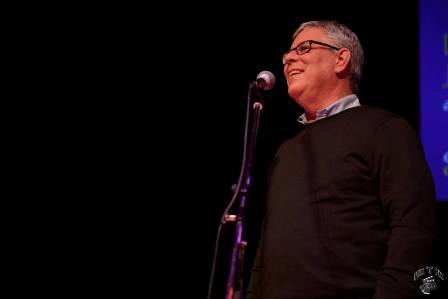 Rabbi Daniel Freelander at Limmud
International Reform presenters included Rabbi Dan Freelander (Union for Reform Judaism-URJ senior vice president), Rabbi Joe Black, musicians Saul Kaye and Mikey Pauker, Joel Grishaver, and Rabbi Elyse Frishman (Barnert Temple, NJ). Leo Baeck College students and faculty presented a number of sessions, including Student Rabbi Daniel Lichman's standing-room-only session on "Sex and Halacha in the Age of Grindr" (see the full article on the Jewish Chronicle online).



Rabbinical Student Daniel Lichman on "Sex and Halacha in the Age of Grindr"
Key panel discussion featured Rabbi Laura Janner-Klausner (Movement rabbi for the Movement for Reform Judaism – MRJ) on same sex marriage - describing it as "kedusha-bringing holiness to relationships", and "Jewish Dreams, Observations, and Visions (JDOV)" talks by Rabbi Laura Janner-Klausner and Rabbi Dan Freelander. (Videos will be available at the JDOV web site.)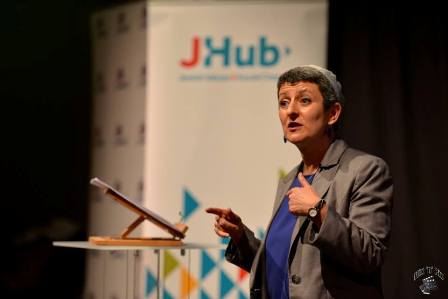 Rabbi Janner-Klauser discusses same sex marriages


Back to In This Issue



News in brief

Interesting developments in emerging Reform congregations in China
The long months of preparation and miles of red tape did not deter Hadas Hacham, Jewish Agency for Israel (JAFI)'s first Shlicha (emissary) to Shanghai, China. Hacham comes to our movement after studying Political Science and Asian Studies at Hebrew University; a semester in Nanjing, China, through a student-exchange program; volunteering at the Israel Youth Award project; and leadership in the Israeli Scouts youth movement. In addition to her work with the adult Reform community in Shanghai, Hadas will initiate a branch of the World Union's Netzer youth group. This will include holiday and special event planning, establishing a "home" for the group, leading Kabbalat Shabbat programs, organizing Jewish and Zionist events, and representing the State of Israel, the Jewish Agency, the worldwide Reform Movement, and of course – Netzer.

We wish Hadas much luck - hǎo yùn!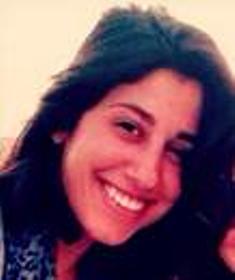 Hadas Hacham – new emissary to Shanghai

In other news from China, we received a letter from former URJ board member Vicki Nelson, who recently returned from a trip to China. Following are excerpts from her letter:
"I was so moved by the opportunity we had, and the surprise of finding Jewish communities not only far from home, but in China, that I wrote into the URJ trustee publication to share my experience…

When in Beijing we spent our Shabbat with Kehillat Beijing. A unique group made up mostly of ex-pats, but from around the world. After the service, taken from the Reconstructionist Prayer Book, but with music from Debbie Friedman and a drash by a young Brandeis grad, we shared a Shabbat dinner with what I dubbed "Chinese kugel" –rice with raisins. We sat with young Israelis there to study, along with people from our tour and others currently working in Beijing.

For the last Shabbat we were in Hong Kong and attended services at UJC Hong Kong; the rabbi and his wife, the educator, are both HUC grads. The much more traditional cantor, Diego, is from Buenos Aries. The service was in a lovely room in a complex that houses not only this congregation but an orthodox congregation, the JCC, a kosher butcher and several apartment buildings where all the rabbis appear to live. We used Mishkan T'filah and I truly felt right at home… I can now add this experience to services in Nairobi, London, Brussels, and of course Eretz Yisroel."

Alyth congregation (London) and Temple Israel (Cape Town) hold joint memorial for South African leader Nelson Mandela
Many Reform communities in South Africa and worldwide have held memorial services for deceased president Nelson Mandela. One such event was held recently between the North Western Reform Synagogue Alyth and Temple Israel Cape Town who held a joint memorial service that was live-streamed. The request came from a number of South African members of Alyth and also from members of the Synagogue who were active supporters of the anti-apartheid movement in the 1970s and 1980s.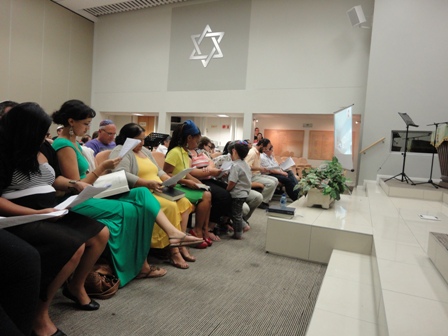 A packed Temple Israel synagogue pays tribute to Nelson Mandela, together with North Western Reform Synagogue Alyth

The music for the service was directed by Viv Bellos and included Zulu and Xhosa struggle songs, choral psalms and Hebrew peace songs and the readings ranged from speeches from Madiba to the Invictus poem given to Francois Pienaar before the 1995 World Cup. Rabbi Mark Goldsmith at Alyth spoke about the verse "v'ahavta l'rei'acha kamocha - you shall love your neighbour as yourself" and how Mandela showed us all how to live up to that mitzvah. Rabbi Greg Alexander at Temple Israel spoke about Mandela's fire never going out and reminded all present how Mandela had been invited by Progressive Rabbi Adi Assabi in 1990 to address the Imanu-Shalom congregation in Johannesburg, shortly after his release from prison. Mandela held a packed shul enthralled with his message of tolerance and acceptance, despite opposition from many in the Jewish community who were not ready for Mandela to speak from the bimah.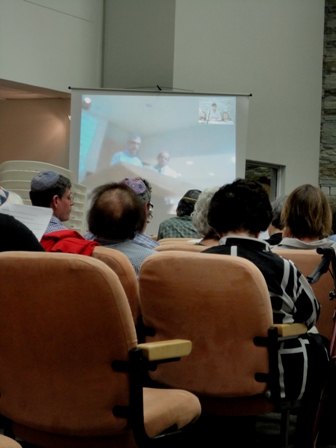 The wonders of technology brought two continents together in paying tribute to a great man

An American Reform Rabbi in Queen Elizabeth's Court
Rabbi Mark L. Winer, a world-renowned American interfaith activist and scholar was recently named a Member of the Order of the British Empire (MBE) by Queen Elizabeth II for his work in promoting interreligious partnership during a period of rising religious tensions in England. The award was announced in the Queen's 2014 New Year's "Honours List."

Rabbi Winer becomes the first American-born rabbi honored with an MBE. The award is for "promoting interfaith dialogue and social cohesion in London and the UK," according to the citation from the Queen.

"I am humbled and thrilled to accept the MBE," said Rabbi Winer, who has led congregations in the US and London – including serving as senior rabbi of the West London Synagogue.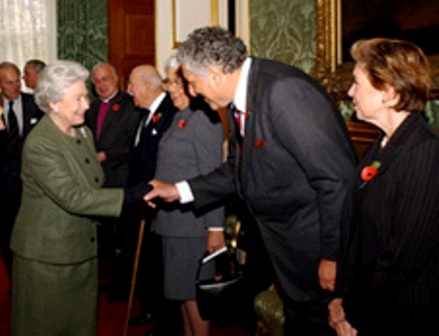 Queen Elizabeth greets Rabbi Winer

Rabbi Winer was instrumental in building interfaith relations and preaching for interreligious reconciliation after the 9/11 terrorist attacks in the United States, and the 7/7 London Underground bombings. During that period, he appeared frequently on national BBC broadcasts calling for understanding and mutual respect. Upon returning to the United States in September 2010, he continued his lifelong devotion to interreligious reconciliation. He is Director of the Center for Ecumenical and Interreligious Studies of St. Thomas University in Miami, the Diocesan University of the Archdiocese of Miami, and adjunct Professor of Religion at St. Thomas. Rabbi Winer serves on the WUPJ Advocacy Committee and is a former Board Member

The MBE will be officially conferred within the next few months by the Queen at St. James's Palace in London in an "investiture" by the "Central Chancery of the Orders of Knighthood."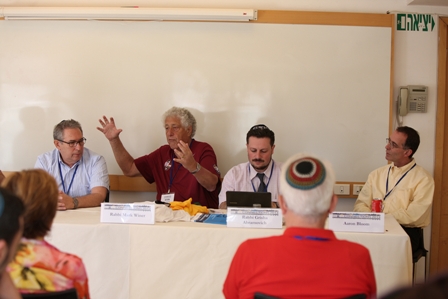 Rabbi Winer leads session on Interfaith at Connections 2013 in Jerusalem


Back to In This Issue


Upcoming Events

January 2–9, 2014 – The Anita Saltz International Education Center Roswell Seminar for Social Justice, Jerusalem, Israel

January 12–18, 2014 – Netzer Veida Olamit, Israel

January 29–February 1, 2014 – Union of Jewish Congregations of Latin America and the Caribbean (UJCL) Biennial, Costa Rica

February 13–23, 2014 – The Anita Saltz International Education Center Beutel Seminar for Progressive Jewish Leadership, Jerusalem, Israel

April 24–27, 2014 – European Union for Progressive Judaism (EUPJ) Biennial, Dresden, Germany

May 9–11, 2014 – Liberal Judaism (LJ) Biennial weekend, Reading, UK

May 23–24, 2014 – Israel Movement for Progressive Judaism (IMPJ) Conference, Israel

June 2-7, 2014 – TaMaR Conference, Israel

June 6-8, 2014 – South African Union for Progressive Judaism (SAUPJ) Biennial, South Africa

June 27-29, 2014 – Movement for Reform Judaism (MRJ) UK, biennial conference – "Chagigah"

July 24–August 3, 2014 – The Anita Saltz Education Center Bergman Seminar for Jewish Educators, Jerusalem, Israel

November 2014 – Union for Progressive Judaism in Australia, Asia and New Zealand, (UPJ) Biennial, Adelaide, Australia

May 2015 – Connections 2015, World Union for Progressive Judaism (WUPJ) 37th Biennial Conference, Rio de Janeiro, Brazil

November 4–9, 2015 – Union for Reform Judaism (URJ) 73rd Biennial Conference, Orlando, Florida




Back to In This Issue