Issue #478
Issue #478 – December 26, 2013 | 23 Tevet, 5774
In This Issue:

North American Reform Movement celebrates at recent URJ/WRJ Biennial conference in San Diego

Major WUPJ presence was felt throughout URJ/WRJ Biennial

Special celebration marking WRJ's 49th assembly and centennial anniversary and launching NFTY's 75th year

It's "waiting list only" for the Beutel Seminar for Progressive Jewish Leadership!

News in Brief:
• Rabbi Sergio Bergman sworn into Argentina's National Parliament
• Chanukah Candles, Christmas Lights, and Shabbat Challah come to life in Beit Shmuel's Hamshushalayim events
• "Children Create Shabbat"… and Tu Beshvat at Beit Shmuel
• Making a Difference in Tel Aviv-Jaffa and Israel: The Daniel Centers for Progressive Judaism

Special: Beit Shmuel in the snow!

Congratulations

Upcoming Events

~~~~~~~~~~~~

North American Reform Movement celebrates at recent URJ/WRJ Biennial conference in San Diego

The Union for Reform Judaism (URJ) held their 72nd Biennial conference in San Diego Dec 11-15. Concurrently, the Women for Reform Judaism (WRJ) held their Centennial celebrations at their 49th assembly. Over the course of the Biennial, attendees engaged in important conversations about Israel, the challenges facing the advancement of women, worship innovations, managing congregations, and much more. In his keynote address to the Biennial, URJ President Rabbi Rick Jacobs discussed the power of practicing hospitality, inclusion and outreach; new youth engagement initiatives; the importance of social justice; intensified Israel-Diaspora relations; and perseverance of our efforts for religious pluralism in Israel. He challenged the nearly 5,000 Jewish leaders in attendance to look to the future with confidence "to build a more vibrant, richer Jewish life for our people and communities." He implored the gathering "to articulate an audacious vision of the way the world can become."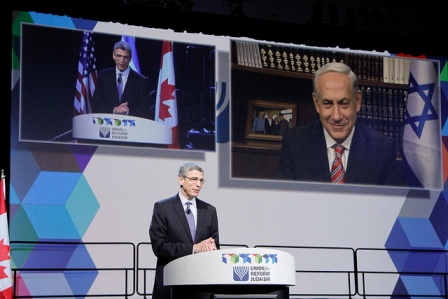 Israeli Prime Minister Benjamin Netanyahu "committed to making sure that all Jews feel at home in our holiest site" (with Rabbi Jacobs, via satellite). Photo: All rights reserved by Union for Reform Judaism

Israeli Prime Minister Benjamin Netanyahu addressed the plenum via satellite. He applauded Rabbi Jacobs for his role in advocating for equality at the Kotel, stating "While the Wall may be in Israel, it belongs to all of you, it belongs to you and to all the Jewish people, and I am committed to making sure that all Jews feel at home in our holiest site"

Israel Religious Action Center (IRAC) Executive Director and Women of the Wall Chairwoman Anat Hoffman was awarded on Saturday night the Women for Reform Judaism's Jane Evans Social Justice Award for her efforts in fighting for religious pluralism and women's rights in Israel.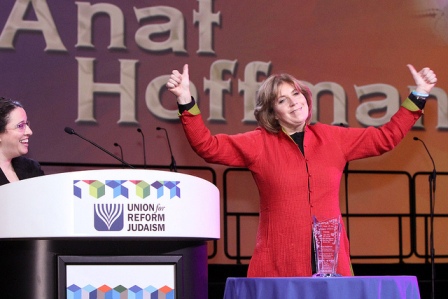 It's two thumbs up for Anat Hoffman (receiving WRJ's Jane Evans Social Justice Award). Photo: All rights reserved by Union for Reform Judaism

Delegates also heard from U.S. Vice President Joe Biden through a video message. Vice President Biden embraced the Reform Movement's focus on important issues such as immigration reform, gun control, and disability rights. He added, "No U.S. president has done more for Israel than President Obama."

For more information and to see video highlights and photos, visit the Biennial website.


Back to In This Issue



Major WUPJ presence was felt throughout the URJ/WRJ Biennial conference in San Diego

The World Union for Progressive Judaism had a major presence at the URJ/WRJ Biennial, with delegates from 14 countries worldwide and many WUPJ Executive Board members. On the corner of "Resource Road" our WUPJ booth, festooned with flags from around the world attracted attention and interest. The Saltz Center's Paul Liptz was a presenter at a workshop on Addressing Anti-Israel Bias across the Globe. At the same time, Miriam Kramer, Chairman of the European Union for Progressive Judaism (EUPJ) moderated a workshop entitled "A Journey Around the Globe: WUPJ is YOUR Home" which featured presentations on the work in our regions. The workshop featured Alex Kagan, Rabbis Grisha Abramovich and Alex Dukhovny, Phyllis Dorey, Yaron Shavit, Miriam Vasserman and Jim Cherney. Miriam Vasserman, WUPJ-LA president, presented the history and projects in the WUPJ-LA region. She mentioned the three major events that will be held in Brazil in the near future: the 2014 Soccer World Cup, the 2016 Summer Olympics and the WUPJ Connections in 2015 in Rio de Janeiro.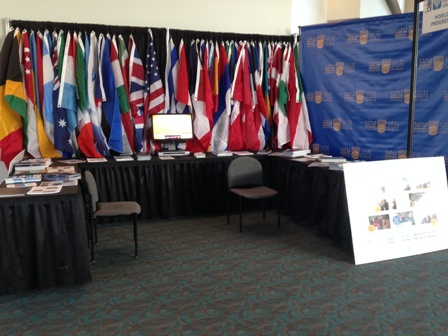 Colorful flag display at WUPJ booth. Photo: All rights reserved by Union for Reform Judaism

One of the highlights of the Biennial was the WUPJ Celebratory Luncheon, chaired by Carole Sterling and Michael Laufer – in a packed room, the assembled heard the moving personal story of MK Dr. Ruth Calderon's discovery of the importance of Jewish pluralism and Jewish literacy. Following Dr Calderon's presentation, everyone was treated to four songs sung by Iryna Rosenfeld; a product of our Netzer camps and program in the Ukraine. She was such an exciting success that several leaders of North American Congregations want to bring her back for concerts. Rabbi Joel Oseran participated in a workshop on "Communities Around the World At Risk" and on Friday, Jim Cherney and Joan Cohen ran the first meeting and luncheon for the newly inaugurated North American Advisory Board which brings leaders of the URJ and WUPJ together in North America to create a more robust group advocating and supporting the work of the WUPJ. Over 120 people were in attendance and as it was a working meeting, discussions focused on fund-raising, travel and advocacy, twinning and partnerships. The WUPJ was well presented by staff members Shai Pinto, Rabbi Joel Oseran, Rabbi Steve Burnstein, Alex Kagan and Rabbi Gary Bretton-Granatoor, as well as Rabbi Grisha Abramovich and Rabbi Alex Dukhovny.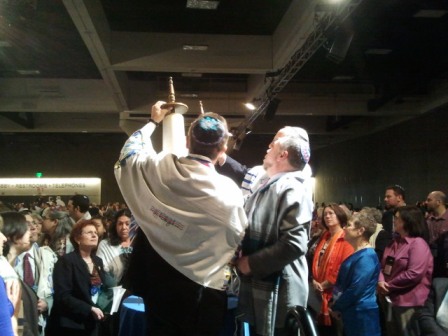 Rabbi Gary Bretton Granatoor, Mike Grabiner and Jim Cherney at Shabbat Services. Photo: All rights reserved by Union for Reform Judaism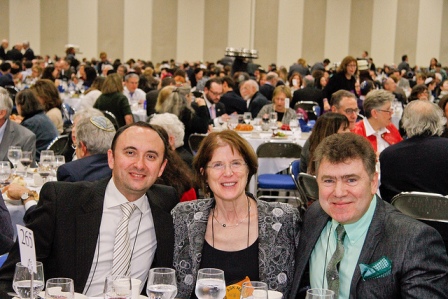 Alex Kagan, Anne Molloy and Rabbi Alex Dukhovny. Photo: All rights reserved by Union for Reform Judaism




Israeli MK Ruth Calderon (left), and IMPJ Chair Yaron Shavit addressing the audience at the WUPJ Celebratory Luncheon. Photo: All rights reserved by Union for Reform Judaism

There was also a very large delegation of participants from England, Australia and Latin America, and several Latin American representatives were sponsored by the Yad B'Yad committee to attend the WRJ/URJ Biennial Assemblies – you couldn't miss the WUPJ prescence at Biennial!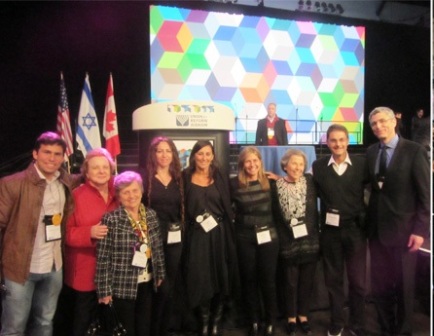 One of the WUPJ delegations at the Biennial with Rabbi Rick Jacobs, the WUPJ-LA committee led by Miriam Vasserman included Dora Lucia Brenner (CIP, Brazil), Rabbi Guershon Kwasniewski (SIBRA, Brazil), Flavio Levi Moreira (CIP, Brazil), Tereza Roth (ARI, Brazil), Erika Wolf (CIP, Brazil), Rabbi Karina Finkielsztein and Miriam Olchansky (Fundación Judaica, Argentina). Photo: All rights reserved by Union for Reform Judaism

In one of the more moving moments during the conference, during the centennial assembly, Women of Reform Judaism celebrated the "birth of the first Latin American female group affiliated to the CIP, São Paulo. "At the age of 100, the WRJ is proud and touched to be able to connect with progressive Jewish women in the Latin American region," said Jane Seigel. WRJ president Lynn Magid Lazar presented Dora Brenner of the CIP with a hammer and diploma in honor of the work being done in Brazil, and said "we are anxious to learn with Brazil and through mutual support as we enter the second century of the WRJ, where our motto is 'stronger together'".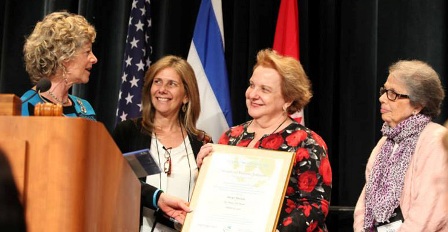 "Stronger-together" (from left, Lynn Magid Lazar, Miriam Vasserman, Dora Brenner, and Erika Wolf). Photo: All rights reserved by Union for Reform Judaism


Back to In This Issue

Special celebration marking WRJ's 49th assembly and centennial anniversary and launching NFTY's 75th year

A special event held on Saturday night of the biennial was devoted also to celebrating the 100th anniversary of Women of Reform Judaism and launching the 75th Anniversary of the North American Federation of Temple Youth (NFTY). Women of Reform Judaism (WRJ), the women's affiliate of the Union for Reform Judaism, represents about 65,000 women in nearly 500 women's groups worldwide and promotes women's issues and leadership through education, programming, and advocacy. Founded in 1913, WRJ has taken a principal role in carving out a place for women in Reform Jewish life, beginning at a time when women could not serve as rabbis or on congregational boards. The WRJ sessions at the biennial dealt with Advancing the Status of Women; Exploration of Women's Spirituality; Social Media; Social Action; and much more.



NFTY youth says "Thank you!" Photo: All rights reserved by Union for Reform Judaism

Blair C. Marks was elected and installed as President of the WRJ Board of Directors of Women. Her installation service was led by Rabbis Erin C. Boxt and Steven J. Lebow of Temple Kol Emeth, Marietta, GA, and included performances from the WRJ Assembly Choir and her husband, Joe, who is a member of the Temple along with Marks.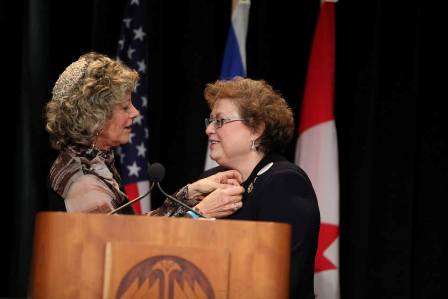 Installation ceremony of president elect Blair C. Marks with outgoing president Lynn Magid Lazar. Photo: All rights reserved by Union for Reform Judaism

"I am honored to serve as President of an organization that has committed itself to social justice and advocacy, empowering women leaders, and promoting Progressive Judaism worldwide, especially as it enters its 2nd Century," said Blair C. Marks, WRJ President. "I look forward to working with a diverse, experienced group of women on the international, regional, and local levels to ensure that WRJ continues to thrive and grow as the oldest religiously-based Jewish women's organization."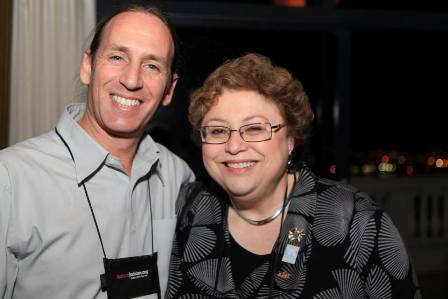 WUPJ VP & COO Shai Pinto with WRJ president elect Blair C. Marks


Back to In This Issue



It's "waiting list only" for the Beutel Seminar for Progressive Jewish Leadership!

Rabbi Steve Burnstein, director of the Anita Saltz International Education Center, annouced today that registration for the upcoming Beutel Seminar for Progressive Jewish Leadership is full; interested participants are welcome to sign up for our waiting list.

The Beutel Seminar for Progressive Jewish Leadership will take place February 13-23, 2014 in Jerusalem, offering an opportunity to study ancient texts and history; discuss current political and social issues; explore spiritual pathways and concepts of Jewish leadership - all within a Progressive Jewish context. Participants must be recommended by their community for their dedication and commitment to their communities (past and future). If you are interested in joining us for this unique opportunity, please read about it here, and contact us for more information and to sign up for our waiting list.
It is not too late, however, to register for the Bergman Seminar for Progressive Jewish Educators. The seminar will take place in the summer and is open to Progressive Jewish Educators from around the world, combining classroom and text study with site visits in Jerusalem and around Israel that will bring the texts and ideas to life. The seminar's multidisciplinary curriculum incorporates several conceptual approaches to culture, spirituality, language, history and memory. The seminar will focus on the multitude of Jewish narratives inside and outside the Land of Israel, and play off the creative tension that has existed between Israel and Diaspora communities throughout Jewish history as well as today. The faculty will include some of Israel's finest teachers, offering an extraordinary opportunity for intellectual exploration.

Bergman Seminar: combining classroom and text study with site visits around the country

For more information click here to email the Saltz Center.


Back to In This Issue



News in Brief:

Rabbi Sergio Bergman sworn into Argentina's National Parliament
Following his election to Argentina's National Parliament in October (see WUPJnews #474), Rabbi Sergio Bergman was recently sworn into office. With his trademark colorful yarmulke, Rabbi Bergman swore the oath of office on a Jewish bible.
Rabbi Bergman was chosen to head the center-right PRO party's list for parliament elections (see WUPJnews #466). A social activist, community leader, and educational innovator, Rabbi Bergman founded a network of Jewish schools and educational projects in Argentina – Fundacion Judaica. Some of the important projects he has led include the creation of the Arlene Fern school – a pioneering educational framework which includes an award winning model for integrating children with disabilities into mainstream classrooms, and providing food and employment sources to Jews and non-Jews. For his strong commitment to social justice he received the WUPJ Micah Award at the 2013 biennial conference in Jerusalem (see WUPJnews #462).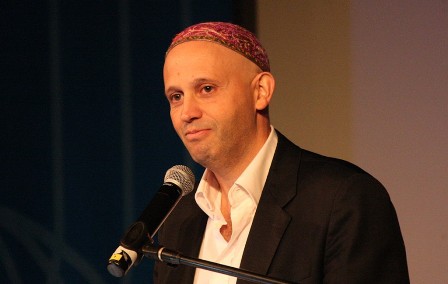 Rabbi Bergman during WUPJ Connections conference in Jerusalem, May 2013

Chanukah Candles, Christmas Lights, and Shabbat Challah come to life in Beit Shmuel's Hamshushalayim events
Hamshushalayim is an annual event that takes place in Jerusalem during December. The series offers an amazing variety of events at cultural institutions throughout the city – free of charge or at very competitive prices. The events include museums, music performances, street theater, tours and concerts. Beit Shmuel with its Walking Tours department is one of the major participants in this series, with over 800 people participating in our brand name walking tours throughout Jerusalem, with an additional 500 expected to participate over Christmas and the New Year.

The tours included our famous Hanukiyot tours, the Temple Mount, Challot for Shabbat, The Love Stories on Hanevi'im Street, and much more.




Left: the Beautiful Houses of Talbieh; Right: Hanukiyot tour of the Nachlaot neighborhood

"Children Create Shabbat" … and Tu Beshvat at Beit Shmuel
This past weekend saw dozens of parents and children at Mercaz Shimshon-Beit Shmuel's "Children Create Shabbat" series which focused on Tu Beshvat – the Jewish New Year for Trees. These family creativity workshops are a unique program geared towards young families, offering both children and adults a plethora of creative activities full of Progressive Jewish content and ideas, and focus on a different theme for each meeting. It is one of the very few programs offered to families in Jerusalem on Shabbat, and has become a focal Shabbat activity for many families looking for a Jewish activity and connection that is both entertaining and informative for children and adults.

The activity started with a short discussion about the holidays and customs which was followed by an arts-and-crafts session where the children made flower vases, colorful flowers and mobiles, using mostly recyclable materials for the crafts.



Budding artist at work at "Children Create Shabbat"

Making a Difference in Tel Aviv-Jaffa and Israel: The Daniel Centers for Progressive Judaism
Much has been written and reported lately about the recent growth and emergence of the new, alternative ways of being Jewish. Many organizations now offer study sessions, classes and alternative methods of celebrating life cycle events like weddings and bnei mitzvah.

The Daniel Centers for Progressive Judaism, an IMPJ community in Tel Aviv-Jaffa, has been providing an alternative for the last 21 years in the greater Tel Aviv area. They perform more marriages, bnei mitzvot and other life cycle events than any other non-orthodox congregation in Israel. But while these life cycle events give them and the Reform Movement huge exposure, they also work hard to offer secular Israelis a way to once again make Judaism a meaningful part of their lives.

An example of one of the programs that have been developed by the Daniel Centers is the Bar and Bat Mitzvah, a joint project of the Daniel Centers, The Tel Aviv-Yaffo Municipality and the Jewish Federation of Greater Los Angeles. This unique program offers 6th graders a year long journey within their regular school curriculum, culminating with a communal Bnai Mitzvah ceremony. Together with the Jewish Federation of Greater Los Angeles, the program is being translated to English and will soon be offered to communities worldwide.

When next in Israel, please visit this and other new and old Reform communities to see what they are doing. We are proud of these communities and look forward to sharing it with you. Click here for more information on Beit Daniel.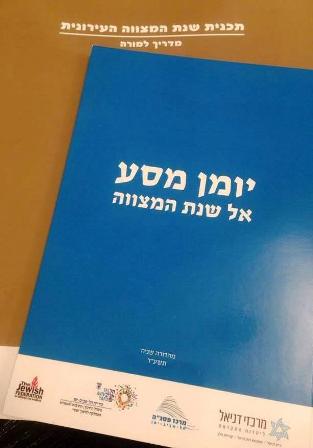 The Daniel Center's innovative Bar/Bat Mitzvah program


Back to In This Issue



Special: Beit Shmuel in the snow!
We thought our readers might enjoy these unusual photos of Beit Shmuel in the snow: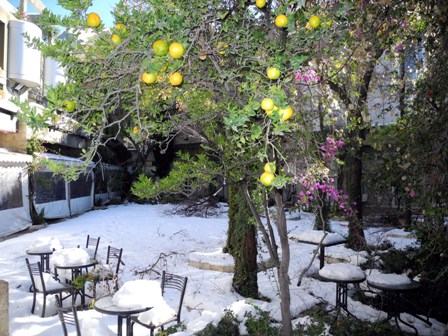 The Patio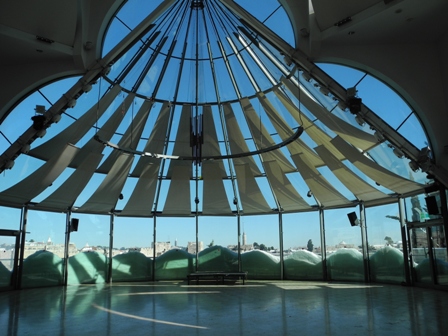 A different view from the Blaustein Hall

Please visit the WUPJ Facebook page for additional photos.

Back to In This Issue



Congratulations
The leadership and staff of the World Union offer their hearty congratulations and Mazal Tov to Executive Board member Rabbi Dr Walter Homolka and Harmut Bomhoff, public relations officer at Abraham Geiger College, on their wedding.


Back to In This Issue


Upcoming Events
January 2–9, 2014 – The Anita Saltz International Education Center Roswell Seminar for Social Justice, Jerusalem, Israel
January, 2014 – Netzer Veida Olamit, Israel
January 29–February 1, 2014 – Union of Jewish Congregations of Latin America and the Caribbean (UJCL) Biennial, Costa Rica
February 13–23, 2014 – The Anita Saltz International Education Center Beutel Seminar for Progressive Jewish Leadership, Jerusalem, Israel
February, 2014 – TaMaR Conference, Israel
April 24–27, 2014 – European Union for Progressive Judaism (EUPJ) Biennial, Dresden, Germany
May 9–11, 2014 – Liberal Judaism (LJ) Biennial weekend, Reading, UK
May 23–24, 2014 – Israel Movement for Progressive Judaism (IMPJ) Conference, Israel
June 6-8, 2014 – South African Union for Progressive Judaism (SAUPJ) Biennial, South Africa
June 27-29, 2014 – Movement for Reform Judaism (MRJ) UK, biennial conference – "Chagigah"
July 24–August 3, 2014 – The Anita Saltz Education Center Bergman Seminar for Jewish Educators, Jerusalem, Israel
November 2014 – Union for Progressive Judaism in Australia, Asia and New Zealand, (UPJ) Biennial, Adelaide, Australia
May 2015 – Connections 2015, World Union for Progressive Judaism (WUPJ) 37th Biennial Conference, Rio de Janeiro, Brazil
November 4–9, 2015 – Union for Reform Judaism (URJ) 73rd Biennial Conference, Orlando, Florida




Back to In This Issue