WUPJnews #477
Issue #477 – December 12, 2013 | 9 Tevet, 5774
In This Issue:

Chanukah Celebrations lit up our communities in Israel and around the world:
• Hundreds of Chanukiyot lit up the Former Soviet Union
• In Israel – a special carnival, a seminar for Russia-speaking Olim, and MASA students light candles at Mr. Herzl
• "Chanukah in the Square" and other celebrations across Europe
• South Africa celebrates Chanukah in style

Tribute to Human Rights hero Nelson Mandela

News in Brief:
• The Anita Saltz Center buzzes with activity
• Note from our Readers: on the opening of the School of Jewish Theology at Potsdam University (Issue #476)

Upcoming Events

~~~~~~~~~~~~

Chanukah Celebrations lit up our communities in Israel and around the world:

Hundreds of Chanukiyot lit up the Former Soviet Union
Our Chanukah report starts in St. Petersburg, Russia, where Rabbi Rubinstein led a celebration with close to 100 participants, including the Consul General of Israel in St. Petersburg, Eduard Shapira, the Head of the Jewish Agency in St. Petersburg and the North-West region, the Head of the JDC in St. Petersburg and North-West region, Dubi Rodman-Barkai, Head of the Council of International Relations, Anatoly Palamarchuk, Chairman of the Community of Baruch Rothschild, and conversion classes students. The community studied the concepts of miracles. An animation class, led by Alla Mitelman, Community Program Director, presented their "Eight Moments of Winter" video (click here for YouTube clip) about Chanukah, singer Konstantin Kotelnikov led the community in Chanukah song and the Shatil children's center also held a party (see photo album).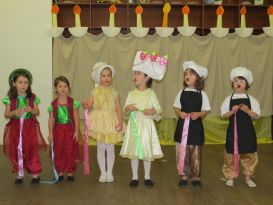 Preschool in costume, song, and dance




Left: Rabbi Rubinstein (center) with dignitaries; Right: Children and Dreidels

For additional photos, please click here and here and for video clip click here.

For media coverage, please click here for the Russian channel RTR and here for the St. Petersburg local channel

In Moscow, Rabbi Leonid Bimbat met with the Tver Reform youth group before the holiday to plan Chanukah activities followed by a well-attended webinar on "Hanukah: Dilemmas and Enigmas". The first candle was held at Le-Dor va-Dor – the Moscow Center for Progressive Judaism with 100 people who participated in a "seder" activity focusing on: Miracles, Heroism, Land of Israel, and Giving Thanks to God. Other holiday events included special services for the hearing-impaired (Project Sheket) at MEOD (Moscow JCC); fourth candle and Havdalah services with a party organized by Machon students; webinar led by Rabbi Alexander Lyskovoy followed by a special event at MEOD with representatives of Moscow Gypsy community; a Netzer family event, together with the Israeli Cultural Center, where the first plaques for congregation "Etz Hayim" were unveiled (please click here and here for more photos of these events); a special interfaith event – the first held at the Moscow center – for Machon students and Russian Orthodox Church "Naslediye" (Heritage) College students, where Rabbis discussed the Chanukah theme and led a Q&A session; and services at the Institute of African and Asian Studies, Moscow State University, with a lecture by Rabbi Leonid Bimbat (a doctoral student at the University).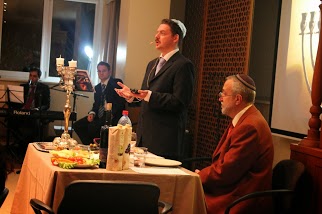 Rabbi Bimbat lighting the candles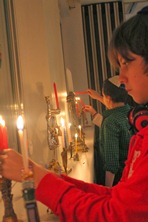 Lighting the candles in Moscow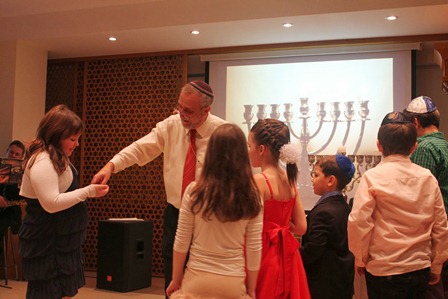 Chanukah "Gelt" and gifts!


Additionally, 50 guests, including our Rabbis, were invited to a Chanukah and house-warming party at the new home of Israeli Ambassador to the Russian Federation. Both Chief Rabbis of Russia, A. Shayevich and Berl Lazar, also attended and lit Hanukah candles together. The invitation extended to our rabbis reflects the fact that the Reform movement in Russia is recognized by both the Israeli and Moscow Jewish establishments.

The last day of Chanukah was marked by a meeting with David Safir, a member of the Middlesex New Synagogue, London, which is twinned with Le-Dor va-Dor Congregation.


In Belarus, Rabbi Gregory Abramovich led candle lighting at Beit Simcha (Minsk) with over 100 people including Netzer youth, and eight diplomats from the embassies of Israel, US, UK, Poland, Vatican, Bulgaria, Germany and South Africa (click here to see a clip). The young generation took an important part in the celebrations and put on a presentation. The culmination of the celebrations was the reading of the Torah by the graduates of the Machon program and Bar Mitzvah students. Anna Keinanin, a former student of the Jewish school in Gomel and now First Secretary of the Israeli Embassy, lit candles with Netzer leaders at the window which overlooks a street that was formerly called "Jew Street".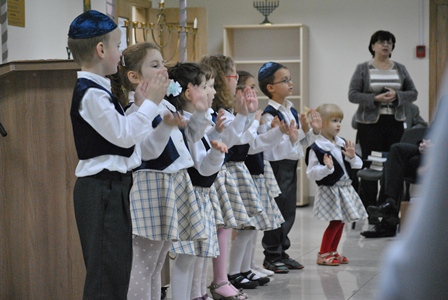 Younger generation joins in the fun at Beit Simcha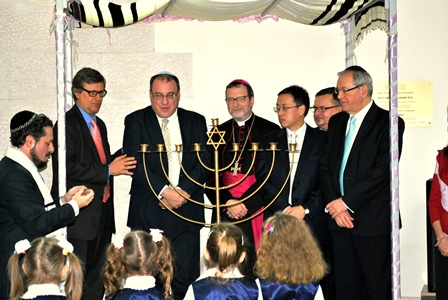 Rabbi Abramovich with dignitaries

The Consul of Poland, who previously worked in the diplomatic service in Israel, addressed the audience in Hebrew. The Vatican Apostolic Nuncio addressed the Italian community, recalling that his mother spoke Yiddish. The U.S. Embassy Charge d'Affaires mentioned the rare phenomenon that Thanksgiving and Chanukah were celebrated this year at the same time. The Executive Director of ROOPI, Michael Kemerov, spoke about the miracle – in Hebrew "nes" or "pele" – and this festival reflected joy, warmth and cooperation, with "no borders".

The children from the Emunah congregation (Vitebsk) preschool put on a wonderful performance, and the TaMar community leaders prepared Chanukah presents. A video greeting from Central Synagogue New York was screened. The Charge d'Affaires of the US Embassy in Belarus, the Consul-General of the Polish Embassy, the UK Ambassador and diplomats from the embassies of Israel, Korea and Bulgaria, were among the honored guests.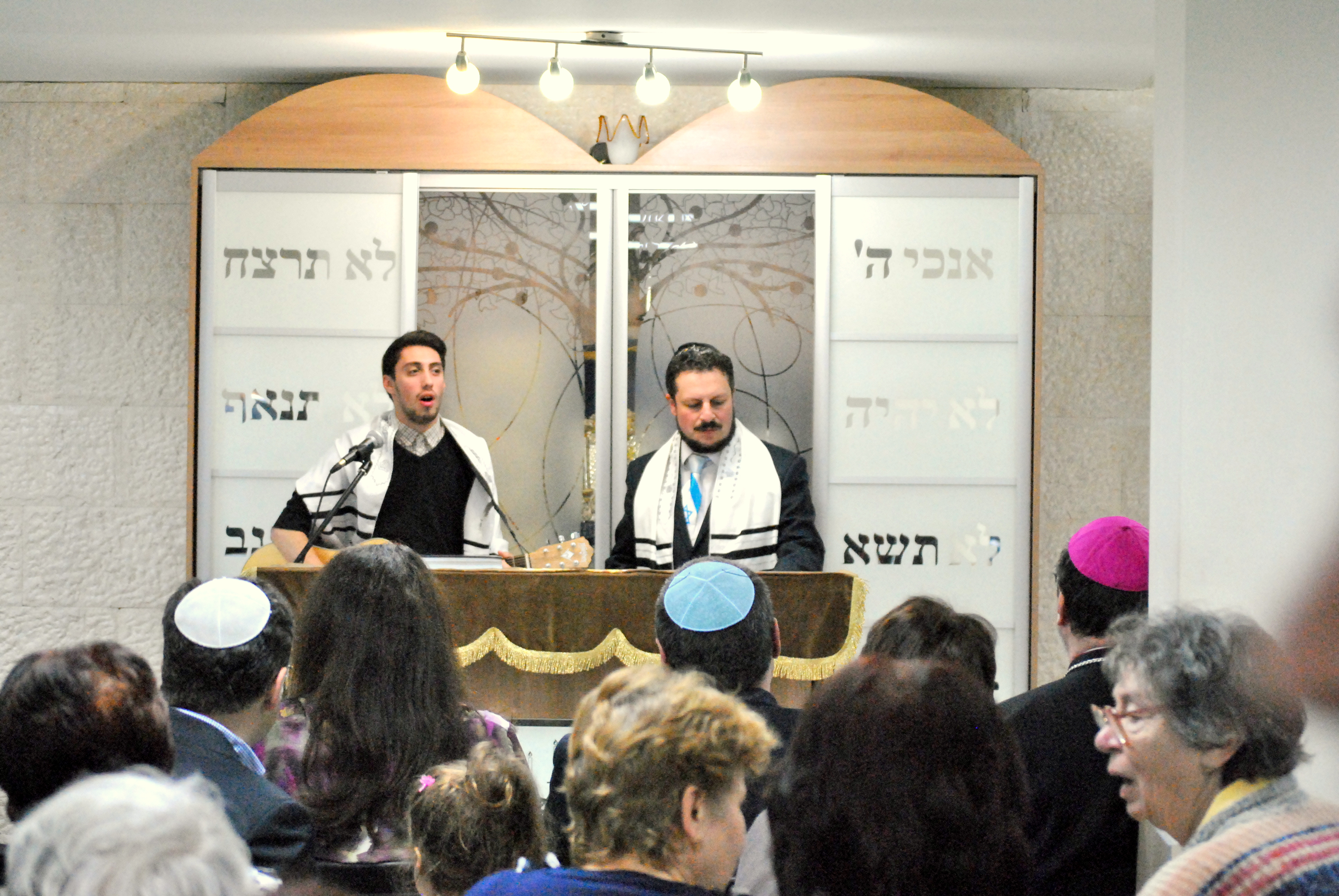 Rabbi Abramovich leading services

Additional photos from Belarus can be seen here.

Over 1,200 people celebrated Chanukah across the Ukraine. In Kiev, celebrations were led by Rabbi Alexander Dukhovny, for the first time at the new Hatikvah Center for Progressive Judaism with over 50 people. In addition to music, dance and food, two short films were shown – an animated story of Chanukah prepared by the Sunday School students and the Netzer group. Both films were screened at the International Chanukah Short Films Competition in Minsk.
A number of Chanukah activities were held in our communities in the Crimea. Over 50 people took part in Chanukah programs in Simferopol. On December 1 the community participated in Chanukah programs for about 200 participants and guests from both Jewish and non-Jewish organizations, led by Rabbi Kapustin who addressed the audience and lit candles.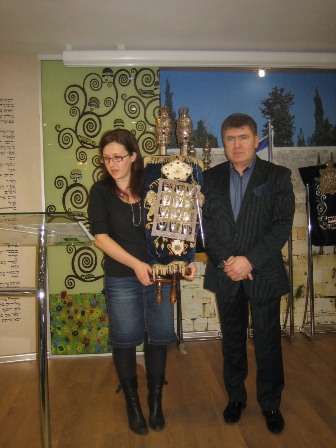 Rabbi Dukhovny leading services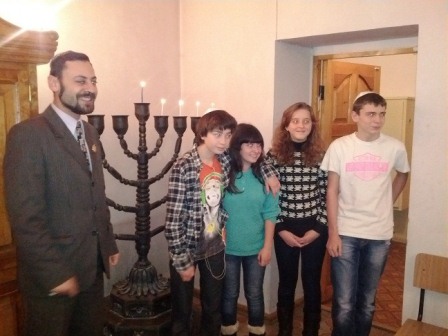 Rabbi Kapustin with youth

For the first night, Rabbi Kapustin gave a lecture in Yevpatoriya about the Chanukah miracle. In Kerch, an exhibition of Chanukiyot was held in the library; and Rabbi Kapustin spoke about Miracles in Judasim and about Chanukah (at separate events); over 100 people celebrated the holiday together and dozens participated in the youth celebrations. In Feodosia, two programs were held a café, and many joined in for Havdala, community celebrations, and family celebrations. Members of the Emmanuel community (Odessa) participated in community and city events starting with 'Mitzvah Day' where the "Shigaon" Sunday school children had a joint class – over Skype – with children from the Edgware & District community EDRS (London). The first candle was lit at a community Board meeting where staff and layleaders prepared a Chanukah program. The entire congregation celebrated the lighting of the fourth candle following the Havdala service. The highlight of the evening was a fashion show of Chanukah costumes made by the children and Sunday school teachers Lena Izmaylova and Galina Rybchak; the children also made and lit their own Chanukiah. The EDRS community donated gifts and "gelt" to the children, coordinated by Rabbinical intern Julia Gris. Please click here for additional photos.

The full report on Chanukah activities in the FSU can be seen here.


Back to In This Issue



In Israel – a special carnival, a seminar for Russia-speaking Olim, and MASA students light candles at Mr. Herzl
Fun booths, bouncy castles, Chanukah gifts, and snacks – a fun carnival organized by an extraordinary group of parents and volunteers who came together to create some Chanukah magic for children on the first day of Chanukah. The children are from families with a family member who is battling cancer. The volunteers are from the Israel Reform Movement's Keren B'Kavod (Dignity Fund) who worked together with parents of the IMPJ Ganei Haim preschoolers and the Zichron Menachem organization.

Zichron Menachem, established in the 1990s, offers assistance and encouragement to parents of children battling cancer. Zichron Menachem offers round-the-clock dedication and love, and its services and assistance are dispensed equally to all Israeli citizens, regardless of faith or gender. In the past year, Keren Bekavod stepped in to offer assistance to the families helped by Zichron Menachem for siblings and the extended family who may need encouragement of their own to overcome the difficulties facing their family. The preschoolers from the Ganei Haim kindergarten donated money to buy gifts and toys for the children. Together, the volunteers, parents, and preschoolers, put much effort into making this a very special day for these special children.




Special Carnival for Special Kids

A seminar for 45 Russian-speaking young Olim took place over Chanukah at Beit Shmuel, the global headquarters of the WUPJ, with assistance from the Genesis Fund and the World Zionist Organization. Most of the participants are graduates of Netzer, MASA or the Machon in the former Soviet Union. The seminar focused on Jerusalem and Chanukah and the participants took part in lectures, workshops, walking tours, and much more. They met with Lesley Sachs, director of Women of the Wall (WOW) and Kesher who talked about the challenges of Women of the Wall and the Sharansky Kotel Proposal (see WUPJnews #476). One of the highlights of the seminar was the Shabbat that they spent together – with services, Kiddush, Havdallah and Chanukah candle lighting. As part of their leadership training, the participants themselves prepared and facilitated some of the activities.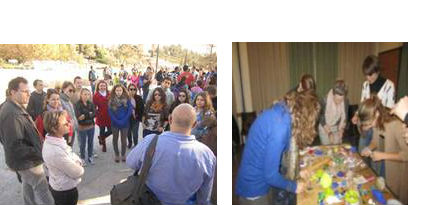 Olim learning about Jerusalem and Chanukah

Back to In This Issue



"Chanukah in the Square" and other celebrations across Europe
Liberal Judaism's Officer, former Government minister, and Lincolnshire Jewish Community member, Gillian Merron, joined Boris Johnson and Orthodox Chief Rabbi Ephraim Mirvis in addressing over 5,000 people at Chanukah in the Square in London on Thursday 28th November.

Gillian gave voice to the Jewish community's pride in being part of the "rich tapestry of life in London and across the UK." (Click here to see a clip of the event)
Reflecting on the event, Gillian said: "It was a true honour, and a pleasure, to be such a part of such a wonderful occasion to light the fabulous menorah in Trafalgar Square. My late parents could never have dreamt that it would be possible for their daughter to speak up for the Jewish community as a Vice President of the Jewish Leadership Council, alongside the Mayor of London and the Orthodox Chief Rabbi. I know that it has become possible, because of the 'home' and support that Liberal Judaism and my Lincoln community give to me."

The Liberal Jewish Synagogue in St. John's Wood, North West London held its annual interfaith celebration of Chanukah with over 250 guests including the choir from London's Fo Guang Shan Temple. The Abbess Ven. Miao Shiang Shih and choir chanted 'In praise of the Medicine Buddha' and 'The Medicine Buddha Dharani' before the Chanukah candles were lit. There were also readings by other faith leaders reflecting the theme of light, hope and the blessing they brought to this gathering of friendship.

LJS Rabbi Neil Janes said, "I was so pleased to have so many different ages, faiths, races, backgrounds and connections with us in the congregation."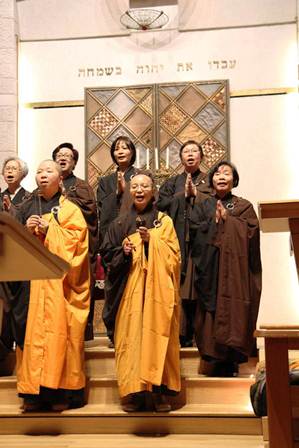 Fo Guang Shan Choir at the Liberal Jewish Synagogue in St. John's Wood

At Shir Hatzafon, Denmark, it seems that 20 children and 45 adults cannot be wrong. The Chanukah party was a happy, enjoyable and noisy event from start to finish, exactly as it should be. A big thank you to Chagim Committee members and helpers, and Karen Lisa and Martin Salamon for leading the lively singing.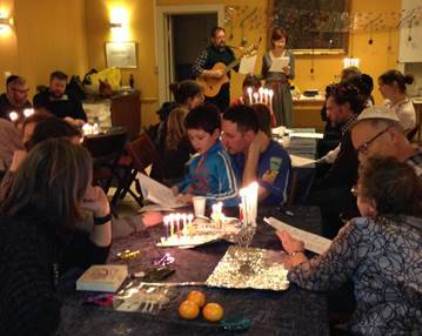 Lively and noisy event at Shir Hatzafon, Denmark

The Board of Jewish Liberal Union in the Czech Republic held a Chanukah event with over 70 participants who held a wonderful celebration that was prepared and coordinated by volunteers and lay leaders of the community. A wonderful time was had by all and they look forward to the next events!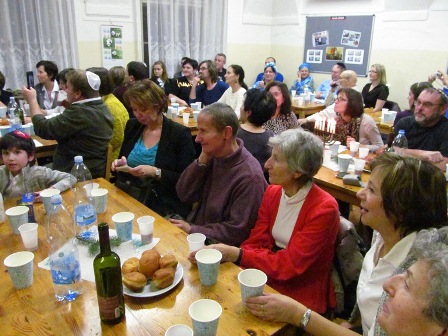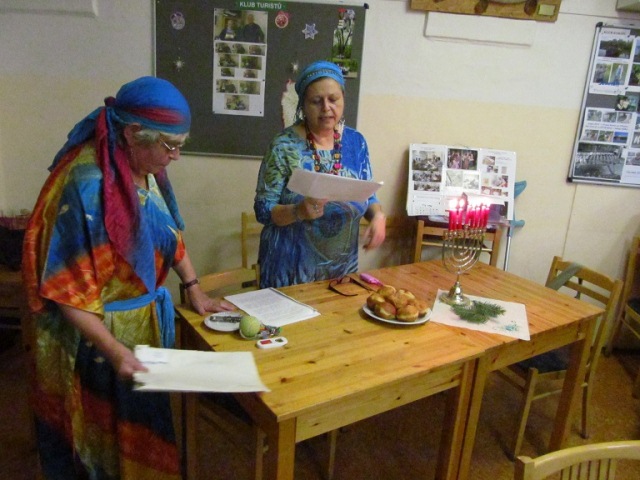 Colorful and fun event in the Czech Republic

One of our newest congregations, Beit Hillel in Rome, Italy, celebrated a wonderful Chanukah together. Close to 100 people came together for Shabbat services, a lecture, Havdalah and a Chanukah party. It is exciting to see this congregation come together and begin their journey as a community.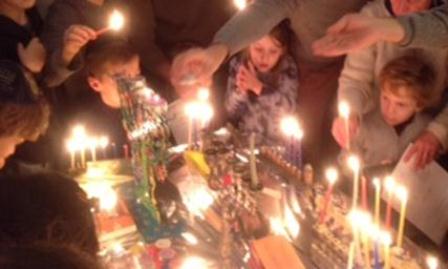 A true "festival of lights" at Beit Hillel, Rome


Back to In This Issue



South Africa celebrates Chanukah in style
At Bet Menorah, Pretoria, the Ambassador of the Czech Republic, Ms. Blanka Fajkusova, and her Deputy, Ms. Nicol Adamcova, were invited to the service and festivities.. The uplifting services conducted by Giddy Lief and an outstanding solo choir rendition by Wouter Joubert were followed by a delicious Israeli dinner.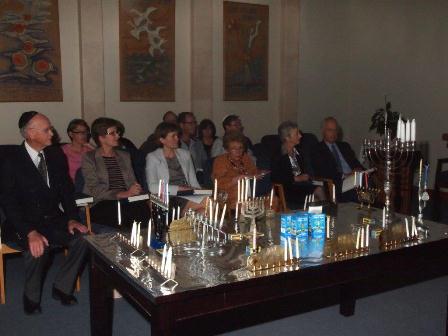 Candles, music, and delicious food at Bet Menorah

In Temple Israel, Port Elizabeth, first night was celebrated with candle lighting and a communal Oneg. As part of the Chanukah celebrations, Alison Loon coordinated an excursion for the children of Shalom Educare to a puppet show.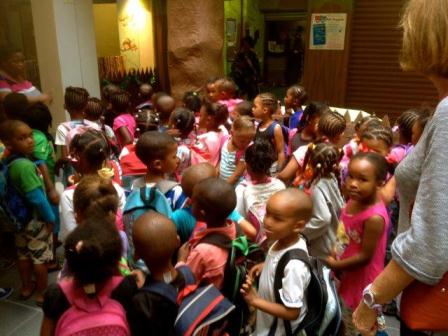 Bringing light and joy to children from Shalom Educare

SAUPJ Chair, Steve Lurie and his wife Rahle attended the third night of Chanukah festivities and service at Temple David with the Right Honourable S.E. Mchunu, Premier of Kwazulu-Natal, Rabbi Hillel Avidan, Professor Antony Arkin, Mary Kluk National Chairman of SAJBOD and Linda Nathan Chair of Council of Jurors for Kwazulu-Natal. The premier spoke in the synagogue on the relationship between his office and the Kwazulu-Natal Jewish community and about building on the relationship. His religious advisor also attended and received an invitation to visit the Durban Holocaust centre.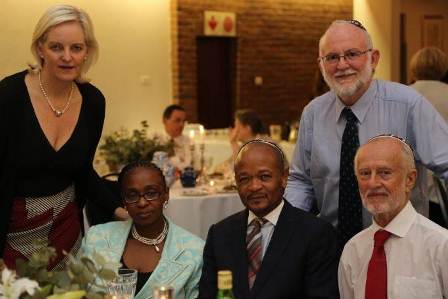 From right: SAUPJ Chair Steve Lurie (standing), Rabbi Hillel Avidan, Premier of Kwazulu-Natal Right Honourable S.E. Mchunu, wife of Premier, Mary Kluk National Chairman of SAJBOD (standing, left)

At Beit Emanuel Parktown, a special Chanukiyah workshop was held for the younger generation. Rabbi Shaked led the congregation in candle lighting, prayer, discussions and sufganiyot (donuts). Bet David, Sandton held a special Chanukah service on Shabbat, and were blessed with the donation and hanging of a new Mezuzah – gift of Trevor & Mimi Egnal in honour of their recent golden wedding anniversary. Temple Israel, Hillbrow, held a special candle lighting service, followed by a delicious communal meal. And Temple Israel, Cape Town, an exciting Chanukah party with a treasure hunt and a great meal was held. Friday night saw a Chanukah Magic event, with the first ever performance of ChaiPowered in Cape Town. ChaiPowered presenters were talented members of Temple Israel who based their performance on Chanukah themes such Light, Miracles, Dedication.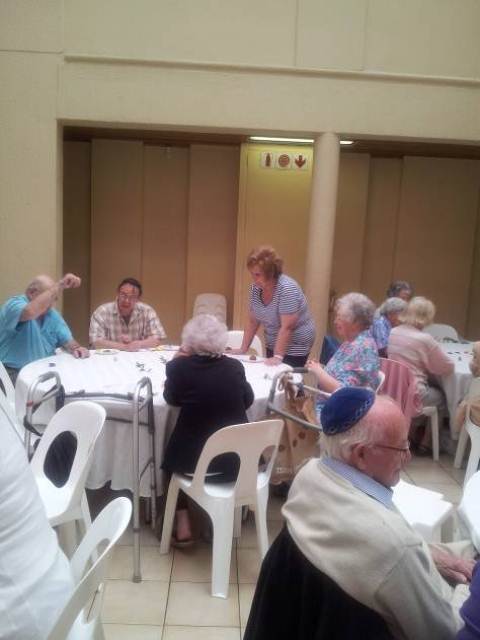 Beit Emanuel enjoys a Chanukah event


Back to In This Issue



Tribute to Human Rights hero Nelson Mandela

The World Union for Progressive Judaism joins the South African Union for Progressive Judaism and our communities worldwide in mourning the loss of President Nelson Mandela.

The SAUPJ communities all held special services honoring this great man. In their statement, they say: "All who knew him suffer the absence of this man who was a mentor, a teacher, a president, a Nobel peace laureate, an antiapartheid hero and a paragon of racial reconciliation. We wish those close to Madiba strength and we send out our heartfelt sympathies…What we as a nation feel for Madiba is a complex mixture of affection, respect and love. His presence is part of our national well-being... "

Click here for a link to a YouTube video of prayers held at Madiba (Mandela)'s house this week; the prayers were arranged by Rabbi Shaked of Beit Emanuel and the SAUPJ.
The WUPJ, in their statement, said "President Mandela was able to unite disparate groups who had fought each other for decades. He was able to prevent the bloodshed that had been predicted once apartheid was dismantled. His government set up the Truth and Reconciliation Commission which has been an example to the world on dealing with painful and bitter divisions within society. He has been one of the most admired world leaders of our time and he has been an example to all who aspire to positions of leadership."

President Mandela was awarded the WUPJ International Humanitarian Award in 1997 for his outstanding work in the promotion of human rights.

To read the full tribute, with statements from our SAUPJ congregations and WUPJ regions, please click here.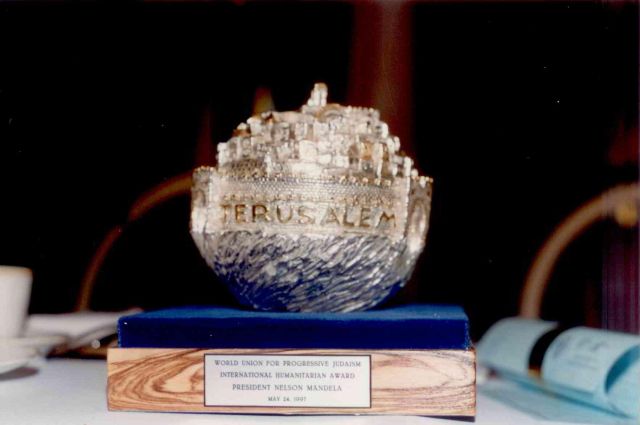 WUPJ International Humanitarian Award that was given to President Nelson Mandela in 1997

Back to In This Issue



News in Brief:

The Anita Saltz center buzzes with activity

With one seminar starting in just a few short weeks, another seminar almost completely full, and registration opening for a third seminar in the summer, the World Union's Anita Saltz International Education Center is buzzing with action.

The Roswell Social Justice Seminar, in cooperation with the Israel Religious Action Center of the Israel Movement for Progressive Judaism, will take place in January 2013. This intensive 10-day program enables participants to explore issues of religion and state in Israel, as well as socioeconomic issues, and engage in social action projects. The seminar offers creative ways to make a continuing difference while in Israel and back at home.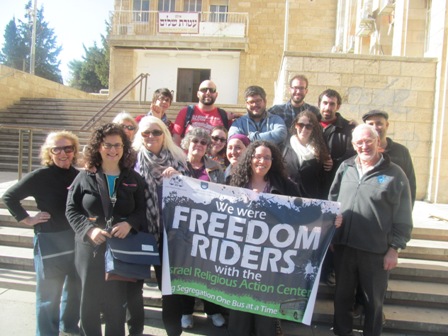 Roswell Seminar participants experience gender segregation first-hand

The Beutel Seminar for Progressive Jewish Leadership will take place in February 2013 in Jerusalem, offering an opportunity to study ancient texts and history; discuss current political and social issues; explore spiritual pathways and concepts of Jewish leadership - all within a Progressive Jewish context. Participants must be recommended by their community for their dedication and commitment to their communities (past and future). There are still a few places left for this seminar – if you are interested in joining us for this unique opportunity, please read about it here, and contact us for more information and to register.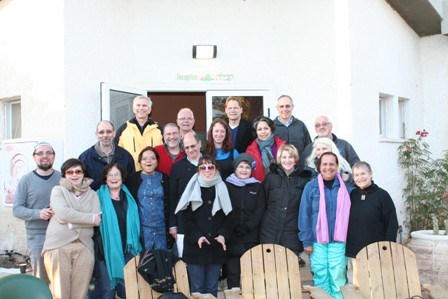 Beutel Seminar: learning, discussing, and exploring

And the Saltz Center announces that registration for the Bergman Seminar for Progressive Jewish Educators is now open. The seminar will take place in the summer and is open to Progressive Jewish Educators from around the world, combining classroom and text study with site visits in Jerusalem and around Israel that will bring the texts and ideas to life. The seminar's multidisciplinary curriculum incorporates several conceptual approaches to culture, spirituality, language, history and memory. The seminar will focus on the multitude of Jewish narratives inside and outside the Land of Israel, and play off the creative tension that has existed between Israel and Diaspora communities throughout Jewish history as well as today. The faculty will include some of Israel's finest teachers, offering an extraordinary opportunity for intellectual exploration.




Bergman Seminar: combining classroom and text study with site visits around the country

For more information click here to email the Saltz Center.

Note from our Readers: on the opening of the School of Jewish Theology at Potsdam University (issue #476)

Following the publication of our article on the opening of the School of Jewish Theology at Potsdam University (issue #476) we received the following note from reader Sel Hubert, member and past president of Community Synagogue, Rye, NY:

"Thanks for your nice note and that fascinating article about teaching Reform Judaism at Potsdam University. Just 75 years after Kristallnacht! Who would have believed it? Much credit to the World Union and the Germans of the 21st century for achieving this major milestone in 'Re-Jewenising' Germany."

Sel Hubert was born in Germany and was 10 years old when he was beaten and kicked out of school. He experienced "Kristallnacht", which took place November 9-10, 1938, when the Nazis burned synagogues, vandalized Jewish homes and businesses, and the first mass arrests of Jewish men and boys took place. In December 1938, he was evicted from his hometown Cronheim and in July 1939 he left on a Kindertransport from Munich to England. He never saw his parents again. In 1945 he moved to the US. Mr. Hubert wrote a book about his experience, Out of Broken Glass and dedicated his life to telling his stories to hundreds of children.


Back to In This Issue

Upcoming Events

December 11–15, 2013 – Union for Reform Judaism (URJ) Biennial, San Diego, California

January 2–9, 2014 – The Anita Saltz International Education Center Roswell Seminar for Social Justice, Jerusalem, Israel

January, 2014 – Netzer Veida Olamit, Israel

January 29–February 1, 2014 – Union of Jewish Congregations of Latin America and the Caribbean (UJCL) Biennial, Costa Rica

February 13–23, 2014 – The Anita Saltz International Education Center Beutel Seminar for Progressive Jewish Leadership, Jerusalem, Israel

February, 2014 – TaMaR Conference, Israel

April 24–27, 2014 – European Union for Progressive Judaism (EUPJ) Biennial, Dresden, Germany

May 9–11, 2014 – Liberal Judaism (LJ) Biennial weekend, Reading, UK

May 23–24, 2014 – Israel Movement for Progressive Judaism (IMPJ) Conference, Israel

June 6-8, 2014 – South African Union for Progressive Judaism (SAUPJ) Biennial, South Africa

June 27-29, 2014 – Movement for Reform Judaism (MRJ) UK, biennial conference - "Chagigah"

July 24–August 3, 2014 – The Anita Saltz Education Center Bergman Seminar for Jewish Educators, Jerusalem, Israel

November 2014 – Union for Progressive Judaism in Australia, Asia and New Zealand, (UPJ) Biennial. Adelaide, Australia

May 2015 – Connections 2015, World Union for Progressive Judaism (WUPJ) 37th Biennial Conference, Rio de Janeiro, Brazil

November 4–9, 2015 – Union for Reform Judaism (URJ) 73rd Biennial Conference, Orlando, Florida



Back to In This Issue