Issue #474
Issue #474 - 31 October, 2013 | 27 Heshvan, 5774
In this issue:

Seven future leaders from the FSU begin their semester in Israel

History in the making – Rabbi Sergio Bergman to be first rabbi to serve in a national parliament outside Israel

We ask YOU to help support those affected by bushfires in New South Wales


Register now for the EUPJ Biennial Conference - Faith in Action 2014
Dedication of new classrooms growing community of Yozma Modi'in
Bet David (South Africa) Mitzvah School Prize Giving
Condolences

Congratulations

Upcoming events

Seven future leaders from the FSU begin their semester in Israel

Seven young community workers from the FSU have arrived for a semester in Israel to take part in our highly successful MASA accredited program. This program has been awarded top scores in independent evaluation studies in the past few years (see WUPJnews #424). During their time in Israel, the students tour the country, experience the local culture and flavor, study Hebrew, volunteer, and have classes in Progressive Jewish thought, Zionism, history, and culture, as well as workshops in leadership training.

The program has an amazing impact on these young leaders, sending them back to their home communities with strong leadership and Zionist skills, enabling them to lead the next generation of Jewish youth in their life's journey.

This year, participants – all Netzer alumni – hail from Russia, Belarus, and Ukraine. They are highly motivated young leaders who want to increase and enhance their personal knowledge and understanding about Israel and Judaism, get to know Israel, strengthen their connections to the Land, learn the language, and volunteer within Reform frameworks. They live in apartments in one of the Jerusalem neighborhoods and learn to work together as an independent community. Although they are not yet truly proficient in Hebrew, they are eager to volunteer and learn about the wider Israeli community and not just the Russian community in Israel. One innovative program that will be launched this year will include young Olim (immigrants), outstanding graduates of Machon and the MASA program, who will be leading workshops, lecturing, and becoming involved in the development of this group. Some of the topics are: "Israel through new eyes", "How to find yourself as a professional in Israel", and "The Jewish Holidays in Israel and Me".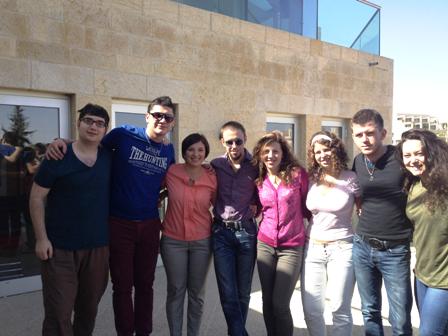 MASA participants with Netzer Coordinator Rita Fruman on the roof of Beit Shmuel


Back to In This Issue



History in the making – Rabbi Sergio Bergman to be first rabbi to serve In a national parliament outside Israel


Rabbi Sergio Bergman was recently elected as a new member of Argentina's lower house of parliament, making him the only rabbi elected to a parliament outside of Israel.

As we reported in WUPJnews issue 466, Rabbi Bergman was chosen to head the center-right PRO party's list for parliament elections (see issue #466). A social activist, community leader, and educational innovator, Rabbi Bergman founded a network of Jewish schools and educational projects in Argentina – Fundacion Judaica. Some of the important projects he has led include the creation of the Arlene Fern school – a pioneering educational framework which includes an award winning model for integrating children with disabilities into mainstream classrooms, and providing food and employment sources to Jews and non-Jews. For his strong commitment to social justice he received the WUPJ Micah Award at the 2013 biennial conference in Jerusalem (see issue #462).

Miriam Vasserman, chair of the WUPJ-Latin American region, said "On behalf of the World Union for Progressive Judaism in Latin America and internationally, we congratulate Congressman Rabbi Sergio Bergman and the Fundacion Judaica which he has inspired over the past decades." She goes on to say that "This election is not only in recognition of who he is and what his trajectory has been, but is also a turning point in the democracy of Argentina. Our network, inspired and created from his vision of a pluralist and inclusive community, involved in Argentinean society of which we are an indivisible part of, works day to day based on his principles. We know that from his seat in Congress he will continue to work for a fairer society with the opportunity for constructive dissent."

Bergman launched his political career in 2011, when he was tapped by Buenos Aires Mayor Mauricio Macri to lead his PRO party's list for the municipal legislature. Among 10 parties, Bergman's was the leading vote getter, tripling the vote total of the second-place finisher.

As a legislator, Bergman employed unorthodox methods to reduce tensions in the city, organizing a day of meditation for legislative employees and installing a popcorn machine in his office, joking that "the struggles and also some projects are funnier than some movies."

Throughout his political career, Bergman not only has not hid his Jewishness, but always appears in public in his trademark colorful kippa. Rabbi Bergman holds rabbinic ordination from both the Conservative movement and the Reform movement, and is a proud member of the Central Conference of American Rabbis (CCAR).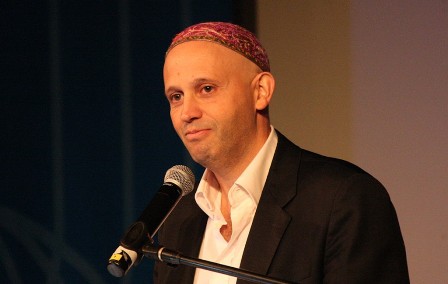 Rabbi Sergio Bergman at Connections 2013


Click here to read more


Back to In This Issue



We ask YOU to help support those affected by bushfires in New South Wales

The Global Jewish community is deeply concerned by the devastation left in the wake of fires in New South Wales with over 200 homes destroyed, wildlife killed, and thousands of hectares of native bushland devastated. Jewish Aid Australia is proud to launch an appeal to support those families and individuals affected by the fires. This appeal is officially endorsed by the NSW Jewish Board of Deputies.

Over $20 000 has already been raised!

You can make a tax deductible donation by clicking here, or by calling (03) 9500 2206 or by sending a cheque made out to Jewish Aid Australia to PO Box 2 Malvern 3144 Victoria (indicating it's for the NSW bushfires appeal).

For those who would like to make a tax deductible donation in North American, please click here to donate online (indicating it's for the NSW bushfires appeal), or contact our NY office for more information at: 1-212-452-6530 or e-mail: wupj@urj.org, or through Canadian Friends of the WUPJ, 3845 Bathurst Street, Suite 301, Toronto, ON M3H 3N2


Back to In This Issue



News in Brief:

Register now for the EUPJ Biennial Conference - Faith in Action 2014

The European Union for Progressive Judaism (EUPJ) has announced that registration is now open for the upcoming biennial conference, Faith in Action, which is scheduled for April 24-27, 2014, in Dresden, Germany.

The conference offers a full and exciting program, with exceptional speakers, a gala ceremony at the historic Kurländer Palais, uplifting Shabbat services at the Dresden synagogue with sermons given by Dresden Rabbi Alexander Nachama and Rabbi Richard Block, President of the Central Conference of American Rabbis (CCAR), a selection of interesting workshops and much more. A conference for the younger generation with members of Netzer groups across Germany as well as madrichim (youth leaders) will run concurrently. A rabbinic kallah for all European Progressive Rabbis will also precede the conference. See registration information on the EUPJ website.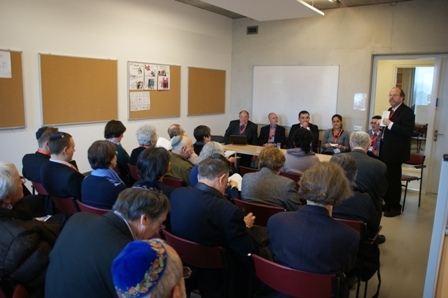 Rabbi Joel Oseran leading a workshop at the EUPJ Biennial 2012

Please visit the EUPJ web site to register for the conference, see the preliminary program, and find out more information.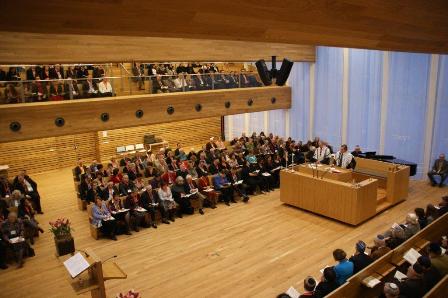 Shabbat Services at the EUJP Biennial 2012


Dedication of new classrooms for growing community of Yozma Modi'in

In a moving ceremony held recently, Yozma, Modi'in dedicated two new classrooms which will permanently house Yozma's kindergarteners for many years to come.

Joined by Modi'in dignitaries, managing director Eyal Ronder, preschool principal Gila Nir, Yozma lay leaders and excited parents and children, Rabbi Kinneret Shiryon and Modi'in Deputy Mayor Moshe Levy affixed the mezuzot on the doorposts of the classrooms. Afterwards the children and their parents participated in a workshop where they learned about the meaning of the mezuzah and made their own to take home.




Left photo: Rabbi Kinneret Shiryon with managing director Eyal Ronder and Modi'in deputy mayor and education portfolio holder Moshe Levy; Right photo: Rabbi Shiryon affixing the Mezuzah

The classrooms are the first stage of the construction of Yozma's new educational complex which will include the permanent elementary school building to be completed by the coming school year.

Bet David (South Africa) Mitzvah School prize giving ceremony
(with thanks to Hayley Brown [SAUPJ] and Madeleine Rose-Hicklin [Bet David])

The Mitzvah School run by congregation Bet David in Sandton (Johannesburg) South Africa, is an amazing example of the Tikkun Olam work carried out by our congregations around the world on a daily basis (see WUPJnews #473). Recently, the school held its 27th annual prize-giving function that took place at Bet David in Morningside. Guests included students with their families as well members of Bet David congregation, Israeli Ambassador, The Honourable Arthur Lenk, Wendy Kahn of the Jewish Board of Deputies, and Steven Lurie Chairman of the SAUPJ.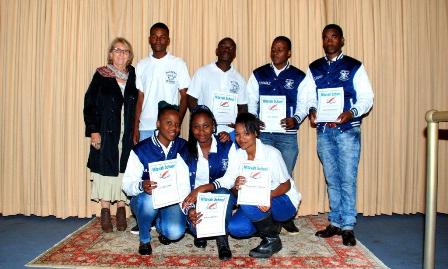 Principal Lesley Rosenberg with her proud students

The afternoon included a spirited rendition of Sanbonani by Mitzvah School singers and dancers; a moving welcome address by Mahlatse Sakuneka who spoke of the need and desire to break the shackles of poverty that encircled many of the learners; and a heartfelt message from Bet David's Rabbi Robert Jacobs read by Molly Smith, co-founder of the Mitzvah School; as well as presentations by the students.

One of the most inspiring addresses was given by Julius Mojapelo, now a qualified accountant, and an external audit technical and training manager at Nkonki Inc, who spoke of his poverty-stricken childhood and how he pushed himself to graduate with honors.

Click here to read the full story about this event


Back to In This Issue



Condolences

The leadership and staff of the World Union offer their sincerest condolences to past WUPJ chair Steve and Ina Bauman and the extended family on the passing of their niece Elyssa Rosen in a tragic accident in Tasmania. May her memory be for a blessing.

The leadership and staff of the World Union offer their sincerest condolences to Rabbi Robert Samuels, veteran leader of Progressive Judaism in Israel and former leader of the Leo Baeck Education Center in Haifa, on the passing of his brother, Dr. Thomas Samuels. May his memory be for a blessing.

The leadership and staff of the World Union offer their sincerest condolences to former director of the Israel Movement for Progressive Judaism's Youth Movement and current chair of the IMPJ's National Board, Matthew Sperber, on the death of his mother Ruth. May her memory be for a blessing.



Congratulations

Mazal tov to former WUPJ president and EB honorary member Ruth and Harvey Cohen on the wedding of their grandson Yoav and Lisa.

Mazal tov to Liora Ezrachi Vered (former director of the IMPJ Mechina program) and Amit Ezrachi Vered on the birth of twin boys, and Mazal tov to proud grandparents Rabbi Na'amah Kelman Ezrachi (HUC-JIR Dean) and Dr. Ilan Ezrachi.


Back to In This Issue


Upcoming events
December 11–15, 2013 – URJ Biennial, San Diego, California
January 2–9, 2014 – The Roswell Seminar for Social Justice, Jerusalem, Israel
January, 2014 – Netzer Veida Olamit, Israel
January 29–February 1, 2014 – UJCL Biennial, Costa Rica
February 13–23, 2014 – The Beutel Seminar for Progressive Jewish Leadership, Jerusalem, Israel
February, 2014 – TaMaR Conference, Israel
April 24–27, 2014 – EUPJ Biennial, Dresden, Germany
May 9–11, 2014 – Liberal Judaism's Biennial weekend, Reading, UK
May 23–24, 2014 – IMPJ Conference, Israel
June 6-8, 2014 – SAUPJ Biennial, South Africa
July 24–August 3, 2014 – The Bergman Seminar for Jewish Educators, Jerusalem, Israel
November 2014 – UPJ Biennial
May 2015 – Connections 2015, WUPJ 37th Biennial Conference, Rio de Janeiro, Brazil
November 4–9, 2015 – URJ 73rd Biennial Conference, Orlando, Florida