WUPJ news #473
Issue #473 - 17 October, 2013 | 13 Heshvan, 5774
In this issue:

Shofarot and Sukkot around the Progressive World:
• High Holidays in Rodef Shalom, Mumbai, India
• A sampling of celebrations in some of our European Communities (Hungary, Italy, Spain, and Poland)
• Bringing in the New Year in Russia, Belarus and Ukraine
• Celebrating in South Africa
• The Israel Reform movement celebrates High Holidays

News in Brief
• Austrian postage stamp honors Abraham Geiger College
• Amazing activities at the Mitzvah School in South Africa
• New group of Netzer youth arrives for their Gap Year in Israel program

Upcoming events

Shofarot and Sukkot around the Progressive World

In every corner of the world, be it in London or Milan, Johannesburg and New York, Singapore and Tel Aviv – our congregants gathered to pray, hear the shofar, shake the lulav, and join together to celebrate the High Holidays. Following are reports from just some of these holiday events:

High Holidays in Rodef Shalom, Mumbai, India
As in previous years, the World Union sent rabbis and cantors to serve in Progressive congregations around the world. This project, partially funded by the World Zionist Organization (WZO) is an especially significant project, as some of these congregations are small or newly formed communities with limited resources, while others are geographically far from larger Jewish centers. This project enables them to meet with other Jews, and participate in worship services and community activities. One of these visiting rabbis, Judith Edelman-Green, served at Rodef Shalom in Mumbai, and wrote: "…How does one do a "Mi Sheberach" at the URJ Rodef Shalom in Mumbai? One holds out one's hands like "Namaste" and everyone else, one by one, puts their hands outside this sign of prayer, and then kisses their own hands…" The community voice was heard throughout the holidays, through their participation in leading parts of prayer and through a theatrical reading of the story of The Binding of Issac (Akedah). A new Machzor, Ruach Hadashah ("A New Spirit") courtesy of the Liberal Jewish movement in the UK was used, along with the treasured and holy Benei Israel tunes which remain a defining element of the community. On Yom Kippur, the Ark was opened and each congregant was invited for "private time" in front of the Ark. The Yizkor sermon bridged the connection between Judaism and Indian culture and focused on reincarnation and the World to Come. "The warmth of the community in Mumbai is even hotter than their chili peppers, their chapattis, and their memories of 2400 years of tradition. We met the following day to build a Sukkah at ORT, and it remains in my heart, and will surround it with mitzvot and meaning for the coming year." (Click here to read the full account of Rabbi Judith Edelman-Green's visit).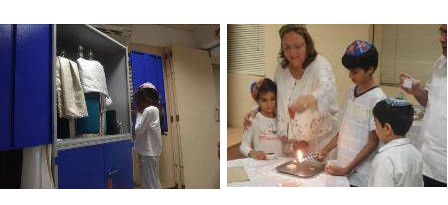 Left: A young congregant's "private time" in front of the open Aron Kodesh; Right: Rabbi Edelman-Green leads a communal Havdallah service


Back to In This Issue



A sampling of celebrations in some of our European Communities (Hungary, Italy, Spain, and Poland)
Treasurer of the Sim Shalom congregation in Budapest, Hungary, Jesse Weil, reports that the congregation enjoyed an impressive and successful High Holiday season starting with a beautiful sermon on Rosh Hashana, uplifting Yom Kippur services and a communal Break the Fast meal – for many congregants, having been raised as non-practising Jews, this was a new concept that the congregation hopes to turn into an ongoing tradition. Their Sukkot-in-the-Park was run for the third time, and a beautiful sukkah was built in St. Istvan Park open to Jews in the neighbourhood as well as congregation members. They held evening programs for adults and on the weekend held successful programs for pre school children featuring professional story tellers, arts-and crafts, and much more. On Simchat Torah, Sim Shalom hosted the kindergarten class of the Lauder Jewish Day School. While the children enjoyed the dancing and music, their parents were deeply impressed by the warmth and inclusiveness shown by this congregation. (More information about supporting this congregation can be found on the Friends of Sim Shalom web site).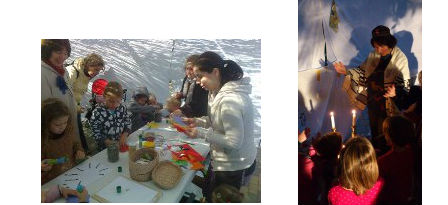 Left: Sukkot-in-the-Park activities for congregants and guests; Right: Rabbi Katalin Kelemen welcomes the Shabbat into the Sukkah.

Progressive High Holiday services were conducted for the first time in Rome, Italy, with the goal of establishing a new Progressive congregation there. Rabbi Joel Oseran, WUPJ VP - International Development who led the services, reports that there were approximately 100 participants for Rosh Hashannah and Yom Kippur services, and there is a "clear interest on the part of the group to establish itself formally. The plan is to meet once a month during the next few months in the same venue as High Holiday services (lovely hall inside the Jewish Ghetto) and to incorporate as an official legal body in the near future." Congregation Lev Chadash in Milan, Italy, the first Progressive community in Italy, invited Rabbi Edward van Voolen of Abraham Geiger Rabbinical College in Berlin, with which the directors of the community intend to initiate collaboration. Evening services were followed by a dinner prepared by families of the congregation. The next morning, the entire community participated in an atmosphere of great serenity and intensity with the liturgies of the new year, led by Rabbi van Voolen, assisted by Cantor Sabbatai Petraro and Aldo Luperini who blew the shofar. A welcome surprise was the contribution of singing by Professor Judith Frishman, the wife of rabbi Edward. Beth Shalom Milan, Italy, is entering its 10th year of existence and thus their High Holidays were enhanced by this simcha. Services were ably and beautifully led by Rabbi Stephen Lewis Fuchs, former WUPJ President. The congregation was also privileged to have the surprise presence of Rabbi Ellen Lewis who happened to be in Italy. Other guests included visitors from New York, Chicago, Florida, Australia, South Africa, England, a honeymoon couple from Israel, and even a worshiper from Benin in West Africa – a truly global Progressive holiday. David Alan Ross, President of Beth Shalom, added: "Bringing the concept of L'dor V'dor to a vivid reality: our Shofar blower was Gilad Lebovich, son of recently retired Rabbi Maya Lebovich of Kehillat Mevassenet Zion, in the Judean hills right outside of Jerusalem. Rabbi Lebovich was the first Israeli-born women Rabbi in the reform movement."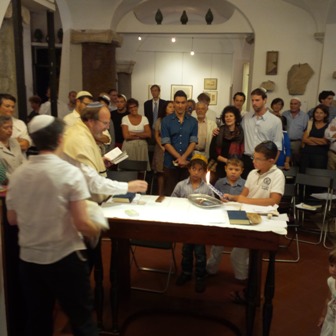 Rabbi Joel Oseran leading Havdallah services at the conclusion of Yom Kippur in Rome

Congregation Beit Krakow, in Krakow, Poland, hosted a group of 60 Israeli teenagers and their teachers from Haifa as well as members and other out of town guests on Sukkot. The teens had just come from visiting Auschwitz-Birkenau. With her guitar, beautiful voice and explanations in Hebrew between songs and parts of the service, Rabbi Tanya Segal drew the restless kids into the liturgy with an obviously experienced hand. They came away feeling energized and inspired by the local community.

Rabbi Alona Lisitsa served at Congregation Atid in Barcelona, Spain. On Rosh Hashanah eve, the main hall was full, including several guests from abroad, and Rabbi Lisitsa was helped by Netzer madrichim. Her sermons were translated to Spanish and distributed to those who had difficulty following the English sermons. A communal meal followed the services, complete with blessings for the different symbolic foods traditionally eaten on Rosh Hashanah. On the second evening, Rabbi Lisitsa led two workshops – one about the shofar and the second about the custom of Tashlich. The participants – parents with children, and Netzer madrichim – enjoyed these sessions and learned a lot about the texts and traditions and how to blow the shofar. For Yom Kippur, the congregation rented a hall in the hotel and there were over 200 participants for Kol Nidrei and Neila, including many guests from abroad and Israel. One of the congregants who used to be an opera singer sang Kol Nidrei to the delight of those gathered. Rabbi Lisitsa concludes that "even though it was not an easy mission, it was rewarding and important. Small congregations without rabbis all over the world are in need of rabbinic leadership. It is not only about Jewish knowledge or Jewish practice; it is also about guidance and inspiration. Many people approached me during my stay with the congregation with questions and thoughts that challenged them."


Back to In This Issue



Bringing in the New Year in Russia, Belarus and Ukraine
In Moscow, over 140 people gathered to hear the shofar and take part in the Seder and gala following the service with close to 200 people coming together for morning services. In St. Petersburg, close to 100 people attended Erev Rosh Hashanah services. Official guests included the General Consul of Israel and Head of the Jewish Agency in St. Petersburg. One of the evening programs included an interfaith gathering for more than 50 guests.




Tashlich led by Rabbi Helena Rubinstein (left), and Holiday Services (right) in St. Petersburg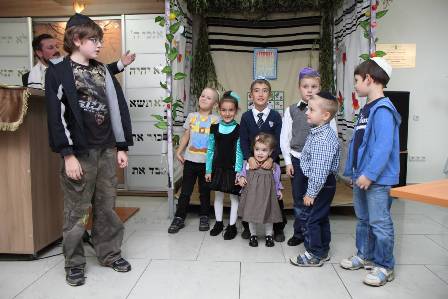 Sukkot in Minsk

For the first time in 80 years, the blowing of the shofar on Rosh Hashanah took place in a former synagogue (now a sports club) in Mogilev, Belarus. Rabbi Abramovich and Ludmila Izakson Chair of the Reform Movement in Belarus as well as community leaders from Mogilev and Gomel and local Netzer youth took part. In Minsk, due to the large number of participants, the Rosh Hashanah services and activities were conducted at Beit Simcha over three days: the first day consisted of services and activities for the Sheket and Tamar congregation; second day for the Simcha community and Jewish kindergarten; and the third day offered services for the conversion school and the JCC family club Yeladim – in all, over 250 people participated in these activities. Also in Minsk, a special Festive Reading was held for the third with over 100 guests. The readings focused on time in the Torah with Modern Commentaries edited by Gunther Plaut, and included also William Shakespeare's Mercy and Justice (in English and Russian) by UK Ambassador Mr Bruce Bucknell; commentary on verses from the biblical book of Devarim: "A human being does not live on bread alone" by First Secretary of the Apostolic Nunclature Msgr. Filippo Ciampanelli; and a session on God's Unity using verses from the Koran and the Torah by the Chief of Mission of the International Organization for Migration in Belarus Zeynal Hajiyev. On Shabbat T'shuva evening, Rabbi Abramovich was invited by the Belarus Apostolic Nuncio to partake in a shared prayer for peace in the Middle East.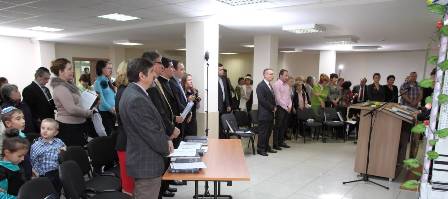 Communal High Holiday services in Minsk

In Kyiv, the congregants enjoyed their first Rosh Hashanah in the new HaTikvah Centre in Kyiv, with over 70 congregants, guests from the Israeli Cultural centre and visitors from the different Jewish organisations in Kyiv (see special article on the Kyiv center dedication ceremony in WUPJnews #472). Over 70 people gathered for Rosh Hashanah services in Simferopol, where special guests were welcomed by chair Anatoly Gendin and included Camille Ametov, Chairman of the Muslim religious community, who gave the congregation a picture of an ancient mosque in Yalta, and Eider Bulatov, Director of the Islamic Research Center, with whom the congregation participates in a unique program of Jewish-Muslim dialogue in the Crimea. The service was led by Rabbi Mikhail Kapustin and followed by a communal dinner as well as singing, dancing, and a quiz and auction that raised nearly all the funds needed for the celebrations.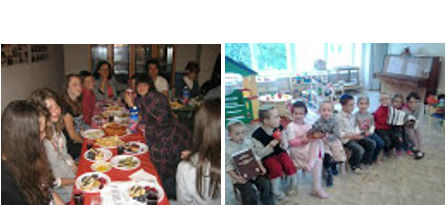 Communal celebration in Simferopol (left); Preschoolers who helped build the Sukkah in Mogilev (right)


Back to In This Issue



Celebrating in South Africa
In South Africa, our congregations were busy with High Holiday services and celebrations, with many guest rabbis, speakers and overseas guests. Beit Emanuel was honored to his Excellency Mr. Arthur Lenk, Israel's Ambassador to South Africa, as guest of honour during Simchat Torah. Steve Lurie, SAUPJ Chair, presented a copy of Mishkan Tffilah to Ambassador Lenk on behalf of the SAUPJ and Bet David. On the weekend of Shabbat Shuva, a conference was held to educate and mobilize African Evangelical Church leaders to love and support Israel and the Jewish people. Bishops, Pastors and Christian Leaders of various capacities such as Kenya, Uganda, and more.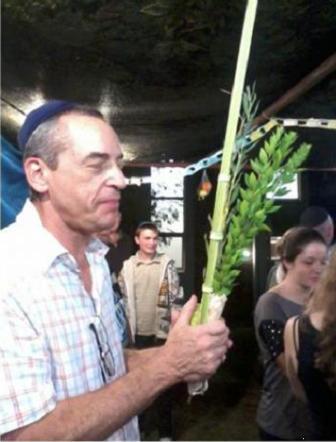 Sukkot at Durban Progressive Jewish Congregation

Temple Israel, Port Elizabeth, celebrated their 60th anniversary and the High Holiday season provided them with an opportunity for a happy celebration. Following their rousing Rosh Hashanah services with beautiful choral singing and the haunting sound of the shofar, the community went to tashlich services at the Mouille Point lighthouse and a picnic in Greenpoint Park. During Simchat Torah, children and adults alike sang and danced with flags and Torah scrolls.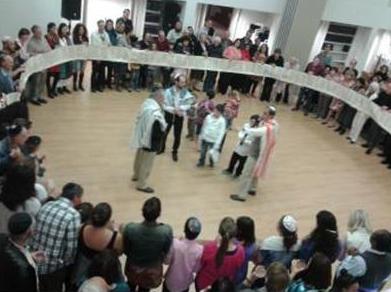 Torah Scroll and 60th anniversary at Temple Israel


Back to In This Issue



The Israel Reform movement celebrates High Holidays
And in our congregations in Israel, Kehillat Darchei Noam, Ramat Hasharon, celebrated their first High Holiday season in their new building (as reported in WUPJnews #471). Following their moving Rosh Hashana services, they had nearly 300 participants for their Yom Kippur prayers. In Jerusalem's Kiryat HaYovel neighborhood, Kehillat HaDror (formerly known as Havurat Kiryat HaYovel) held their Simchat Torah Second Hakafot for congregants and local participants. In Gedera, hundreds of members of Kehillat Yuval were surprised to see a huge, air-conditioned tent standing in the yard of the High School where the town had given them space for their prayers. Unbeknownst to them, the municipality decided to give this space to the town's Chabad congregation. But this didn't diminish Kehillat Yuval's attendance or their spirit, and both groups prayed undisturbed and without incident. At the conclusion of the prayers, Yuval's 15 year-old trumpeter blew the shofar with such strength and feeling it touched everyone's hearts. One woman, who came to Kehillat Yuval for the first time, told Rabbi Mira Hovav, "I connected, I was excited, and I felt clearly part of it all." In Beersheva, efforts to find a place for Yom Kippur services weren't going well, when a group called "Kehillat Kama" approached the IMPJ and offered us the use of their home. In this intimate setting, participants felt comfortable enough to take active parts in the prayers. One man received an Aliyah and after reciting the blessing, proceeded to read his own Torah portion. Afterwards, a woman from an Orthodox family, who hadn't stepped into a synagogue in 27 years, essentially became a Bat Mitzvah when she volunteered for the next Aliyah, and with a huge smile, said the blessings and she too read her own Torah portion. Down south near the Dead Sea, in Kibbutz Almog, the local kibbutzniks were happy to enjoy an egalitarian and inclusive holiday. They told us that "not only was the experience a positive one, but that we enjoyed seeing women taking such an active role in everything, including reading and holding the Torah. Moreover, we are already working on ideas for next time that will make the prayers even more suitable to this community, such as using more Sephardic melodies. We also want to invite other Kibbutzim in the area to join them." In Haifa, a true "Sukkat Shalom" atmosphere was achieved – in the spirit of tolerance, the IMPJ's Russian speaking community of Shirat HaYam connected with a group of Israeli-Arabs to fulfill the mitzvah of "ushpizin" by welcoming them in their Sukkah of Peace, where the international language of music and food helped forge any barriers. And in Sha'ar Hanegev, where only one year ago – due to the rain of rockets from Gaza – the community couldn't plan the kind of Simchat Torah they wanted. This year, there was plenty of singing, dancing, and wonderful spirit.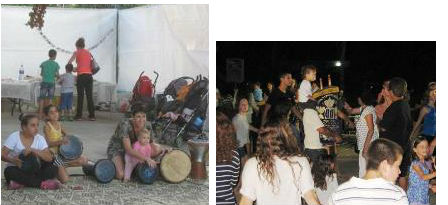 Sukkat Shalom in Haifa (left); Second Hakafot in Sha'ar Hanegev (right)

This brief report reflects a small portion of the activities in our Progressive congregations around the world, where our many congregants celebrated with song and music, with local members and guests, with Torah readings, Shakespeare, Challah and honey.


Back to In This Issue



News in Brief
Austrian postage stamp honors Abraham Geiger College
On 19 November the School of Jewish Theology will be opened in Potsdam, Germany. Austria has issued a special postage stamp dedicated to this unique moment in the history of the German university system.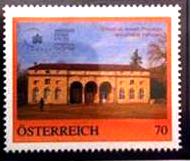 The stamp displays the Abraham Geiger Kolleg logo (in German Hebrew) with English text "School of Jewish Theology, University of Potsdam"

Amazing activities at the Mitzvah School in South Africa
Established in 1987, Mitzvah School, housed on the property of Bet David, a synagogue in Morningside, has in its early years opened its doors to 25 students from Alexandra who were desperate to write their matriculation exams.

The school has now between 40 and 45 matriculation students annually.

"We started the school at Bet David as a class for one year and had 25 students, who were registered at Alexandra High School, and with dedicated teachers and wonderful surroundings and gardens at Bet David, the students were able to study and most of them did extremely well," said the school principal Lesley Rosenberg.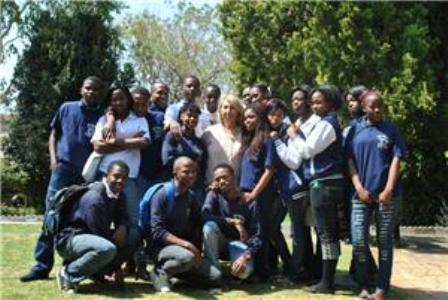 Mitsvah School students

Rosenberg said they don't receive any subsidy from the government, further commenting: "Although the students pay a small monthly fee, most of our funding comes from companies who believe in this project as well as generous donations from the private sector."

For the past nine years they have achieved a 100% pass rate, which is an enormous achievement when considering their low educational background and the poor pass rate in the townships.

The school is also involved in feeding schemes in Alexandra Township to assist those less fortunate.

Click here to read the article in Pioneer News

New group of Netzer youth arrives for their Gap Year in Israel program
A new group of Netzer youth (called "shnaties") recently arrived in Israel to start the Northern Shnat Netzer program. The group includes 16 members from Spain, England, Germany and the US.

The Shnat program is a nine month leadership training program for young adults in Israel that develops the skills and knowledge to enable them to assume young leadership roles in their home communities. The program is run in two sessions each year, for participants from the Northern and Southern hemispheres, based on their school year schedules. The groups usually have a joint seminar at the beginning/end of each cycle.

Their orientation seminar opened with a ceremony on the rooftop terrace of Beit Shmuel overlooking the Old City, with Rabbi Steve Burnstein, Director of the Saltz Center leading the singing and blessings for a successful year.

The program includes a stay on Kibbutz Lotan in the south, where they will meet with 6 shnatties from the southern hemisphere program who also prepared a welcome video (see link) which was shown to the new group during orientation.

Although the group has only been in Israel for a week, they prepared a report of their first impressions and thoughts to send to their parents, and they will continue to write weekly updates which should provide interesting reading.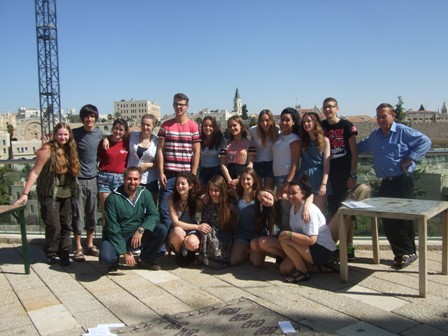 New shnatties on the Beit Shmuel balcony with Netzer & TaMaR Director Maoz Haviv (far right) and Shnat Netzer Director Michael Vainberg (front row, far left)


Back to In This Issue



Upcoming events

December 11–15, 2013 – URJ Biennial, San Diego, California

January 2–9, 2014 – The Roswell Seminar for Social Justice, Jerusalem, Israel

January, 2014 – Netzer Veida Olamit, Israel

January 29–February 1, 2014 – UJCL Biennial, Costa Rica

February 13–23, 2014 – The Beutel Seminar for Progressive Jewish Leadership, Jerusalem, Israel

February, 2014 – TaMaR Conference, Israel

April 24–27, 2014 – EUPJ Biennial, Dresden, Germany

May 9–11, 2014 – Liberal Judaism's Biennial weekend, Reading, UK

May 23–24, 2014 – IMPJ Conference, Israel

June 6-8, 2014 – SAUPJ Biennial, South Africa

July 24–August 3, 2014 – The Bergman Seminar for Jewish Educators, Jerusalem, Israel

November 2014 – UPJ Biennial

May 2015 – Connections 2015, WUPJ 37th Biennial Conference, Rio de Janeiro, Brazil

November 4–9, 2015 – URJ 73rd Biennial Conference, Orlando, Florida





Back to In This Issue