Special Issue #472
Special Issue # 472, 3 October, 2013 | 29 Tishrei, 5774
:
Historic dedication ceremony in Kyiv ensures a future for Progressive Judaism in Ukraine
:
*
From The Past to The Future
*
Shabbat Evening and New Beginnings
*
Shabbat Morning with uplifting Bar Mitsva celebrations
*
Dedication Ceremony
*
Concluding Thoughts on the Dedication

Upcoming EventsHistoric dedication ceremony in Kyiv ensures a future for Progressive Judaism in Ukraine
With tears of joy mixed with the somber memory of Babi Yar, Congregation Hatikva in Kyiv, together with an international delegation of World Union leaders, dedicated Hatikva's new synagogue center on Shabbat Bereshit, September 28, 2013. Kyiv Congregation Hatikva is Progressive Judaism's flagship center in the Ukraine, but for the past 22 years has been working out of very inadequate rental facilities. All that changed when three dedicated World Union families – Sue and Jimmy Klau, Anne Molloy and Henry Posner III, and Austin and Nani Beutel – made the commitment to purchase a new synagogue-center for Hatikva in order to secure the future of Progressive Judaism not only for Kyiv but for the entire Ukraine.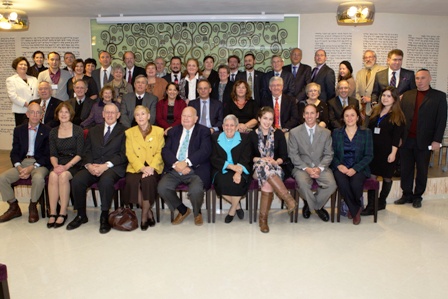 Delegation with local leadership and staff in the new synagogue center
Even with the resources in hand to purchase a new center, it required nearly 2 years of exhaustive search before the "right" property was found and renovations could be made. The new center, located in Podol, Kyiv's historic Jewish neighborhood, was celebrated by all as being the "perfect" new home for Hatikva. The center consists of a large sanctuary with seating for 150, spacious activity rooms, library, Netzer youth center, administrative offices and a small but very functional kitchenette.
From The Past to the Future
The dedication ceremony weekend began on Friday morning, September 27, as the World Union international delegation consisting of 28 leaders from the United States, Canada, Great Britain and Israel paid tribute to the memory of the nearly 34,000 Jews who were brutally murdered 72 years ago, almost to the day, at Babi Yar. Standing together at the Memorial (Menorah) erected near the ravine of Babi Yar, one of the group members, Rabbi Yitzhak Hankin from Eugene, Oregon, recited El Male Rachamim and Rabbi Dukhovny led Kaddish under a drizzle which symbolically expressed the tears of sadness everyone was feeling.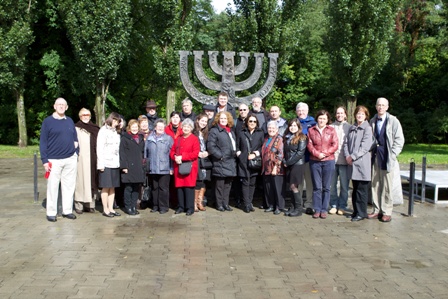 A somber visit to the Babi Yar memorial
But the tone of the trip changed dramatically as the group's next stop was a visit to one of Hatikva's two kindergartens – just a short 5 minute drive from Babi Yar. Hatikva has been supporting these early childhood education programs for nearly 20 years, having made the commitment from the very beginning of its life as a congregation, that providing Jewish education and family education experiences for kindergarten-aged children was a concrete demonstration of faith in the future of Jewish life in the shadow of Babi Yar.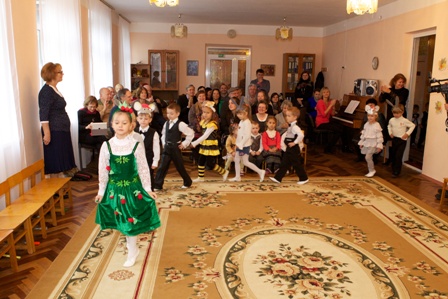 Live Entertainment!
The delegation sat in the kindergarten as the children sang in Hebrew, danced and thoroughly entertained the group with a lively musical performance of the holidays of Tishrei. What was incredible was not only the high level of the performance, but also the fact that the children had only started their new year in the kindergarten a month ago - which meant considerable rehearsals in a very short period of time. Needless to say, the children were a big hit!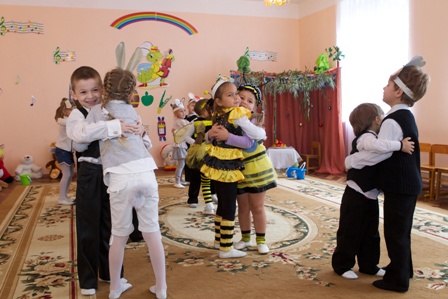 The Future Generation of Hatikvah



Back to In This Special Issue
Shabbat Evening
Before Kabbalat Shabbat services at the new center, the delegation took part in a number of specific room dedications and Mezuzah affixing ceremonies. The first plaque to be unveiled included the names of all three family sponsors. Then the group proceeded to dedicate the three specific rooms to be named after each donor family: The Susan L. and James D. Klau Tolerance Center; The Anne Molloy and Henry Posner III Education and Family Development Center; and The Nani and Austin Beutel Leadership Training Center (which will especially serve the needs of the large number of Netzer Olami young adults in the congregation). It was a special moment indeed when the entire delegation together with our Kyiv professional staff and lay leaders sang together Shehecheyanu, thanking God for enabling us all to reach this joyous occasion.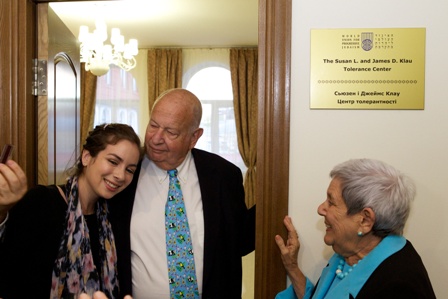 Sue and Jim Klau with proud granddaughter at the new Tolerance Center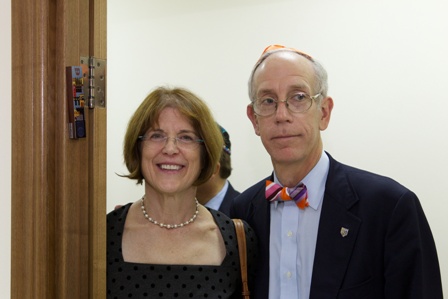 Anne Molloy and Henry Posner III next to the newly affixed Mezuzah at the Education and Development Center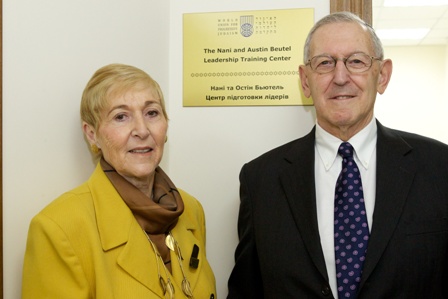 Austin and Nani Beutel at the new Leadership Training Center

The Shabbat evening service was led by host Rabbi Alex Dukhovny along with several of his rabbinic colleagues who are serving congregations in Moscow (Leonid Bimbat), St. Petersburg (Helena Rubinstein), Minsk (Gregory Abramovich) and Simferopol (Michael Kapustin). Hatikva cantor Michael Urisman, guitar in hand, led the congregation in song, including several melodies he himself has written over his many years of service to the congregation. Rabbi Joel Oseran, World Union Vice President for International Development, delivered the sermon. He spoke about the important thematic connection between the weekly Torah reading, Bereishit, and the historic dedication ceremony of Hatikva. Rabbi Oseran said:

"We are the People of Bereishit, the People of New Beginnings. Today is no less real than yesterday. And today we look around this new synagogue center and feel the power of Jewish renewal and rebirth. We read Bereishit and we know that life can be created anew, that the eternal spark of life remained buried in the ashes of Babi Yar. And it has been our Zechut, our Honor and Privilege, to have been among those who have helped to breathe new life into the ashes – the breath which has fired the return to Jewish life concretized by the dedication of our new Progressive Jewish Synagogue-Center in Kyiv".

Following Shabbat services and a lovely kiddush which took place simultaneously in the three dedicated activity rooms, the group went off to a Shabbat dinner which filled everyone not only with great food but also with a wonderful family-like spirit. In traditional Ukrainian fashion, person after person stood up and delivered a toast celebrating the joy of the dedication and the special feeling shared by all present. What was particularly meaningful during the evening was the warmth and sense of being inter-connected felt by local Hatikva activists and World Union leaders. While we all could not understand each other's words without translation, we nevertheless shared something so basic which required no translation at all - the sense of common purpose and destiny. We were all one family celebrating our common accomplishment! Love was pouring out faster than the vodka!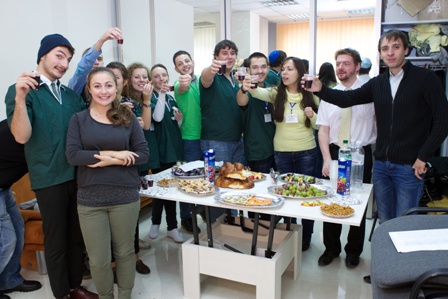 Netzer youth raises a joyous "L'Chaim!"


Back to In This Special Issue



Shabbat Morning

Shabbat morning services were unlike anything anyone had ever seen before. We not only celebrated Shabbat, but we were witness to two Bar Mitzvah young men called up to the Torah (Denis Burmistrov, 26, who is the coordinator of Netzer activities in Ukraine, and Maxim Barshenko, 18, one of the Netzer madrichim), as well as the baby naming of Cantor Michael and Svetlana Urisman's baby who received the Hebrew name Eliyahu. The congregation was packed when Denis and Maxim were each called up to say the blessings and to read from Parashat Bereishit. In his speech, Denis recounted:

"For almost 80 years, following the Jewish traditions was strictly forbidden by the Soviet government. Those were the times when my great grandparents, grandparents and my father lived. The synagogue of Zelenopolski region in Zaporozhska Oblast was closed in the year 1930. My grandfather, Avraham Averbach, was a member of the board of that synagogue. The only reason for closing the synagogue was the unwillingness of the Soviet government to give people religious freedom. The only thing they could not achieve was destroying the centuries-old connections between generations. We survived only because of the strong belief that we transferred 'Le Dor VaDor'. Since I was a kid I used to ask my granny a lot about her Jewish life. They spoke Yiddish, observed holidays and kept Kashrut. Hearing these stories from my granny helped build my Jewish identity.

And now I'm standing here in the center of Kyiv, as a leader of the Jewish youth movement Netzer in Ukraine, as a Bar Mitzvah boy and a proud Jew. I want to dedicate this day and these words to you, my great grandfather Avraham Averbuch. In your honor I take this name – Avraham. And now you can be sure that Jewish traditions are alive forever in our family! I definitely believe that my children and grandchildren will keep the Jewish lifestyle not only in honor of the roots but also because it's going to be an integral part of their identity. Last, but not least, from my standpoint, a Jew is that person whose grandchildren are Jewish!"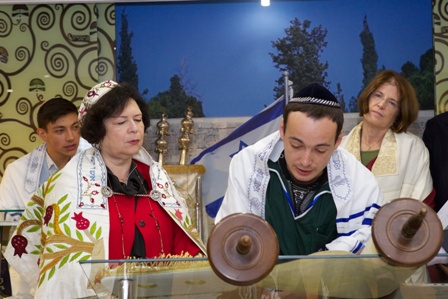 Denis - Avraham, with Rabbi Yelena Rubinstein of Congregation Sha'arei Shalom (St. Petersburg; left), and Ann Molloy (right)

When Maxim was called up as a Bar Mitzvah to read the Torah, he invited his grandfather to come up and stand next to him. After his reading, Maxim said the following:

"On the day of my Bar Mitzvah, it's not just that I am reading an excerpt from the first chapter of the Torah describing the first day of creation which is the beginning of everything, but that I myself am starting a new beginning by being the first in my family since my great-great grandfather, to be called up to the Torah. Now I am trying to revive those Jewish traditions that have been lost to my family for over 120 years. And it's important for me as I have a dream… that the chain of Jewish tradition in my family will never again be broken. I was reading from the Torah this morning with the thought of those four generations of my relatives who have been separated from Judaism. And today I am proud to say I am a Jew and my name is Dan."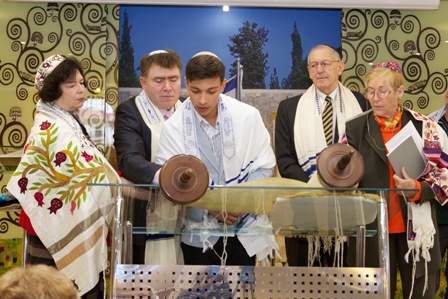 Maxim - Dan, with Rabbi Rubinstein, Rabbi Dukhovny, Austin and Nani Beutel

These two Bar Mitzvah speeches were not your ordinary speeches, filled with routine thank you's. We were witnessing nothing less than the rebirth of Jewish life right before our eyes, in our own new synagogue center which enabled all this to happen. We were touched deeply by this moment and inspired with a faith that there is a future for our People in the very place where we came face to face with our own demise.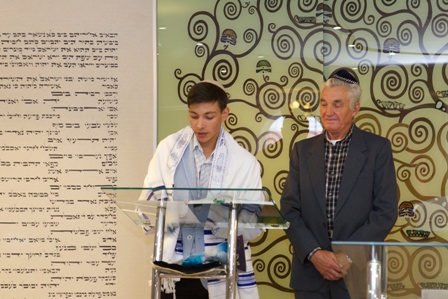 The Chain of Tradition - Maxim with his grandfather


Back to In This Special Issue



Dedication Ceremony

Having experienced exhilarating Shabbat evening and morning services and a joyful Friday night festive dinner, there was a question whether the highlight of the dedication weekend might already be behind us. Not so! The Saturday evening dedication ceremony was truly the climax event of the weekend, weaving together words, songs, videos and dances of praise and celebration, from the very youngest to the not so young, and leaving us all with a profound sense that we were part of modern Jewish history. In the presence of three ambassadors (United States, Canada and Germany) our distinguished World Union delegation, every Progressive rabbi, cantor and country director and senior staff in the FSU, a huge delegation of Netzer madrichim as well as children from the Hatikva kindergartens and numerous Jewish and other religious communal leaders as well as members of Hatikva congregation, the dedication ceremony was streamed live across the globe to our World Union constituency of 1.8 million family members in 45 countries.

Rabbi Alex Dukhovny opened the evening by expressing appreciation on behalf of congregation Hatikva for the blessings which this new synagogue center will bring to his entire community – and, by extension, to all the Jews in the Ukraine. Rabbi Dukhvony is clearly the primary moving force inside Hatikva, and his energetic spirit and genuine Jewish commitment, set the tone for the congregation he has led for the past 22 years. Throughout the weekend Rabbi Dukhovny demonstrated a remarkable quality of personal connection with all of members of the delegation and of his congregation. His contribution to the design and vision of the new center has been significant indeed.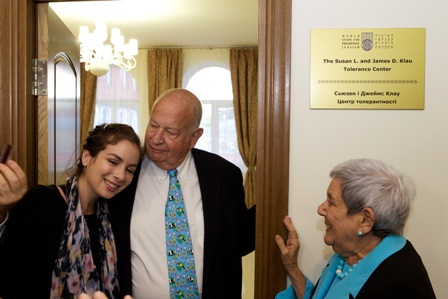 Sue and Jim Klau with proud granddaughter in front of the Klau Tolerance Center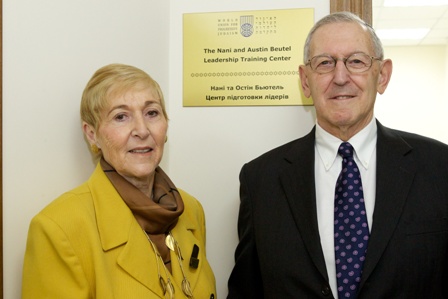 Nani and Austin Beutel dedicate their Leadership Training Center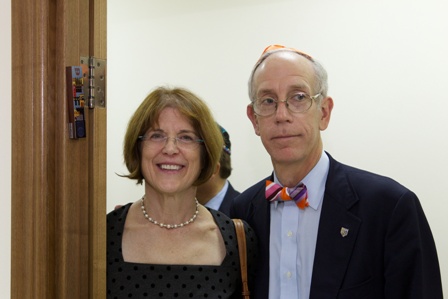 Ann Molloy and Henry Posner III next to the newly attached mezuzah at the entrance to the Education and Family Development Center

World Union Chair, Mike Grabiner, brought greetings on behalf of the entire World Union family and praised the donor families for their extraordinary commitment to the World Union. He commented: "This center is further proof not only of their generosity but also of the tremendous impact of their philanthropic activities. On behalf of the World Union I thank them all from the bottom of my heart."

Mr. Grabiner also expressed appreciation to Rabbi Dukhovny, Executive Director Alexander Gaydar, and Hatikva Chairwoman, Alexandra Gaydar, for their dedicated leadership of congregation Hatikva over these many years. And he also recognized the important role played by Valery Sheinin, Executive Director of the World Union's operation in Moscow, Alex Kagan, FSU Director and Shai Pinto, COO and Vice President of the World Union.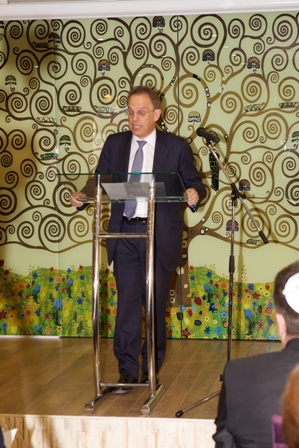 World Union Chair Mike Grabiner addresses the gathering

And then came the opportunity to introduce the distinguished donor families whose generosity turned the dreams of Hatikva members for the past 22 years into reality. Rabbi Oseran introduced each of the donor families, citing their special and unique qualities which have endeared them to their World Union family. In introducing Sue and Jimmy Klau, Rabbi Oseran commented:

"Sue and Jimmy are Givers in the most profound meaning of the word. They give of themselves. Who can be with them and not come away touched by their infectious enthusiasm and passion?…Today as we dedicate our new Synagogue-Center in Kyiv, we celebrate Sue and Jimmy Klau for their continued belief in and commitment to Reform Judaism and the Jewish People. Through your generosity of heart, spirit and material resources, you have and will continue to touch our lives and help Jews rediscover the awe and wonder of our noble heritage."



Rabbi Joel Oseran introduces the donors

In response, Jimmy Klau commented: "It is a joy for us to, once again, partner with Nani & Austin and Anne & Henry and to have been able to assist in the establishing of this holy space… We (Sue and I) promised that we would push for a center here just as soon as Moscow was finished and it is such a joy to see that this dream has come true. Rabbi Alex has been patient (not completely silent, but patient) and it is beautiful to see his dream come true. Today is a day to be cherished and we are so proud to be able to stand here together with our many partners and say 'at long last it is finished and we were there at the inception and now we are here at the completion.' "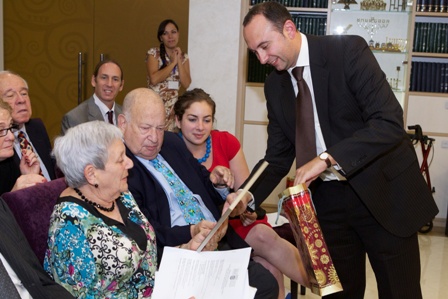 FSU Director Alex Kagan giving Jim and Sue Klau a gift on behalf of the local community while their granddaugther Elyssa Tanenbaum looks on


Rabbi Oseran next introduced Anne Molloy and Henry Posner III:

"It is rare indeed for those of us who labor in the vineyards of Jewish renewal and development, to wake up to discover that the Holy One, Blessed be He, has provided a new source of sun and water, of nurturing protection and life-giving sustenance to help us toil the soil of Jewish creation. But close to 10 years ago when Anne Molloy and Henry Posner III joined our World Union family of committed leaders, the heavens indeed opened up for us and for Progressive Judaism in the FSU… We thank the Holy One for sending us Anne and Henry and fervently pray that they will continue to find reward and personal satisfaction in their involvement with our World Union even as we continue to benefit from their generosity and nurturing support."

In her response, Anne Molloy shared these words:

"Henry and I are members of Rodef Shalom Congregation in Pittsburgh, Pennsylvania. (Rodef Shalom sends a hearty Mazal Tov!). Our Rabbi, Aaron Bisno, has chosen to focus our programming this year on the theme of b'tzelem elohim, in the image of God… What stuck in my mind from the story as I thought about this dedication was both b'tzelem elohim and another phrase repeated throughout the story, vayar elohim ki tov, and God saw how good it was. At the end of each day God looked at what God had created and saw goodness. So if we are created in God's image, we too should take time to look at what we have created and judge its goodness, and we should plan our future work so that it will bring goodness to the world.

So Hatikva Congregation members, I think this is certainly an appropriate time for you to take a look back at your creation. Your dedication to living a Jewish life and your dedication to building a strong community is what has brought us to this point. And it is good! And so you are charged, as each one of us is created in God's image, to move forward in this new home creating even more goodness. Let that be your focus – after Shabbat rest! Mazal tov!"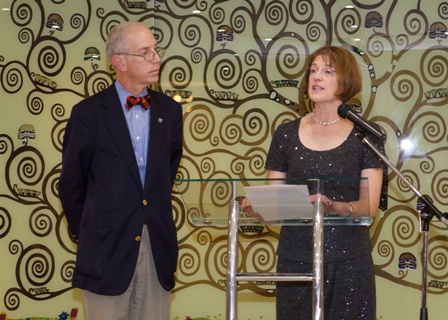 Anne Molloy and Henry Posner III congratulate the congregation

In his introduction of the final donor couple, Nani and Austin Beutel, Rabbi Oseran said:

"It is no exaggeration to say that Nani and Austin Beutel are unparalleled in their history of devoted service and support of the World Union for Progressive Judaism… Nani and Austin are proud Canadian Jews and, as such, are particularly rooted in the importance of Jewish Peoplehood and the State of Israel. Together with Rabbi Richard Hirsch, Nani and Austin became stalwart builders of Progressive Judaism in Israel and labored with great commitment to ensure that the World Union would have its impressive international center in Jerusalem at Beit Shmuel-Mercaz Shimshon.

When World Union leaders, professional and lay alike, are in need of advice and council, we go to Nani and Austin because they have earned our trust like no others and have proved, time after time, that their commitment to the World Union is second to none… After 50 years of marriage we know that Nani and Austin make a great team. We know they share their love for the Jewish People and we look forward to ever more occasions where we can express our love and appreciation to them"

Nani Beutel spoke in response:

"…Our interest in the FSU was kindled by Rabbi Richard and Bella Hirsch. Their example of concern for Jews who had no opportunity for study and practice of Judaism was a powerful one. We, in the West, learned that we had a role to play. And that we have attempted to do… Our friends and partners, Sue and Jimmy Klau, are truly an example to follow. Their devotion to Synagogue and library building is well known, it never fades. We have been enriched by their friendship! The captain of this ship is Anne Molloy. She, along with her husband Henry Posner, has brought this vessel into port. They are renowned for their building of Heseds and community facilities throughout the FSU. How lucky we are to have them in our movement…"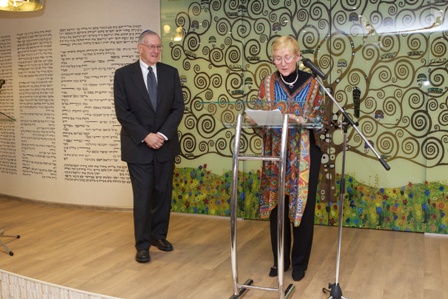 Nani and Austin Beutel thank their fellow donors and friends

Two prominent World Union professional leaders also spoke at the dedication ceremony. Alex Kagan, Director of the World Union in the FSU, and Shai Pinto, Chief Operating Officer and Vice President of the World Union. Alex Kagan was clearly beaming with pride as he stood before the audience and thanked the donor families and his fellow staff in the Ukraine and Valery Sheinin in Moscow for all they did to bring this day to fruition. And then he commented:

"After we have strengthened our presence in the FSU with the purchase of buildings, what the future holds depends only on you. Only people: rabbis, leaders, youth and local sponsors can shape these centers spiritually, filling them with life, happiness and significance, moving forward without forgetting their friends and heroes. In this way, I hope to see the future of the Reform Movement in Kyiv, Ukraine and the FSU."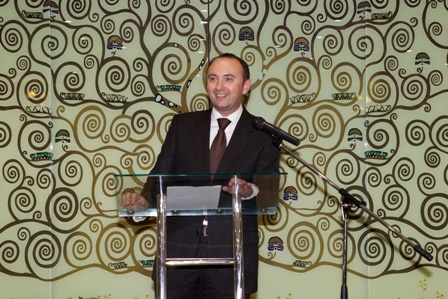 Alex Kagan thanking all who made this historic day possible

Shai Pinto spoke last and used the opportunity to share a wonderful closing message which inspired everyone present.

"…I remember the excitement of the signing ceremony, it was snowing heavily and it took so long. And the look on the faces of our team, a mixture of relief, joy, hope – Tikvah, and how proud I felt. I thought then, as I feel even more now, that amongst the many sounds we heard today – the speeches, the music, the prayers, one can actually hear what we call in Hebrew – Mashak Kanfai HaHistoria – the beating of the wings of history. There are very few moments in a person's life when he can say that.

…So we have a wonderful building. But – it is only a building. Prayer hall, classrooms, activity rooms, offices, kitchen. What makes it into something else, something real, are the people, the community, you. Buildings do not build a future – people do! As we saw throughout the weekend, and as I look around this room, at our staff, our volunteers, our rabbis, our Netzer madrichim and kids, our families – I know we have a wonderful future ahead of us… May Tikvah dwell in this home and in our hearts for generations to come."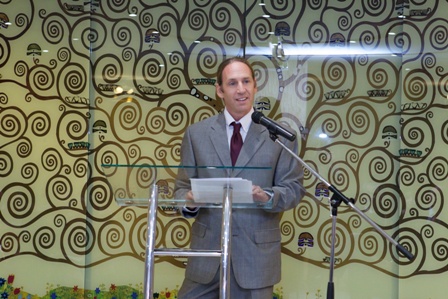 World Union VP and COO wishes for "Tikvah" (hope) to dwell in this wonderful building


Back to In This Special Issue



Concluding Thoughts on the Dedication

Perhaps the most significant feeling shared by all members of the delegation and surely by all present at the Dedication was the feeling of Hope – Tikva. In the context of the Shoah and the incomprehensible impact of death and destruction of over 70% of Ukrainian Jewry, it is nothing short of a miracle that Jewish life continues to flourish in Kyiv and throughout our World Union congregations in the Ukraine. Yet the "miracle" we see is the product of the shared partnership of God's spirit and Man's hand.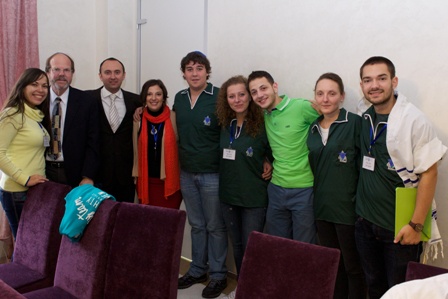 World Union staffers with Netzer youth

Without question we must see God's presence in the ability of our People to rise up and re-enter the world as proud Jews after the Shoah. The inspiration and faith in God which touched the very soul of our People and strengthened our belief in tomorrow. Yet, we also quite clearly see the hand of many men and women in the renewal of Jewish life in the Ukraine and throughout the FSU. Inspired by God, men and women rose up to dedicate their human and material resources to the rebuilding of Jewish life.

In Kyiv, at the Dedication of congregation Hatikva's new synagogue center, we were privileged to see the work of these many men and women committed to the future of our People. It was a moment in history none of us present will ever forget. It was a moment which shouted out – Hatikva – there is a Future for the Jewish People. Am Yisrael Chai.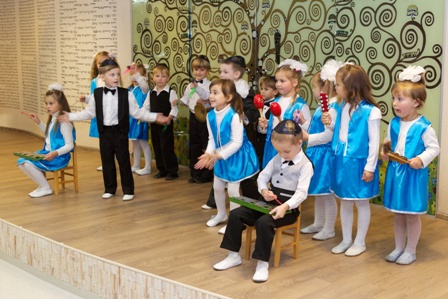 The kindergarten children - Our Future!


Back to In This Special Issue


Upcoming events

December 11–15, 2013 – URJ Biennial, San Diego, California

January 2–9, 2014 – The Roswell Seminar for Social Justice, Jerusalem, Israel

January, 2014 – Netzer Veida Olamit, Israel

January 29–February 1, 2014 – UJCL Biennial, Costa Rica

February 13–23, 2014 – The Beutel Seminar for Progressive Jewish Leadership, Jerusalem, Israel

February, 2014 – TaMaR Conference, Israel

April 24–27, 2014 – EUPJ Biennial, Dresden, Germany

May 9–11, 2014 – Liberal Judaism's Biennial weekend, Reading, UK

May 23–24, 2014 – IMPJ Conference, Israel

June 6-8, 2014 – SAUPJ Biennial, South Africa

July 24–August 3, 2014 – The Bergman Seminar for Jewish Educators, Jerusalem, Israel

November 2014 – UPJ Biennial, Hong Kong

May 2015 – Connections 2015, WUPJ 37th Biennial Conference, Rio de Janeiro, Brazil

November 4–9, 2015 – URJ 73rd Biennial Conference, Orlando, Florida



Back to In This Special Issue