Issue #471
Issue 471, 12 September, 2013 | 8 Tishrei, 5774
:
Over 1000 children and teens Make it Real at FSU "Israel Is Real" summer camps
Israeli congregation Darchei Noam (Ramat Hasharon) moves into new home in time for Rosh Hashana services
Israel movement reaches out to Latin American region
HUC-JIR Los Angeles campus dean visits Sao Paulo
News in Brief
•
Children Create Shabbat – special High Holiday family activities at Beit Shmuel
•
Netzer South Africa hold inspiring and successful Fundraiser event
•
Bet Menorah, Pretoria, help spread warmth for the needy on Mandela dayCongratulationsUpcoming events
Over 1000 children and teens Make it Real at FSU "Israel Is Real" summer camps
The FSU summer camp program has been a successful endeavor for many years, and this year was no exception – with a total of 1072 participants, the highest number in the past few years!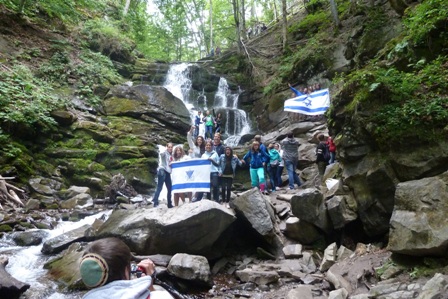 Flying Israeli and Netzer flags where they've never been before!


The summer camp project focused on Zionism, Judaism, Hebrew, Israeli society and culture, and the centrality of Israel in our lives. For many of the participants, this was their first encounter with Hebrew, Israelis and Israeli content. Many of the camp alumni continue on to community-based programs like Netzer, Sunday Schools, Tamar and community activities.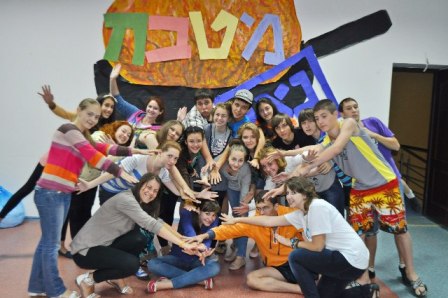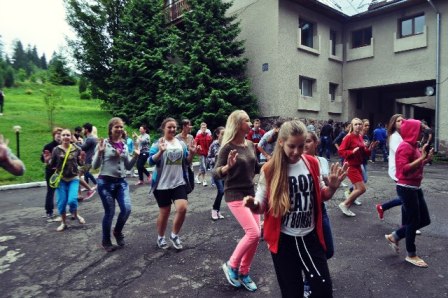 Israeli cooking and Israeli dancing make for lots of fun!
As reported in
WUPJnews #464
, the overall theme this year – "Israel is Real" – focused on Israel and Zionism, and included activities, games, music, theater, history, along with daily worship services, sports and pool time. An innovative and successful pilot of the first interregional camp took place in the FSU this year and was a huge success. The improved conditions and the increase in the length of the camp enabled us to request from parents a higher fee to cover camp costs. Parents along with campers and staff were very pleased with the change as these facilities are outstanding were highly enthusiastic about this initiative. This modern camp facility is located in the Carpathian Mountains and served as a home base for four interregional camps throughout the summer, with campers arriving from Belarus, Russia and Ukraine. In addition to the interregional camps, local camps were held in Moscow ("A Book of Jewish Stories" at the
unique Integration Camp
that integrates children with special needs); Minsk (for pre-teens, including also a mission from the Atlanta Federation that funds the camp); Moscow (for teens, "Israel is Real on the Moscow Metro"); regional camps and seminars in Chelyabinsk, Lipetsk, Lutsk, Poltava and Kerch; and the student camp for young adults.

A very special Shabbat with homemade Halla and inspiring worship services
The activities were unique and diverse, and some of the highlights included a travel through history and creation of a "Magic Book" which the campers used to create a family album of the Jewish People; using a "metro line" analogy to learn about Stops and Stations throughout Israel's history such as Aliyah, Religion in Israel, Environment, and Israeli Politics; visits to the Israel Innovation Institute in Minsk to learn more about Israel; and a special treasure hunt that took them "sailing" from the Carpathian Mountain's Port Netzer to the Land of Israel.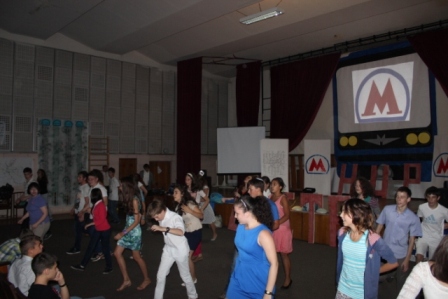 Giving new meaning to the "Moscow Metro"

"The Netzer madrichim (camp counselors) worked around the clock to provide programs and activities that were fun, stimulating and creative. I honestly don't know how they did it – their energies and enthusiasm were boundless and nothing was too challenging for them," said Rita Fruman, Netzer FSU Coordinator who spent time this summer at the interregional camp. She went on to say that "we are so grateful and appreciative that we were able to fulfill the dreams of so many young campers and madrichim, and enable them to experience the Netzer summer camps. We are thankful for the support and donations received from our many friends. Together, we made a difference in the lives of these youngsters."
A full report on the 2013 FSU summer camps is being prepared now and will be highlighted in one of our coming newsletters.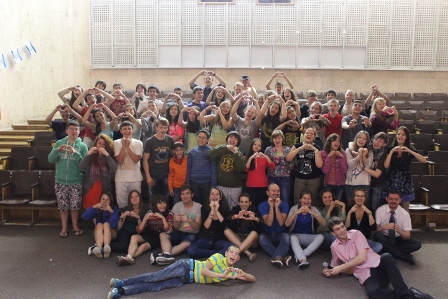 Making a difference in young Jewish lives

Back to In This Issue
Israeli congregation Darchei Noam (Ramat Hasharon) moves into new home in time for Rosh Hashana services
On Rosh Hashanah Eve,
Congregation Darchei Noam
of Ramat Hasharon finally received the much-awaited temporary occupancy permit for their beautiful new synagogue. Later that afternoon, dozens of members and supporters gathered at the building for a very emotional ceremony during which a mezuzah was affixed to the front entrance. Rabbi Eli Levin led the ceremony, and the honor of affixing the mezuzah was given to Itzik Moshe, a congregation member who served as the project manager and contractor on a volunteer basis for the past seven years, and whose dedication and energy were the driving force behind the long construction process, assisted by Ilana Dothan, the long-time President of Darchei Noam whose relentless hard work and determination have been invaluable in making the dream of a building come true. Also present were Darchei Noam's Rabbi Emeritus Yehoram Mazor and representatives of the Mayor's Office – most notably Shira Abin, Ramat Hasharon's Deputy Mayor, who was instrumental in pushing through the permit in time for Rosh Hashanah.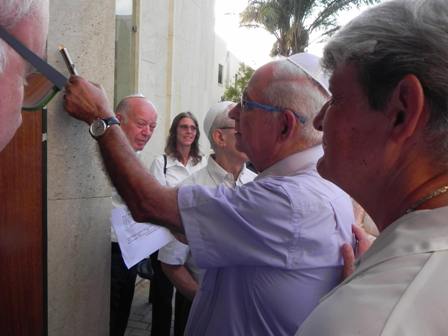 An emotional Itzik Moshe attaches the Mezuzah while president Ilana Dothan looks on

The congregation's long journey to a permanent home began more than 20 years ago, bringing about a groundbreaking ruling by the Israeli Supreme Court, that Reform congregations should be allocated land just like Orthodox synagogues that automatically receive land from the government. It still took many more years until an adequate plot was obtained, and even more until enough money was raised to start planning the building. Since all funds had to be raised by the congregation itself, the synagogue was constructed in phases as funds were raised. Seven years after the groundbreaking ceremony, and after an intensive final stretch aimed at opening for the High Holy Days, this was truly an exciting and moving moment.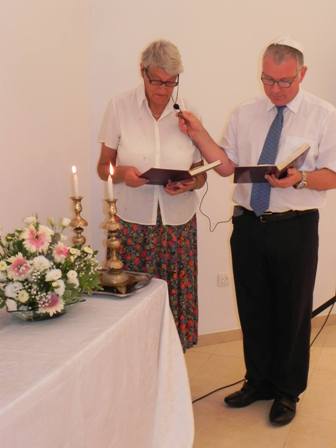 Congregation president Ilana Dothan and Rabbi Eli Levin welcome the Holiday together
Following the mezuzah ceremony, Rosh Hashanah services were led by an emotional Rabbi Levin to an almost full room, despite the fact that nobody even knew where the services would be held until that very morning! In anticipation of larger crowds for Yom Kippur, more plastic chairs have been ordered.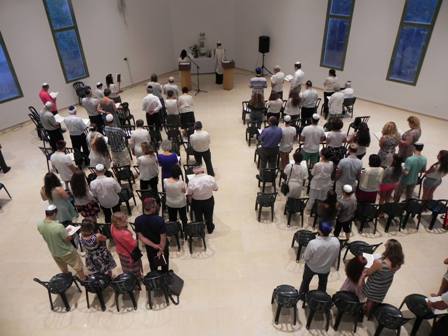 An almost "full house" for Rosh Hashana services
Hopefully, the permanent occupancy permit will be obtained very soon, and a special event celebrating the building's inauguration will take place in the next few months.
Based on the response at Rosh Hashanah as well as the large amount of Bar Mitzvahs already scheduled for this year, it is already evident that Darchei Noam's new synagogue will fill a void in the Ramat Hasharon-Herzliya area, and that many Israelis will consider this new building and its congregation to be their spiritual home.
Back to In This Issue
Israel movement reaches out to Latin American region
Israel Movement for Progressive Judaism
(IMPJ) executive director Rabbi Gilad Kariv met with leaders and youth during a recent visit to Latin America. The trip was organized by the
World Union for Progressive Judaism
, with the support of its affiliates in the region:
Congregação Israelita Paulista
(CIP) in São Paulo;
Associação Religiosa Israelita
(ARI) in Rio de Janeiro;
Sociedade Israelita Brasileira de Cultura e Beneficência
(Sibra) in Porto Alegre; and
Fundación Judaica
in Buenos Aires.

Left: Meeting with Fundación Judaica board; Right: (L-R) Prof. Joshua Holo, Rabbi Ruben Sternschein, Rabbi Gilad Kariv
Rabbi Kariv spoke about various topics related to everyday life in Israel, with special attention to Israeli government acknowledgement of Progressive Judaism. "Unfortunately, in a very strange manner, Israel is the only democracy in the world that inhibits the religious freedom of its own Jews. There is no other democracy in the world that interferes so dramatically in the religious choices of the Jewish citizens. If we are really concerned with the continuity of Judaism, with Judaism in Brazil and in other parts of the world, we cannot ignore what is happening in Israel with regards to the Jewish citizens. Jewish pluralism is a necessity today. It is the only way to maintain religion coexisting with the democratic values defended by the Zionist philosophers, even by the Orthodox Zionists", he stated.

Meeting with youth from ARI; Meeting with Fundación Judaica board
Rabbi Kariv met with leaders of the various Jewish communities, visited Jewish schools and met with students, educators and activists from various organizations, and participated in Shabbat worship services at ARI. At Rabbi Sergio Bergman's campaign headquarters, he followed the victory in the primary elections for an unprecedented seat in the Argentinean parliament. In Sao Paulo, he attended worship services at the CIP and Communidade Beth-El, met with young adults, and participated in a debate with Professor Joshua Holo, Dean of
Hebrew Union College
in Los Angeles (
See separate item
).
Back to In This Issue
HUC-JIR Los Angeles campus dean visits Sao Paulo


Professor Joshua Holo, Dean of Hebrew Union College (HUC) in Los Angeles, recently participated in a series of activities in Sao Paulo with Jewish Education as the main theme.
Professor Holo participated in a panel with Rabbi Gilad Kariv (
see item above
) entitled: "What is the Importance of Liberal Judaism to Israel, the Diaspora and the World?" He also took part in informal discussions with close to 30 young people from the CIP about various issues, emphasizing that history teaches us that present-day Liberal Judaism is the majority option, thus valid within communities that used to only consider Orthodoxy as the authentic religious practice. Holo also participated in meetings with leaders from the education sector, educators, young leaders and members of the community to talk about educational projects, his experience in the USA, and especially the role of a consistent Jewish education in the legitimization of Liberal Judaism, promoting the involvement of future generations with religion.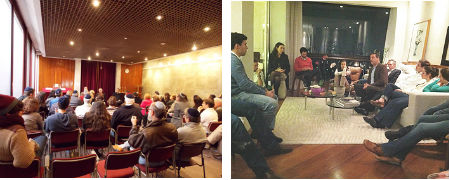 Round table with Rabbi Gilad Kariv; Shiur with young adults from CIP

Back to In This Issue
News in BriefChildren Create Shabbat – Special High Holiday activities at Beit Shmuel
This past weekend saw some 25 parents and children at
Mercaz Shimshon-Beit Shmuel
's "Children Create Shabbat" series which focused on the Jewish High Holiday season. These family creativity workshops are a unique program geared towards young families, offering both children and adults a plethora of creative activities full of Progressive Jewish content and ideas, and focus on a different theme for each meeting. It is one of the very few programs offered to families in Jerusalem on Shabbat, and has become a focal Shabbat activity for many families looking for a Jewish activity and connection that is both entertaining and informative for children and adults.
The activity started with a short discussion about the holidays and customs which was followed by an arts-and-crafts session where children created a welcome sign for the holidays, decorated a pomegranate (rimon) that can be used as a sukkah decoration, and honey dispensers. In line with the World Union's Tikkun Olam - environmental concerns, special care is taken to use mostly recyclable materials for the crafts.

Parents and children having fun at "Children Create Shabbat"

Netzer South Africa hold inspiring and successful Fundraiser event
Demonstrating once more that our youth is our future,
Netzer Cape Town
recently held Netzer Night – a successful auction and variety show as a camp fundraiser. The event was hosted by comedian Nik Rabinowitz and attracted a crowd of about 150 people. Some items on auction included meal vouchers, hotel stays, a Panama Hat and a jar of olives which they managed to sell for $150! Most of the items were donated by community members and organizations. The Netzerniks managed to raise approximately R20 000 that will be used to subsidize campers who cannot afford full tuition. They will also donate part of the proceeds to Mothers Unite, a Lavender Hill organization with which they have a strenthening Tikkun partnership.
This event proved to the community (both immediate and broader) that the group is active, committed and capable.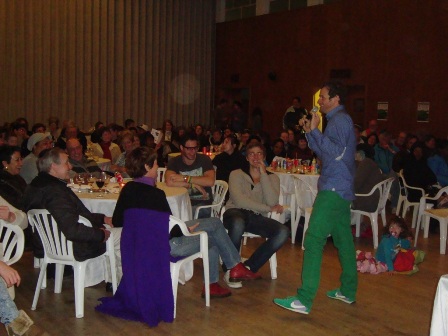 Comedy, Auction and Variety Show - oh my!

Bet Menorah, Pretoria, help spread warmth for the needy on Mandela Day
Bet Menorah
members, in conjunction with the Pretoria Rotary Club and the Catholic Church, brought parcels of goodwill and blankets to the community in Mamelodi East to celebrate this great day. Helped by Sister Sophie and Sister Maponya of the Community Health Project in the area, the congregation was able to make a meaningful contribution to this needy community, a community crippled by poverty and many by the devastation of AIDS. Starting at the local clinic, they delivered food parcels, bags of oranges and mounds of clothing. They continued to the Mahlasedi-Masana Primary School where, thanks to the Pretoria Rotary Club and the Catholic Church, some 150 blankets were distributed to young underprivileged children. School principal Joe Vuma, summed the situation up in his words, "We live in a cold place. The mountains cause the cold winds to sweep down on us and it is cold in the nights and for us in the mornings." He was addressing the young children in his care – most of who live in impoverished families, many disabled by AIDS, and almost all with inadequate protection against the elements. The young children, some as young as Grade 1, could only nod in agreement with him.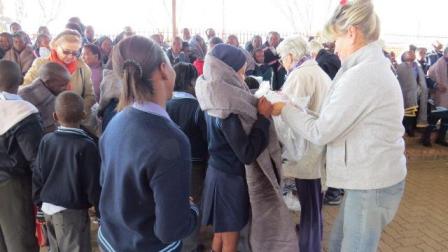 Bet Menorah members spreading the warmth on Mandela Day

Back to In This Issue
Congratulations
Mazal tov to Rabbi of Jewish Progressive Communities of Simferopol and Ukraine Mikhail (Misha) and Marina Kapustin on the birth of a son, Baruch.
Back to In This Issue
Upcoming eventsSeptember 27–29, 2013
–
Kiev Center Dedication
, Ukraine
December 11–15, 2013
–
URJ Biennial
, San Diego, California
January 2–9, 2014
– The
Roswell Seminar for Social Justice
, Jerusalem, Israel
January, 2014
–
Netzer Veida Olamit
, Israel
January 29–February 1, 2014
–
UJCL Biennial
, Costa Rica
February 13–23, 2014
–
The Beutel Seminar for Progressive Jewish Leadership
, Jerusalem, Israel
February, 2014
–
TaMaR Conference
, Israel
April 24–27, 2014
–
EUPJ Biennial
, Dresden, Germany
May 9–11, 2014
–
Liberal Judaism's Biennial weekend
, Reading, UK
May 23–24, 2014
–
IMPJ Conference
, Israel
June 6-8, 2014
–
SAUPJ Biennial
, South Africa
July 24–August 3, 2014
–
The Bergman Seminar for Jewish Educators
, Jerusalem, Israel
November 2014
–
UPJ Biennial
, Hong Kong
May 2015
–
Connections 2015
, WUPJ 37th Biennial Conference, Rio de Janeiro, Brazil
November 4–9, 2015
–
URJ 73rd Biennial Conference
, Orlando, Florida
Back to In This Issue