WUPJ News #470
Issue 470, 29 August 2013, 23 Elul 5773
In this issue:
Learning, singing, and reconnecting at World Union and Bejt Simcha Shabbaton in Olomouc, Czech Republic
This year's New Year's Resolution: Consider the Gift of Torah
An update on the European Beit Din (EBD)

News in Brief
* Reflections on NFTY's Kutz summer camp
* Synagogue draws visits from former Hameln Jewish citizens
* Music from the Heart and other High Holiday events at Beit Shmuel

Condolences

Upcoming events

-------------------------------------------------
Learning, singing, and reconnecting at World Union and Bejt Simcha Shabbaton in Olomouc, Czech Republic
By Steven Beck, Director of Israel – Diaspora Relations at the Israel Religious Action Center (IRAC) in Jerusalem. IRAC is the legal and advocacy arm of the Reform Movement in Israel

For the second consecutive year, I had the pleasure of attending the World Union for Progressive Judaism (WUPJ) and Bejt Simcha's annual Shabbaton for the Czech Jewish community, in Olomouc in the eastern part of Moravia, including a tour of Holesov with its medieval synagogue and Jewish cemetery. The wonderful weekend – held for the seventh consecutive year – included community-led services, lectures, discussions, and even a concert by a group that specialized in performing medieval Sephardic music in Ladino.

Most of the nearly fifty participants came from Prague, but there were also participants from other parts of the country. Many have been coming back for years, and describe it as one of the highlights of their year, a chance to reengage before the holidays. The weekend was part seminar, part spiritual retreat, and part planning session for the coming year.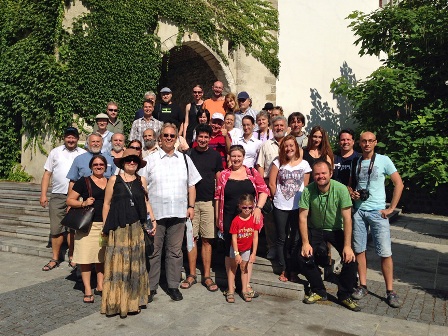 Shabbaton Participants

I was glad to see so many familiar faces from last year's Shabbaton in Brno. From the moment I arrived in Prague, I was greeted warmly and even asked some questions from last year that people did not have the nerve then to ask me in English. I was pleased to see how interested the group was in learning about our work in Jerusalem advocating for equality for non-Orthodox streams of Judaism.

These Shabbatonim are important for many reasons beyond the social aspect of allowing Czech Jews from around the country to meet up for a weekend in a new place. There are few opportunities for Czech Jews to really explore what it means to be progressive Jews, and this weekend gave them a chance to participate in services, hear lectures, and engage in deep debate with liberal Jews from Europe, Israel, and the United States.



Shabbat dinner and community-led services

If I had to pick one moment that stood out in my mind it was right before Havdala. Everyone was split into small groups to write and perform skits about the different streams of Judaism. The usually reserved participants really came out of their shells and they put on a great show. I found myself laughing out loud without even understanding the language.

The Czech Jewish community faces challenges, but they are committed to seeing progressive Jewish life flourish. I want to thank the World Union for sending me, and to Bejt Simcha for welcoming me once again into the community. It is a real accomplishment to maintain something like this for seven years, and with luck it will continue for many more to come.

Ed. Note: Funding support for the Shabbaton was made available through the efforts of the European Union for Progressive Judaism (EUPJ). The World Union wishes to thank Jim and Liz Breslauer for their continued support of Bejt Simcha and Progressive Judaism in the Czech Republic in general.



Back to In This Issue



This year's New Year's Resolution: Consider the Gift of Torah

The World Union for Progressive Judaism operates its Shomrei Torah program to ensure that our Jewish communities around the world will have access to the most basic of Jewish spiritual objects – a Torah scroll. We are reaching out to YOU, and ask that you consider donating one of your congregation's extra Torah scrolls to one of our communities in need of a Torah.

Since 1984 this project has succeeded in sending over 100 Torah scrolls to congregations around the world. The donation of a Torah is a significant and meaningful experience for both the donor and recipient congregations. It is not just the value that the Torah itself brings to the community, but also the connection that is built between people, bringing them together, and embodying the very essence of klal Israel. As Jerry Tanenbaum, World Union Honorary Executive Board member and a strong force behind this project said, "A Torah is the very essence of Judaism, without one a congregation is incomplete. The giving of a Torah scroll is a wonderful and very meaningful mitzva."

Who are the donors?
Any congregation who has an extra Torah Scroll. Your congregation can choose to send one or more members to the recipient congregation, or bring the rabbi or congregational leader from the recipient congregation to take the Torah back. In some cases, a World Union lay leader or staffer will bring the Torah to one of our events, and hand it over at that time, as at Connections 2009 when a scroll was given by Congregation Shir Hadash, Los Gatos, CA, to the IMPJ's Sha'ar Hanegev community and was handed over to IMPJ chair Yaron Sharvit and executive director Rabbi Gilad Kariv to take back to Israel.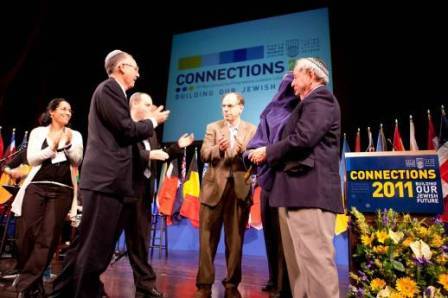 Long-time World Union leader Jerry Tanenbaum (right), with representatives from Congregation Shir Hadash of Los Gatos, California, hands over the Torah destined for an Israeli Progressive congregation to Israel movement chair Yaron Shavit (front, left) and executive director Rabbi Gilad Kariv (rear, partially hidden)

Who are the recipients?
The recipient congregations are WUPJ affiliated communities in good standing, mainly in the FSU, Eastern Europe, Israel, and Latin America. The congregations are stable and growing, and hold ongoing communal activities. We will send you information about the various congregations and you can choose from the list, or we can help you make the decision.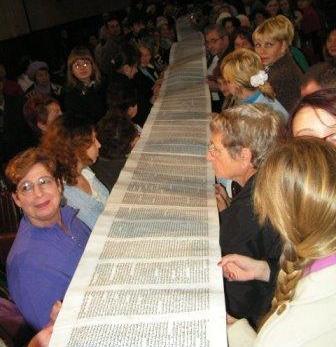 From Temple Isaiah, Los Angeles, to Grodno, Belarus. For many, this was the first time they set eyes on a Torah

What happens next?
In many cases, the Torah donation is just the beginning of a long term connection between the two communities, which continues with exchanging communications, visits, joint Bar/Bat Mitzva celebrations, and more. The World Union's Shomrei Torah program can create a life-long bond between congregations. But even more important, it offers fledgling Progressive, Reform, Liberal and Reconstructionist congregations in 45 countries on six continents the opportunity to receive the greatest Jewish gift of all – the gift of Torah.

How can YOU help?
Click here to learn more and to find out how your congregation can participate – as a donor or recipient. For further information, contact the World Union's Jerusalem office.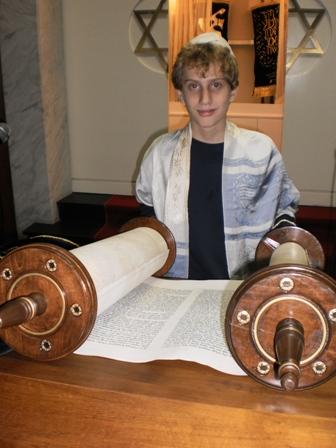 Bar Mitzvah in Moscow, using a Torah scroll donated through WUPJ's Shomrei Torah project



Back to In This Issue



An update on the European Beit Din (EBD)

The European Beit Din (EBD) was set up by the European Region of WUPJ (as the European Union for Progressive Judaism - EUPJ, was then known) in the early 1990s to deal with the increasing number of candidates for conversion arising out of the fall of Communism in the region. The administration was placed in the hands of the established Beit Din of the Reform Synagogues of Great Britain (now Movement for Reform Judaism - MRJ) with its Convenor, Rabbi Rodney Mariner, becoming the Convenor and administrator also of the European Beit Din. An Executive Committee was set up, chaired by Rabbi David Lilienthal, that set standards and dealt with extraordinary cases. The EBD also dealt occasionally with status questions as well as Gittin (religious divorce). Usually candidates travelled to London to appear before a Beit Din of three rabbis, but in some cases the three rabbis ventured abroad. Such a Beit Din had to be sited where facilities for Tevillah (ritual immersion) were available.

Initially the EBD served the Former Soviet Union, but this region now has its own Beit Din. Similarly the German Beit Din now deals with cases from Germany, while Holland, Switzerland and France have their own national Progressive Batei Din. Currently, the candidates for the EBD come from countries like Czech Republic, Austria, Poland, Italy and Spain, where the EUPJ has affiliated congregations, but not enough rabbis to make up their own Beit Din, and there are occasional candidates from countries with no Progressive congregation (yet!), like Greece, Serbia and Slovakia.

In 2012 Rabbi Jackie Tabick took over as Convenor of the MRJ and EBD Beit Din, assisted by secretary Pippa Suchet from an office in the Sternberg Centre, London. Rabbi Reuven Bar Ephraim (Zurich) and Rabbi Dr Andrew Goldstein (London) act as rabbinic advisors to the EBD. At the same time the requirements for conversion were updated (see attachments: Requirements for Conversion, Timeline for Candidates, and EBD status and operation). Each Beit Din must comprise three recognized rabbis and the sponsoring rabbi cannot sit for his/her cases.

Recent Batei Din have been sited in Barcelona (where 20 conversions were effected in 2 days in 2013; see WUPJnews #414 ), Bratislava, Krakow and Milan. Rabbis sitting on the Beit Din do so as volunteers with only their expenses covered. Although candidates pay Beit Din costs, the EUPJ is often asked to subsidize travel expenses of rabbis. For further information about the EBD, please contact Rabbi Andrew Goldstein or Rabbi Jackie Tabick.



Back to In This Issue



News in Brief

Reflections on NFTY's Kutz summer camp
By David Maxa, member of Bejt Simcha, Prague, with plans to continue his studies to become a Progressive rabbi.

I spent this summer at the Kutz Camp - NFTY's Campus for Reform Jewish Teens. Thanks to Rabbi Joel Oseran, the Vice President of WUPJ, who is engaged in the development of our community in Prague, and Melissa Frey, the director of the camp, I was entrusted to work there as a teacher of Torah Corps. Now, when I am back in Prague, I am just breathless how much it changed my life. There are no sufficient words for explaining how it was. Probably the most matching expression for all the amazing moments which I experienced is "kol dmammah daka" (Kings I 19,12), the voice of a thin silence. I do not mean that the camp was quiet, of course not. It was crazy, noisy, and enjoyable! I mean my feeling when I was saying goodbye to the really fantastic participants, when many of them were hugging me and crying. This was a moment when I felt it, the silent voice of friendship, togetherness, happiness, and joy. As my father was a survivor – I was born in his sixties; it was not so easy sometimes. It is still complicated to come to terms with the fate of our relatives. When I was a child, my father, an opera singer, sang the cry of "Hashivenu" (Restore Us) at some concerts from time to time. It came true at the camp for me and it can come true also in Prague, in Europe. This is my motivation to become a rabbi, to help to do it. All my life I will not forget about amazing services, warm relationships, beautiful nature, fantastic atmosphere, and joie de vivre! I am not be able to forget about one of the most fantastic programs at the camp – Mitzvah Corps, a program enabling kids with autism and Asperger's syndrome to participate. When one of these kids shook my hand and looked at me, I knew how much I appreciated it and how responsible would be my task. And I was amazed how much it was helpful for them. It changed me. I am a better man now. I am stronger for my task. Thanks to Kutz, I am convinced I can help to bring the idea of this carefreeness and friendship to places where they disappeared and just sadness remained. I would like to thank everybody who enabled me to experience that, to all staff and every participant at the camp! They are fantastic!



Synagogue draws visits from former Hameln Jewish citizens

The saying is, "Build it and they will come" and usually, in synagogue terms, it refers to congregants. Hameln's new synagogue, dedicated in 2011 has seen this adage proven to be true, but another very singular group has come to see what was built too. It may mean even more to them than to anyone else. Their names, Kratzenstein, Katzenstein, Binheim and Jonas are heard once again in the sanctuary of the Hameln Synagogue, a WUPJ affiliate member. This year alone, fourteen former Hameln Jews and their descendants have made the trip. Most recently, 9 members of the Katzenstein family from Tel Aviv joined the congregation as honored guests for Kabbalath Shabbat services. These poignant reunions allow the former Jews of Hamelin an opportunity to get to know the new Jews of Hameln.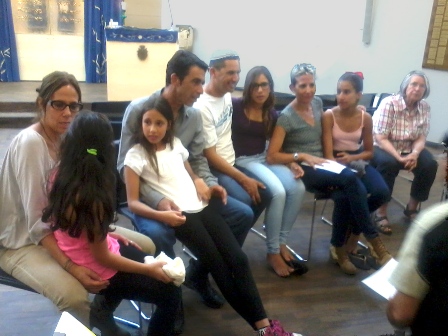 The journey to Germany is certainly not an easy one for family matriarchs and patriarchs. Facing such a painful past where the past and present meet is always an act of courage. Their resounding wish is to show their children and grandchildren where they were born. The congregation, established in 1997, offers a religious home to 200 Jews in Hameln, 90% of them from the FSU, welcomes these visits and "sees them as a bridge between those who came before us and those who are working to re-establish dynamic Reform Jewish life in this small northern German town, whose Jewish community and synagogue were completely decimated by the Shoah. It is a sign of healing and hope and we are grateful to Hameln's former Jewish citizens for returning and visiting us and feel honored that they seek out our synagogue as their Jewish space in Hameln", said congregational president Rachel Dohme.



Music from the Heart and other High Holiday events at Beit Shmuel

As the summer winds down, preparations for the High Holiday season begin in earnest. During the Hebrew month of Elul, known as the "month of forgiveness" Jews gather in synagogues around the world gather at night or before dawn for special ritual prayers called "slichot" (forgiveness). In other parts of the city, old and new prayer melodies mix with the blowing of the shofar and aroma of cooking and baking as families and communities prepare for the holidays.

The Beit Shmuel-Merkaz Shimshon educational walking tours department leads tours that follow the High Holiday preparation as part of the "Hatanach shel HaChagim"(the Tanach of the Holidays) series. The program includes slichot tours which follow the synagogue goers throughout the city.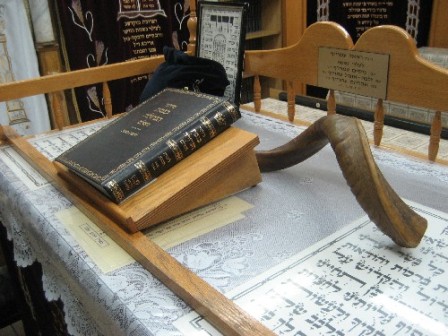 A synagogue in Jerusalem

One of the tours in this series is led by Israeli author Dan Benaya Seri, who leads groups through his childhood neighborhood, the Bukharian area, and in his distinctive style spices up the tour with tears and laughter as he recounts the stories of growing up in Jerusalem.

And for the first time, Beit Shmuel will be collaborating with the International Music Center in the Confederation House, and offering a Klezmer performance (musical tradition of the Ashkenazic Jews) and a special slichot tour in the Old City.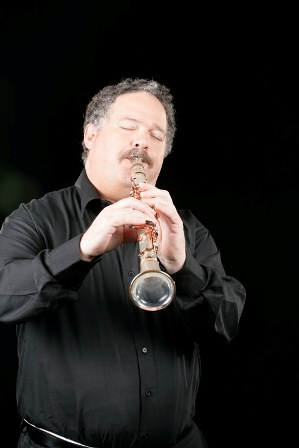 Mercaz Shimshon-Beit Shmuel is the home of Progressive Judaism in Israel. As part of its regular programming, the center offers lectures, courses, theater events and walking tours aimed at adults and families with children, in a broad range of topics related to Jewish calendar, Israel, current events and Zionism, reflecting history and tradition, with educational Reform content. For more information, please visit their web site. For information on custom-made tours in other languages, please click here to email the tour department.



Back to In This Issue



Condolences

The leadership and staff of the World Union offer their sincerest condolences to Rabbi Tom Cohen of Kehillat Gesher and Rabbi Pauline Bebe of Communaute Juive Liberale on the passing of Tom's mother, Davene Cohen (Vines). May her memory be for a blessing.

The leadership and staff of the World Union offer their sincerest condolences to former EUPJ Chairman and former President of Alyth Gardens synagogue Jeffery Rose and children Simon Rose and Sunday Ross, on the passing of Joyce Rose. May her memory be for a blessing.

The leadership and staff of the World Union offer their sincerest condolences to Rabbi Francois Garai, of Communauté Israélite Libérale de Genève (GIL), son Benjamin and daughter Sophie on the passing of Nicole. May her memory be for a blessing.



Back to In This Issue



Upcoming events

September 27–29, 2013 – Kiev Center Dedication, Ukraine

December 11–15, 2013 – URJ 72nd Biennial, San Diego, California

January 2–9, 2014 – The Roswell Seminar for Social Justice, Jerusalem, Israel

January, 2014 – Netzer Veida Olamit, Israel

January 29–February 1, 2014 – UJCL Biennial, Costa Rica

February 13–23, 2014 – The Beutel Seminar for Progressive Jewish Leadership, Jerusalem, Israel

February, 2014 – TaMaR Conference, Israel

April 24–27, 2014 – EUPJ Biennial, Dresden, Germany
May 9–11, 2014 – Liberal Judaism (UK) Biennial Weekend, Reading, UK
May 23–24, 2014 – IMPJ Conference, Israel

June 6-8, 2014 – SAUPJ Biennial, South Africa

July 24–August 3, 2014 – The Bergman Seminar for Jewish Educators, Jerusalem, Israel

November 2014 – UPJ Biennial, Hong Kong

May 2015 – Connections 2015, WUPJ 37th Biennial Conference, Rio de Janeiro, Brazil

November 4–9, 2015 – URJ 73rd Biennial Conference, Orlando, Florida



Back to In This Issue