WUPJNews Issue #469
Issue 469, 15 August 2013, 9 Elul 5773
In this issue:

Dynamism in South Africa - Beit Emanuel's new start with an innovative Israeli rabbi
Busy summer for Netzer-Shnat Yam participants
WUPJ-LA President winds up successful visit to Ruaj Ami in Chile
Temple Beth Israel (Australia) bids a fond farewell to senior Rabbi Fred Morgan

News in Brief

* A Sweet New Year? Help Keren Bechavod turn this dream into a reality!
* As the summer cools down, Mercaz Shimshon-Beit Shmuel finishes another successful semester
* Successful seminar held for Russian speaking young immigrants

Condolences

Congratulations

Upcoming events

* * * * *

Dynamism in South Africa - Beit Emanuel's new start with an innovative Israeli rabbi

Beit Emanuel, Johannesburg, is one of the largest Progressive communities in South Africa providing a much needed alternative to the increasingly intolerant mainstream orthodoxy in the country. They have recently embarked upon a series of major changes designed to expand and diversify their membership and re-establish themselves as a significant force in the Jewish community in their city. They hope that with the right formula, the right people, and the right kind of energy they will succeed in expanding their congregation; to this end, a young and ambitious rabbi with bold ideas will assume the rabbinic leadership from September.

Confident in their identity as Progressive Jews, members of Beit Emanuel promote pluralism, change and innovation, while retaining the strengths of tradition. The congregants range from the very young to the very old, more traditional to more experimental – everyone can find a home in the synagogue and its programs. Being based in Africa, the community is acutely aware of their uniqueness and offers a broad range of activities which encompass both the Jewish and the South African aspects of their identity. The adult education program includes speakers from the local and wider Jewish community who were involved in the anti-apartheid struggle. On Mandela Day, a program was launched to address the needs of those who have experienced xenophobia in Gauteng. A large group of congregants were taken on a tour of the prison in Johannesburg where Mandela was held for some time. The tour was led by a member who also spent time in detention and in the prison awaiting trial as a political prisoner.

An energetic new rabbi, Sa'ar Shaked, arrived in August to make a home in South Africa with his wife, Sharon, and four young sons. For a congregation which has traditionally hired British-trained rabbis, Rabbi Shaked marks a major change: coming from Israel he brings with him the very different, more direct, more assertive, traditions of the fast-growing Israeli Progressive movement. Rabbi Shaked has energy and passion, and a vision for the congregation and for Progressive Judaism in Gauteng which includes community involvement in the broader society, interfaith co-operation, Progressive Jewish education for children, a modern and creative approach to religious practice and much more. He brings with him the impressive work he has done in Israel as the director of the Sulha Project, bringing Israeli Jews and Palestinians together to listen to each other's life experiences and to develop empathy for one another. This was started twelve years ago and uses the power of music, prayer and listening circles as a form of healing for both communities.




Rabbi Shaked in action

Rabbi Shaked is coming to a community with strong Jewish values and an openness to what he has to offer. Beit Emanuel is tremendously excited by the possibilities for change which Rabbi Shaked brings to the community. Everyone is confident that, together with Rabbi Shaked, the congregation will create highly successful community programmes and a thriving synagogue.




Netzer kids having fun; Rejoicing in the Torah on Simchat Torah


Back to In This Issue



Busy summer for Netzer-Shnat Yam participants

After a very busy summer, (as reported in WUPJnews #467), participants in Netzer's southern shnat program ("Shnatties") had busy and successful summer: they embarked on a 10-day hike on Shvil Israel (The Israel Trail), they enjoyed an enlightening Arza-sponsored Jewish Identity Seminar at Kibbutz Hanaton, a Progressive-Egalitarian Kibbutz in the north, they volunteered at the Israel Movement's Chavaya summer camp, and some of them went back to their home communities to work in summer camps. Now, they are starting the third and final stage of the program at Kibbutz Lotan, where they will live in the typical mud domes, experience hands-on Tikkun Olam projects and ecology and sustainability issues, and little by little will become part of the kibbutz community.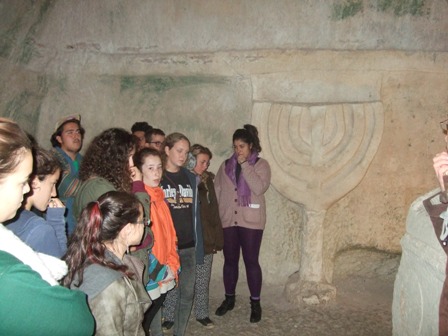 Israel, Judaism, and Zionism at the Jewish Identity Seminar

Netzer Olami (the World Union's international youth movement) operates the Shnat Netzer Program – a 9 month gap-year program in Israel – in two sessions for participants from the Northern and Southern hemispheres, based on their school year schedules. The graduates of the program then return to their countries equipped with leadership tools and ideas for projects that can be run in their home communities.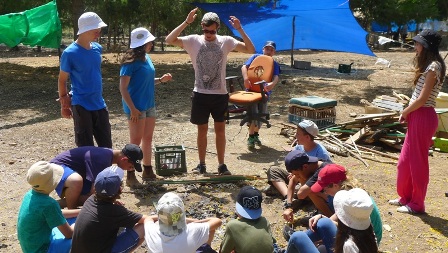 Overcoming language barriers at IMPJ's Camp Chavaya


Back to In This Issue



WUPJ-LA President winds up successful visit to Ruaj Ami in Chile

President of WUPJ-LA, MiriamVasserman, together with her mother, Erika Wolff, spent a few days in Chile recently. The purpose of the visit was to take the opportunity to see this vibrant congregation in action and discuss ways that Ruaj Ami could become more involved in the region.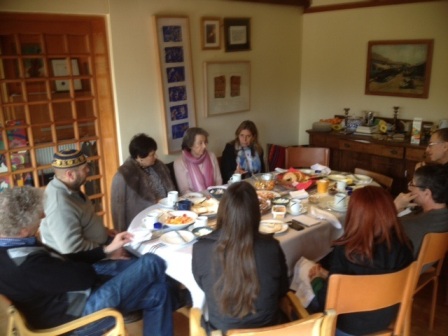 Miriam Vasserman enjoying brunch and discussions with Ruaj Ami leadership

As the community's rabbi, Rabino Jaim Koritzinsky said, "It really meant a lot to me that you not only accepted my invitation to come to Chile but you also took so much time, energy, and patience to really listen and understand what and who Ruaj Ami really is… [and] how devoted and personally committed you are to the success of Ruaj Ami. This devotion and care was very palpable on Sunday when you not only skillfully guided us through a challenging conversation but modeled for us an incredibly committed lay leader who cares deeply about process, about people, and about the values that reflect and guide progressive communities."



(l-r): Martin Hirsch, Miriam Vasserman, Rabbi Jaim Koritzinsky


An article showcasing Miriam Vasserman and her efforts on behalf of the WUPJ was recently featured in ANAJNU.CL, a Chilean Jewish Magazine. (Click here for a translation of the article to English).


Back to In This Issue



Temple Beth Israel (Australia) bids a fond farewell to senior Rabbi Fred Morgan

Temple Beth Israel (TBI), Kilda, Australia, a vibrant community that is held as a model for other Jewish organizations for its values of social justice and inclusivity, recently bid a fond farewell to Rabbi Fred Morgan. Rabbi Morgan played a key role in the expansion and development of Temple Beth Israel as a leading religious organization. Ordained as a rabbi in 1984, Rabbi Morgan served North West Surrey Synagogue in England for 13 years prior to his role at TBI. From August 2013 he will hold the position as TBI Emeritus Rabbi.

Rabbi Morgan remarked that "I am most proud of our accomplishments in the realms of community development, volunteer involvement and social action." He went on to say that he sees TBI "continuing to respond to its role as a premier religious organisation in Victoria and Australia, providing spiritual inspiration and direction within the Jewish community and helping to create a more caring and compassionate society."

In a letter to Rabbi Morgan, the World Union thanked Rabbi Morgan for his many years of service to the community, region and global Jewish family. "Your leadership, vision, wisdom, guts, passion and compassion have served as a beacon of light to us all. You have been a true trusted and valuable partner; your commitment to Israel, to Netzer Olami – our youth movement, and your deep understanding of what really matters have helped us all make a difference in this world. You are stepping down but absolutely not stepping aside."

Rabbi Gersh Lazarow, who will succeed Rabbi Morgan, worked together with him to ensure a smooth transition. Rabbi Lazarow will lead the High Holy Day services in September alongside Rabbi Kim Ettlinger and Cantor Michel Laloum.

(Please click here to read the full press release).



Rabbis Gersh Lazarow and Fred Morgan


Back to In This Issue



News in brief

A Sweet New Year? Help Keren Bechavod turn this dream into a reality!
At many High Holiday tables, the traditional apple slices and challa are dipped in honey to symbolize our wish for a sweet New Year. For those families and individuals facing difficult financial challenges, the wish for a sweet new year remains a dream, as they cannot afford the most basic of necessities for their daily lives, much less the added expenses of major holidays.

Keren Bechavod (Dignity Fund), the humanitarian aid program of the Israel Movement for Progressive Judaism (IMPJ), is reaching out to WUPJ congregations and individuals to turn this wish into a reality for people in need and support people of all faiths and cultures in Israel. Some of you experienced this work in action during the recent Connections 2013 biennial conference in Jerusalem, when delegates helped purchase and pack food packages for needy families as part of the Tikkun Olam-Community in Action activities.



Connections 2013 delegates collecting food for Keren Bechavod during Connections 2013

To learn more about Keren Bechavod projects please visit its web site and Facebook page. To donate to this project online, please click here.



Packages for disadvantaged families through Keren Bechavod

As the summer cools down, Mercaz Shimshon-Beit Shmuel concludes another successful semester
Mercaz Shimshon-Beit Shmuel's Department of Study Courses 2013 summer semester recently ran five courses for over 100 participants. Run as a pilot semester four years ago, the summer semester has grown and flourished and is now an integral part of our annual offerings. While still focusing on Jewish and Israeli learning with Reform input, summer classes tend to be a bit "lighter" – perfect for summer learning.

This year's courses were: "The Cross, the Fish, and the Oil Lamp – cross cultural encounters in Christianity"; "From Goya to Now – Art and Social Justice"; "Five Great Composers – classics of classical music"; "Armchair Tours of the Great Cities – architectural masterpieces around the world"; and "Forever Young – Medicinal Herbs".

The Department of Study Courses continues to deliver solid and attractive activities – not an easy task considering the economic environment and the competition from nearby institutions offering heavily subsidized activities. Participants come from all walks of life, ranging from young, post-army students, middle aged professionals, and young-at-heart retirees. Many are returning students with a core group of devoted students who have been with us from our very first semester.

Successful seminar held for Russian speaking young immigrants
A seminar led by Rabbi Gregory Kotlyar for 35 Netzer and Machon graduates living in Israel was held July 5-6 in Kfar Saba. The theme of the seminar was "Obligations and Rights of Citizens and Immigrants" and covered issues such as: obligations and rights in the work place; the structure of municipalities in Israel and benefits offered to new immigrants; and mass media in Israel in Hebrew and Russian.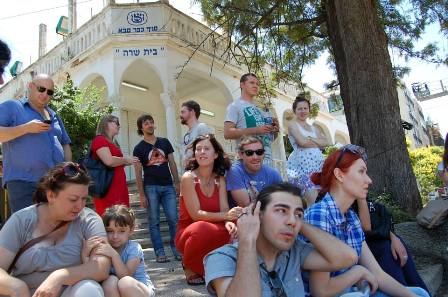 Highlights at the seminar included a Chuppa (marriage ceremony) for Tanya and Naum, a couple married for many years, but never had the opportunity to have a Jewish ceremony. Tanya Shubaev is a Machon graduate (2004) who made aliyah a few years ago along with her husband Naum. The second highlight was a tour of Kfar Saba to celebrate 110 years of the city's establishment. Participants learned about the history of the city, and development in the last century. This seminar is part of a series of activities for Russian speaking young olim and was sponsored in part by funds secured by the WUPJ through the World Zionist Organization (WZO).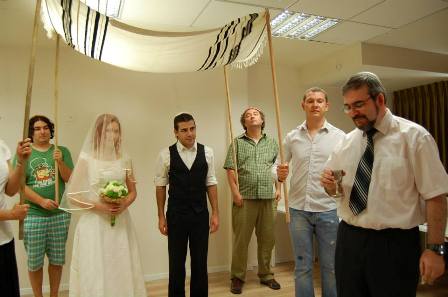 Mazal Tov!


Back to In This Issue



Condolences

The leadership and staff of the World Union offer their sincerest condolences to Executive Board member Stephane and Jennifer Beder, on the passing of Jennifer's father Dr. Henry H. "Hank" Schenker, in Wilmington, DE. Dr. Schenker was a pillar of the Jewish community in Wilmington, served as president of Congregation Beth Emeth from 1983 to 1987, was a member of the board for many years, and active in many Jewish and community causes. (Please click here to read the full obituary).
May his memory be for a blessing.

Congratulations

Mazal Tov to Rabbi Michael Kapustin of the Simferopol Religious Community (Crimea), his wife Marina and daughter Hanna on the birth of a son this week. The name will be announced following the Brit Mila.


Back to In This Issue

Upcoming events

September 27–29, 2013 – Kiev Center Dedication, Ukraine

December 11–15, 2013 – URJ 72nd Biennial, San Diego, California

January 2–9, 2014 – The Roswell Seminar for Social Justice, Jerusalem, Israel

January, 2014 – Netzer Veida Olamit, Israel

January 29–February 1, 2014 – UJCL Biennial, Costa Rica

February 13–23, 2014 – The Beutel Seminar for Progressive Jewish Leadership, Jerusalem, Israel

February, 2014 – TaMaR Conference, Israel

April 24–27, 2014 – EUPJ Biennial, Dresden, Germany

May 23–24, 2014 – IMPJ Conference, Israel

June 6-8, 2014 – SAUPJ Biennial, South Africa

July 24–August 3, 2014 – The Bergman Seminar for Jewish Educators, Jerusalem, Israel

November 2014 – UPJ Biennial, Hong Kong

May 2015 – Connections 2015, WUPJ 37th Biennial Conference, Rio de Janeiro, Brazil

November 4–9, 2015 – URJ 73rd Biennial Conference, Orlando, Florida




Back to In This Issue