WUPJ News 468
Issue 468, 1 August 2013, 25 Av 5773
Israeli Politics, Polish Challah, and Jewish traditions come together at successful TaMaR seminar in Poland
Netzer Olami holds seminar for new shlichim and Shlicha to Melbourne named "Outstanding Shlicha" by JAFI
Sun and Fun at Netzer Barcelona summer camp
Something for Everyone at UpJ-Germany's annual conference
News in brief
* Never a Dull Moment: An Israel Update with Paul Liptz
* SAUPJ Bet David congregation offers fun and laughter to orphans on Mandela Day
* Social Justice Pr
ogram for Students with T'ruah
* Leo Baeck College's Summer Institute Thinks Outside of the Box
* Hebrew Union College elects new president
Congratulations
Upcoming events
-------------------------------------------------
Israeli Politics, Polish Challah, and Jewish tradition come together at successful TaMaR seminar in Poland


TaMaR Olami
is a framework for Progressive young-adults (either graduates of
Netzer Olami
Youth Movement, or members of Progressive communities) which allows the participants to continue their journey as young adults in the Reform/Progressive world. This organization is called TaMaR – both an acronym for the Hebrew words
Tnuat Magshimim Reformit
(Movement of Reform Achievers), and also the Hebrew word
Tamar
(date) – which is a tree that grows in desert climate yet needs lots of nourishing and water, just like our youth and young adult movements.
Tamar Poland recently held a successful Shabbat seminar in Srodborowianka, a Jewish training center near Warsaw, for 25 young adults from Warsaw, Lubin, Gdansk and Krakow. This was a wonderful opportunity for these young leaders to meet each other, learn about other communities, and tell their own stories. The goal of the seminar was to allow each community to establish a framework for TaMaR activities within their community and to come together as a cohesive group within the country.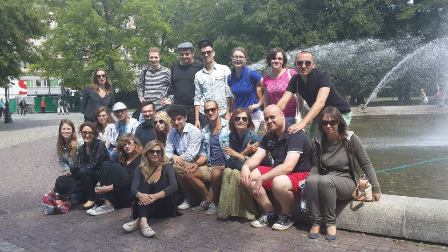 Participants on a tour of Warsaw


The seminar opened on Friday, and after a brief introduction session, participants moved on to an enlightening and fun Challah workshop – where they not only learned how to make this delicious Jewish food, but how to work together as a team.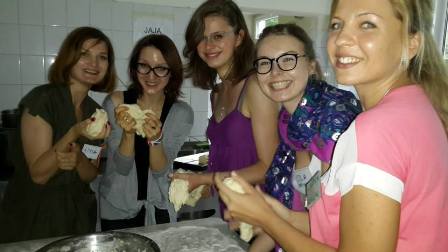 Master Chefs at work!


On Shabbat, the group toured the city of Warsaw, learning about the Jewish history and enjoying a traditional Jewish-Polish meal. They also learned about the State of Israel, Zionism, current events, and held a traditional TaMaR-style Havadallah service with an Israeli-style bonfire complete with baked potatoes and Israeli songs.
Shani Gann-Perkal, Netzer & TaMaR Education coordinator, and one of the organizers of the seminar, said "I feel that in the very short time that we had, we did manage to create a feeling of community, of a kehilla, and I am optimistic that we will be able to continue this trend in the coming year and continue to develop the TaMaR activities in the various regions."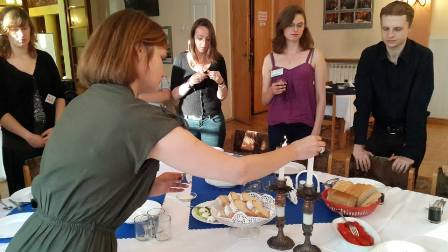 Welcoming Shabbat together




Back to In This Issue
Netzer Olami holds seminar for new shlichim and Shlicha to Melbourne named "Outstanding Shlicha" by JAFI



Netzer Olami, the
World Union
's international Zionist youth movement, has announced its roster of shlichim (emissaries) to our communities abroad. The shlichim, who undergo training by the Jewish Agency for Israel (JAFI), bring energy and initiatives to the communities, helping to forge connections between the local youth and the worldwide movement, and developing leadership skills among the next generation. In addition, they participated in a two-day seminar at Beit Shmuel, that focused on training, leadership, the Reform worship services, "what is the World Union", and much more.
The incoming shlichim are: Hadas Hacham to Shanghai, China; Yuval Ben Horin to Amsterdam, Netherlands; Netanel Ashtam to Johannesburg, South Africa; Nadav Shachamon to Melbourne, Australia; and Shoham Wilson to South African summer camps. Hadas Hacham will be the first ever Shlicha to China and this is a new, rapidly-developing region for World Union and Netzer activities. Yuval Ben Horin will be assisting the local community in reestablishing Netzer Holland, and this, too, is a very exciting process.
We were also proud to learn that Lior Argaman, our Shlicha to Melbourne Australia and a former Netzer Olami staffer, was chosen as JAFI's Outstanding Shlicha for this year. Lior was not only an outstanding Shlicha, but managed to do so through a pregnancy and giving birth to twins!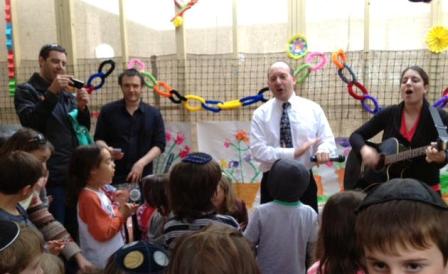 Lior Argaman (on right with guitar) being an "outstanding Shlicha" at Temple Beit Israel

Back to In This Issue
Sun and Fun at Netzer Barcelona summer camp


The World Union's International youth movement in Barcelona – Netzer Barcelona – recently held their highly successful two week long summer camp for 75 children, teens and madrichim. Netzer and TaMaR Spanish desk director Anabella Esperanza, who spent time at the camp and led workshops for the madrichim, reports that the theme was Jewish History and in addition to poolside fun, games, musicals and shows, dance competitions, many of the activities were related to different aspects of Judaism, Zionism, history and current events.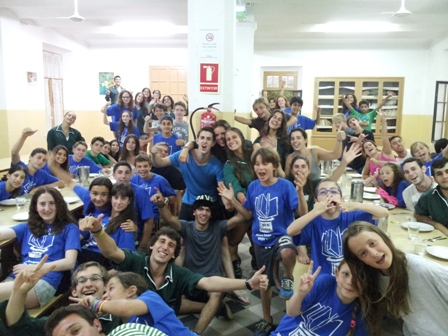 Having fun at Netzer Barcelona's summer camp


One of the activities focused on the Dreyfus Affair – through games and sporting events, campers learned about peer pressure, and discussed issues of loyalty and anti Semitism – significant topics as the campers face these issues in their daily lives.
It also helped them understand how easy it is to be persuaded by others and how innocent people are judged just because they are different. A special game of "Monopoly" taught about the geography and cities of Modern and Ancient Israel and focused on Zionism and the Jewish-Arab conflict. This was rounded out with field trips, sports, and nature and environment activities. And of course, being a Netzer camp, each morning started with Worship Services – for many of the campers this was a special and unique component.
One of the highlights of the camp was the "Knesset" – a forum in which representatives of each group discussed which activities they liked and which they felt could be changed – this was an exceptional concept and was carried out in a calm and respectful manner.
This camp provided a special experience for all; as one of the campers said "This is the best way to start the summer!"
Back to In This Issue
Something for Everyone at UpJ-Germany's annual conference


Over 250 people representing 20 congregations came together in Spandau July 19–22 for the annual conference of the
Union of Progressive Jews in Germany
(UpJ), making it the UpJ's largest annual gathering to date. The full program covered topics from Jewish music, to liturgy and calligraphy. Also on offer for the first time was a special children's program, enabling parents to fully join in the program while children attended their own sessions including Shabbat services. According to Miriam Kramer,
EUPJ
Chair, "there was truly something for everyone in the workshops covering many subjects in three languages held between the opening session on the Thursday evening to the annual general meeting on the Sunday morning."
Netzer madrichim held a parallel conference focusing on preparing for their forthcoming summer machaneh (camp) in the Ukraine while representatives of Jung and Judisch / TaMaR participated and coordinated their own upcoming summer program.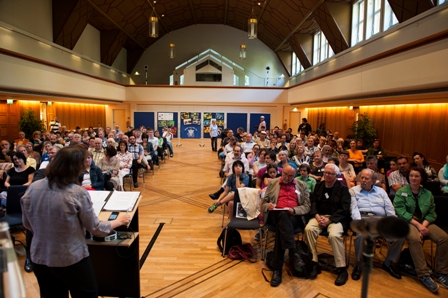 UpJ Chair Sonja Guentner addressing the participants
Guests from Israel, the US, UK, Russia, and Austria added an international flavor to the gathering. Miriam Kramer wished all of the participants a successful conference, deeply impressing participants with her fluent German and Russian. Shabbat was celebrated in a suitably festive fashion, with Rabbi Adrian Schell, assisted by Netzer leaders, ably leading the Kabbalat Shabbat service, and cantorial and rabbinic students from Abraham Geiger College leading an inspiring Shabbat morning services. The conference was accompanied by the upbeat songs and music of Cantor Boaz Davidoff of Israel. Also attending was Sofer and musician Neil Yurman (US).
Attending from Jerusalem, Dalya Levy, Executive Director of
ARZENU
– the international Reform Zionist Movement – brought greetings from the leadership of WUPJ and ARZENU. Dalya spoke about the importance of strengthening Progressive Zionism in Germany and about the unique opportunity for the UpJ Germany to become leaders in the renewed Zionist Federation. "The conference reflected the vitality of the Progressive Movement in Germany exemplified by the leadership of UpJ Chair Sonja Guentner and Executive Director Irith Michelsohn. The UpJ leadership has stepped up to the challenge and is committed to restarting and strengthening ARZENU Germany," said Levy.
Some 80% of the UpJ's communities consist of members who were born in the former Soviet Union and over the years the World Union has played an important role in sharing Russian language resource material and sending FSU based rabbis to teach at conference.
Back to In This Issue
News in brief

Never a Dull Moment: An Israel Update with Paul Liptz


Paul Liptz, Director of Education at the World Union's
Anita Saltz International Education Center
will be holding an online webinar on the following topics:
* Egypt is in turmoil as President Mohamed Morsi has been ousted by force. Israel is watching closely as events in Egypt significantly impact Gaza and the rest of the region.
* According to the United Nations, the death toll in Syria has exceeded 100,000 people – with some 1.5 million refugees who have fled attempting to escepe the bloodshed. The ramifications for Israel are unclear. Is the fragile government in Lebanon facing civil war? Is Jordan stable?
* Do the efforts to bring Israelis and Palestinians to peace negotiations have any chance for success? Is the chance for peace worth releasing hundreds of terrorists – many with blood on their hands?
* Is Israel ready to eliminate the Rabbinate? What can we expect from the newly elected Chief Rabbis of Israel? Why does Israel have Chief Rabbis?
* Has anything changed in Israeli politics with the 2013 coalition? What does the future hold?
Click on the picture below to watch an Israel Update with social historian, Paul Liptz, who helps us better understand what's going on in Israel and the Middle East.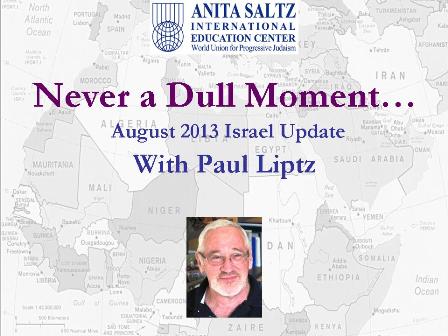 Paul Liptz is Director of Education at the Anita Saltz International Education Center of the World Union for Progressive Judaism. He was on the Tel Aviv University faculty for 35 years and also taught at the Hebrew Union College in Jerusalem. In the Israeli Reserves after serving in the First Lebanese War, he conducted workshops for army officers in a wide range of non-military realms.




SAUPJ Bet David congregation offers fun and laughter to orphans on Mandela Day


One hundred orphans sheltered by Look and Love and the Alexander Orphanage were welcome guests on
SAUPJ
's Bet David's campus in Johannesburg, South Africa on 14th July marking the community's fifth Mandela Day offering. Cooperative work of Bet David and Kehillah, Netzer, Jolly Dees Playshop and a cadre of volunteers brought activities and snacks, fun and games, projects and a jumping castle for the youngsters ranging from toddlers to pre-teens.
Mandela Day programming was introduced for the first democratically elected President of South Africa, Nelson Mandela's 90th birthday in 2009. Each year, the call goes out to all South Africans to honor the iconic leader's 67 years of service to the nation with 67 minutes (or more) of work to create a society founded in the principles of reconciliation, and the SAUPJ communities enthusiastically participate in this program.
Alexandra Orphanage is an NGO represented by a series of homes in Alexander where youngsters living without the benefit of parents find shelter and learn to adapt to the changing society of our times. Look and Love takes similar pains to care for homeless children. Remarkably the children come the annual event joyously, clean and clothed, with bright smiles, poems prepared to honour Tata Madiba and, most important, ready to do the work of children: play.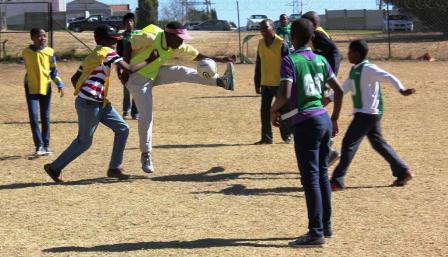 Children playing joyously

This year, in addition to free access to the playground in the Jolly Dees school, football coaching and drumming were added for older youngsters. Opening ceremonies included a prayer for healing for Madiba offered by Rabbi Robert Jacobs, and greetings from Bet David Chairman Desmond Sweke. The programme was supervised by Jenny Correia, and details organized by Sharon Margo in cooperation with Dee Lewis.
Many thanks to the organizers and participants, donors and supporters who made the day a celebration of the life and the values that continue to make President Nelson Mandela a leader in shaping the future of South Africa as a democratic, inclusive and open society.
Social Justice Program for Students with T'ruah


During the past year T'ruah – The Rabbinic Call for Human Rights (formerly Rabbis for Human Rights-N. America) contracted with World Union Anita Saltz Education Center to have Rabbi Steve Burnstein facilitate a series of programs for their Year in Israel Student Program.
North American rabbinical students, cantorial students, and others studying in Israel participated in this interdenominational program. The seminar was designed as an opportunity for talented students spending the academic year in Israel to learn about human rights in Israel and the West Bank and to take action on human rights issues.
Similar to the Saltz Center's
Roswell Social Justice Seminar
(to be held January 2-9, 2014), T'ruah's Year in Israel Student Program has a three-stage approach including text study, site visits, and action planning.
Rabbi Burnstein helped participants to unpack their field experiences. These intensive encounters addressed some of the most critical challenges facing Israeli society. Students explored what it means to be a "Rabbi for Human Rights" – exploring Jewish foundation for social justice. Some of the session topics included:
• Refugees, foreign workers and asylum seekers
• The politics of the olive harvest in the West Bank
• East Jerusalem Issues (such as the Separation Barrier and building rights)
• Bedouin Rights
• Hebron Hot Spots
• Economics & Social Justice
• Israel's Basic Laws and Declaration of Independence
Program participants included students from our own
Hebrew Union College-Jewish Institute
(HUC-JIR) as well as others from the Jewish Theological Seminary of America, the Reconstuctionist Rabbinical College, Hebrew College and more. The multi-denominational cooperation is an important and meaningful component of the program which not only emphasizes social justice as a shared value, but also lays a foundation for inter-denominational cooperation for the future.
Leo Baeck College's Summer Institute Thinks Outside of the Box


Rabbis and leaders from 21 Reform and Liberal communities in the UK gathered for the 6th annual
Leo Baeck College
Summer Institute for Jewish Leadership. The two-day seminar, facilitated by Rabbi Richard Jacobi, began in conversation with Bishop Stephen Cottrell, whose "Hit the Ground Kneeling" served as the basis for the rest of the seminar. The seminar focused on leadership, community challenges, and "Doing the Undoable".
"Thinking Outside the Box" at Leo Baeck College Summer Institute for Jewish Leadership


The Institute this year was generously hosted at Radlett and Bushey Reform Synagogue and included rabbinic students from Leo Baeck College and rabbis and lay leaders from across the Liberal and Reform movements in the UK.
Leo Baeck College is a unique training college for Rabbis and educators, reaching out to support the growth of today's Progressive Jewish communities across Europe and beyond and continuing to play a significant role in the training of Rabbis from the former Soviet Union and Eastern Europe.
Please click
here
for the full press release or contact
Rabbi Maurice Michaels
for further information.
Hebrew Union College elects new president


Rabbi Aaron D. Panken, Ph.D., has been elected President of Hebrew Union College-Jewish Institute (HUC-JIR) by its Board of Governors on July 31, 2013. Effective January 1, 2014, Rabbi Panken will be HUC-JIR's 12th President, succeeding Rabbi David Ellenson (2001-2013).
As HUC-JIR President, Dr. Panken will serve as the Chief Executive Officer of the four-campus (Cincinnati, Jerusalem, Los Angeles and New York) international university and seminary for Reform Judaism. Ordained by HUC-JIR in New York in 1991, Rabbi Panken has served as a member of the faculty and as Vice President for Strategic Initiatives, Dean of the New York campus, and Dean of Students. He has taught Rabbinic and Second Temple Literature at HUC-JIR in New York since 1995.
"I am greatly honored to be called to serve as the President of HUC-JIR and to strive for ongoing innovation and creativity in strengthening our institution as the intellectual center of Progressive Judaism worldwide," stated Dr. Panken. "Our mission is to help our students grow into authentic Jewish thought leaders, able to articulate and advance their own visions of a rich Jewish life for a new and rapidly changing religious landscape…"
An alumnus of the Wexner Graduate Fellowship, Dr. Panken earned his doctorate in Hebrew and Judaic Studies at New York University and is also a graduate of Johns Hopkins University's Electrical Engineering program.
Please click
here
for the full press release.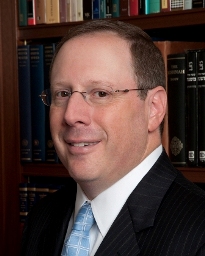 Rabbi Aaron D. Panken, Ph.D




Back to In This Issue
Congratulations


Mazal Tov
to WUPJ Chair Michael Grabiner, and his wife Jane, on the birth of a granddaughter, Georgia Lea Grabiner, daughter to David and Belinda Grabiner.


Back to In This Issue



Upcoming events

September 27–29, 2013 – Kiev Center Dedication, Ukraine

December 11–15, 2013 – URJ Biennial, San Diego, California

January 2–9, 2014 – The Roswell Seminar for Social Justice, Jerusalem, Israel

January, 2014 – Netzer Veida Olamit, Israel

January 29–February 1, 2014 – UJCL Biennial, Costa Rica

February 13–23, 2014 – The Beutel Seminar for Progressive Jewish Leadership, Jerusalem, Israel

February, 2014 – TaMaR Conference, Israel

April 24–27, 2014 – EUPJ Biennial, Dresden, Germany

May 23–24, 2014 – IMPJ Conference, Israel

June 6-8, 2014 – SAUPJ Biennial, South Africa

July 24–August 3, 2014 – The Bergman Seminar for Jewish Educators, Jerusalem, Israel

November 20-23, 2014 – UPJ Biennial, Hong Kong

May 2015 – Connections 2015, WUPJ 37th Biennial Conference, Rio de Janeiro, Brazil

November 4–9, 2015 – URJ 73rd Biennial Conference, Orlando, Florida



Back to In This Issue