WUPJ News #467
Issue 467, 18 July 2013, 11 Av 5773
In this issue:
WUPJ Statement on Proposed Ban in Poland of Kosher Slaughter (Shechitah)
Global Gathering of Reform Jewish Educators
Amazing Chavaya (experience) for Netzer participants at the IMPJ "Chavaya" summer camp
Charif "Spicy" winter camps down under
Exploring mind, body and soul at Netzer SA Winter Camp Chakirah

News in Brief
* Progressive leadership in Belarus participate in reception honoring Cardinal Jean-Louis Tauran
* Leo Baeck Rabbinic ordination
* The American Conference of Cantors (ACC) installs new president

Congratulations

WUPJ Employment corner

Upcoming events

-------------------------------------------------

WUPJ Statement on Proposed Ban in Poland of Kosher Slaughter (Shechitah)

The World Union for Progressive Judaism represents 1.8 million Jews in 45 countries around the world. The WUPJ is dismayed at the discriminatory move in Poland to ban Shechitah, that is the Kosher slaughter of animals.

For many Jews, eating kosher meat is an essential religious imperative that has been Jewish law for thousands of years. As with the Muslim custom of eating similar Halal meat, eating unkosher meat would and could never be countenanced.

As a liberal and reformist Jewish movement many Progressive Jews have developed their own views and practices of Shechitah being mindful that care of all animals during slaughter must cause minimal pain and stress. We recognise that Shechitah performed with skill and care as laid down in all our ancient texts can be swift and painless.

We therefore appeal to the Polish parliament to ensure that this ancient religious rite is maintained in a free and democratic Poland. Any form of religious discrimination is to be deplored and for some banning kosher slaughtering of animals strikes at the very heart of their Jewish observance.

Banning Shechitah places many Jews at great disadvantage and must be rejected.

Mike Grabiner, Chair WUPJ
Leslie Bergman, President EUPJ
Piotr Stasiak, President Beit Polska
Miriam Kramer, Chairman EUPJ
Philip Bliss, Chair WUPJ Advocacy Committee



Back to In This Issue



Global Gathering of Reform Jewish Educators

What a gift to be able to spend 10 days with a group of exceptional Jewish educators from South Africa, Brazil, the Czech Republic, Argentina, Israel, Australia, Panama, France and the United States. These amazing professionals traveled throughout Israel grappling with critical issues facing Israel and the Jewish People with the Bergman Seminar for Jewish Educators run by the Anita Saltz International Education Center. Developed by Saltz Educational Director Paul Liptz and Director Rabbi Steve Burnstein, this extraordinary seminar uses the sites of Israel to delve into issues vital to Jewish education, incorporating Jewish texts to include the voice of our tradition.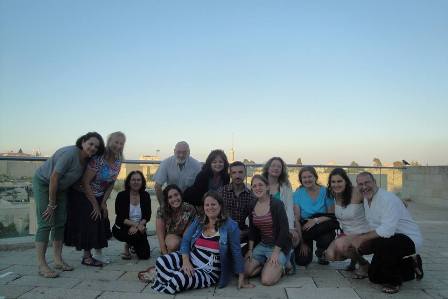 Overlooking the Old City from the Beit Shmuel balcony

The program included daily tfila with Rabbi Burnstein. During this time we explored the challenges of making ritual meaningful: trying to balance creativity and innovation on the one hand, with tradition and structure on the other hand. Participants also took an active role leading the tfila allowing participants to share teachings, traditions and melodies from their communities.

On our first morning we explored Jerusalem with master educator Steve Israel who discussed different approaches to Jerusalem, exile and Diaspora. Then we continued to the bustling market of Machane Yehuda where we experienced the frenzy of Shabbat approaching.

For our first Kabbalat Shabbat we joined Rabbi Ada Zavidov, Cantor Evan Cohen and their community at Kehilat Har El for a lively service followed by Shabbat dinner at Beit Shmuel. Our second Shabbat was with Beit Tfila Yisraeli. This innovate community holds spirited tfilot with lively music accompanied by a band at the Tel Aviv Port in July and August.




Exploring the Old City and Market

Exploring Israel's museums with social historian and Saltz Education Director, Paul Liptz, provided unique insight. Participants visited the Israel Museum, Tower of David, Beit Hatfutsot (Museum of the Jewish People), and Yad Vashem where we explored different methodologies and approaches to using museums in education.

"All participants were extremely enthusiastic about being in Israel and saw the program as having direct importance in their various school environments," said Paul Liptz. "Their teaching roles cover a wide range of ages from pre-school teachers to those involved in high schools and adult education. As they came from many different countries, they constantly compared their own pedagogic challenges and discussed how they could learn from each other."

With Guy Sharett (written up in the New York Times) the group explored the graffiti of the Florentine neighborhood of Tel Aviv, gaining insight into some of the current social issues in Israel while learning an unusual technique for reinforcing the teaching of history, culture and Hebrew language.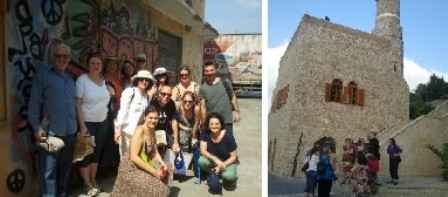 Tel Aviv Graffiti and Jaffa tours

Educator Shlomit Naor led a session looking at poetry of the 2nd and 3rd aliyas, focusing on gender roles. It was a model lesson on the use of poetry as an educational tool to engage students with Israel as well as other topics.

Sally Klein-Katz welcomed the Bergman group to her home for an interactive session on Israel engagement through the lens of ethical and ethnic dilemmas and introduced the group to the work of some of the leading thinkers in the field of Israel education today.

At the Kibbutz Ein Shemer Greenhouse participants encountered an innovative and inspiring ecological educational project which successfully engages the diverse population of Israeli society: secular, religious, Arab, Jewish, children, adults, and people with special needs.

World Union Vice President Rabbi Joel Oseran focused on our movement and discussed some of the challenges facing the regions of the WUPJ.




"hands-on" at Kibbutz Ein-Shemer and visiting the Museum

Other programs included meetings with Anna Kislanski of the Israel Movement for Progressive Judaism (IMPJ), a visit to the Jerusalem Open House (GLBTQ community center), Mishkenot Ruth Daniel's dual narrative tour of Jaffa with Jewish and Palestinian Israelis, and more.

Rabbi Burnstein remarked: "One of the most memorable aspects of the seminar is that it empowered the participants to deal with Jewish and Israeli topics in a much more serious manner… It enabled them to appreciate just how important their role is in enabling their communities to understand the significance and centrality of Israel in Jewish life. I'm inspired to know that these people are involved with securing the Jewish future."

Our participants commented that "it was a thoughtful and insightful program. It aimed to make meaningful connections and it did – with Israel Progressive Judaism and I now have colleagues around the world to keep connecting with". And "Our Seminar schedule was superbly crafted… encourages me to seek to create novel ways to bring these lessons to my students… rewarding to share this experience with my international colleagues... I will surely spread the message of the World Union of Progressive Judaism…I am still feeling the buzz and energy from my trip and know it was an experience I will always carry with me."

The Bergman Seminar for Progressive Jewish Educators is sponsored by the Bergman brothers, Stanley, a long time supporter of Progressive Jewish causes and president of the AJC (American Jewish Committee) and Leslie, President of the European Union for Progressive Judaism (EUPJ).

Please visit our Facebook page for more information and photos.



Back to In This Issue



Amazing Chavaya (experience) for Netzer participants at the IMPJ "Chavaya" summer camp

Participants in Netzer's southern shnat program ("Shnatties") joined IMPJ Noar Telem's "Chavaya" summer camp. Chavaya – a Hebrew acronym of the words "freedom" and "Judaism" – also means "experience", usually positive, and the Chavaya summer camp is certainly a fun and exciting experience.




Experiencing a chavaya

Netzer Olami (the World Union's international youth movement) runs the Shnat Netzer Program – a 9 month gap-year program in Israel – in two sessions for participants from the Northern and Southern hemispheres, based on their school year schedules. The current Southern shnat just started the second phase of their program. After a joint orientation seminar, then splitting up into two groups for leadership training (through Mechinat Etgar or the Jewish Agency's Machon Le-Madrichei Chul), they embarked on a 10 day hike on Shvil Israel (The Israel Trail). The hike helped connect the young participants to the Land of Israel, and more importantly – to bring the group together, to form a bond, a community. This was the first time since the orientation seminar that the southern group spent time together as a cohesive group. After the hike, they had an Arza-sponsored Jewish Identity Seminar at Kibbutz Hanaton, a Progressive-Egalitarian Kibbutz in the north where residents come from all walks of life: secular, Reform, Conservative and Orthodox, and live and pray together as one community.

The shnatties then joined the IMPJ Noar Telem's "Chavaya" summer camp where they took active roles as staff members – as madrichim or committee members. This is the first year that all Shnatties are joining the Chavaya camp. In past years, it was offered as one of several options and this year the Shnat program staff decided to send all participants to the camp. They were very well received by the other staff members and by the campers and quickly became an integral part of the staff. This helped them to socialize with Israelis – one of the goals for the Shnat program – and also gave them an opportunity to share ideas with their Israeli peers. In August they will move on to their third and last program phase – on Kibbutz Lotan, where they will live on the Kibbutz, work in the various fields, learn about ecology and live out part of the Netzer ideology.



Back to In This Issue



Charif "Spicy" winter camps down under

Yuval Nemirovsky, Netzer and community Shaliach in NSW, reports on the huge success of the Netzer Australia winter camps. The camps were held in Melbourne and Sydney, from July 2-7, and called "Machane Charif" ("spicy").

The Melbourne camp had over 60 campers from grade three to ten, and the year elevens acted as Leaders in Training ("Madatzim"). Gena Riess, head of the Melbourne camp said that "our bogrim (leaders) body was small but enthusiastic and each of us put an immense amount of effort into our programs and all camp activities to make it the amazing camp that it was." The programs were a mix of fun and education, with a fun theme running each night, and lots of "spicy" challenges. "Machane Charif was amazing not only due to the organised activities run by the bogrim, but the camp also helped kids of all ages bond together. The camp as a whole had an extremely welcoming and accepting vibe, and it was incredible to see all the chanichim forming true and real friendships."




Machane Charif, Australia

In Sydney, deputy camp director Shoshana Booth reports that over 94 participants – a record number – had "an absolute blast!" The weather was very cold, but campers were blessed with beautiful clear days and a stunning venue. She goes on to say that they were "impressed with the passion and quality of our madrichim, and the way that our chanichim responded to them. That feeling of mutual respect and energy was so evident on the last night of camp at the Talent Quest, where chanichim felt comfortable enough to perform, often solo, in front of their peers. Watching the way older kids supported younger ones - and vice versa - made me so proud to be a part of Netzer."






Back to In This Issue



Exploring mind, body and soul at Netzer SA Winter Camp Chakirah

Netzer camp participants spent nine amazing days exploring Netzer, themselves, and the beautiful coast of South Africa, at Machaneh Chakirah – Let's Go Exploring! Kathryn Henning, Netzer SA National Rosh Chinuch told us about the camp, which included "delicious pancakes before heading off to some group bonding activities and obstacle courses… delving into our personal ideology, and learning about the different focusses an ideology could have... a relaxing Shabbat, with a moving service using candle light. It was truly magical, singing and praying together, like we haven't done in such a long time."

One of the highlights of the camp was welcoming Reese Joseph, one of our Channichim (participants), into the Jewish tribe, and witnessing her Mikveh Ceremony on the beach, as part of her conversion process. "Camp Chakirah ended with a lovely Sikkum Peulah and a retrospective, backwards Ma'amad where we had time to reflect on what we had learnt about ourselves and the movement over the last few days."




Exploring Mind, Body and Soul at Netzer South Africa camps



Back to In This Issue



News in brief

Progressive leadership in Belarus participate in reception honoring Cardinal Jean-Louis Tauran

Rabbi Grisha Abramovich, Rabbi of the Religious Union for Progressive Judaism in the Republic of Belarus, and Michael Kemerov, executive director of the Religious Union for Progressive Judaism in the Republic of Belarus, were invited to represent the Belarusian Jewish Community at an official reception in honor of the arrival of Cardinal Jean-Louis Tauran, President of the Pontifical Council for interreligious dialog, in Minsk, Belarus. The event was attended by representatives of the Belarusian Government, diplomats, and representatives of various religious organizations and confessions.

Addressing the audience, Cardinal Tauran said: "My first visit to Belarus started with the welcome meeting with the President of the Republic of Belarus, followed by the conversation with Filaret (Metropolitan of Minsk and Slutsk, Exarch of All Belarus). And I feel happy that this day concludes with this meeting with the representatives of the diplomatic corps, and with the representatives of state and religious authorities… Religions are an essential part of those powers, which must be considered while improving the life of nations, because religions, which are basically international, overcome borders, raise solidarity and stimulate the relations between cultures and societies".

During the reception, Rabbi Abramovich presented to Cardinal Tauran the Russian language Plaut Torah Commentary which was recently published by WUPJ.




(L) Participants at reception; (R) Rabbi Abramovich together with Michael Kemerov present the Torah Commentary to Cardinal Jean-Louis Tauran; on far left is Archbishop Metropolitan Tadeusz Kondrusiewicz of Minsk and Mogilev, who participated in Jerusalem Day this May at the Minsk Center for Progressive Judaism "Beit-Simha" (Pictures were taken from the website catholic.by)



Leo Baeck Rabbinic ordination

Leo Baeck College, a unique institution training rabbis and educators in London, recently ordained three new rabbis at Northwood & Pinner Liberal Synagogue to a packed audience. The new rabbis are Esther Hugenholtz, born in the Netherlands and now taking up a post as Assistant Rabbi at the Sinai Synagogue in Leeds, Leah Jordan, born in the United States and taking up a post as Student and Young Adult Chaplain at Liberal Judaism, and Benji Stanley who is joining the rabbinic team at the West London Synagogue. The ordination service was conducted by Rabbi Dr Deborah Kahn-Harris, College Principal, Rabbi Dr Charles Middleburgh, Director of Jewish Studies and Dr Jeremy Schonfield, John Rayner Lecturer in Liturgy. The address to the ordinands was given by Dr Laliv Clenman, Lecturer in Rabbinic Literature. The music content was led by Cantor Zöe Jacobs.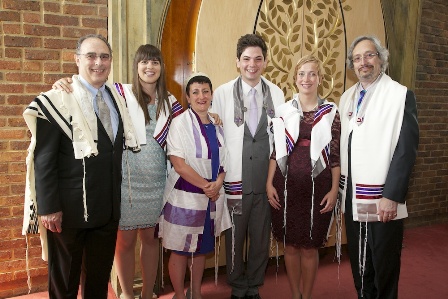 (L-R) Rabbi Mark H Levin, Rabbi Leah Jordan, Rabbi Laura Janner-Klausner, Rabbi Benji Stanley, Rabbi Esther Hugenholtz, Rabbi Dr Charles Middleburgh

The ordination also included the presentation by Jo-Ann Myers, Director of Jewish Education, of MAs in Jewish Education to Gwynneth Lewis and Irina Belskaia. An essay prize in memory of Professor Ludwik Finkelstein was presented to Gwynneth Lewis by Daniel Finkelstein, Executive Editor of The Times and the Rabbi John Rayner Student Prize was presented by Jane Rayner to Rabbis Lea Mühlstein and Peter Radvanzski (in absentia).

Please click here to read the full press release.



The American Conference of Cantors (ACC) installs new president

The World Union for Progressive Judaism extends congratulations to Cantor Mark C. Goldman of Temple Kol Ami Emanu-El, Plantation, Florida, upon his installation as the American Conference of Cantors (ACC)'s new President. We look forward to continuing to strengthen the bonds between the organizations and bring the ACC closer to our international work.

The ACC is a non-profit organization dedicated to the professional growth and development of cantors in the Reform Movement. At his installation ceremony, Goldman said, "...My goal is for the American Conference of Cantors to double our sphere of influence by the second half of this decade so that we can positively impact the lives of those who choose to be part of our progressive community… The 21st century cantor…clergy, musician, teacher, program coordinator, artist, counselor, communal figurehead, ambassador, and the list goes on and on, multi faceted and talented, involved in every aspect of modern communal life. Indeed, the center of our Jewish community."

A native of London, England, Goldman comes from a long line of cantors. He received his BA in Judaic Studies with Cantorial studies (London School of Jewish Studies) and an MA in Music, Performance and Literature (Eastman School of Music, Rochester, NY). Prior to his work in Florida, Goldman served Temple Beth El of Rochester, NY. Goldman has served as the ACC representative to the URJ's Southeast region since 2001; established F.O.C.A.S. (Florida Association of Cantors & Soloists) in 2002; served as a member of the ACC's Placement Advisory Group since 2005 and launched its Mentorship program in 2006; a member of the ACC Executive Board since 2006 and a vice president of the Conference overseeing various portfolios.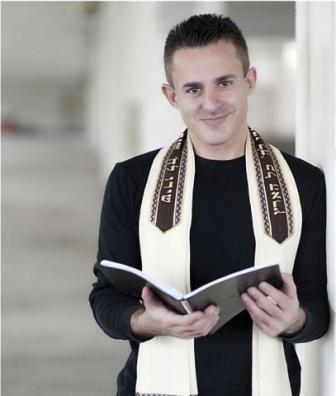 Cantor Mark C. Goldman, new president of the ACC



Back to In This Issue



Congratulations

Mazal tov to Lynn Magid Lazar, President of the Women for Reform Judaism, and her husband Dale, on the birth of a granddaughter, Alison Raquel.



Back to In This Issue



WUPJ's Employment Corner

The following position is available in WUPJ congregations around the world:

Educators/Community work
Young Shaliach/Shlicha to Capetown, South Africa, for one year with option for another year. Training begins immediately, shlichut will start in November. Please contact Maoz Haviv, executive director of Netzer for further details.

Questions regarding employment opportunities with WUPJ congregations or sabbatical opportunities serving WUPJ congregations can be addressed to Rabbi Joel Oseran, Vice President, International Development.



Back to In This Issue



Upcoming events

September 27–29, 2013 – Kiev Center Dedication, Ukraine

December 11–15, 2013 – URJ Biennial, San Diego, California

January 2–9, 2014 – The Roswell Seminar for Social Justice, Jerusalem, Israel

January, 2014 – Netzer Veida Olamit, Israel

January 29–February 1, 2014 – UJCL Biennial, Costa Rica

February 13–23, 2014 – The Beutel Seminar for Progressive Jewish Leadership, Jerusalem, Israel

February, 2014 – TaMaR Conference, Israel

April 24–27, 2014 – EUPJ Biennial, Dresden, Germany

May 23–24, 2014 – IMPJ Conference, Israel

June 6-8, 2014 – SAUPJ Biennial, South Africa

July 24–August 3, 2014 – The Bergman Seminar for Jewish Educators, Jerusalem, Israel

November 20-23, 2014 – UPJ Biennial, Hong Kong

May 2015 – Connections 2015, WUPJ 37th Biennial Conference, Rio de Janeiro, Brazil

November 4–9, 2015 – URJ 73rd Biennial Conference, Orlando, Florida



Back to In This Issue