WUPJ News #466
Issue 466, 4 July 2013, 26 Tammuz 5773
In this issue:
Between Sorrow and Hope for the Future – Beth Shalom Munich
Fundacion Judaica's Arlene Fern school receives the 2013 Ruderman Family Foundation prize
Second Jewish Francophone gathering in Toulouse, 7- 9 June

News in Brief
* Escape the Sizzling Sun with these special deals at Beit Shmuel
* First rabbi set to serve in the Argentine National Legislature
* Making Connections around the Progressive World
* Pre-state Israel vintage posters

Upcoming events

-------------------------------------------------

Between Sorrow and Hope for the Future – Beth Shalom Munich

The Liberal Jewish Community Beth Shalom commemorated the destruction of the Munich Main Synagogue 75 years ago with a memorial service in Munich's 'Künstlerhaus'.

Professor Michael Brenner was reluctant to utter the name of the man who was the source of the destruction in a religious service. The 'Führer', to name him, on a visit to Munich's 'Künstlerhaus' on June 7, 1938 demonized the view of the Main Synagogue. Hitler demanded the disappearance of the 'eyesore' and already set the authorities in motion the next day. A construction company, Moll, employed a digger and wrecking ball to begin the destruction on June 9, 1938 and in a few weeks the Jewish house of prayer was completely destroyed. A few months later, in November of 1938, synagogues burnt across Germany in the Kristallnacht.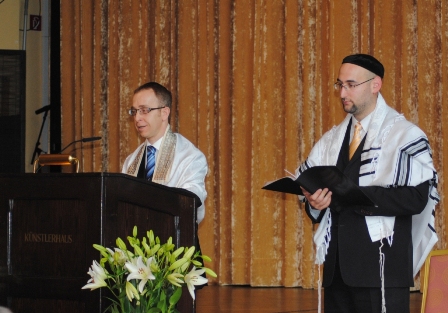 Rabbi Tom Kucera and cantorial Student Amnon Selig Kuenstlerhaus

History Professor Michael Brenner commemorated the chronology of the events 75 years ago in his speech during the memorial service which the Liberal Jewish community of Munich, Beth Shalom, hosted on Sunday in Munich's 'Künstlerhaus'. The words of Ruth Meros, who witnessed the tragic events as a 16 year old, brought the event to life.

Among more than 120 participants were representatives from political life, the Jewish community and the Catholic and Lutheran churches. Amongst them was William Koster, Vice President of the European Union for Progressive Judaism from the Netherlands. Sonja Guentner, President of the Union of Progressive Jews in Germany (UPJ), Vice President of the European Union for Progressive Judaism (EUPJ) and newly-elected member of the executive board of the World Union for Progressive Judaism (WUPJ), who brought greetings from the world-wide Progressive Jewish movement to which Beth Shalom belongs.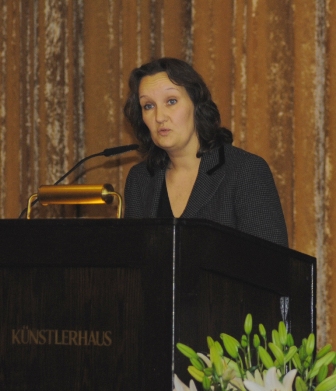 Sonja Guentner

Community President Jan Mühlstein stressed the two poles within which the commemoration vacillates: on one hand there is the memory of the destruction of the synagogue. On the other there is also the memory of the hope which existed when the synagogue was inaugurated in 1887, at a time when the spirit of social equality existed, embodied specifically by Liberal Judaism. This hope that was to be shattered in 1938. Today there is new reason for hope in the future."The city of Munich, is once again the home of a religiously and culturally pluralistic Jewish community, where since its inception, the community Beth Shalom has contributed to peaceful co-existence without any anti-Semitism, racism or hatred of foreigners or minorities."

Between sorrow and hope for the future was also the motto for the Mincha Service led by Rabbi Tom Kucera, accompanied by Student Cantor Amnon Selig with piano accompaniment by Professor Ralph Selig (New York/Berlin). The musical arrangement included interperative melodies of the Munich Cantor Emanuel Kirschner, who fled Munich in 1938. Beginning with the prayer "Enosch" ('A person is like a blade of grass') from Yizkor, and concluding with the poem "Lu Yehi" by Naomi Shemer ('Yes, it will be………./ All that we wish: Let it Be') the singing was performed by one of the student cantors.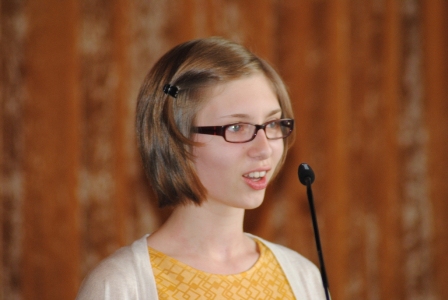 Student cantor preforming at event (all photos above by Franziska Werners)

Beth Shalom thanks the Central Council of Jews in Germany, the city of Munich, the European Union for Progressive Judaism, the General Conference of Rabbis in Germany, the Abraham Geiger College, the Catholic and Lutheran Church in Munich as well as many inter-religious organizations which through their financial support made this event possible.



Back to In This Issue



Fundacion Judaica's Arlene Fern school receives the 2013 Ruderman Family Foundation prize

The winners of the 2013 Ruderman Family Foundation Prize in Disability were announced recently, and one of the schools chosen was Fundacion Judaica's Arlene Fern School in Buenos Aires, Argentina, which integrates special needs children into mainstream classrooms. The school offers an education based on human values with strong emphasis on a nurturing community environment and respect for the individual and is unique in its incredible inclusivity concept, meeting even extreme educational challenges for special needs children. One of the pillars of their program is providing an inclusive education in which differences between people are understood as an opportunity for enrichment for all.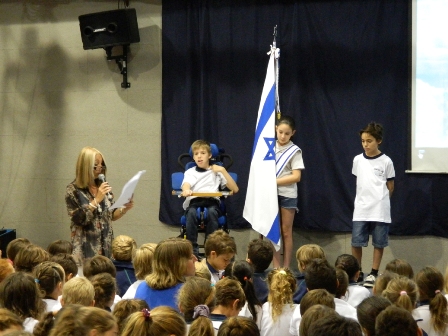 In Argentina, children with disabilities are sent to "escuelas especiales" (special needs schools). The Arlene Fern school has been a pioneer in projecting an inclusive model in which children with disabilities are integrated into mainstream classrooms at kindergarten and elementary levels creating a paradigm shift. The school was founded by Fundacion Judaica in 1995, partially as a community response to the AMIA bombing in 1994, and was named to preserve the memory of Arlene Fern, daughter of the principal donor, James Shasha. Rabbi Sergio Bergman, founder of Fundacion Judaica, was instrumental in the initiation of this community project. (See also separate article on Rabbi Bergman). Starting with 90 students, the school grew rapidly reaching their current enrollment of about 600 students, ranging from preschool until 7th grade, with about 30 special needs students. The WUPJ, mainly through the Yad B'Yad Task Force, has been privileged over the years to support this school and offer significant scholarships to those in need, never turning away students because of financial difficulties. It is also worth mentioning that the WUPJ has been involved in inclusivity issues around the world, and played a key role in the development and detailing of a position paper (in 2005) on the rights and dignity of people with disabilities for the UN.




Finding time to study and have fun

The Ruderman Family Foundation Prize is awarded annually to organizations around the world which have developed innovative programs to include people with disabilities.

Click here to watch a short movie about the school.



Back to In This Issue



Second Jewish Francophone gathering in Toulouse, 7- 9 June
By Celia Naval, UJLL, Lyon, France

The centre of French-speaking European Liberal Judaism moved to the sunny climes of Toulouse in southwest France on the weekend of 7th-9th June for the second edition of the Rencontres Européens du Judaïsme Libéral Francophone. Miriam Kramer, EUPJ Chairman, WUPJ board member and former Chairman of the Board of Governors of Leo Baeck College in London; Stéphane Beder with his multiple hats – President of the Federation of French-speaking Liberal Jewish communities, Vice Chairman of the EUPJ and recently appointed executive board member of the WUPJ; and Rabbi Edward van Voolen, Director of Rabbinic Studies at the Abraham Geiger College in Berlin, graced the conference with their presence.

The skies provided a wide range of possibilities to satisfy the various needs of nature and participants were invited to share and participate in a very rich palate of activities, services, talks and discussions, both formal and less so, with a very dynamic Saturday evening gala and the opportunity to share with some representatives of the local institutions.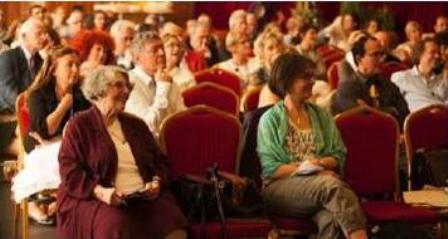 Gathering in Toulouse

Representatives from Beth Hillel, Brussels, CILG-GIL, Geneva, several communities in France (CJL Grenoble, Keren Or, Lyon, CJL Ile de France, ULIF Copernic, Kehilat Gesher and MJLF for Paris, Kehillat Kedem Montpellier, UJL Strasbourg), and members of the local community in Toulouse, AJLT-CJLT, had the opportunity to listen to historian and journalist Alexander Adler on the theme of Judaism's responses to contemporary social and family issues, and to Professor of Philosophy Maurice Ruben Hayoun on his vision of the future of Jews in Europe. Highly inspiring services were held by several rabbis, including Pauline Bebe, Haïm Cipriani, Tom Cohen, François Garaï, Marc Neiger, and Edward van Voolen, assisted by student rabbi Jonas Jacquelin and student chazzanit Sofia Falkovitch, in very fluid harmony, and the rabbis also partook in several discussions, enlightening the public with their interpretations, explanations and analyses.

We all came away with plenty to think about, plans for our on-going projects and new ones. Our heartfelt thanks go to the local organisers, President Patrick Laskar and his wife Sandrine, Vice-President Boaz Gasto and the entire team at AJLT-CJLT, the Toulouse Liberal Jewish Community, for all the preparation and also for those highly interesting Saturday afternoon walking tours of the general Toulouse landmarks and 'Jewish' Toulouse.



Back to In This Issue



News in Brief

Escape the Sizzling Sun with these special deals at Beit Shmuel

During the months of July and August, the Beit Shmuel hotel and guest house – at the global headquarters of the World Union for Progressive Judaism – is happy to offer special deals for guests. Stay at least two nights and each guest will receive free entry to one of the following local attractions:
• The Tisch Family Jerusalem Biblical Zoo
• The Bloomfield Science Museum
• The Time Elevator - a fascinating interactive experience
• Tower of David Museum and Light Show
• Jerusalem Botanical Gardens

Additionally, in a combined deal by the Hotel and Walking Tours department, get a special 10% discount on the room price and tour price when joining one of our family tours (no minimum nights required).

And take advantage of Beit Shmuel's BOGO – stay one night and get the second (consecutive) night at a 50% discount.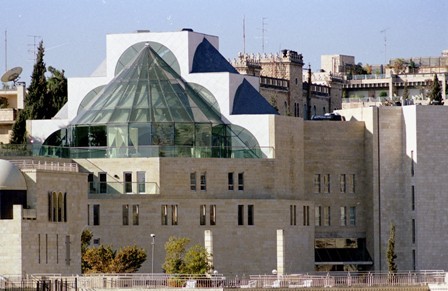 Beit Shmuel, overlooking the Old City

For more information please contact our reservations desk or call 972-2-620-3555. We hope to see you here this summer!





First rabbi set to serve in the Argentine National Legislature

Rabbi Sergio Bergman, founder of Fundacion Judaica, Argentina, will head the center-right PRO party's list for the coming parliamentary elections. Bergman – who holds both Conservative and Reform rabbinic ordination – is the first rabbi to lead a national ticket in Argentina. It is believed that even if the PRO party does not win the elections, Bergman will be the first rabbi to serve in the Argentine National Legislature.

Bergman is an enthusiastic social activist and political leader, strongly committed to Tikkun Olam for all people, who established Fundacion Judaica (which runs the Arlene Fern school; see separate article) in the late 1990s. In times of economic difficulties in his country, Bergman used the infrastructure of Fundacion Judaica to provide food, clothing, health services and employment possibilities to all people – Jews and non Jews.

Bergman was recently honored by the WUPJ at its 36th international biennial convention – Connections 2013-Being the Difference in Jerusalem – with the WUPJ Micah Award for his commitment to Tikkun Olam for all and for his exceptional leadership qualities.

Click here to read a recent interview that the Haaretz newspaper held with Rabbi Bergman.



Rabbi Sergio Bergman receives the WUPJ Micah Award from Rabbi Joel Oseran, Miriam Vasserman and Stephen Breslauer



Making Connections around the Progressive World

The Spring 2013 issue of the Union for Reform Judaism's RJ Magazine – featured "RJ's Insider Guide to World Jewish Travel", focusing on WUPJ communities around the world. Since its publication, this guide – together with staffers in our Jerusalem and NY offices – have helped dozens of Reform Jews connect with and visit communities around the world. Following is a summary of one such connection, written by Eileen Winter:

I am sorry it took me over 2 weeks to write to tell you of my wonderful experiences when I visited Eastern Europe last month. It has been a very busy time for me since I came home (May 28th), but I did want to let you know about our experiences and thank you for helping me make such meaningful connections.

We spent our first Shabbat at Bejt Warszawa in Warsaw. The community was very welcoming, and we enjoyed a typical Polish dinner after Services with a nice group of people who gave us an interesting history of the community.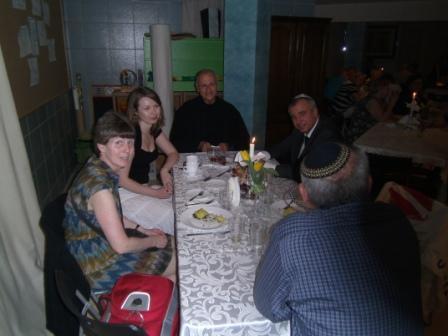 Shabbat dinner at Beit Warszawa, Poland

The next Shabbat we spent in Budapest at congregation Szim Salom. I was given the honor of lighting Shabbat candles, and my husband and I were asked to do some English readings. We again stayed to enjoy a Shabbat meal with the congregation and felt quite welcomed by the group.




Tree of Life Holocaust Memorial in Budapest, Hungary and the Old Jewish Cemetery in Prague, Czech

Our third Shabbat was at Bejt Simcha in Prague - due to timing of our day we weren't able to get back to our hotel before Services to dress properly. My husband thought we shouldn't go dressed as we were, but I convinced him that we should still go to the synagogue, and it did not matter that we were dressed casually. As it turned out, there were a number of Americans and Canadians visiting the synagogue that evening, and our clothing was not an issue in the least. I am so glad I made that decision - in addition to a lovely Service, we met Rabbi Joel Oseran from the WUPJ office in Israel who was visiting the community. I told him of your help in connecting to the synagogues we visited on our trip. We also had an "it's a small Jewish world" experience - one of the young men we met at Bejt Simcha is spending his summer at Kutz Camp in Warwick, NY, this summer. That happens to be where our daughter is spending her 3rd summer as songleader. It turned out the young man had been contacted by Debra on Facebook and already knew who she was!

In summary, we had some amazing experiences in the Jewish communities we visited, and felt very welcomed by the local congregations. I hope other travelers take advantage of your offer to help connect them to the world Jewish communities they visit as it can add an extra dimension to an already fantastic trip.



Pre-state Israel vintage posters

The World Zionist Organization (WZO) recently announced the publication of a special edition of vintage posters from pre-state Israel and its early years of independence – "Yesterday – Inspiring Tomorrow". Each poster includes a translation and brief explanation of its contents in Hebrew, English, Spanish and French. The Central Zionist Archives played a major role in making the posters available and enabling their reproduction.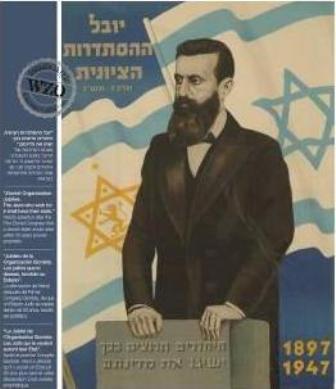 These posters give expression to the vision and values on which the Zionist movement was founded. These attractive posters make them not only decorative but also a wonderful educational tool and would make a wonderful addition to Jewish Zionist community facilities and organizations.

Click here to view the posters and get details about ordering them.



Back to In This Issue



Upcoming events

July 4–14, 2013 – The Bergman Seminar for Jewish Educators, Jerusalem, Israel

September 27–29, 2013 – Kiev Center Dedication, Ukraine

December 11–15, 2013 – URJ Biennial, San Diego, California

January 2–9, 2014 – The Roswell Seminar for Social Justice, Jerusalem, Israel

January, 2014 – Netzer Veida Olamit, Israel

January 29–February 1, 2014 – UJCL Biennial, Costa Rica

February 13–23, 2014 – The Beutel Seminar for Progressive Jewish Leadership, Jerusalem, Israel

February, 2014 – TaMaR Conference, Israel

April 24–27, 2014 – EUPJ Biennial, Dresden, Germany

May 23–24, 2014 – IMPJ Conference, Israel

June 6-8, 2014 – SAUPJ Biennial, South Africa

July 24–August 3, 2014 – The Bergman Seminar for Jewish Educators, Jerusalem, Israel

November 2014 – UPJ Biennial, Hong Kong

May 2015 – Connections 2015, WUPJ 37th Biennial Conference, Rio de Janeiro, Brazil

November 4–9, 2015 – URJ 73rd Biennial Conference, Orlando, Florida


Back to In This Issue