WUPJnews #465
Issue 465, 20 June 2013, 12 Tammuz 5773
In This Issue:
Shnat Netzer program develops 20 future leaders as this years' scheme ends
Union for Progressive Judaism in Belarus plays major role in recent Art Limmud Belarus conference
Saltz Center announces the 2nd Roswell Seminar for Social Justice
Musical Kabbalat Shabbat overlooking the Old City

News in Brief
* ARZA announces the selection of Joshua Weinberg as their new president
* And Now It's Time for a URJ Biennial Update
* Escape the Sizzling Sun with these special deals at Beit Shmuel
* More than seven hundred people at Alyth's 80th birthday party"
* A Splashing Time at Beit Shmuel's "Children Create Shabbat"

Upcoming events

-------------------------------------------------

Shnat Netzer program develops 20 future leaders as this years' scheme ends

Netzer Olami (the World Union's international youth movement) runs the Shnat Netzer Program – a 9 month gap-year program in Israel with 3 different components. This session started in October, 2012 with 20 participants – 4 from the US and 16 from the UK. The program is run in two sessions each year, for participants from the Northern and Southern hemispheres, based on their school year schedules. The groups usually have a joint seminar at the beginning/end of each cycle.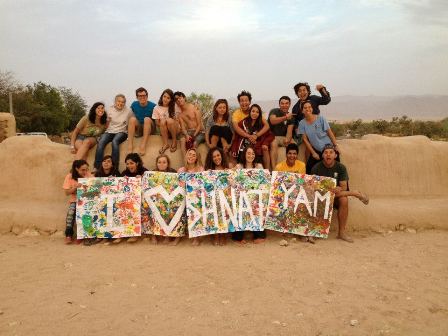 20 northern Shnatties

The Shnatties started the program on Kibbutz Lotan, our movement Kibbutz that lives out the Reform and Netzer ideology, and offers an ecological seminar. The group spent their first month on the kibbutz living in mud domes, learning about ecology and bonding as a group.

They then split into two groups, one group moved north to the city of Karmiel, there they built their own Reform Community and took active roles with the Reform community of Karmiel, and volunteered in different projects helping to make this world a better place.

The other group remained on Kibbutz Lotan and took an active role in the community, working in a number of different areas of Kibbutz life.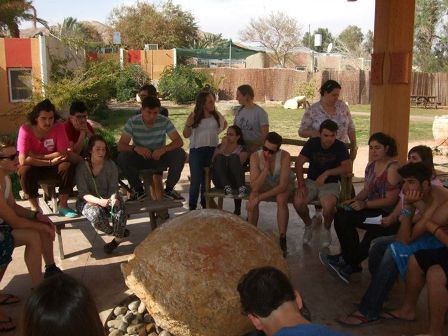 Living the Netzer ideology at Kibbutz Lotan

The third and last component of the program takes place in Jerusalem where the group could choose between doing Mechinat Etgar or the Jewish Agency's Machon Le Madrichim Chul. Mechinat Etgar – a unique program for Netzer alumni – started in 1994 and is geared for young adults from around the world who spend a year in Israel – living, volunteering and studying together, and combines field trips and site visits with classroom lectures and workshops. Mechinat Etgar instills a strong Zionist orientation and values and aims to develop leadership for Progressive Jewish youth.

Machon Le Madrichim Chul is a pluralistic leadership training program where our Shnatties study with participants from other youth movements. This last component of the program is done together with our Southern group who start their program with Mechinat Etgar and Machon.




Seminar Review

Last week was the end of the program and participants enjoyed a lovely Sikkum Seminar where they looked in retrospect at the program they just finished, the transitions they went through during the year and how much they matured.

It was a very successful year and we are proud to send back 20 new leaders to their communities.

Check out our Netzer Olami Facebook page to see more pictures.



Back to In This Issue



Union for Progressive Judaism in Belarus plays major role in recent Art Limmud Belarus conference

The international educational conference , Art Limmud Belarus, was held in Vitebsk from 31 May to 2 June. The conference brought together in Vitebsk about 500 people from all regions of Belarus, as well as from Ukraine, Russia, Moldova, Israel, Lithuania, Latvia, the United States and other countries. One of the presenters was professor of philology Tzvia Walden, daughter of Israeli President Shimon Peres. The conference, which included approximately 100 sessions, was dedicated to culture and art. The Religious Union for Progressive Judaism in the Republic of Belarus, a WUPJ affiliate, was one of the overall organizers of the conference. There were 12 presenters from our movement, including the chair of the Union, Ludmila Izakson, four FSU Reform rabbis Grisha Abramovich, Alexander Lyskovoi, Leonid Bimbat and Michael Kapustin, and the director of the WUPJ in the FSU Alex Kagan. Seven leaders of our communities, including the chair of the Emuna Reform community in Vitebsk, Dmitri Rudnitzki, executive director of the Union Michael Kemerov, education coordinator Irina Belskaia, and Irina Abramovich, were on various Limmud committees.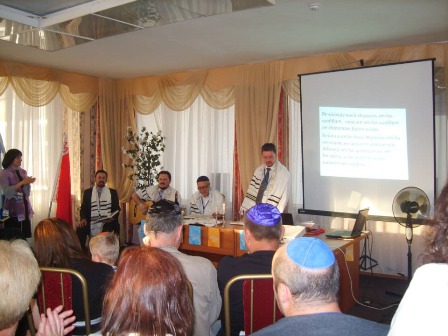 Services led by WUPJ FSU Rabbis Grisha Abramovich, Alexander Lyskovoi, Leonid Bimbat and Michael Kapustin

Alex Kagan, director of the FSU region, said "Being born in Vitebsk [Belarus], I feel doubly proud, firstly about my native city that has become a center for international festivals and a center of Jewish culture. Of course a lot of this is due to the legacy of Marc Chagall the famous artist who was born in Vitebsk and left there the strong artistic mark of the city, as well as a result of the people who are presently working in the field on behalf of the entire Jewish community such as: Sonya Karpas, one of the founders of the current community in the city, the well-known Purimshpiel that will be celebrating 20 years next year, and now the Limmud Festival has joined the welcoming local Jewish community. The second source of pride is the most significant presence of the Reform Movement at Limmud. In addition to all the lectures we gave there, the most unforgettable experience was during Kabbalat Shabbat, when a relatively large room was completely filled and not one person was willing to leave, including the daughter of President Shimon Peres and her husband so as not to miss the experience of being together that was so apparent during prayers."

Click here to see more pictures



Back to In This Issue



Saltz Center announces the 2nd Roswell Seminar for Social Justice

The Roswell Seminar for Social Justice is a unique opportunity to travel through Israel grappling with critical issues facing the Jewish People and the world. This extraordinary seminar brings participants into contact with inspiring leaders and activists working in a variety of social justice efforts in Israeli society.

The seminar is designed with a three-stage approach. First, we delve into the texts and sources underlying our Jewish concern for a just society. We explore what our tradition has to say about each of the issues addressed in the seminar. Next, we head out into the streets of Jerusalem and Israel to meet individuals and organizations working to address these particular issues in meaningful ways. We hear their challenges and success as we roll up our sleeves to help them turn their vision into a reality. Finally, we work on action plans incorporating what we've learned from our tradition and our encounters with Israeli activists as we strive to better address these issues in our own communities.




Addressing social issues and sharing personal stories and music

The program includes visits to the Knesset and Supreme Court of Israel with IRAC staff members working through legal and legislative efforts to effect social change. We cover topics including: pluralism, minority populations, Israeli Social Justice Movement, GLBT and environmental issues.




Visiting the Supreme Court and dealing with GLBT issues

After last year's program, Paul Liptz, the Saltz Center's Director of Education remarked: "All participants were extremely enthusiastic about being in Israel and saw the program as having direct importance in their various environments as they came from many different countries, they constantly compared their own challenges and discussed how they could learn from each other."

Rabbi Burnstein observed: "One of the most memorable aspects of the seminar is that it introduces participants to the personal stories and journeys of a diverse group of Israelis all doing meaningful work toward social change." He continued, "It helps them appreciate just how important their role is in enabling their communities to be active in social justice work. I'm inspired to know that these people are involved with securing the Jewish future."




Special tfilot overlooking the Old City and on the beach

For more information about the program contact Rabbi Steve Burnstein.



Back to In This Issue



Musical Kabbalat Shabbat overlooking the Old City

In June the Saltz Center hosted two Kabbalat Shabbat services on the amazing balcony of Beit Shmuel/Mercaz Shimshon, overlooking the dramatic walls of the Old City of Jerusalem. Well over 100 people joined Saltz Center Director, Rabbi Steve Burnstein, for prayer, song and stories.

These were the first two programs of a new initiative of the Saltz Center providing a Kabbalat Shabbat service conducted in English for visiting groups. The service is crafted to provide a meaningful Shabbat experience and emphasizes the centrality of Israel in Jewish life. On the one hand, we want to encourage tour groups to take advantage of the opportunity to visit IMPJ congregations. On the other hand, some people are looking for a service in English for groups from abroad.

Rabbi Burnstein explained: "Here we are, barely a mile from the site where the ancient Temple stood. The center towards which Jews around the world focus their prayers and their hearts. For generations 'we lay down and wept' dreaming of the possibility for Jews to return to this spot and be able to welcome Shabbat. By interspersing poetry, stories and music into the traditional Shabbat liturgy, we create a Jewish memory forever linking Shabbat to Israel."

Feedback from participants has been extremely positive. One of the rabbis remarked: "This service is exactly what we needed. Days later our participants are still talking about it and repeating the stories." We look forward to offering more services in the future.



Back to In This Issue



News in Brief

ARZA announces the selection of Joshua Weinberg as their new president

Joshua (Josh) Weinberg, a product of the Reform movement in the US and Israel, was selected to serve as the Association of Reform Zionists of America (ARZA)'s new president, and is expected to take up his role in September 2013. (click here to read the full announcement of new ARZA president).

Josh has many years of experience as an educator and as an administrator of programs in Israel and in America. He received his BA from the University of Wisconsin and his MA from Hebrew University in Jerusalem and is currently studying in the HUC-JIR Israel Rabbinic Program where he is expected to be ordained this November. Josh is a product of our Reform Jewish camping system, having spent many summers at Olin-Sang-Ruby Union Institute in Wisconsin, as well as a former Eisendrath International Exchange Student, and a leader of many NFTY in Israel programs. Josh has served as a spokesperson for the Israel Defense Forces and on the staff of the Israel Consulate in Chicago. He currently serves as the Director of the Israel Program for the Reconstructionist Rabbinical College. He made Aliyah to Israel ten years ago and has also served as an educator on several Anita Saltz educational seminars. Click on the picture below to view a short video of Josh.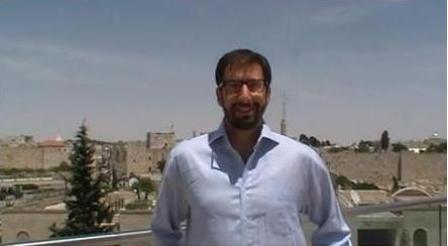 Josh Weinberg, new ARZA President

ARZA, an affiliate of the Union for Reform Judaism, represents the collective voice of American Reform Zionism and advocates for building an inclusive and democratic Israeli society.



And Now It's Time for a URJ Biennial Update

The Union for Reform Judaism in North America (URJ) will be holding their Biennial conference December 11-15, 2013 in San Diego, California. Registration will open in July. Make sure to sign up for updates and start making your travel plans to be with us in beautiful, warm, San Diego in December!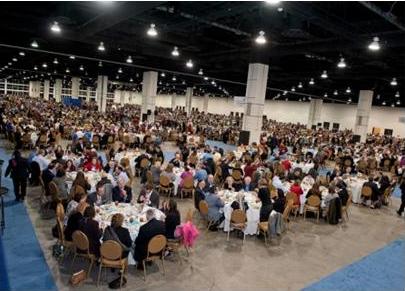 As in this photo from the biennial conference in 2011, you will have the opportunity to meet thousands of Progressive Jews from North America and around the world at the URJ biennial conference (©All rights reserved by Union for Reform Judaism)

Exciting speakers and presenters are lined up for the convention, including Rabbi Sharon Brous from IKAR in Los Angeles, whom Newsweek recently highlighted as the most influential rabbi in America; Rabbi Rick Jacobs, President of the URJ; Rabbi David Saperstein, Executive Director of the Religious Action Center in Washington, DC; Rabbi Donniel Hartman, of Jerusalem's Shalom Hartman Institute; Rabbi Elka Abrahamson, president of the Wexner Foundation; Rabbi Larry Hoffman and Rabbi Sam Joseph, both professors at Hebrew Union College/Jewish Institute of Religion; Choreographer and performer Liz Lerman; Allison Fine, author of The Networked Nonprofit; and many more inspiring speakers.

Stay tuned for more updates, and don't forget to visit the Biennial website to sign up for email updates.



Escape the Sizzling Sun with these special deals at Beit Shmuel

During the months of July and August, the Beit Shmuel hotel and guest house – at the global headquarters of the World Union for Progressive Judaism – is happy to offer special deals for guests. Stay at least two nights and each guest will receive free entry to one of the following local attractions:
• The Tisch Family Jerusalem Biblical Zoo
• The Bloomfield Science Museum
• The Time Elevator - a fascinating interactive experience
• Tower of David Museum and Light Show
• Jerusalem Botanical Gardens

Additionally, in a combined deal by the Hotel and Walking Tours department, get a special 10% discount on the room price and tour price when joining one of our family tours (no minimum nights required).

And take advantage of Beit Shmuel's BOGO – stay one night and get the second (consecutive) night at a 50% discount.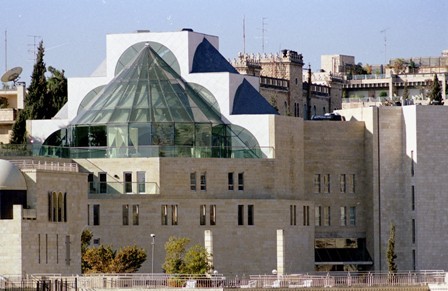 Beit Shmuel, overlooking the Old City

For more information please contact our reservations desk or call 972-2-620-3555. We hope to see you here this summer!



More than seven hundred people at Alyth's 80th birthday party

Over seven hundred members of Alyth (North Western Reform Synagogue), London, England, an affiliate of the UK Reform Judaism Movement, attended the party to celebrate the Temple Fortune Synagogue's 80th anniversary since its foundation.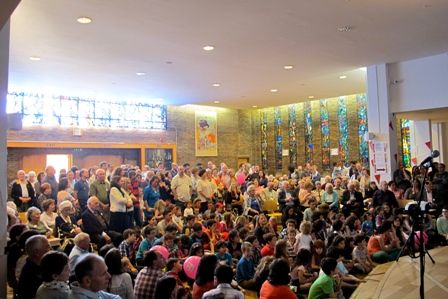 Alyth's special celebration

Alyth was founded in 1933 by local families who, with the support of the West London Synagogue, wanted to bring the values of Reform Judaism to the then new London suburbs. The North Western Reform Synagogue was the first in the UK to be called "Reform". Preceding the party, 50 members of the congregation, including grandchildren of participants in the first services 80 years ago, gathered in the house which hosted the first ever Alyth service on June 16th 1933.

For the full press release, please click here.



A Splashing Time at Beit Shmuel's "Children Create Shabbat"

This past weekend saw some 300 parents and children at Mercaz Shimshon-Beit Shmuel's "Children Create Shabbat" series which celebrated the end of the school year and beginning of summer fun. These family creativity workshops are a unique program geared towards young families, offering both children and adults a plethora of creative activities full of Progressive Jewish content and ideas, and focus on a different theme for each meeting. It is one of the very few programs offered to families in Jerusalem on Shabbat, and has become a focal Shabbat activity for many families looking for a Jewish activity and connection that is both entertaining and informative for children and adults.




Children and families gathered in the beautiful Beit Shmuel patio where they made flowers and boats out of recycled materials, learning on the way about reusing and recycling, and then floated their masterpieces in the patio "canals". What a great way to end the school year and start the summer fun!



Back to In This Issue



Upcoming events

July 4–14, 2013 – The Bergman Seminar for Jewish Educators, Jerusalem, Israel

September 27–29, 2013 – Kiev Center Dedication, Ukraine

December 11–15, 2013 – URJ Biennial, San Diego, California

January 2–9, 2014 – The Roswell Seminar for Social Justice, Jerusalem, Israel

January, 2014 – Netzer Veida Olamit, Israel

January 29–February 1, 2014 – UJCL Biennial, Costa Rica

February 13–23, 2014 – The Beutel Seminar for Progressive Jewish Leadership, Jerusalem, Israel

February, 2014 – TaMaR Conference, Israel

April 24–27, 2014 – EUPJ Biennial, Dresden, Germany

May 23–24, 2014 – IMPJ Conference, Israel

June 2014 – SAUPJ Biennial, South Africa

July 24–August 3, 2014 – The Bergman Seminar for Jewish Educators, Jerusalem, Israel

August 20–24, 2014 – WUPJ LA Regional Conference, Brazil

November 2014 – UPJ Biennial, Hong Kong

May 2015 – Connections 2015, WUPJ 37th Biennial Conference, Rio de Janeiro, Brazil

November 4–9, 2015 – URJ 73rd Biennial Conference, Orlando, Florida



Back to In This Issue