WUPJnews #464
Issue 464, 6 June 2013, 28 Sivan 5773
In this issue:
Israel Is Real and other themes waiting for campers at FSU camps this summer
Announcing the Twelfth Beutel Seminar for Progressive Jewish Leadership
Israel to recognize and fund non-Orthodox rabbis
Shir Hadash Italia Celebrates its 10th Anniversary

News in Brief
* Escape the Sizzling Sun with these special deals at Beit Shmuel
* Tikkun Leil Shavuot on Mount Carmel
* A restored synagogue and retrieved sefer Torah for the Jewish Community of Mozambique

WUPJ's Employment Corner

Congratulations

Condolences

Upcoming events

-------------------------------------------------

Israel Is Real and other themes waiting for campers at FSU camps this summer

Following the amazing success of 2012 FSU Summer Camps – over 1000 campers in 13 camps – FSU Netzer and Tamar groups ran two successful leadership seminars to prepare for this year's camps. The first, for madrichim from Russia, Ukraine and Belarus, was held in Minsk, Belarus. The second, for educational lay leaders from the FSU and Israel took place in Israel, sponsored by the Jewish Agency and CAF. The aim of the seminars is to provide professional training for the madrichim, including preparation and development of the program content for various seminars which will take place throughout the FSU during the summer, and to promote cooperation between Israeli and FSU staff in planning the summer camp programs.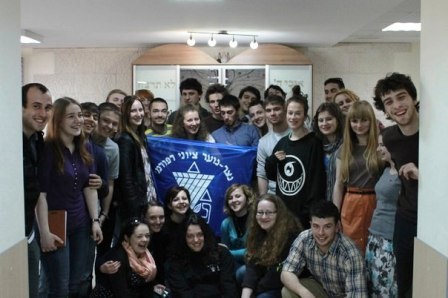 Thirty five madrichim from throughout the FSU met to begin planning the summer camp program which resulted in a number of different programs geared for different age groups. The overall theme for the summer camp program is: "Israel Is Real" and the emphasis will be on the past, present and future of Israel.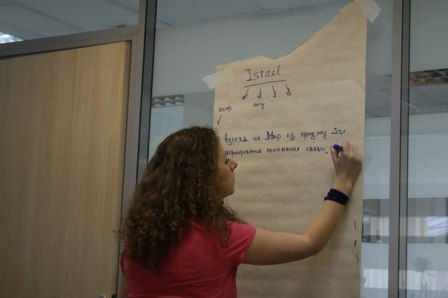 "Israel is Real" – pre-camp seminar for Netzer madrichim

According to FSU director Alex Kagan and FSU Netzer Coordinator Rita Fruman, the World Union is planning to operate a pilot program this summer to bring together children and youth from Russia, Belarus and Ukraine to one facility near Lvov in the Carpathian mountains. The camps will have four sections (one for ages 11–13, two for ages 14–17, and one for students ages 18–25). This will give them the opportunity to make new friends, not only from their country, but from other parts of the FSU. Additional camps will be held in Russia for ages 14–17 and in Belarus for ages 11–13, as well as our annual special needs integration camp and interfaith camp in Russia. Another new development will be to extend the camps from 7 to 10 days) for the first 3 sessions, hopefully making the camps more attractive and justify the10 hour journey from Minsk to Lvov . The student camp will be 7 days l, 2 days more than usual.

This will also raise the price that each participant will pay. Unfortunately at this time, there is still a deficit of $60K that we need to cover. Therefore the fundraising campaign for the camp program to cover the costs has been launched. It is our hope to surpass the achievement of last year (1,100 participants).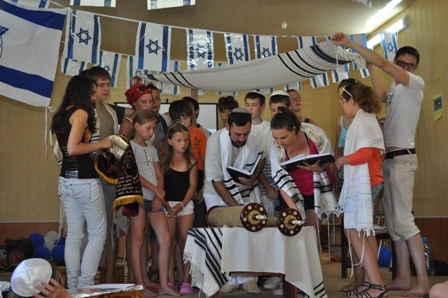 Summer camp in Ukraine, 2012

The FSU camp program has been very successful in instilling a love of Jewish learning and kindling the fires of Jewish life. For many of the campers, it is their first encounter with Jewish and Israeli madrichim and Israel-related content. Some of the camps are geared toward families, as a natural continuation of the year-long family Sunday Schools, while others are for teens and students, interfaith families, and our unique integration camp where special needs children are mainstreamed with other campers.

Click here to read about our past successes. To help ensure that more Jewish children will be able to enjoy a summer camp experience in the FSU, please click the MAKE A DONATION button and make a donation, or call our office in NY (212-452-6534) – you will be making a WORLD OF DIFFERENCE.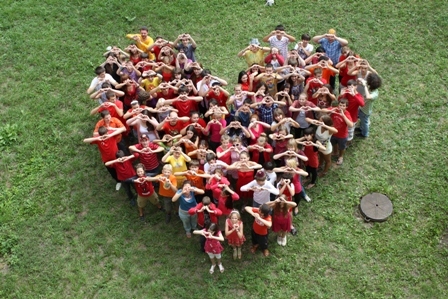 Back to In This Issue



Announcing the Twelfth Beutel Seminar for Progressive Jewish Leadership

Now Accepting Applications for the 2014 Beutel Leadership Seminar!

February 13– 23, 2014

Hundreds of leaders from across the globe have participated in the Beutel Seminar for Progressive Jewish Leadership – NOW IT'S YOUR TURN!

Over the past eleven years hundreds of people from across the globe have participated in the Beutel Seminar for Progressive Jewish Leadership. Looking at the leadership of communities throughout the World Union for Progressive Judaism we see Beutel alumni giving back in meaningful ways.




Beutelniks from past seminars

Beutel participants return home with new learning, connections and experiences to enrich their communities. They have the opportunity to renew their relationship with Judaism and strengthen their connection to the Land, People and State of Israel in the context of Progressive Jewish values. A past participant remarked that "the Beutel Seminar gave me a deep sense of spirituality, Zionism and opened new horizons."




Studying in groups and by acting out the part

The Beutel Seminar is a unique combination of the spiritual, intellectual and experiential enhanced by the tremendous diversity of the participants. The program includes prayer workshops, text study, site visits, and lectures. These are supplemented by mifgash encounters with scholars, activists, and leaders from a variety of organizations including the extended family of the Israel Movement for Progressive Judaism as well as others who share our values.



Spiritual Shabbat tefila in the dessert

Certainly the caliber of presenters is a key to the tremendous impact and success of the Beutel Seminar. One of the highlights was the multi-session morning prayer workshop overlooking the Old City of Jerusalem. One participant comments: "the spiritual and liturgical part of the seminar has been excellent… somehow touches our souls."




Visiting sites in Jerusalem

At Kibbutz Yahel and Kibbutz Lotan we meet progressive, intentional communities working intensely to define their values and live by them. "This was inspiring, empowering and illuminating . . . [and] brought me an updated understanding of Israeli society and religious life – its complexity, vibrancy and hope for the future."




Values to live by in Kibbutz Lotan

Professor Paul Liptz, Saltz Center Director of Education, serves as scholar in residence to the group. He and Saltz Director, Rabbi Steve Burnstein, work to pull the various components of the program together. The Beutel Seminar is designed to empower participants and strengthen them as individuals as well as their communities and the WUPJ.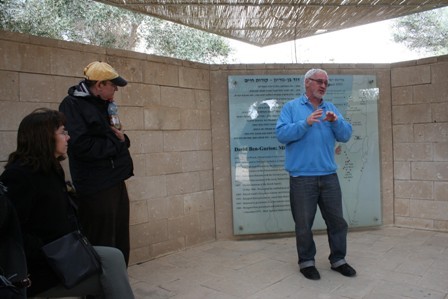 Prof. Paul Liptz at Sde Boker

We extend our special appreciation to Austin and Nani Beutel for their dedication to and investment in the future of Jewish leadership.

Contact us today for more information!



Back to In This Issue



Israel to recognize and fund non-Orthodox rabbis

Israel's Religious Services Ministry has announced its plan to move from state-appointed neighborhood rabbis to community-chosen rabbis – including non-Orthodox rabbis. This step comes in response to a petition submitted by the non-Orthodox movements in Israel demanding that their rabbis receive state salaries, in the same way that Orthodox rabbis do. The plan proposes to abolish the current practice of state-appointed neighborhood by first reducing the number of state appointed neighborhood rabbis, and eventually changing to community appointed rabbis. The money will be given directly to communities who will then choose their own rabbis – including Reform and Conservative rabbis.

For years, Israel has financed the salaries of thousands of rabbis who serve as municipal, communal, regional and neighborhood rabbis. Until recently, all of these rabbis have been Orthodox men (see WUPJnews #438 and #361 regarding the Rabbi Miri Gold case for more background). Over the past 7 years, the World Union for Progressive Judaism has stood together with the Israel Religious Action Center (IRAC) and the Reform and Progressive Jewish world, in their struggle for equal funding of religious services for all religious movements. Click here to read the latest statement by Anat Hoffman, IRAC's executive director.

While there is still a lot of work that need to be done, and the timetable of this latest plan is not yet clear, this change brings new hope for a stronger Israel that will be a more inclusive, open, and pluralistic state.



Back to In This Issue



Shir Hadash Italia Celebrates its 10th Anniversary

The year 5774/2013 marks the tenth year since the founding of Shir Hadash. Our progressive synagogue in Florence was founded by a group of ex-pat American Jews and local Italian Jews who were looking for an alternative space to express their Judaism in Italy. Today Shir Hadash is an active and growing congregation which still reflects these origins. We are a mixed group of nationalities, ages, traditions and Jewish origins, using our diversity to study, celebrate and live a Jewish lifestyle which is a unique blend.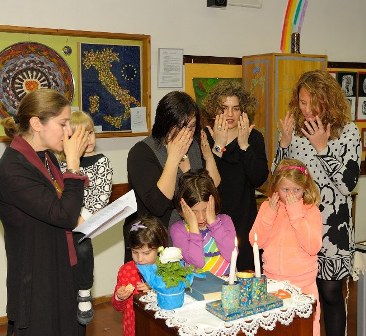 Women and children light Shabbat candles

Shir Hadash chose April 12, 2013 to celebrate this anniversary with a special evening of tefillah and fellowship which saw the inauguration of our new prayer book (siddur). This beautiful book, which presents our own traditional service in Hebrew, Hebrew transliteration, Italian and English, is written in a gender-neutral language and contains many additional meditations and songs. It is the fruit of months of labor, the lion's share done by Davide Scelsi, who used as sources Gates of Prayer, the Mishkan T'filah, Liberal and Reform siddurim from the UK, the Shabbat Vehagim (a Reconstructionist siddur), as well as prayers from the Benei Roma (an Italian siddur) and the service for reading the Torah from the Florentine sephardic siddur.

This very special erev Shabbat service was led by Rabbi Leigh Lerner, guest rabbi this year for congregation Beit Shalom in Milan, from Montreal, Canada, with help from Shir Hadash's president Sandro Ventura. The evening also included a musical interlude, in which Jacob Ventura and Elisa Mori performed beautifully Henri Wieniawski's Étude-Caprice no. 1 in G minor for 2 Violins. Many members participated in the service itself, and many of the rabbis who have made important contributions to the history of Shir Hadash sent greetings and well-wishes to the congregation.



Rabbi Leigh Lerner and Sandro Ventura

Download and read for yourself
Rabbi Lerner's remarks on the anniversary: MSWord / PDF
Sandro Ventura's observations on Shir Hadash's history: MSWord / PDF
Greetings from Shir Hadash's past rabbis: MSWord / PDF




The evening was capped by a sumptuous buffet supper. In addition to the catered food, members contributed special dishes and desserts, and many eager hands helped with the set-up and clean-up. Shir Hadash gives its very special thanks to Susanna Myers and Sharon Strauss for all the planning that went into making this extraordinary evening a huge success.

All photos: courtesy of Salvatore Rizzo.



Back to In This Issue



News in brief

Escape the Sizzling Sun with these special deals at Beit Shmuel
During the months of July and August, the Beit Shmuel hotel and guest house – at the global headquarters of the World Union for Progressive Judaism – is happy to offer special deals for guests. Stay at least two nights and each guest will receive free entry to one of the following local attractions:
• The Tisch Family Jerusalem Biblical Zoo
• The Bloomfield Science Museum
• The Time Elevator - a fascinating interactive experience
• Tower of David Museum and Light Show
• Jerusalem Botanical Gardens

Additionally, in a combined deal by the Hotel and Walking Tours department, get a special 10% discount on the room price and tour price when joining one of our family tours (no minimum nights required).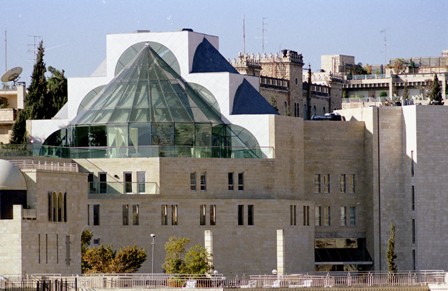 Beit Shmuel, overlooking the Old City

For more information please contact our reservations desk or call 972-2-620-3555. We hope to see you here this summer!



Tikkun Leil Shavuot on Mount Carmel
Congregation Shirat Hayam-Carmel is a vibrant and growing congregation for mostly young Russian speaking families with a strong interest to explore their heritage and gain a deeper understanding of Jewish identity. Shirat HaYam-Carmel is unique as it is the egalitarian and liberal congregation of Russian speaking Israelis in the Jewish Progressive Movement.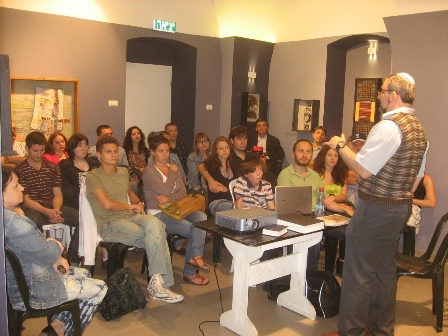 Rabbi Gregory Kotler speaking to members of Shirath Hayam-Carmel

The Tikkun Leil Shavuot was held for community members and guests, all Russian speakers from Haifa and the area. After reading the Book of Ruth in Russian, community Rabbi Gregory Kotler led a discussion on "Who is a Jew? Historical and Political Aspects", followed by a traditional holiday communal meal.



A restored synagogue and retrieved sefer Torah for the Jewish Community of Mozambique

The Jewish Community of Mozambique, Honen Dalim, recently dedicated its refurbished and restored synagogue building in Maputo. A sign in Hebrew, Portuguese and English, reading "ufros alenu sukkat shlomecha"—"Spread the tabernacle of Your peace upon us", greeted the many distinguished guests. Rabbi Robert Jacobs of Bet David in Sandton, Johannesburg, represented the SAUPJ.

The synagogue was built in 1926, was nationalized after World War II, and reverted to the Jewish community in the late 1980s. By 1994, regular worship resumed for Shabbat and holy days. Rabbi Cyril Harris brought a Sefer Torah from Johannesburg. With declining membership and the deteriorating condition of the building, the scroll was placed in the custody of a Johannesburg congregation and "lost". Larry and Diane Herman, who since 2003 have been instrumental in inspiring a regeneration of the community, turned to the SAUPJ and SAAPR for assistance. The building was in very bad shape. Donations from the local community and support from private donors led to the rediscovery of the missing Sefer Torah and restoring the synagogue.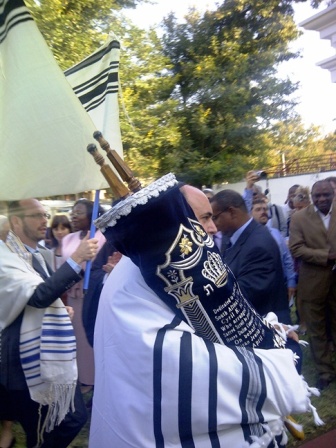 Rabbi Moshe Silberhaft with the donated sefer Torah

The congregation is supported by its loyal members, with volunteers who see to the continuity of congregational life. Rabbi Robert Jacobs was sent by Bet David and the SAUPJ to represent them at the dedication. He presented a copy of the World Union Edition of Mishkan T'filah to President Samuel Levy. Rabbi Jacobs expressed the support of the SA Association of Progressive Rabbis and the SAUPJ for the work being done in Maputo to create a viable Jewish life in Mozambique, the acceptance of Jews by Choice deemed qualified by the congregational teachers through the Bet Din Tzedek of Southern Africa and the willingness to participate in life cycle events as needed in the future.



Back to In This Issue



WUPJ's Employment Corner

The following positions are available in WUPJ congregations:

Educators/Community work
• Principal for the King David School, Melbourne, Australia
Please contact Sharon Marlow for more details.

• Shlichim (emissaries) for one year are needed for the following countries:
Germany
South Africa – Johannesburg and Capetown
UK – London

For all: applicants must be Israeli citizens and residents for the last five years at least. For Germany – not open to holders of German passports. For full details please contact Maoz Haviv, executive director of Netzer and TaMaR.

Questions regarding employment opportunities with WUPJ congregations or sabbatical opportunities serving WUPJ congregations can be addressed to Rabbi Joel Oseran, WUPJ Vice President, International Development



Back to In This Issue



Congratulations
Yeshar koach to Dr. Martin Cohen, former president and BD. Chair of Temple Israel congregation on receiving an honorary Doctor of Science from City College of New York.



Back to In This Issue



Condolences
The leadership and staff of the World Union offer their sincerest condolences to Valerie Bello, and sons Anthony and Peter, on the passing of their husband and father, Ernest Bello z"l. Ernest was the founder member of the Youth Association of Synagogue in Great Britain (YASGB), the precursor organisation to RSY-Netzer, and a much involved member of West London Synagogue, the World Union for Progressive Judaism, B'nai B'rith, and the Board Deputies. May his memory be for a blessing.

The leadership and staff of the World Union offer their sincerest condolences to Monica and John Shalit on the passing of their mother Bella Shannon. Bella, along with her late husband George z"l, were longtime committed supporters of the World Union's ongoing work. May her memory be for a blessing.



Back to In This Issue



Upcoming events

July 4–14, 2013 – The Bergman Seminar for Jewish Educators, Jerusalem, Israel

September 27–29, 2013 – Kiev Center Dedication, Ukraine

December 11–15, 2013 – URJ Biennial, San Diego, California

January 2–9, 2014 – The Roswell Seminar for Social Justice, Jerusalem, Israel

January, 2014 – Netzer Veida Olamit, Israel

January 29–February 1, 2014 – UJCL Biennial, Costa Rica

February 13–23, 2014 – The Beutel Seminar for Progressive Jewish Leadership, Jerusalem, Israel

February, 2014 – TaMaR Conference, Israel

April 24–27, 2014 – EUPJ Biennial, Dresden, Germany

May 23–24, 2014 – IMPJ Conference, Israel

June 2014 – SAUPJ Biennial, South Africa

July 24–August 3, 2014 – The Bergman Seminar for Jewish Educators, Jerusalem, Israel

August 20–24, 2014 – WUPJ LA Regional Conference, Brazil

November 2014 – UPJ Biennial, Hong Kong

May 2015 – Connections 2015, WUPJ 37th Biennial Conference, Rio de Janeiro, Brazil

November 4–9, 2015 – URJ 73rd Biennial Conference, Orlando, Florida



Back to In This Issue