WUPJ News #463
Issue 463, 23 May 2013, 14 Sivan 5773
In this issue:
Tikkun Olam, Tikkun Leil Shavuot, and Cheesecake – Celebrating Shavuot around the Reform World
Oh what a time we had!
Putting Hebrew on the tip of your tongue, literally

News in Brief
* Saltz Education center gearing up for inspiring summer program in Jerusalem
* Registration open for Bergman Seminar for Progressive Jewish educators
* Continuing the Connection – Belarus and the Ukraine with WUPJ
* URJ announces Oklahoma City hurricane relief fund

Upcoming events

-------------------------------------------------

Tikkun Olam, Tikkun Leil Shavuot, and Cheesecake – Celebrating Shavuot around the Reform World

In our congregations around the world, hundreds of Progressive Jews gathered for Shavuot worship services, Tikkun Leil Shavuot, the reading of the Book of Ruth, and cheesecake – the ultimate Shavuot food. Following is a report on just some of these events (and remember – if you would like to see your congregation featured in one of our upcoming issues, please email us details and photos).

In the FSU, dozens of events were held in the Progressive congregations throughout Russia, Ukraine, Belarus and Crimea. Over 230 people celebrated in various Shavuot events throughout Crimea with special worship services, reading of the Book of Ruth, lectures and communal dairy meals. Rabbi Duchovny at the HaTikvah congregation, Kyiv, Ukraine, started with the Torah reading of the Ten Commandments, followed by a delicious "milk and honey" communal meal and Tikkun Leil Shavuot that went on far into the night. Student Rabbi Julia Grishenko from Ukraine and now studying at Leo Baeck college in London, led a Skype-facilitated class on Shavuot from London which was well attended.




Shavuot in Crimea and Odessa, Ukraine

In Moscow, Russia, over 40 people gathered for a festive meal and class on Pirkei Avot, with the help of a new interactive board (a gift from the American Hebrew Academy), and on the following Sunday enjoyed the entertaining and interactive presentation – Tevye the Milkman. For the Shaare Shalom community in St. Petersburg, Shavuot holds a special significance, because the Book of Ruth that is traditionally read on Shavuot, discusses personal connections to Judaism and acquiring of the Torah – central issues for this community, where every year a number of participants in the giyur program, under the guidance of Rabbi Helena Rubinstein, become part of the Jewish people. As Rabbi Rubinstein said, "the Torah was given to us, and it only remains to learn to live in accordance with its laws and principles. And this means – to make our world a better place, Tikkun Olam. The idea of the World Union for Progressive Judaism's (WUPJ) successful 36th Biennial Conference - Being the Difference, recently held in Jerusalem, continues to be put into practice."




(L) Gabay Dmitry Shubov, Rabbi Helena Rubinstein and Cantor Inna Ostrovsky; (R) Enjoying a Shavuot feast in St. Petersburg

Shavuot in Belarus this year was combined with a number of other significant events that took place in this city. The Kadima congregation in Gomel celebrated its 20th anniversary; online Shavuot services were held at the Sandra Breslauer Beit Simcha Center (click here to watch the services) where leaders of the three Minsk communities – Simcha, Tamar, and Sheket – read the Book of Ruth in Russian; and post-Shavuot Bat/Bar Mitsvah services, organized by RUPJ Chairman Mila Isakson together with Rabbi Grisha Abramovich, were held for the first time in the former synagogue in Mogilev. The Keshet community in Mogilev, with the support of the Finchley Progressive Synagogue, hopes to hold Rosh Hashanah services in this building (which is now a sports club).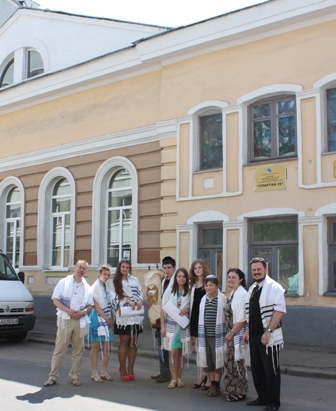 Keshet community youth leaders with the chair of the RUPJ Mila Izakson, executive director Michael Kemerov and Rabbi Grisha Abramovich, near Spartak sport club building (formerly one of the synagogues in Mogilev)

In Berlin, Germany, faculty and students of Abraham Geiger College took part in a Tikkun Leil Shavuot, a joint initiative between Pestalozzistrasse Synagogue, the college, WZO, Beth Hillel Potsdam, and "Jung & Jüdisch" young adults. The long night of workshops, talks and songs followed a service held at the JCC in Fasanenstrasse. Geiger students organized second study night program at Rykestrasse Synagogue in the eastern part of Berlin.

Shavuot evening services at Temple David, Durban, South Africa, were led by Stephen Abrahams (as Rabbi Avidan is away on extended leave). Harold Shapiro, spoke about "The thief in the night: A comparison of Hebraic and South African Law relating to the killing of an intruder after dark", followed by a dairy communal dinner and the much anticipated Annual Cheesecake Competition – won by Louise Sinclair.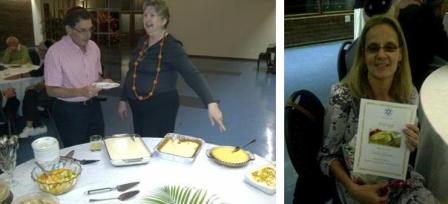 (L) The panel of highly qualified and impartial judges; Antony Arkin and Paddy Meskin; (R) The 2013 Cheesecake Champion, Louise Sinclair

Though originally planned for 100 participants, over 200 people showed up at Mercaz Shimshon/Beit Shmuel's annual Tikkun Leil Shavuot, held in cooperation with the New Israel Fund. Led by Israeli comedian, writer and playwright Gil Kopatch, the Book of Ruth was read with traditional and humoristic interpretation, interspersed with music and songs. The combination between the traditional texts, the modern interpretations and the musical interludes was a unique event in Jerusalem as other centers offering Shavuot Tikkun did so without music. The event was held in the Blaustein Hall, overlooking the Old City walls, and was broadcast live on the Beit Shmuel web site and on the New Israel Fund's Facebook page Participants were overwhelmingly supportive of this event and we hope to continue to expand this in the years to come. The Tikkun was followed by our annual walks to the Old City and the Kotel for early morning worship services. Click here to see a YouTube clip of the Tikkun.



Back to In This Issue



Oh what a time we had!

It was just a few short weeks ago that we gathered together in Jerusalem to celebrate our global achievements at the World Union's 36th international biennial conference – Connections 2013-Being the Difference. This was a wonderful celebration of our worldwide movement – the best Connections ever!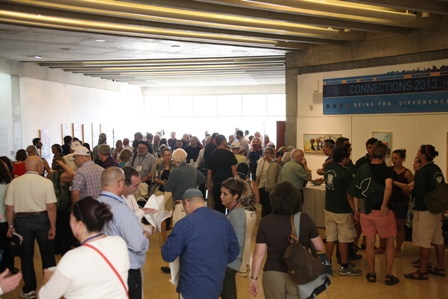 Connections 2013 – Being the Difference!

Whether you were able to join us in person, or only from far away, you now have the opportunity to relive some of the exciting moments at Connections 2013:

*We were fortunate to have not just one, but three inspiring keynote speakers at Connections 2013. Prof. Irwin Cotler, M.P., P.C., O.C. spoke about "Global human rights – Lessons for our time", addressing atrocity prevention and the pursuit of justice, and how we can learn from the past and focus on "Being the Difference" in the future. (click on the following links to see a YouTube clips of the address: Part 1, Part 2, Part 3). Ruth W. Messinger, president of American Jewish World Service (AJWS), spoke on "Jews as Global Citizens: Our Responsibility to Repair", sharing her own experiences in the developing world and her vision for how Progressive Jews can be powerful agents of change (click on the following links to see YouTube clips of the address: Part 1, Part 2). And Rabbi Rick Jacobs, president of the Union for Reform Judaism (URJ), discussed our values and commitment to Tikkun Olam, the State of Israel, global social justice and our responsibility to "Be the Difference", in his address "Think Globally, Act Locally" (click on the following links to see a YouTube clips of the address: Part 1, Part 2, Part 3).

* At the exciting opening event that took place in the YMCA Theater, we featured "From Connections to Connections", a short presentation highlighting our achievements since 2009: From new buildings to new Torah scrolls, from winter and summer camps to regional seminars and Rabbinic Kallahs, from new publications to special holiday celebrations – it is all here for you to see.

* And in closing, click here to view some of those very special moments that were captured during Connections 2013 – the opening event, the sessions and workshops, the people, the site visits, and the very special Shabbat celebrated in Jerusalem, in and around the Old City of Jerusalem.



Back to In This Issue



Putting Hebrew on the tip of your tongue, literally

Welcome home!

Israel delights the senses. It opens your eyes to history, lets you hear the voices of ages past; you can feel God and the Jewish people in every corner and breathe in the rich aroma of food and fragrances on every corner. It's so real, you can taste it.

And you really should – it's delicious!

We know we are at "home" when we can enjoy the foods we recognize and love and even more at home when we can enjoy it with others. Food in Israel is the greatest, most inclusive welcome basket there is. It's a social, cultural and educational experience. After all, when we give thanks before breaking bread, we don't just thank God for providing the means, but also for having created the vehicle that provides the means. When we say "Hamotzi lechem min ha'aretz" we're not only giving thanks for our food, but also appreciating where it came from and the fact that it will continue to provide for us. That it comes from the land, our land, which we sanctify and give thanks for by understanding its history and process.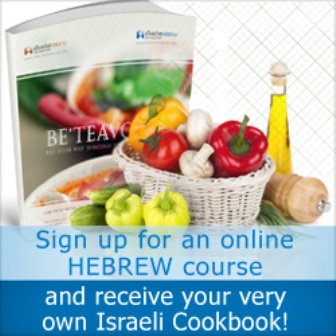 Click on the picture above for more details

With that in mind, were at eTeacherHebrew, we would like to help provide for you. Get in touch with all of the flavors, food and fun that Israel has to offer with our cookbook – Be'teavon: Eat your way through Israel in a day! Each page provides some history, a recipe, a stunning picture and then highlighted dictionary words for you to learn to put Israel and the Hebrew language on the tip of your tongue, in every way possible.

Come enjoy a taste of everything Israel has to offer with your friends from eTeacherHebrew.

Be'teavon!

The eTeacherHebrew Team.



Back to In This Issue



News in Brief

Registration open for Bergman Seminar for Progressive Jewish educators

Registration for the Bergman Seminar for Progressive Jewish Educators, July 4-14, 2013 is now open. This unique seminar addresses the needs and challenges faced by Progressive Jewish educators. The seminar offers an extraordinary opportunity for Progressive/Liberal/Reform Jewish educators from across the globe to join together with some of the most accomplished scholars and educators in the world.




Learning the language of graffiti in Tel Aviv and sign language at Na La'gaat, Bergman Seminar 2012

The program incorporates culture, spirituality, Hebrew language and Jewish values, history and politics, and more, focusing on the multitude of Jewish narratives.

Below are a few comments from some of our alumni.

"I could not have asked for a more rewarding and enlightening experience. . . The Seminar provided me with the cultural, political and spiritual tools that will make me a better educator."

"Our Seminar schedule was superbly crafted to enable us to engage with the many complex facets of life in Eretz Yisrael. Each of the specialists who met with us was expert and knowledgeable in their topic from archeology to history to sociology, drama, games, tefillah; their techniques and methodology enhanced my understanding."

"My appreciation and gratitude are infinite. My experience was truly unforgettable, one that I will treasure forever. I am very excited to bring my experience to the classroom and other educators. We were exposed to so many wonderful places and people, it almost doesn't seem real."

"I am delighted to say that all my 'dreams' were met. While we visited places that I have been to before (and a few that were new to me), I learned new things everywhere I went, because the quality of our presenters was so excellent. I was presented with perspectives of Israel that are currently allowing me to articulate that vision of what a modern approach to Israel education needs to be."

Based at Mercaz Shimshon-Beit Shmuel, headquarters of the World Union for Progressive Judaism, the Anita Saltz Educational Center overlooks the dramatic walls of Jerusalem's Old City. Israel becomes our classroom as we explore 4,000 years of history, challenge and change.




Freedom riders in Jerusalem and ecology studies in Ein Shemer

The Bergman Seminar for Progressive Jewish Educators is sponsored by the Bergman brothers, Stanley, a long time supporter of Progressive Jewish causes, and Leslie, president of the European Union for Progressive Judaism (EUPJ). For more information contact Rabbi Steve Burnstein.



Saltz Education center gearing up for inspiring summer program in Jerusalem

The World Union's Anita Saltz international education center is excited to offer a Musical Reform Shabbat program that will be held in English in Jerusalem this summer. The program is scheduled to run on June 7-8 and July 12-13, 2013.

The program includes:
* Kabbalat Shabbat worship overlooking the Old City of Jerusalem
* Shabbat dinner with songs and stories from Israeli Reform rabbis
* Walking tour in the footsteps of Yehuda Amichai, poet laureate of Jerusalem

Based at Beit Shmuel-Mercaz Shimson, headquarters of the World Union for Progressive Judaism, Hebrew Union College, Israel Movement for Progressive Judaism, Israel Religious Action Center, NFTY and Netzer Olami. Tfilot will overlook the dramatic walls of the Old City.

Advance registration is required. Group rates are available. Click here for more information, or contact Rabbi Steve Burnstein.







Continuing the Connection – Belarus and the Ukraine with WUPJ
by Rabbi Jeffrey Eisenstat, Congregation Shireinu, Gladwyne, Pa

There a few moments in time that are as powerful as praying with the WUPJ at Beit Shmuel and facing the Old City. It must be reminiscent of the moment our people stood at Sinai. Immediately following the WUPJ 36th biennial conference in Jerusalem May 1-5, we journeyed to the Former Soviet Union. It was the blend of the community shared in Israel and the experiences learned on this mission which truly enhanced the revelation that connected us to our past.

Jim Heeger, Daryl Messinger, Sarah Messinger and I set out to discover and support the work of the WUPJ in Belarus and the Ukraine. With our guides and mentors, Rabbi Grisha Abramovich and Rabbi Alexander Dukhovny, we went back in time to the Shtetl of my family, Bobruisk, and found more than we ever expected. With the help of the Joint Distribution Committee we traveled to visit the Hesed and Mazal Tov Programs and Jewish Community centers in both countries.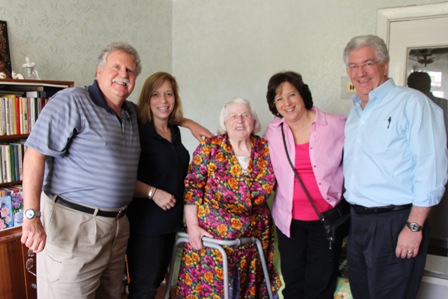 (L-R) Rabbi Jeffrey Eisenstat, Sarah Messinger , a Hesed client who turned out to be an Eisenstat, Daryl Heeger and Jim Messinger

Our journey took us back to the time over a hundred years ago when my grandfather Casriel Eisenstat was studying at the Belarus yeshiva. We had anticipated that the Shtetl would somehow have been preserved as it stood when our families immigrated to the United States at the beginning of the 20th century. We came to learn that many in our extended family remained in the area, some to perish by the hands of the Nazis, but others have helped to revive their Jewish Life at the beginning of the 21st century.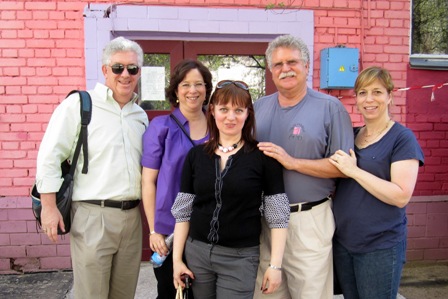 (L-R) Jim Heeger, Daryl Messinger, Irina Beleskaia, Rabbi Jeffrey Eisenstat and Sarah Messinger in front of the Progressive preschool in Minsk

The work of the World Union in Belarus and the Ukraine is exciting and important to the growth of Progressive Judaism and a rebirth of our people in this familiar landscape.

It was our pleasure and joy to participate in services at the World Union Synagogues in Minsk and Kiev and joining with Rabbi Grisha Abramovich and Rabbi Alex Dukhovny in a feeling of standing again at Sinai and experiencing once again a collective community.

If you would like to discover your own Jewish roots, please contact us.



URJ announces Oklahoma City hurricane relief fund

We are all terribly saddened by the devastation caused in Oklahoma. The URJ has opened a fund to direct contributions (without any deductions for administrative expenses) to local relief agencies on the ground in Oklahoma. Individuals who donate are encouraged to do so through that link.

Please click here to read the full notice sent out by the URJ.




Back to In This Issue



Upcoming events

July 4–14, 2013 – The Bergman Seminar for Jewish Educators, Jerusalem, Israel

September 27–29, 2013 – Kiev Center Dedication, Ukraine

December 11–15, 2013 – URJ Biennial, San Diego, California

January 2–9, 2014 – The Roswell Seminar for Social Justice, Jerusalem, Israel

January, 2014 – Netzer Veida Olamit, Israel

January 29–February 1, 2014 – UJCL Biennial, Costa Rica

February 13–23, 2014 – The Beutel Seminar for Progressive Jewish Leadership, Jerusalem, Israel

February, 2014 – TaMaR Conference, Israel

April 24–27, 2014 – EUPJ Biennial, Dresden, Germany

May 23–24, 2014 – IMPJ Conference, Israel

June 2014 – SAUPJ Biennial, South Africa

July 24–August 3, 2014 – The Bergman Seminar for Jewish Educators, Jerusalem, Israel

August 20–24, 2014 – WUPJ LA Regional Conference, Brazil

November 2014 – UPJ Biennial, Hong Kong

May 2015 – Connections 2015, WUPJ 37th Biennial Conference, Rio de Janeiro, Brazil

November 4–9, 2015 – URJ 73rd Biennial Conference, Orlando, Florida


Back to In This Issue