WUPJ News # 439
Issue 439, 14 June 2012, 24 Sivan 5772
In This Issue:
Learning and Doing at IMPJ's recent Biennial conference
A Sense of Reform Community in Eretz Yisrael - Netzer and Machon Graduates make an impact at the IMPJ Biennial Convention
In celebration of Beit Shmuel's 25th anniversary
Another successful Netzer Etgar program coming to an end
Reform movement has strong presence at Limmud Moscow 2012
Presidential Reflections on… Momentous Israeli Reform Movement Biennial
News in brief
* Beit Shmuel's new semester offers refreshing break from summer heat
* Traveling abroad this summer? Looking for that special Reform "upgrade"?
* A Jewish Journey to Odessa – there and back
* Celebrating a decade of Beit Samueli
* Jewish studies center opens in Berlin
* Forty years of pluralistic development in Tivon
Congratulations
Upcoming events
* * * * * * * * * * * * * * * * * * * * * * * * * * * * * *
Learning and Doing at IMPJ's recent Biennial conference


Some 1,200 men, women and children participated in the
Israel Movement for Reform and Progressive Judaism
(IMPJ)'s 20th Biennial conference held in Shefayim (near Tel Aviv) June 1–2. The conference theme was "To Learn and to Do" and marked the 25th anniversaries of both the
Israel Reform Action Center
(IRAC) and Ganei Haim, IMPJ's preschool network (which was actually established with the support of the WUPJ). The panel of speakers and musicians included author Yochi Brandes, economist Prof. Manuel Trajtenberg who headed the Trajtenberg Committee for Social Reform, Knesset Member and leader of the opposition Shelly Yachimovich, musician Shlomo Gronich, and many more.
The biennial included dozens of workshops, lectures, and study sessions, along with discussions on pluralist Jewish educational programming, the achievements of the IMPJ's schools and preschools and their effect on the Israeli public school system, and social action activities.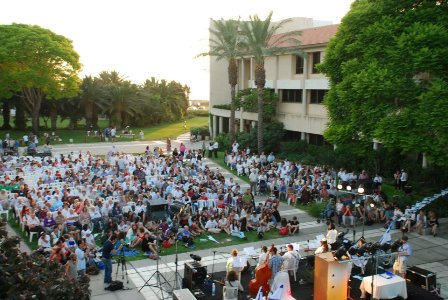 Kabbalat Shabbat services


Rabbi Gilad Kariv, IMPJ's executive director, noted that there were many highlights at the biennial, including "the moving and spiritual
Kabbalat Shabbat
services with over 1000 people, the conferring of the "
Yotzer Or
" prize (awarded to Jewish-Israeli writers and artists) to author Yochi Brandes and musician Shlomo Gronich, the festive
Kiddush
honoring IRAC. And of course, the recent victory in the Israeli Supreme Court where Rabbi Miri Gold received official recognition by the State of Israel, was very much 'in the air' throughout the conference." He goes on to say that "it would be impossible to describe the success of this conference without talking about the hundreds of teens from the TELEM youth movement and youth from IMPJ's Mechina pre-army program , who were an integral part of this conference. These youngsters were active and lively participants, with some of them even leading sessions." (click
here
to read separate report on Netzer seminar at the conference).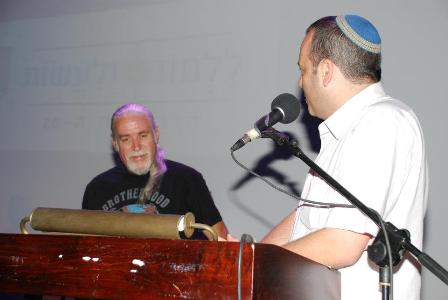 Shlomo Gronich and Rabbi Gilad Kariv


Among the special guests and speakers were Knesset Members Shlomo Mula, Shelly Yachimovich, and Zahava Galon, journalist and politician Yair Lapid, and many more.
Anat Hoffman, executive director of IRAC, says that "Rabbi Miri Gold's case was a particular source of joy for every participant. It was great seeing how appreciative our peers in the movement were at all the hard work IRAC had put in over the last seven years working for this day. The feeling of pride filled the air. The conference was full of dynamic speakers full of praise for both IRAC and the issues we work on everyday."
Rabbi Meir Azari and Yair
Lapid
While the Israel Movement has achieved many significant milestones over the years, there is still much to be done in strengthening Israeli society as a pluralist and open environment drawing from the past and looking forward to a democratic and progressive future.
Back to

In This Issue
A Sense of Reform Community in Eretz Yisrael

Netzer and Machon Graduates make an impact at the IMPJ Biennial Convention


More than 30 graduates of
Netzer
and Machon from the FSU, including young families with children, attended an educational seminar during the IMPJ biennial this month. This was the second in a series of events developed for former FSU graduates this year. Its main objective was to strengthen not only the sense of belonging to Reform Judaism but also the relevance of their Israeli identity in today's society. The program was created and led by a number of active participants, who have been involved in development of the group since its inception. The main topic of discussion was the Jewish community and its significance to their new, post-Aliyah, lives. They discussed whether a new community for Russian speaking immigrants is needed and how could this framework best benefit the community and be a part of their integration and daily lives. Following the discussions, a committee of volunteers was established to develop the idea of building a community, and this committee will be responsible for running the next seminar.
One of the program highlights was Anna Sverzhinsky's personal account, which illustrates the relevance and impact of the Reform Movement in her life in particular and in the lives of FSU Reform Jews in general. Anna underwent a Reform conversion (
giur
) in Belarus in 2003 and worked as a Netzer
madricha
and active community leader for 7 years in Minsk. She married an Israeli and fulfilled her dream of making aliyah over 3 years ago. Upon arrival she was not recognized as an Israeli citizen by the Ministry of Interior based on her Reform conversion. Eventually she turned to IRAC's legal department who helped her in her legal battle to prove the legitimacy of her conversion.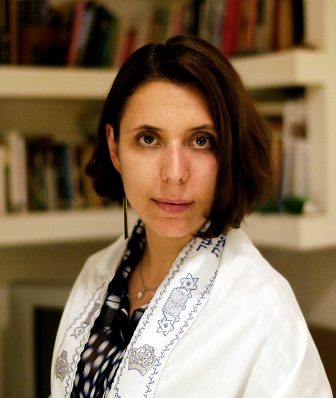 Anna Sverzhinsky, Netzer Madricha
As a result she is now a bona fide
Olah Hadasha
feeling a real belonging to the Jewish people, their history, traditions and culture. "
Thanks go to the World Union and Progressive Movement, and all the people who helped me make my dream a reality, both in the FSU and in Israel
" Anna had her first aliyah to the Torah last Saturday – her first since arriving in Israel, and her first as an Israeli citizen.
It was inspiring to witness this group of active young leaders from the FSU who continue to be involved and committed here in Israel. This is a true testament to the hard work and dedication of the FSU department and the WUPJ, as well as an important reminder that these young people will make a much appreciated contribution now that their aliyah has been achieved.
Netzer and Machon graduates at previous seminar
Rita Fruman, Netzer FSU Coordinator, in summing up the seminar said "
For us as the World Union, it is very important to remain in contact with graduates of our movement, not only in the FSU but also after making aliyah – which realizes one of the important objectives of our Reform Zionist Movement
".
We look forward to continuing our active participation in their successful
Klitah
and involvement in enriching our Israeli Progressive Jewish Society.
Back to

In This Issue
In Celebration of Beit Shmuel's 25th Anniversary

Rabbi Joel Oseran, Vice President, International Development, World Union for Progressive Judaism


My association with
Beit Shmuel
goes back to the very day in August, 1986, when the doors of the World Union's international education and culture center were first opened. I had just moved back to Israel from the United States after finalizing with then World Union Executive Director, Rabbi Richard Hirsch (who was unquestionably the primary force behind the creation of Beit Shmuel) a new position with the World Union. Beit Shmuel was not yet fully operational, but the World Union needed the income (what else is new!) so the first group to ever sleep in the hostel, a group of NFTY youth from the United States I believe, checked in at the front desk. There to welcome the youngsters was Menachem Leibovich, Director of Beit Shmuel and there I stood as well, handing out sheets and towels to the guests. It was complete pandemonium, but it was the launch of the World Union's international headquarters in Jerusalem and a day for the history books to record.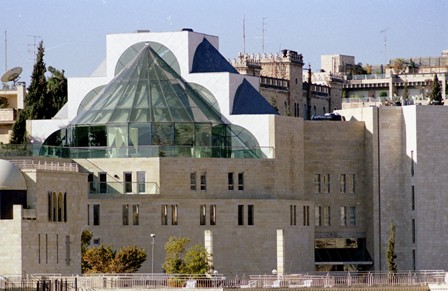 Beit Shmuel/Mercaz Shimshon


Over the past 25 years, Beit Shmuel has developed into one of Jerusalem's premier centers for Jewish education, culture and celebration; in 2000 Mercaz Shimshon was completed and forms one dynamic complex with Beit Shmuel. Because Beit Shmuel-Mercaz Shimshon (BS-MS) sits on King David Street together with the
Hebrew Union College
-Jewish Institute of Religion on a piece of real-estate second to none in the Jewish world (the story of how Golda Meir and Pinchas Sapir gave this priceless piece of land to the Reform Movement absolutely free of charge is another "sermon"), the Reform Movement in Israel was able to grab the attention of Jerusalemites and never let go.
The underlying message behind all of the outstanding programming which takes place in BS-MS is the Progressive Jewish teaching which celebrates the many rich and diverse paths to Jewish life and expression. The values of religious pluralism, of respect for all things Jewish together with a passionate commitment for mutual understanding and appreciation of other religious and ethnic groups, are the fundamental pillars which guide the work of BS-MS. These are the values which Reform Jews around the world hold dear and these are the values which must assume prominence in the State of Israel as well if we are to create a society in Israel worthy of the noble heritage of our Jewish People. BS-MS is a beacon of light in a Jerusalem which is darkened more and more by the shadow of an increasingly fundamentalist ultra-Orthodoxy.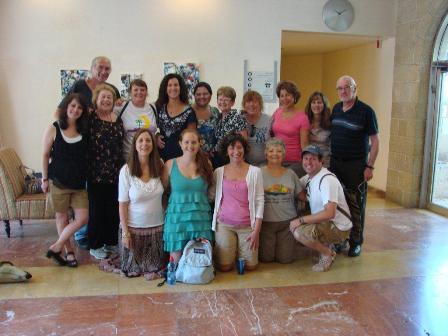 Educators seminar at Beit Shmuel


The challenge facing BS-MS to provide top level Jewish educational, religious and cultural experiences for the secular Jerusalem community (as well as Israelis from throughout the country) has led to the creation of multiple programming tracks. BS's Education/Culture Department offers formal and informal Jewish educational courses, on topics ranging from Biblical motifs taught by Israel's leading authors to workshops on Jewish culinary specialties and calligraphic artistry. BS's renowned Tour Department uses the city of Jerusalem with its rich cultural, religious and ethnic diversity as a living laboratory for exploring the past, the present and envisioning the future. Thousands of Israelis from all walks of life take part in these programs serving to spread the message of Progressive Judaism far and wide.
Family education is one of the programming tracks of which BS-MS is most proud. Shabbat mornings find children and parents participating in educational experiences around the weekly Torah portion through artistic, creative activities designed for both groups. Nurturing families to celebrate the cycle of Jewish holidays with learning experiences designed for families with little to no background in Jewish observance is one of the most important ways BS-MS makes Jewish tradition come alive.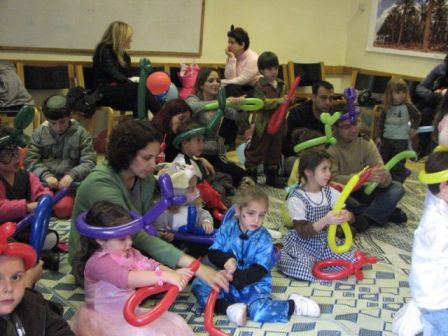 Purim party at Beit Shmuel


Twenty five years ago the World Union, understanding the critical need for pluralistic Jewish education in Jerusalem, helped establish the first Progressive kindergarten in the city which was named Gan Chayim (ChaYiM, in addition to its normative meaning of "Life" is the acronym for
Chinuch Yehudi Mitkadem
- Progressive Jewish Education). The first class of Gan Chayim opened in Beit Shmuel and the Hebrew Union College in the fall of 1987. The first graduates from Gan Chayim (including my son Shai, now 30 years old) continued on to attend the first grade class of the Progressive elementary school established by their parents. Once again, it was BS which served as "home" for this first grade class and after 3 years of constant pressure on the city of Jerusalem, Beit Sefer Chayim was given a permanent school building in the Jerusalem neighborhood of Bayit V'Gan. Today the elementary school Tali Bayit V'Gan and its continuation junior and senior high school Beit Chinuch are one of Jerusalem's most sought after educational institutions and are under the supervision of the Israel Movement for Progressive Judaism. Thousands of children and families have learned to appreciate the meaning of their Jewish and Israeli identities in an environment of religious pluralism and it all started back in the modest BS and HUC kindergarten rooms 25 years ago.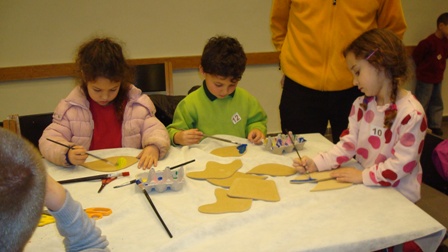 "Children Creating Shabbat" at Beit Shmuel


While we all have much to be proud of as we look back on the accomplishments of the past 25 years of BS-MS, the present challenges facing Progressive Judaism in Jerusalem (and Israel) are grave beyond description. The importance of BS-MS in promoting humanistic, value-centered Jewish teachings at a time when bigotry, racism, anti-feminism, and continued threats to the democratic foundation of the State are rearing their ugly heads, can not be measured. Progressive Judaism's voice is heard loud and clear each time BS-MS conducts another educational course, another educational tour, another special workshop or seminar to advance the cause of religious pluralism.
In recognition of this milestone 25th anniversary and in support of the constant need to be vigilant and proactive in championing the voice of Progressive Judaism in Jerusalem, the World Union has established the BS 25th Anniversary Education/Culture Fund. We at the World Union are profoundly grateful to the following rabbis and congregations in America who have already contributed to the Fund (a gift of $2,500 to mark the 25th anniversary of BS) as an expression of solidarity with us in our commitment to preserve the principles and values of Reform Judaism in the very heart and center of our Homeland - Jerusalem. May the example of these generous and committed rabbinic leaders of Reform Judaism inspire other rabbis and congregational leaders to add their support to the critical educational work taking place in Beit Shmuel-Mercaz Shmuel.
Supporters of the Beit Shmuel 25th Anniversary Education/Culture Fund:


* Rabbi Raphael Asher - Congregation B'nei Tikvah - Walnut Creek, California
* Rabbi Samuel Cohon - Temple Emanu-El - Tucson, Arizona
* Congregation Beth Israel in Scottsdale, Arizona
* Rabbi Dennis Eisner - Peninsula Temple Beth El - San Mateo, California
* Rabbi Morley Feinstein, Rabbi Joel Simonds, Cantor Jay Freilich - University Synagogue, Los Angeles, California
* Rabbi David Gelfand - Temple Israel of the City of New York- New York, New York
* Rabbi Laura Geller - Temple Emanuel of Beverly Hills - Beverly Hills, California
* Rabbi Gary Glickstein, Rabbi Robert David, Rabbi Gayle Pomerantz, Rabbi Amy Morrison, Cantor Steven Haas, Cantor Lisa Segal – Temple Beth Sholom, Maimi Beach, Florida
* Rabbi Donald Goor - Temple Judea - Tarzana, California
* Rabbi Eric Gurvis - Temple Shalom of Newton - Newton, Massachusetts
* Rabbi Ammi Hirsch - Stephen Wise Free Synagogue - New York, New York
* Rabbi Mark Levin - Congregation Beth Torah - Overland Park, Kansas
* Rabbi Jonathan Miller - Temple Emanu-El - Birmingham, Alabama
* Rabbi John Rosove - Temple Israel of Hollywood - Los Angeles, California
* Rabbi Peter Rubinstein - Central Synagogue - New York, New York
* Rabbi David Stern - Temple Emanu-El - Dallas, Texas
* Rabbi David Straus - Mainline Reform Temple Beth Elohim - Wynnewood, Pennsylvania
* Rabbi Irwin Zeplowitz - The Community Synagogue - Port Washington, New York
* Rabbi Sheldon Zimmerman - Jewish Center of the Hamptons, East Hampton, New York
* Rabbi Misha Zinkow - Temple Israel - Columbus, Ohio
Back to

In This Issue
Another successful Netzer Etgar program coming to an end


Netzer Olami
(the World Union's youth movement) runs the Etgar Program – a unique program for Netzer alumni which is a componenet of the
Shnat Netzer
(gap year in Israel) program. Etgar started in 1994 and is geared for young adults from around the world who spend a year in Israel – living, volunteering and studying together, and combines field trips and site visits with classroom lectures and workshops. Etgar instills strong Zionist orientation and values and aims to develop leadership for Progressive Jewish youth. The participants are divided into two groups based on their home academic school years: Northeners (from North America and Europe) and Southerners (from South America, South Africa, Australia and New Zealand).
This year's program, with 13 participants from 5 countries (USA, England, Germany, South Africa and Australia) began on February 12, 2012 and is due to end next month. The southerners will be going north to Karmiel for two and a half months before moving south to Kibbutz Lotan. The northerners will be going to Haifa for their
Sikkum
(summary) seminar.
The particpants feel that they were challenged, stimulated, and entertained, enabling them to create a tight-knit community. This has been apparent in the level of the educational content of the program, and in the overall social integration, togetherness and bonding of the group.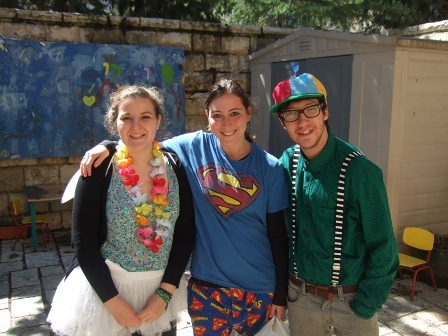 Purim celebrations


During the program, the participants organized a party and celebrated with children of foreign workers in the IMPJ preschool at Beit Shmuel. At Pesach time, several of them enjoyed home hospitality with families in Jerusalem, experiencing a real "
sabra seder
" in Israel. They also honored Israel's Memorial Day for fallen soldiers and celebrated our 64th Independence Day. They even found time to run in the Jerusalem Marathon and learned how to save a life in a
Magen David Adom
crash course.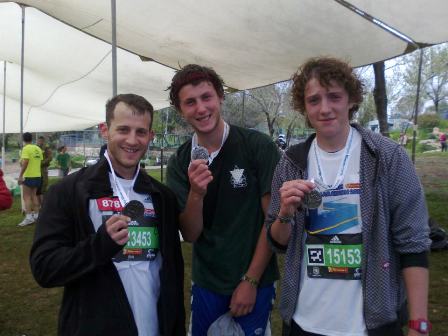 Running the Jerusalem Marathon


In addition to their classroom studies, participants experienced Israel on foot on their two multi-day
tiyulim
(hiking trips):
Tiyul Tzafon
(North) and
Tiyul Darom
(South). Each trip lasted 4-6 days, and was filled with hiking, learning and having fun together. The trips were a great opportunity for the group to escape their regular daily routine, see the country, and create special bonding experiences for the group. This also provided the opportunity for the
Etgarniks
to take on leadership roles as they provided some of the group sessions.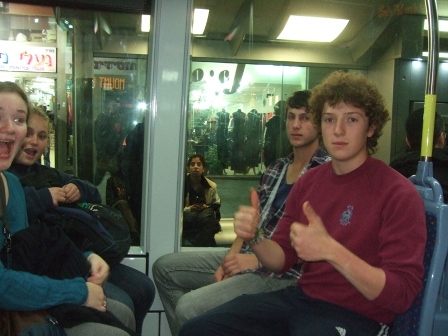 The Jerusalem light rail gets the 'thumbs up'


After spending four months studying Hebrew, Zionism, Judaism, education and community building, we now have a new generation of young leaders ready to return to their home communities and take upon themselves an active role in the Reform congregations.
Check out our Netzer Olami
Facebook page
to see more pictures.
Back to

In This Issue
Reform Movement has strong presence at Limmud Moscow 2012


The Limmud Moscow 2012 conference took place on April 19, at the Klyazma resort centre near Moscow, with over 900 people – a record number to date. This was the 6th Limmud conference with the Moscow Reform community's active involvement, turning this into a wonderful tradition. Our team included Rabbi Leonid Bimbat, Cantor Dmitry Karpenko, Evgeniya Rozental, Executive Director, Evgeniy Mulik, a medical doctor and a congregational Mohel, Machon students, members of Le-Dor va-Dor Moscow Reform congregation and Netzer youth group.
One of the central themes of the conference focused on Russia as a society undergoing change, both in general and in particular for its Jewish citizens. A wide variety of lectures, workshops, panel discussions and presentations were offered, focusing on diverse subjects such as 'The State of Israel – a Land of Minorities', 'Feminism in Judaism', 'Jewish motives in non-Jewish movies' which made the conference even more dynamic and interactive.
Sessions and creativity at Limmud


Prominent presenters include Sofa Landver, Israel's Minister of Immigrant Absorption, MK Alex Miller, Chair of the Knesset Education and Culture Committee, MK Carmel Shama-Hacohen, Chairman of the Knesset Economic Affairs Committee, and Dorit Golender, Israel's Ambassador to the Russian Federation.
As the conference is supported by most of the major Jewish organizations, such as the Conference for Jewish Material Claims against Germany, the American Jewish Joint Distribution Committee (JDC), the Jewish Agency (JAFI), Nativ (the Israeli Prime Minister's office), the Dutch Humanitarian Fund, the Euro-Asian Jewish Congress and others, there was a large international presence adding to the prestige of the conference.
It is clear that our presence at Limmud made an extremely positive impact on the event. The Reform
Kabbalat Shabbat
services led by Rabbi Leonid Bimbat, Cantor Dmitry Karpenko and a choir of musically-talented Machon students offered participants the chance to use a virtual prayer-book as all the words of the Shabbat liturgy were presented on screen. Nearly 100 people enjoyed this innovative Friday Night service.
Rabbi Leonid Bimbat spoke on the issue of mixed-marriages and the challenges of the contemporary Jewish community, Cantor Dmitry Karpenko's presented a concert dedicated to the musical legacy of European Jewry, and Evgeniy Mulik, a medical doctor and a congregational
Mohel
, discussed the medical and religious meaning of
brit-milah
.
Ekaterina Angelova, a very active Netzer youth leader, presented a session which was based on her work with the Integration Project. She described a camp which is organized each summer and integrates children with special needs, with the participation of parents and young children. Congregation Le-Dor va-Dor and the youth movement Netzer actively support the Integration Project.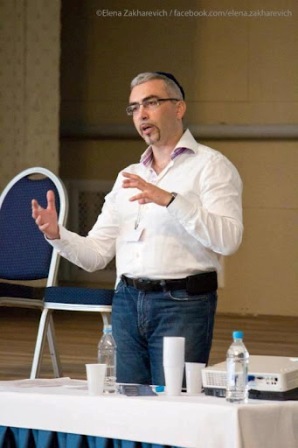 Dr. Mohel Evgeney Mulik


Mark Urnov, Professor of political science, High School of Economics, who recently became a member of Le-Dor va-Dor, spoke about the current political situation in Russia, and discussed short-term political outlook, evolution of a political regime, opposition prospects, mass consciousness, and the foreign policy situation.
For more photos click
here
.
Back to

In This Issue
Presidential Reflections on… Momentous Israeli Reform Movement biennial
Rabbi Stephen Lewis Fuchs, President

Many years ago a popular song sung by B.J. Thomas began with the line: "I can't hide this feeling, deep inside of me…" That lyric and the emotion it expressed coursed through my mind as I experienced my first ever biennial convention of the Israel Movement for Progressive Judaism at Kibbutz Shefaim not far from Tel Aviv, June 1-2. It was a wonderful feeling indeed!
When I arrived in Jerusalem for the first time in 1970 most people with whom I spoke hardly knew what I meant when I said that I was studying to be a "
Rav Reformi
, a Reform Rabbi." In those days you were "either-or" (as the Hebrew expression goes "
Oh Sheh Oh Sheh"),
either Orthodox or secular in your approach to the Jewish religion.
The idea that there was a middle ground was unheard of! Reform Judaism, a Judaism in which we actively affirmed gender equality, the value and beauty of Jewish texts, Jewish learning, Jewish worship and Jewish culture but made positive, critically analyzed decisions on which religious practices we might follow was either unknown or alien to most Israelis.
Seeing and participating in two wonderful days with hundreds of Reform Jews singing, dancing, praying, listening, learning, deliberating and discussing how to shape our Reform Jewish future in the Jewish State was wonderfully uplifting and exciting.
The joy of the convention overflowed as the movement celebrated the landmark decision that will make Rabbi Miri Gold of Kibbutz Gezer the first non-Orthodox rabbi to be officially recognized and paid a salary by the Government of Israel.
There were other reasons to celebrate. Because of the work of our Religious Action Center, headed by Anat Hoffman, it is now illegal in Israel to force women to sit in the back of any Egged bus. The law requires the buses to display a visible sign that says any passenger has the right to sit in any seat on the bus. The law holds the driver of the bus personally responsible to understand and uphold this law.
Of course the idea that women should ever have been relegated to the back of the bus is preposterous for most of us even to think about. The fact that it was once the accepted custom in some areas of Israel is a vital reason why wishing to strengthen Reform Jewish life in the Jewish State until anything other than our complete equality with Orthodox Judaism becomes not just the law of the land but the reality is set firmly in the minds of all Israelis.
The backdrop to all of this joy was the presence of a large, vocal and very proud contingent of NETZER (Reform Zionist Youth, our international youth movement) young men and women. In a wonderful symbolic gesture, Rabbi Gilad Kariv, the highly skilled and hard-working Executive Director of our movement here in Israel wore a NETZER shirt at the final plenary. It was a wordless proclamation that the youth are our future! From what I saw at Shefaim the "feeling deep inside of me" is that the future of Reform Judaism in Israel is in very good hands.
Back to

In This Issue
News in brief

Beit Shmuel's new semester offers refreshing break from summer heat


Following another banner year for Beit Shmuel's course department, we are ready to open the summer semester. The initiative to open a summer semester came after requests from our students, and, following a successful pilot run three years ago, this semester is now a regular part of our courses. While the content of the summer classes is still Progressive Jewish and Israeli, the classes tend to be shorter and "lighter".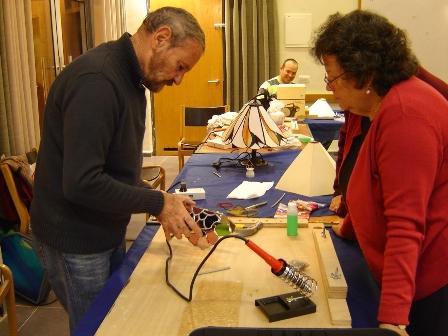 Stained glass class


Some of the classes offered this summer are: "From the Garden of Eden to the Flood: The Genesis stories"; "The Cross, the Fish, the Oil Lamp: Symbolism and Rituals in Christianity" which will include also tours in the Old City; "Armchair Tours of the Five Most Beautiful Cities: Paris, Rome, Barcelona, Moscow, and London", which will cover the architectural attributes of these cities and "visit" well-known attractions as well as some hidden gems; "Forever Young: Using Medicinal Herbs to Stay Young and Healthy"; "Personal Growth through NLP Coaching"; and a crafts class in painting on glass.
Traveling abroad this summer? Looking for that special Reform "upgrade"?
Check in first with the World Union for travel tips and ways to connect with Reform congregations in every part of the world


Summer time means travel time for many of us and the World Union can give you that UPGRADE you deserve. Why be in Paris, Rome, London or Rio over Shabbat and not be welcomed by one of our local Reform congregations? If you arrange your visit in advance with the help of the World Union, you will have the opportunity to meet members of the local Jewish community, feel more at home, and create a connection which may last a life-time.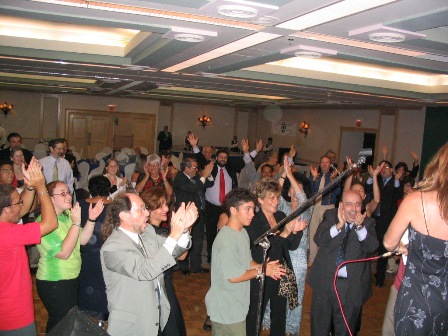 A Conference in Sao Paulo


Because many of our World Union congregations around the world take security precautions seriously, it is always best to write to them in advance informing them of your pending visit and getting full directions as to where the congregation is located. Our World Union office in Jerusalem will help you make the connection to our congregations in 47 countries around the world.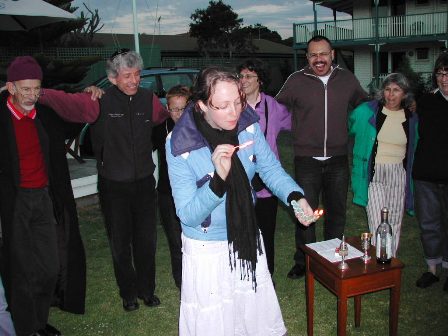 Havdallah service in Australia


So, write us today and let us be of service to help you receive that special REFORM UPGRADE which will turn your visit into something personally meaningful and rewarding.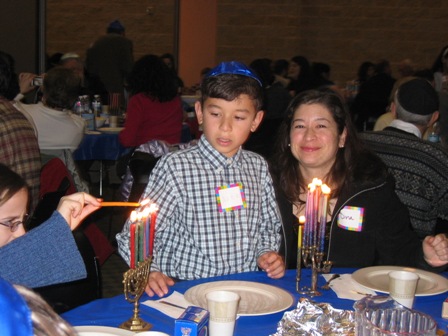 Chanukah in Washington


Click
here
to read a travel blog about Odessa and
here
to write to us today.
Read on about one such connection with a Reform community:
A Jewish Journey to Odessa - There and Backby Judy Smith
For a few days at the beginning of June, Gordon and I joined a group of Jewish travelers from UK Progressive communities on a journey of discovery back to the cradle of Zionism in Odessa and then on to Chisinau (Kishinev) in Moldova to see what remains of the Jewish community after the pogroms of the early 20th Century and the Holocaust.
What we found was an absolutely vibrant Progressive Jewish community in Odessa, Emanu-El. We were hosted for a wonderful
Kabbalat Shabbat
by the community and learned first-hand how many of these members discovered their Jewish roots by accident in later life, and how Jews escaped east into the Soviet Union to escape the horrors of World War II.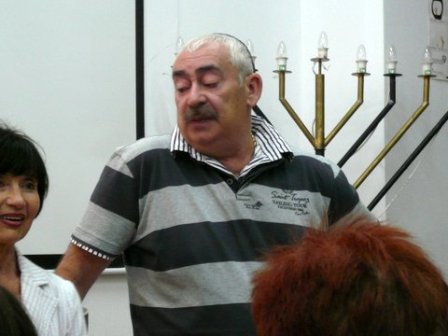 Viktor Zonis, Chairman, Emanu-El community


Emanu-El also happens to be twinned with Edgware & District Reform Synagogue and it was a great thrill just a few days after our return to meet up again with our Odessa friends at events in London at EDRS which were the result of a highly successful twinning relationship between the two communities. These twinnings are an absolute lifeline for communities like Emanu-El – contact the
World Union
headquarters to learn how you can get a twinning match for your synagogue.
Shabbat kiddush


And we can report that Jewish life is alive and well both in Odessa and Kishinev – in fact as we left Kishinev was about to host its first one day Limmud with more than 350 of the Jewish community attending.
Celebrating a decade of Beit Samueli


Beit Samueli was opened in June 2002, following many years of Kehilat Ra'anan in Ra'anana, members fighting for all forms of Jewish Communities to have their own place of worship in Israel. Ten years have gone by and Beit Samueli has become part of the local Jewish scene in the town of Ra'anana. This was accomplished with the help of many generous people, who continue to support the activities that take place in this beautiful center for Reform Judaism. However it is the overwhelming continuous dedication and support of Henry and Susan Samueli to the Center they built, that allows Beit Samueli to grow and be the Jewish home it is for so many Israelis.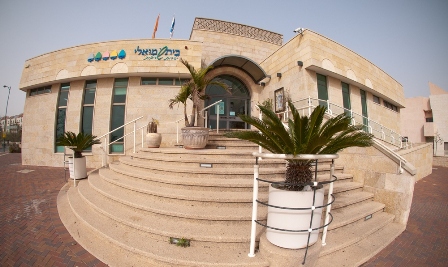 Beit Samueli


On June 29-30, Kehilat Ra'anan will celebrate Beit Samueli's 10th anniversary, and honor Henry and Susan Samueli who will be joining them.
The celebration will include Kabbalat Shabbat services at the Ra'anana Park, a festive dinner honoring Henry and Susan Samueli, keynote speech by Rabbi Michael Marmur, music, song and dance. Click
here
for more details.
Forty Years of Pluralistic Development in Tivon


It was forty years ago that a group of residents in Tivon (a small town located about 15 km/9 mi) southeast of Haifa), came together and decided to create for themselves and the local community a pluralistic congregation. Though originally meant to hold services for the High Holy Days only, these services were so successful that they decided to continue to hold them year round and that is how the Ma'alot Tivon congregation got started. Today, this congregation has some 80 members, families and individuals, who meet for Kabbalat Shabbat services, Shabbat morning services on special occasions, holiday services, services for children, classes and a choir, all under the direction of Rabbi Cory Zeidler.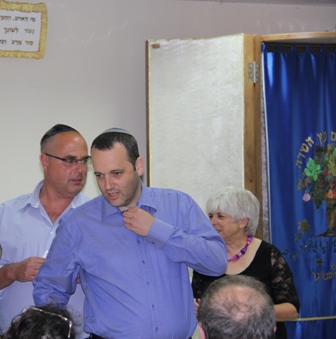 Danny Jaffe, WUPJ CFO and Rabbi Gilad Kariv, IMPJ Executive Director


On Saturday night, June 9, the community celebrated its 40th anniversary. Many leaders and dignitaries took part in the celebration, among them Tivon's mayor David Arieli, Rabbi Gilad Kariv, executive director of IMPJ, and Daniel Jaffe, WUPJ's CFO, who congratulated the congregation and spoke about the significance of the number 40 in Jewish tradition, such as "the 40 years that Bnei Israel wandered in the desert, the 40 days that Moses spent on Mt. Sinai before he received the Tablets, and the 40 days that the spies needed when sent to check out the Land of Israel".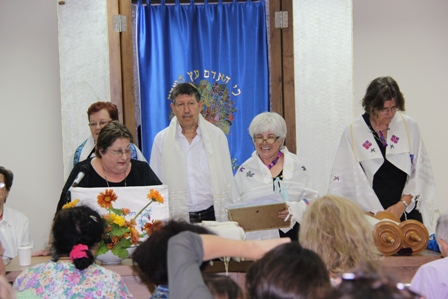 (L-R) Nira Zer, Coordinator; Esti Maman, Chair; Esther and Aharon Zohar, founders; Rabbi Corrie Zeidler


Ma'alot Tivon is twinned with the Oak Park Temple congregation in Oak Park, IL, and enjoy a youth exchange program that has been running for the last three years.



Jewish Studies Center Opens in Berlin


A new Jewish studies center is opening in the German capital to facilitate research into Jewish-Christian and Jewish-Islamic relations, Holocaust remembrance, and other aspects of Jewish history and life.
The German Education Ministry is funding the new Center for Jewish Studies Berlin-Brandenburg with (euro) 6.9 million ($8.6 million) in support for teachers and research over five years.
Berlin's Free University said the center opened Wednesday as part of a joint project with the city's Humboldt University, the Berlin Technical University and the University of Potsdam. The Abraham-Geiger Kolleg rabbinical seminary and the Moses Mendelssohn Center for European-Jewish Studies are also involved. Both are affiliated with the University of Potsdam.
In addition to promoting research, the center will also be used for the academic training of rabbis and cantors.
Back to

In This Issue
Congratulations


Mazal tov
to our former Chair, Steve Bauman and his wife Ina, on the birth of a grandson, Cooper Hayes – Leibish ben Asher, born to their son and daughter-in-law Ethan Bauman and Kate Cutler, and brother to Hudson Gray Bauman.
Back to

In This Issue
Upcoming events
June 22-24, 2012 –
Movement for Reform Judaism
(UK) Biennial Conference, Daventry, England
July 5-15, 2012 – The
Bergman Seminar for Jewish Educators
, Anita Saltz Educational Center, Jerusalem, Israel
July 19-22, 2012 –
UPJ
Annual Conference, Spandau, Germany
August 8-12, 2012 –
World Union for Progressive Judaism-Latin America
(WUPJ-LA)'s 4th Conference of Jewish Communities, Buenos Aires
October 25-28, 2012 –
UPJ
Biennial Conference, Sydney, Australia
February 7-17, 2013 - The Buetel Seminar for Progressive Jewish Leadership, Jerusalem, Israel

April 28-30, 2013 –
WUPJ
Executive Board Seminar and International Assembly Meeting, Jerusalem, Israel
May 1-5, 2013 –
WUPJ
Connections 2013 - Being the Difference, Jerusalem, Israel

Back to

In This Issue