WUPJ News # 434
Issue 434 16 April 2012 / 24 Nissan 5772
In This Issue:
FSU celebrates a momentous Pesach
Walking the Walk on Pesach with Mercaz Shimshon-Beit Shmuel
Reform world celebrates Pesach

President's reflections on… Jewish Camping Experience

News in brief
• South African Union for Progressive Judaism 80th Anniversary Conference is now open for registration!
• Cantorial Festival in Minsk
• It's time "To Learn and Do" at the Israeli Movement's upcoming biennial
• Israel Movement holds annual Riding4Reform Fund-Raiser

Upcoming events

***************************************************

FSU celebrates a momentous Pesach

FSU Pesach celebrations brought flavor to more people than ever, marking a decade of successful cooperation with the HUC Pesach project that brings HUC students to the FSU to conduct communal Sedarim and assist our local staff. The entire FSU Reform movement was mobilized long before the holiday, preparing for their arrival and ensuring an enjoyable and meaningful stay. This year 12 HUC students travelled to the FSU to help Progressive Jews celebrate Pesach. The success of this project is the result of the incredible work done by our FSU rabbis, professional staff, volunteers, youth and community leaders; the HUC students led by rabbinic student Jessie Wainer and cantorial student Vladimir Lapin; and Debbie Pulik, Project Development of the FSU department who led the WUPJ component of the project from Jerusalem. Once again everyone raised the Reform flag to great heights this year.

Pesach in the FSU is without a doubt the main community holiday. In addition to the religious and traditional significance, Pesach is also an extremely important holiday for FSU Jewry as it speaks about freedom from slavery, human rights and development of independent thinking – all the issues that were denied our people for so many years.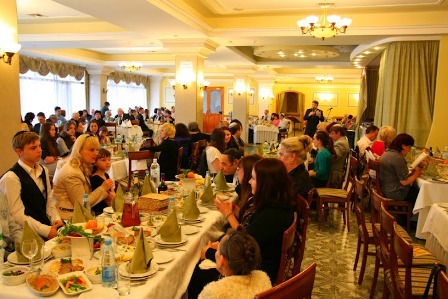 Seder in Kiev

The preparations this year resulted in unprecedented successes in the conducting of the Sedarim themselves that enabled nearly 5500 people from all over the FSU to come together and celebrate the holiday. Pesach this year was definitely family focused, as can be seen in the photos and in the following quotes from two of our FSU-Netzer members:

My name is Albert and I am a new member of Netzer as of the end of February. I try and go to every event. Netzer has become my second home. This year I participated in my first Seder, not as a leader but as a member of the congregation. I really liked the Seder. We were told about the different traditions and given the opportunity to participate in customs such as finding the "Afikoman". My friends and I were successful in finding it and were given a wonderful gift.

My name is Svetlana Birich. I have been a member of Netzer since 2010. For 2 years I have gone to Netzer summer camps, was a part of the 2012 Purimshpiel and went to a seminar that trained youth to lead Sedarim. Once I was just a participant, this year I was one of the leaders of the Seder led by Netzer. I enjoyed it so much!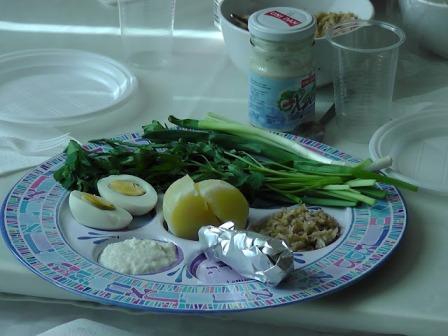 Seder plate in St. Petersburg

Following is a review of the Sedarim and events that took place around the FSU:

Over 1600 people attended Sedarim throughout Russia. 600 people attended the different Sedarim in Moscow's Reform communities and other Jewish organizations, led by Rabbi Alexander Lyskovoy, Rabbi Leonid Bimbat, Program Director Evgenia Rosenthal, Head of Moscow office Valery Sheinin, Administrator Ekaterina Solodkaya, Netzer Coordinator for Russia Ksenia Serebrenia, Cantors Dmitriy Karpenko and Denis Rubin. Sedarim were held at the Moscow Center for Progressive Judaism congregation Le Dor va Dor, with special guest Simon Vine from Alfa Bank, his family and colleagues, who stated that the Seder was most enjoyable and well organized. Other Sedarim in Moscow took place at Severnaya Congregation, Hineni congregation, the Choral Synagogue, and the MEOD community center who held Sedarim for special needs children, hearing impaired people and WWII veterans and survivors.

In St. Petersburg, Rabbi Helena Rubinstein, with the assistance of Alla Mitelman, Director of Programs, conducted several Sedarim throughout the week of Pesach, for a total of 130 participants. These included a special Shabbat event at the Shatil children's center and the community Seder with honored guests Israel Consul General, Mr. Edward Shapira, Former First Secretary of the Embassy of Israel Mr. Boleslaw Yatvetsky, and members of Jewish organizations.

Additional Sedarim were held in other cities throughout Russia - Tver, Krasnodar, Khabarovsk, Tambov, and Orel, as well as in Lipetsk, Tyumen, Chelyabinsk, with HUC students Samantha Shabman and Lindsey Rothschild who assisted in conducting two Sedarim for 110 participants.



Netzer Representatives at Seder Pesach in Moscow

In Belarus, 1990 participants took part in various Pesach activities. In Minsk, Belarus, in addition to the 8th International Cantorial concert (see separate article), 1220 participants took part in Sedarim, lectures, classes, festivals and children activities led by Rabbi Grisha Abramovich, Executive Director, Michael Kemerov, Educational Coordinator, Irina Belskaia, Netzer Coordinator Darya Subotka, Simcha Chair Efim Zhivov and other staff members at the congregations. In addition, HUC students assisted in Sedarim in Vitebsk, Mogilev, Baranovichi and Bobruisk. Some of these Sedarim were held specifically for children and young adults. Sedarim were also held in Brest, "Hatikvah" in Gomel, "Menorah" in Grodno and "Shalom" in Lida.

Over 1800 people participated in Sedarim conducted in 17 Progressive congregations throughout the Ukraine. Six HUC students assisted in leading Sedarim in 5 cities in the Ukraine.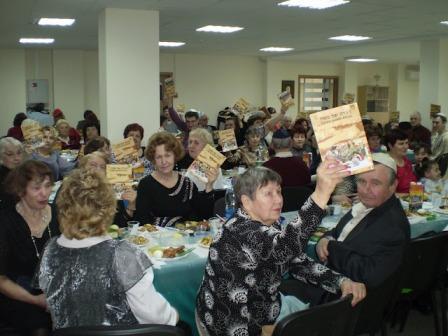 Pesach Seder in Minsk

In Kiev, Sedarim were led by Rabbi Alex Dukhovny, assisted by Executive Director Alex Haydar, Education Coordinator Alexandra Haydar, Financial Director Dmitry Levin and Netzer Coordinator Denis Burmistrov. The Hatikvah Congregation organized a Pesach Seder for 144 participants (the largest in Ukraine) at a local restaurant. This was made possible through the Irving and Cecelia Appelbaum Foundation which made a generous donation suggested by Cecelia Appelbaum of La Jolla, California, to honor the work of her grandson, Jeremy Borovitz who is serving in the Peace Corps in the Ukraine. Jeremy took part and conducted part of the Seder in Russian. The Appelbaum Foundation grant enabled all congregation members to take part in the Pesach Seder. Other guests included leaders of Jewish organizations and First Secretary of the Embassy of Israel.

Additional Sedarim were held in Odessa by community worker Vladimir Torchinsky and the newly appointed Chair, Victor Zonis, and assisted by HUC students Michael Danziger, Benjamin Ross and Liz Bennett. Sedarim were also held in Lutsk, and Siva Fainerman, para-rabbi of Lviv Jewish Progressive congregation led seven Sedarim.



Communal Kiddush in Odessa

In Simferopol, Crimea, 80 people gathered in the prayer hall of the religious community of Progressive Judaism, together with Rabbi Mikhail Kapustin and HUC Students. As one participant told us, "we were so engrossed in the Seder that, while going on for several hours, it seemed to be over in mere minutes".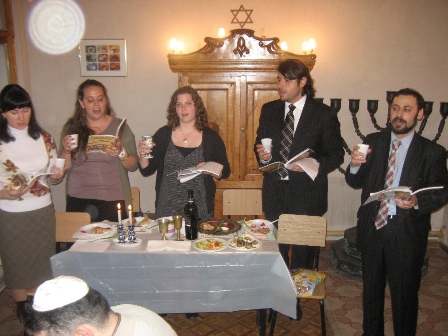 Hebrew Union College students with Rabbi Mikhail Kapustin, in the Simferopol synagogue prayer hall during the holiday

In addition to Simferopol, the HUC students assisted with Pesach celebrations in Feodosiya and Yevpatoria.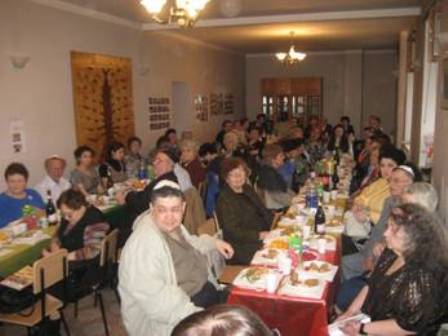 Seder in Simferopol

Additional photos can be seen here:

Pesach Celebrations in FSU
Pesach Celebrations 5772 in Moscow
Pesach Celebrations 5772 in St. Petersburg:
Album 1
Album 2
Album 3



Back to In This Issue



Walking the Walk on Pesach with Mercaz Shimshon-Beit Shmuel

Over 350 people participated in this year's Pesach siyurim (educational tours) held by Mercaz Shimshon-Beit Shmuel. The program included walking tours aimed at adults and families with children, and offered a broad range of topics related to Pesach and Jerusalem, reflecting the history, traditions and architecture.

A recognized brand name in this field and a market leader in educational Reform content, these tours have gained much popularity over the past few years, as many Israelis and visitors seek to reconnect with Jerusalem's history and traditions which they regard as a vital part of their cultural heritage.

The Pesach tours were guided by leaders in the field and focused mainly on the Old City and center of town.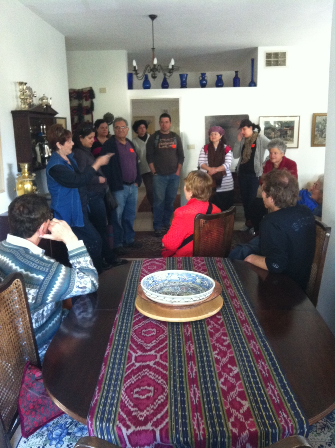 Visiting a home in the Rehavia neighborhood

The tours started on Erev Pesach, even before the first bite of Matzah. While most people were finishing up their cleaning and cooking for the Festival, this tour offered a rare peek into the Haredi and Hassidic worlds to learn about their unique Pesach customs and traditions.

Some of the tours followed famous singers and authors such as: "In the Footsteps of the Banai Family" which showcased the renowned family of singers deeply rooted in the history of Jerusalem, and which took participants through the Machane Yehuda market featured in many Banai songs; author Dan Benaya Seri led a tour of his childhood neighborhood – the Bukharim neighborhood; and a new tour – "One Thousand and One Nights" – offering a different view of the night life and culture of East Jerusalem.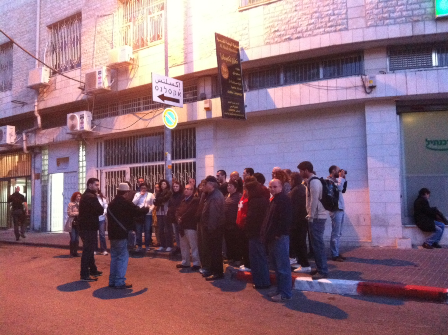 Night life in East Jerusalem

Other tours touched on the archeology and architecture of Jerusalem, such as King David street, which is not only one of the most beautiful areas in Jerusalem, but also home to the Hebrew Union College complex (adjacent to Mercaz Shimshon-Beit Shmuel); "Rooftops of Jerusalem" – which started on Beit Shmuel's rooftop and moved to walls and rooftops of the Old City; and "Underground Jerusalem" – mystery, history, and surprises found under tourist sites in the Old City.



Learning about King David

Several of the tours focused on the Christian sites and customs, as Christians around the world celebrated the Easter holiday. These included Palm Sunday – a festive and colorful reenactment of the entrance of Jesus to Jerusalem; Good Friday; The Washing of the Feet; and Sunday at the Church of the Holy Sepulchre.



Washing of the Feet ceremony (left), and Palm Sunday procession

Mercaz Shimshon-Beit Shmuel is the home of Progressive Judaism in Israel. In addition to regular programming, custom tours in English, Spanish, Russian, and Hebrew, are all led by outstanding trained guides. For more information, please click here to email the tour department.



Back to In This Issue



Reform world celebrates Pesach

Pesach was celebrated in style in our communities around the world. It would be impossible to cover all the festivities – here is just a taste of some of these special celebrations:

Polish Polka
Rabbi Bruce and Barbara Kadden, who are spending several months on sabbatical in WUPJ communities around the world, write to us from Beit Warsawa, Poland:

"A week of cooking, baking and cleaning led up to the search for chametz at Beit Warszawa in Warsaw, Poland. Just as Jews around the world gathered around their Seder tables on Friday evening, April 6, 70 members and guests joined together at Beit Warszawa to celebrate Passover. Led by Rabbi Bruce Kadden, on sabbatical from Tacoma, WA, the four questions were asked, four cups of wine were drunk, the story of the Exodus was shared, children hunted for the afikoman, and songs were sung."



Right: Searching for chametz in Beit Warszawa; Left: Seder at Beit Warszawa

Hungarian goulash
Dalya Levy, Executive Director of Arzenu, and her husband Naftali, were guests at the Seder at Sim Shalom Progressive Jewish Congregation, Budapest, Hungary. Over 100 guests, from very young children to adults, gathered to celebrate the holiday and enjoy a spiritual and delicious Seder led by Rabbi Katalin Kelemen.



Rabbi Kelemen and Board Member Miklos Budai

Dalya says that, "Treasurer Jesse Weil helped to translate some of the special Hungarian readings for us. This has been a very special experience for us that we will undoubtedly remember for years to come."



Seder in Budapest

Seder Samba
Our congregations in Latin America held several collective Sedarim in Brazil, Argentina and Chile. At Associação Religiosa Israelita (ARI), Rio de Janeiro, Brazil, the hall was crowded with people attending the Collective Seder held on April 9th. Participants followed the Seder on a big screen, and songs were performed by Chazanim André Nudelman and Oren Boljover.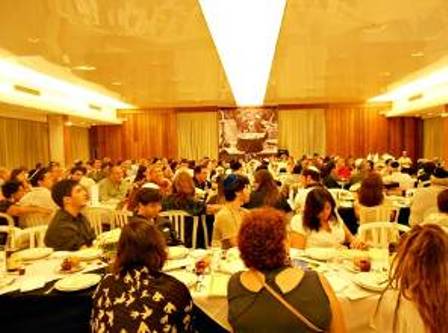 ARI, Rio de Janeiro

The Sociedade Israelita do Ceará (SIC), in Fortaleza, Brazil, community Seder brought together 70 members of the Jewish community to celebrate Passover. The highlight of the evening was the active participation of children in the Magid and Afikoman negotiations, brightening the party.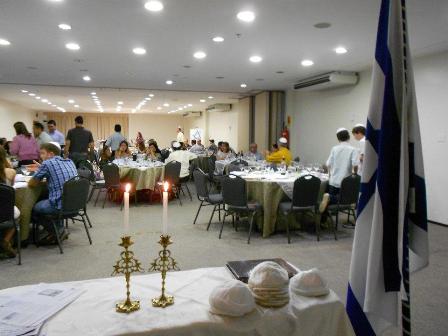 SIC, Fortaleza

With approximately 180 people, the Congregação Israelita Paulista (CIP), São Paulo, Brazil held its traditional community Seder on the first night of Passover. With an impressive number of children, the night was filled with music, questions and answers and good food. Chazan Avi Burstein, Maestro Felipe Pipo Gritz and clarinetist Alexander Travassas entertained the participants.

In a very familiar and relaxed atmosphere, Fundación Judaica (NCI-Emanuel, Arlene Fern Community School, CIRA), Argentina, held their community Seder on the second night of Passover. Rabbi Ale Avruj led participants through the stories and songs of the Haggada, discussing the many classic texts of the Seder on "Ma Nishtana?"

Ruaj Ami, Santiago, Chile, held the 2nd Seder on April 7, with approximately 150 people while Comunidad Max Nordau, Valparaiso, Chile, celebrated Pesach with 50 people.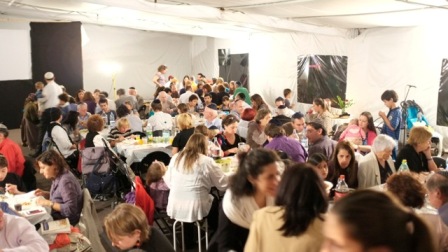 Ruaj Ami, Santiago, Chile



Comunidad Max Nordau

Chinese Fortune Matza
History was made in Shanghai, China when 70 people (an additional 10 people were on a waiting list) joined together on the second night of Pesach to take part in the first ever liberal Jewish Seder supported, in part, by the UPJ and the WUPJ. The Seder was led by Cantor Diego Edelberg who was sent to Shanghai by his home congregation, the UJC in Hong Kong, as a demonstration of support for the emerging liberal Jewish community in Shanghai. HUC Student Rabbi, Megan Brudney, also attended the Seder and helped with teaching and song leading. The emerging Progressive community in Shanghai began this past High Holidays and is growing in size and determination at each step along the way.



Seder in Shanghai



Back to In This Issue



Presidential Reflections on… Jewish Camping Experience
Rabbi Stephen Lewis Fuchs, President, WUPJ




One of our most important projects (and yes! I hope you will want to generously support it) at the World Union for Progressive Judaism is our camping program in the Former Soviet Union. In addition to its vital place on the WUPJ priority list, Jewish summer camping has a very special place in my heart.

I am one of hundreds of American Reform rabbis whose Jewish identity was nurtured and strengthened and whose life was transformed by my experience at one of our URJ camps. I am proud that I was among the first campers when Eisner Camp (before it was named after Joseph Eisner, it was simply known as the Camp Institute for Living Judaism) opened its gates for the first time back in 1958.

We were a small intimate group that first year, but the camp grew larger as word spread of how great it was during each of the three subsequent summers I spent there.

The effect of living in a warm, nurturing, 24-7, Jewish environment was incalculable on me as it was on so many others. It was there that I wrote my first "sermon" for a creative service. It was there that I played the Prophet Amos in a play and having my sheet - which was my costume - fall off during my climatic exhortation. And it was there that I made friends whom I still see at CCAR, URJ and WUPJ conventions.

Because camp played such a vital role in my life, I'd like to see as many youngsters as possible in the FSU have the same opportunity to have fun while nourishing their Jewish soul as I did.

It is for good reason that the FSU is a top WUPJ priority today. For so many years the Soviet government suppressed all religion, but Jews and Judaism suffered more restrictive discrimination than other faiths. We could not leave, and we could not practice Judaism freely.

Rallied by Elie Wiesel's book The Jews of Silence, signs began to appear on synagogue lawns across the free world proclaiming to the Soviet Union, "Let My People Go." And, miraculously, it seemed, beginning in the 1970's, Russia did just that. Many went to Israel, and - in a feat akin to the United States absorbing the population of France - Israel brought them home.

Of course many Soviet refugees went to other countries, and the stories of how synagogues and their congregants welcomed them and eased their adjustment to a new life is a source of pride for the Jewish people.

Many Jews remained in the FSU as well, and now, in a climate of greater religious freedom, they have the chance to discover their Jewish roots. The World Union considers it a great privilege to help in that process in any way that we can, and camping is one of those ways. I hope to travel to the FSU this summer, to see with my own eyes the miracle of Jewish identity building that occurs in our FSU camps.

Between now and then I hope many of you will make a donation to the program. It costs $900 to provide a camping experience for a child in the FSU. If each person reading this made a donation -- however small or large you feel comfortable contributing -- it would make a great difference!

Won't you participate in building a strong progressive Jewish future by enabling more young Jews in the FSU to have this wonderful opportunity?

Click here for details and here to fill out the form and return to our office in New York with your gift.

For more information on the FSU summer camp program, and to read the report from last summer please click here.



Back to In This Issue



News in brief
• South African Union for Progressive Judaism 80th Anniversay Conference is now open for registration!
• Cantorial Festival in Minsk
• It's time "To Learn and Do" at the Israeli Movement's upcoming biennial
• Israel Movement holds annual Riding4Reform Fund-Raiser


South African Union for Progressive Judaism 80th Anniversary Conference is now open for registration!

The South African Union for Progressive Judaism (SAUPJ) Conference, celebrating 80 years of Progressive Judaism in Africa, will take place in Johannesburg, June 7th through 10th.

The conference will include intensive discussions on Jewish Identity; Israel in the changing Middle East; Issues Problems & Successes of Diaspora Jewry; the Image of Jews in the media; Anti-Zionism and Anti-Semitism; Keynote and Panel discussions about the changing meaning of Justice in South Africa. Other featured sessions will seek to establish a new vision for South African Progressive Judaism, and learn about the activist and spiritual changes in our Movement now and for the years ahead.

Register on-line through the SAUPJ to ensure your place at this gala celebration of 80 years of Progressive Judaism in South Africa.


Cantorial Festival in Minsk

The Religious Union for Progressive Judaism in Belarus held its eighth annual International Cantorial Festival over Pesach, at the "Beit Simcha" Sandra Breslauer Center for Progressive Judaism and the 132 Jewish School in Minsk.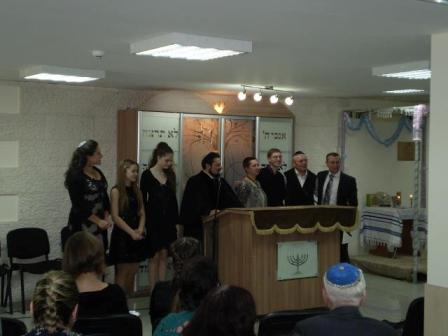 More than 350 people gathered to hear Jewish liturgical music performed by leading singers as well as cantorial students from Hebrew Union College-Jewish Institute of Religion in Jerusalem, who had come to Belarus as part of the annual HUC-JIR/World Union Pesach Project. The students also assisted Rabbi Grisha Abramovich in teaching a session on the Haggada.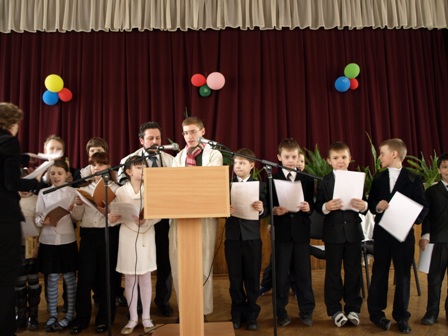 Special guests included the school director, representatives of ORT and JDC. The Сharge D'Affaires of the USA embassy Jonathan Benton and the RUPJ in Belarus chair Ludmila Izakson opened the Festival. For the first time, 30 children and young adults sang and played instruments at the festival, some of them from other cities in Belarus (Mogilev, Lida and Gomel).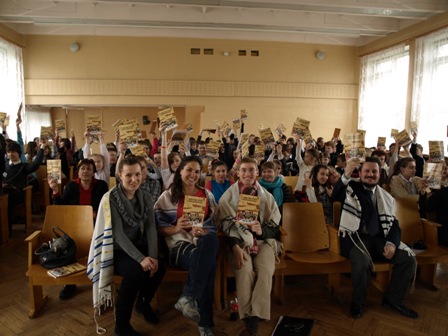 It's time "To Learn and Do" at the Israeli Movement's upcoming biennial

The Israel Movement for Progressive Judaism (IMPJ) has announced its upcoming biennial which will take place in Shefayim, Israel, June 1–2. This year's theme will be "To Learn and to Do" and will focus on two of the IMPJ's core concepts: education and social action. Some of the featured speakers and musicians include: author Yochi Brandes; economist Prof Manuel Trajtenberg who headed the Trajtenberg Committee for Social Reform; MK Shelly Yechimovich, leader of Israel's Labor party; former MK Yossi Sarid, renowned artist Shlomo Gronich and many more.

The IMPJ's biennials are a celebration of learning, meeting, and a spiritual coming together of community members from around the country. The biennials attract over 1,000 participants who come with their families to learn, exchange ideas, and spend an uplifting Shabbat together.

Please visit the IMPJ's Web site for further information or send an email to veida@reform.org.il.


Israel Movement holds annual Riding4Reform Fund-Raiser

Twenty-three cyclists from Israel and around the world took part in the Israel Movement for Progressive Judaism's annual Riding4Reform fund-raiser, held March 25-29. Starting in the Carmel mountains near Haifa, the cyclists rode for five days from the northern coastal region, through forests, National Parks, beaches, and the Ayalon Valley, ending in Mevasseret Zion (near Jerusalem).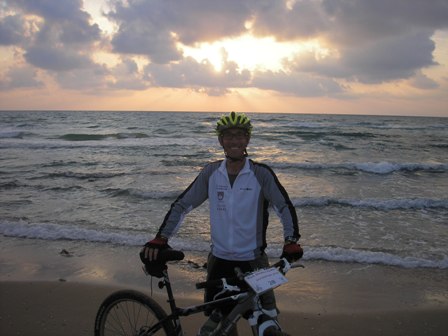 These enthusiastic cyclists, mostly from North America and Israel, raised money that is earmarked for the establishment of new Progressive congregations in Israel.

One of the cyclists, Rabbi Mark Strauss-Cohn (on sabbatical in Israel from Temple Emanuel, Winston Salem, NC) said, "What a great time…Amazing terrain, a wonderful group of travelers, and a very worthwhile cause." He collected quotes and thoughts from other participants about the ride; here is what some of the cyclists had to say about this amazing experience:

"…This ride has been far more than just 250km from the Carmel to Mevasseret. It has been about soup and sandwiches. It has been about personal challenges…"

"…We have learned what congregations like Beit Daniel and Bavat Ayin are doing to create meaningful Judaism for Israelis…"

"…Though meant in the context of biking, if you look at that teaching in the context of developing Reform Judaism, Avi gave us a beautiful metaphorical quote for inspiring us to work diligently with the Reform movement here: 'Israel is the best place to ride but what most people don't realize is how difficult the Israeli terrain is'."

Read more in Leslie Lev's blog, and visit the Riding4Reform Web site to learn about participating in this amazing event.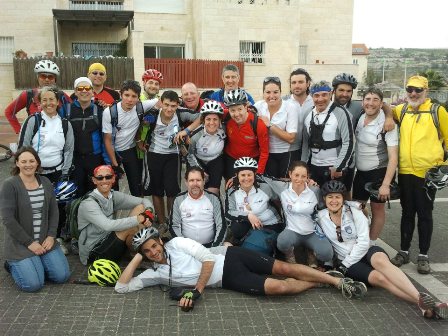 Back to In This Issue



Upcoming events

April 20-22, 2012 – Liberal Judaism UK Biennial Conference, Bristol, England

June 1-2, 2012 – Biennial Conference of the Israel Movement for Progressive Judaism (IMPJ), Israel

June 8-10, 2012 – 80th Anniversary and Biennial conference of the South African Union for Progressive Judaism (SAUPJ), Johannesburg

June 22-24, 2012 – Movement for Reform Judaism (UK) Biennial Conference, Daventry, England

July 5-15, 2012 – The Bergman Seminar for Jewish Educators, Anita Saltz Educational Center, Jerusalem, Israel

July 19-22, 2012 – UPJ Annual Conference, Spandau, Germany

July 22 - August 1, 2012 – The Roswell Seminar for Social Justice, Anita Saltz Educational Center, Jerusalem, Israel

August 8-12, 2012 – World Union for Progressive Judaism-Latin America (WUPJ-LA)'s 4th Conference of Jewish Communities, Buenos Aires

October 25-28, 2012 – UPJ Biennial Conference, Sydney, Australia

April 28-30, 2013 – WUPJ Executive Board Seminar and International Assembly Meeting, Jerusalem, Israel

May 1-5, 2013 – WUPJ "Connections 2013", Jerusalem, Israel



Back to In This Issue