Issue #523
October 8 2015 / 25 Tishri 5776
Featuring

Coming Together Around the World: WUPJ High Holiday Roundup

News Bits
Condolences
Dear Reader
Upcoming Event
Coming Together Around the World: WUPJ High Holiday Roundup

The World Union for Progressive Judaism's (WUPJ) family of communities gathered to pray, hear the shofar, shake the lulav and of course celebrate the beginning of 5776. Whether in London, Shanghai, Rome, St. Petersburg, across South America, Israel and the United States, each WUPJ-affiliated kehila observed the High Holidays in its own inimitable way.

Below, are just a few highlights of the holiday season that was:

Shanghai, China: Torah Finds a New Home and Invigorates a Congregation
By Rebecca Kanthor for the Tablet

"A well-traveled Torah relic rescued from Nazi Germany has made its way to China—via Brazil—to serve a lay-led liberal congregation in Shanghai, China, that was in need of a Torah in order to conduct Rosh Hashanah services. The Torah, which has seen several repairs over the years and dates back to 1939 Germany, was welcomed with open arms by members of Kehilat Shanghai during the fledgling congregation's Rosh Hashanah services—the first to be held in the former Ohel Moishe synagogue, where European Jews took refuge during World War II, in over 60 years.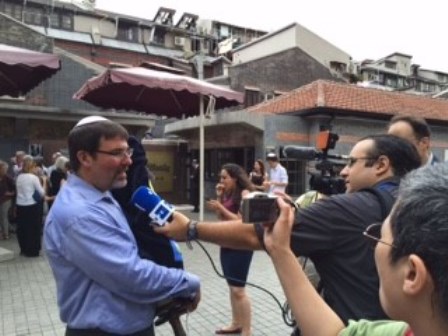 Big News: Rabbi David Wolfman being interviewed Rosh
Hashanah morning at Ohel Moshe, where the first
service in decades was held.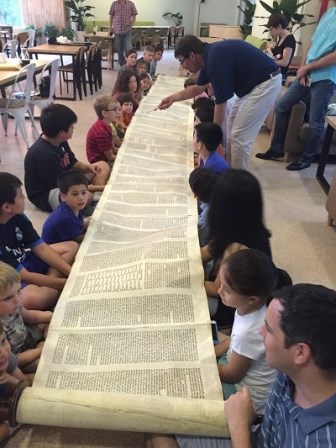 Welcome, Torah: Kehilat Shanghai's younger
members get a closer look at the
much-travelled scroll.

The Torah has now served congregations spanning three continents. It was smuggled out of Germany in 1939 by Siegfried Moses, a member of Berlin's Wisenstrasse Synagogue. Moses had been granted a visa to Brazil, so he agreed to carry the Torah with him, taking on a great risk as there were severe luggage restrictions in place for immigrants from Germany, according to Ricardo Gorodovits, President of ARI.

"It was one of our first Sefarim used extensively in all our ceremonies from 1942 until recently," Gorodovits wrote in an email. The community that attends ARI was founded by German immigrants. Today it consists of 900 families, making it the largest congregation in Rio de Janeiro.

When Rabbi Joel Oseran, World Union for Progressive Judaism vice president, who led Kehilat Shanghai's first High Holiday services five years ago, suggested to ARI that they donate one of their Torahs to a congregation in need elsewhere in the world, they chose Shanghai. The Torah donation was a way of honoring one of ARI's founders, Josef Aronsohn, whom along with his father, was a German refugee in 1940s Shanghai before finding his way to Rio.

For Buzali, bringing the torah from Rio to Shanghai marks an important step in Kehilat Shanghai's growth as a congregation. "I think this means we now have a responsibility to have a continued presence here," she said. "We need to always have a community around this Torah to support it and make sure that it is used. I think we can do it…"
Israel: (VIDEO) Dancing the Night Away in Jerusalem on Simchat Torah

On the night of October 5, 2015 Hakafat Shniyot took place at the Kiryat Yovel neighborhood in Jerusalem, led by Israel Movement for Reform and Progressive Judaism's (IMPJ) Kehilat HaDror and Rabbi Ezra Ende. IMPJ-affiliated communities across Israel likewise celebrated and marked the conclusion of the annual cycle of public Torah readings, and the beginning of a new cycle: Simchat Torah.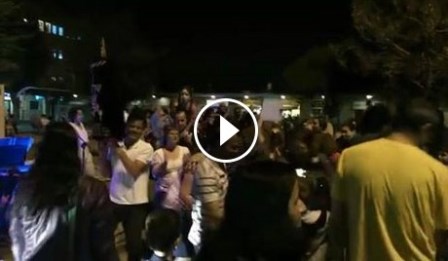 Where's the Party? Click here to join the
celebrations in Jerusalem!
United Kingdom: Refugees are Welcome

Liberal Jewish communities around the UK spent the High Holy Days welcoming and supporting refugees.

A campaign that Liberal Judaism began more than 13 months ago, on Sukkot 2014, has been given a new urgency in recent days – uniting all religious and community leaders.

Rabbi Danny Rich, Liberal Judaism's senior rabbi, speaking on behalf of Liberal Judaism's Board of National Officers (pictured below), said: "Last Sukkot, Liberal Judaism – in partnership with Citizens UK – began its 'Sanctuary Campaign' to persuade each local authority to agree to welcome 50 refugees under the United Nations Vulnerable Persons Scheme. At the time, the British Government had offered 750 places but less than half had been completed."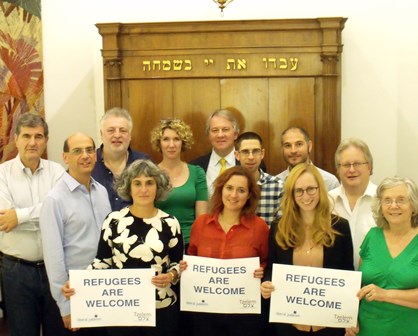 For Humanity's Sake: Liberal Judaism unites to
provide relief to refugees.
Rabbi Rich added, "The arrival of refugees in a given area requires planning for the provision of accommodation, school places and medical practices, for example, and local people of all faiths and none began to undertake these tasks with their local authorities. It was also agreed that successful integration was vital, and Liberal synagogues offered voluntary teachers and space for basic English classes."

Rabbi Rich noted, "The tragic image of the drowned three year old, Aylan Kurdi has suddenly awakened the efforts of all religious leaders, many politicians and much of the British public in the face of what is perhaps the greatest moral and practical challenge facing Europe in more than 50 years.

The Jewish community – with our particular experience as a 'wandering people' – stands ready to provide immediate aid through the coordinated efforts of World Jewish Relief, and I am confident that we Jews, in partnership with British society, will more than meet our obligations in the longer term."

In addition, Northwood & Pinner Liberal Synagogue (NPLS) is working with local churches to act as a hub for donations (pictured below). Liberal Judaism members and communities were asked to bring sleeping bags, winter clothing, and tents to NPLS by September 26, to be sent on through West London Synagogue to those in need of shelter.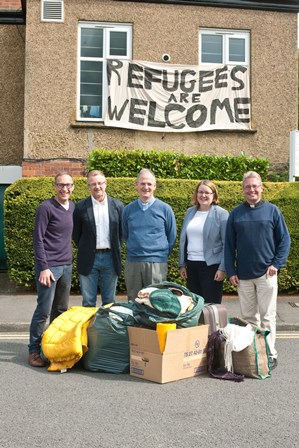 "Whoever Saves One Life Saves the
Entire World': NPLS.
South London Liberal Synagogue has begun a collection of items to go Calais in October, as well as appealing for people to rent rooms to refugees or take in children. Rabbi Janet Darley also represented Liberal Judaism at the Citizens UK outside of Westminster Cathedral that attracted more than 400 people.

Finchley Progressive Synagogue has launched a campaign to ask Barnet Council to commit to resettling 50 Syrian refugee families in the borough. Led by Rabbi Rebecca Qassim Birk, a team of volunteers have also been working on finding landlords willing to rent to refugees, negotiating with local schools and increasing publicity for the campaign.

Last but not least, Norwich Liberal Jewish Community has been campaigning for the resettlement of some of the most vulnerable Syrian refugees for more than a year.

In addition, the community is looking for people who would be willing to temporarily house a refugee.

Meanwhile in early September, there was standing room only at Reform Judaism's emergency meeting to address the migrant crisis sweeping Europe. More than 70 people from Reform communities gathered at the Sternberg Centre to discuss a coordinated response to the plight of those fleeing desperate situations in their countries of origin. An online broadcast allowed people to participate from across the country including Leeds, Newcastle and Glasgow.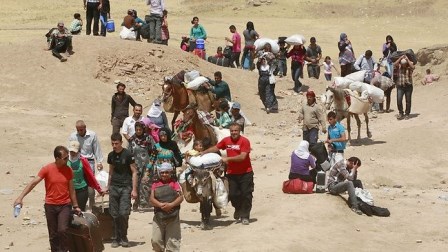 UK's Reform Judaism reaches out to refugees
(image courtesy of Russia-Insider.com).
The meeting explored different proposals from around the country, from synagogue drop-ins and shelters, to campaigns targeting local councils.

The meeting was chaired by Rabbi Mark Goldsmith of Alyth (North Western Reform Synagogue) and Rabbi Laura Janner-Klausner, Senior Rabbi to Reform Judaism.

Robert Weiner, Chair of Reform Judaism, said the Movement would act as a conduit and share knowledge and resources with communities across the country.

Rabbi Laura Janner-Klausner said: "The ongoing migration crisis has touched our community in the UK in a way we have not seen before. When we look across at Calais and beyond, we see ourselves. Both our Reform Jewish values and our history as refugees make a meaningful response to today's crisis an imperative for our Movement. People are seeking practical ways to respond and it was inspiring to see so many community members eager to help."
Former Soviet Union: Days of Awe in Russia, Ukraine and Belarus

Across the countries that once comprised the Soviet Union (FSU), the High Holidays were observed and celebrated by thriving Progressive congregations. From Odessa to Moscow, St. Petersburg to Kiev, Lutsk to Minsk, each community infused the Days of Awe with its own local flavor. Jewish men and women living in the FSU gathered strength by worshipping together, and welcoming visitors from around the world.

Congregation Ner Tamid in Simferopol, on the
Crimean Peninsula.
Celebrating Jewish holidays in Russia can be challenging, for a variety of reasons. Yet, the Shaarei Shalom community in St. Petersburg is young and vibrant. Despite the members' busy work schedules, the fall holidays attracted hundreds of people. During the Hebrew month of Tishrei, more than 350 people came to pray at the synagogue.

During Rosh Hashanah, more than 80 people gathered to say prayers at Shaarei Shalom. There were guests from across Russia, the United States and Israel. A special highlight of the evening was the Michael Lotem, Consul General of Israel in St. Petersburg reading the prayer for peace, followed by the lighting of candles by his spouse.

Indeed, Shaarei Shalom's Rosh Hashanah celebration was even broadcast on Russian television.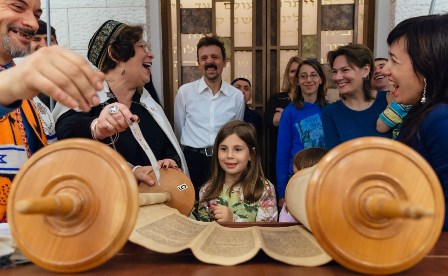 Here's to 5776: Rabbi Elena Rubinstein leads the
Simchat Torah celebration at Shaarei Shalom.
Summing up the High Holiday season, Rabbi Elena Rubinstein said: "When I see the happy faces of women and men, girls and boys, reading and dancing with the Torah, I have great pride in my religion. Judaism is always evolving, always modern, always Progressive!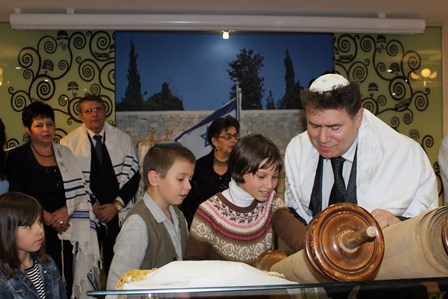 Ten Days of Tishrei: Rabbi Alexander Dukhovny at the
Kiev Hatikvah Religious Center for Progressive Judaism.
Not to be outdone, Lviv, Cherkassy, Kirovograd, Khmelnitsky, Korsun'-Shevchenkovsky, and other Reform/Progressive congregations in Ukraine held festive celebrations during the month of Tishrei.
More than 1500 persons attended these festive gatherings. Every congregation in Ukraine prayed for peace in Ukraine, Israel, and all over the globe.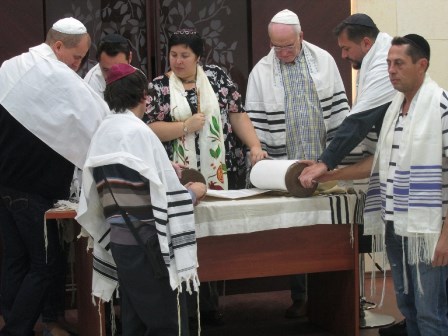 Progressive Odessa: Rabbi Julia Gris (center)
leads services at Emanu-El.
In Odessa, the Emanu-El Progressive congregation welcomed over 400 people during the month of Tishrei.

In total, over 5,ooo Reform Jews from Ukraine and their guests participated in the celebrations of the High Holidays.

The dancing, singing, laughing and eating on this festive day were a small, sweet reward for all the years of hard work done by the lay-and professional leaders of the Progressive Movement. Thanks to their tireless efforts, the movement is now firmly re-established in Ukraine.
Over in Belarus, for the fourth straight year, Beit Simcha Center community members observed Yom Kippur along with Hillel students.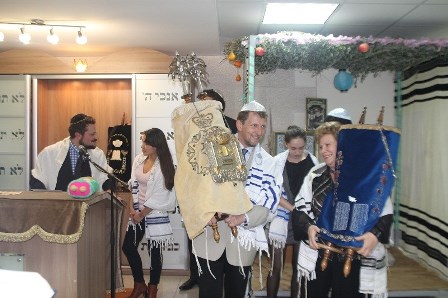 Dances with Torah: Rabbi Grisha Abramovich (left) and the
Beit Simcha community take part in Hakafot
marking Simchat Torah.
80 young people took an active part in the services, along with Beit Simcha's oldest and dearest member, 98-year-old Sara, who made her first Aliyah to the Torah.

Throughout the High Holidays Rabbi Grisha Abramovich led special services for children, in Mogilev on the first day Rosh Hashanah and in Vitebsk children during Sukkot.

Hopefully, the three students from Belarus who are currently studying at the Moscow Rabbinic Leadership Institute will return one day to lead High Holiday services in their home communities.

In total, the High Holiday services and activities in Belarus were held in 13 communities in Belarus and attracted 1500 participants.
Guatemala: Adat Israel Gets Rid of Baggage, Ushers in 5776
By Rabbi Eliot Baskin
The WUPJ was proud to have been able to arrange Rabbi Baskin's trip to Guatemala City's Progressive community, Adat Israel.

"After an awesome Shabbaton this past August with Adat Israel, the Reform congregation in Guatemala City, in conjunction with my rabbinic global justice fellowship at American Jewish World Service, I returned with my family to volunteer to lead the community for the 5776 Days of Awe.

First, we participated in a spirited Tashlich, with "traditional" Guatemala baguettes representing the baggage we wanted to get rid of before the New Year began, at a gorgeous tropical eco-park where we were serenaded by butterflies.


This year's High Holiday services were enhanced by the beautiful singing voice of Jinny Sagorin, a School of Jewish Music student.
The High Holy Day services were attended by tourists and students from all over the world, as well as members of Shir Chaadash.

Hungary: Sim Shalom Observes High Holidays While Remembering the Refugees
In response to the refugee crisis emanating from Syria, Afghanistan, and elsewhere, Budapest's Sim Shalom Progressive Jewish Congregation raised nearly USD $2,000. Approximately half of the amount came from Sim Shalom's own members, while the remainder was donated by mean and women from around the world.



In the meantime, the WUPJ-affiliated Sim Shalom congregation celebrated the Jewish New Year in grand style. Due to the large turnout for the annual Erev Rosh Hashanah, members and special guests have been celebrating the New Year at a local hotel.


This year, 5776, Sim Shalom welcomed special guests that included six students from the United States who were spending a semester abroad in Budapest.


Most of the visitors also showed up for Yom Kippur, which took place at Sim Shalom's own synagogue.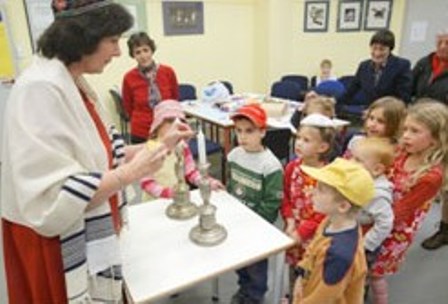 Yidishkeit in Budapest: Children gather around a
candle lighting at Sim Shalom.

For Sukkot, Sim Shalom joined forces with the Israeli Cultural Institute. Both organizations set up a large Sukkah and

Rabbi Kelemen

, founding member and spiritual leader of Sim Shalom, led the program along with student rabbi

Armin Langer

.


Finally, on the night of October 4, Sim Shalom Simchat Torah, dancing with the Torah, before doing the reading of the last and first verses of the scroll.

News Bits

Only a Few Spaces Left For WUPJ's Southern Jewish Civil Rights Experience
Abraham Geiger College to Mark 80 Years of Women in the Rabbinate
From November 17 - 19, 2015, the Abraham Geiger College and the School of Jewish Theology at the University of Potsdam will mark the 80th anniversary of Rabbi Regina Jonas' ordination with an international conference, "The Role of Women's Leadership in Faith Communities."


More than 40 presenters from Europe, Israel and the United States – including Central Conference of American Rabbis (CCAR) President

Rabbi Denise L. Eger

– will explore the impact of women in the rabbinate; discuss issues of leadership and authority; women's religious scholarship and the state of gender equality today.


The keynote address, "The Presence and Absence of Women in the Intellectual History of the Jewish Community," will be delivered by
Professor Rachel Elior
of the Hebrew University of Jerusalem.


The Wednesday sessions will take place at the University of Potsdam on the outskirts of Berlin, with an Opening Address to be delivered by

Professor Pamela S. Nadell

of the American University Washington, DC.


The conference will be open to the public. Online registration is currently available. Sign up for an exciting conference which will provide an excellent opportunity to network with leading scholars, rabbis and lay leaders from round the world.

From April 12 to 14, 2016, the Women of Reform Judaism (WRJ) in cooperation with the European Union for Progressive Judaism (EUPJ) and WUPJ, will be convening the inaugural Wilkenfeld International Women's Leadership Seminar in London, England.

The purpose is to help Reform/Progressive Jewish women from around the world learn leadership skills and encourage them to take on leadership roles in their home communities. Travel and registration subsidies are available. There will be limited spaces.


Participants will:

Learn the "why" and "how" of leadership.
Meet Reform and Progressive Jewish women from around the world.
Establish a new global network.
Develop skills that can be used in their own communities.
You can access the online information and registration
here
. Registration is USD $500, including Tuesday & Wednesday hotel and meals, through Thursday lunch.

Applications
with a letter of endorsement are due by November 20, 2015.


The Jewish Publication Society Releases 50th Anniversary Editions of Two Classics by Rabbi W. Gunther Plaut
The Jewish Publication Society recently released two seminal works on the beginnings of the Reform Movement by Rabbi W. Gunther Plaut.

The Rise of Reform Judaism: A Sourcebook of Its European Origins covers the first one hundred years of the movement, from the time of the eighteenth-century Jewish Enlightenment leader Moses Mendelssohn to the conclusion of the Augsburg synod in 1871.

Rabbi Howard A. Berman updates this fiftieth anniversary edition with a new introduction.