Issue #520 - An Abbreviated Summer Issue
August 27 2015 / 12 Elul 5775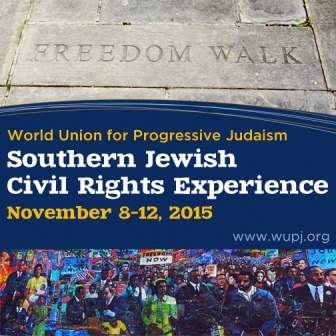 Jews played a significant role in the American Civil Rights movement in the 1960's and many of our Reform Jewish communities joined in the struggle for freedom and equal rights. In a special trip, originally developed for World Union of Progressive Judaism representatives to the
2015 URJ Biennial
, this post-biennial tour is open to those who register for the Biennial and would like to join with Reform Jewish friends from Europe, Australasia, Israel, Latin America, the FSU and South Africa.
You will visit Birmingham, Montgomery and Selma, Alabama and Atlanta, Georgia to tour significant historical sites of the Civil Rights struggle and meet with current and past leaders of the Reform movement, and Civil Rights leaders who were involved in this critical work. You will hear from those whose lives were impacted by the fight for equal rights and celebrate 50 years since the March on Selma. Register early as there is a limited number of places available.
What do you think about our newsletter?

November 5, 2015 - International Humanitarian Award Dinner Honouring Rabbi Lenny Thal & Installation of Rabbi Daniel Freelander,
URJ Biennial Conference
, Orlando, Florida