Highly successful youth leadership seminar held in St. Petersburg
The first of three leadership seminars supported by Sue and Jimmy Klau took place in St Petersburg, at the Shaarei Shalom Community Center on 14-16 February, with 35 participants from Belarus, Russia and Ukraine. Alex Kagan, FSU Director, and Rita Fruman, FSU Nezter Coordinator worked tirelessly with our professional staff in St. Petersburg – Rabbi Helena Rubinstein and Community Programs Director Alla Mitelman – ensuring the smooth running and success of this program.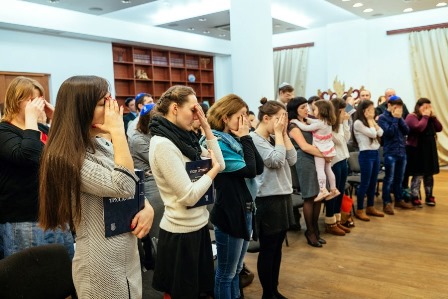 Praying together in St. Petersburg
These seminars play a vital role in enriching and developing the future generation of young Progressive Jewish leaders, enabling young leaders from all over the FSU to participate in workshops, hear lectures, pray together, share experiences and plan for the coming year, ensuring that the programs are rich in Reform Jewish and Zionistic content.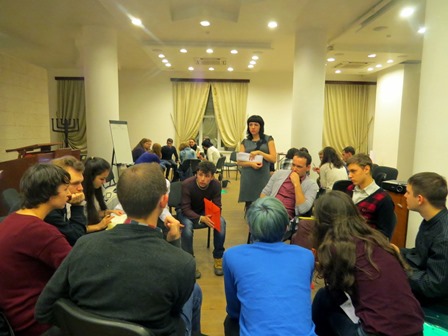 Alla Mitelman talks about Motivation and Decision Making
The topics covered at the seminar included: History and Reform in Judaism from Biblical Times to Modernity with Rabbi Helena Rubinstein; 'Leaders and Leadership' focused on modern leaders and types of leadership with Alex Kagan; Motivation and Decision Making with Alla Mitelman; and the Significance of the Netzer Movement Ideology in Developing Jewish Identity with Rita Fruman.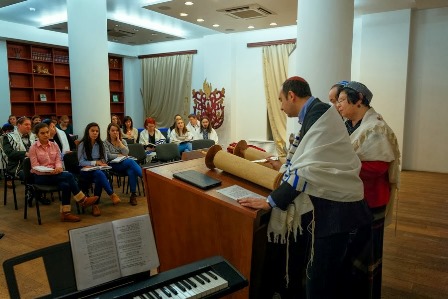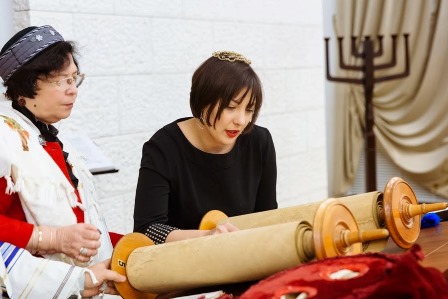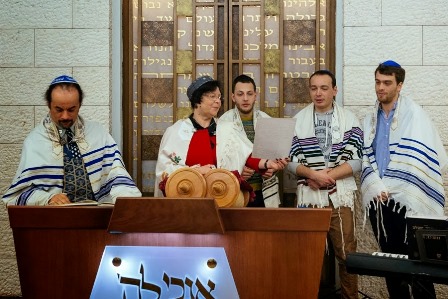 Three Aliyot with Rabbi Rubinstein at Shabbat morning services (top to bottom): Alex Kagan, Rita Fruman, and FSU Netzer Coordinators
The group toured "Jewish St Petersburg" with community member Michael Jukov, visiting the Choral Synagogue (renovated in 2006) and the 19th century 'House of Architects' which is rich in Jewish history and artifacts.
Kabbalat Shabbat, Shacharit and Havdala services were held in the warm, pleasant family atmosphere which characterizes the community, and Rabbi Rubinstein gave meaningful and interesting sermons. The congregation was honored by Edward Shapiro, Consul General of Israel in St Petersburg, at Shacharit.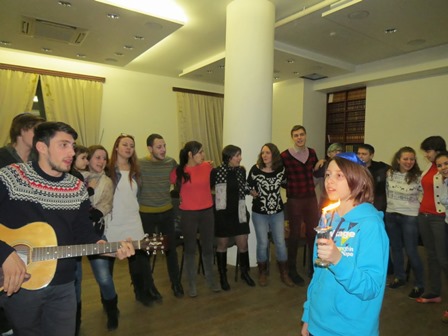 A lively and sprited Havdalah service
The event attracted media attention (
see TV coverage
with Alex Kagan and Rabbi Rubinstein). In his interview, Alex stressed the importance of investing in youth leadership seminars in order to strengthen their Jewish knowledge and connection with the Jewish People and Israel, and provide continuity to their communities.
In summing up the seminar Rita Fruman said: 'It was wonderful to see this group of young people… working together and learning from each other… The fact that each participant contributed a symbolic amount of money for their participation is another indication of their enthusiasm. They all agreed that Netzer influences their Jewish identity and values, which in turn influences their daily life… The fact that the seminar took place in the Shaarei Shalom community center gave a sense of security to the youth leaders, knowing that there is a facility with a supportive and creative rabbi and a very active community."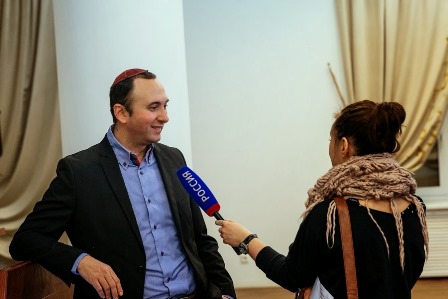 Alex Kagan discusses the importance of investing in youth on major TV station (click anywhere on the photo to access the interview)
We would like to thank Sue and Jimmy for their insight into the importance of the development of young leaders in the FSU. The participants join us in thanking the Klau's for their generosity and feel the responsibility to give back to their communities.
Please see
Netzer FSU Conference in St-Petersburg photos
and "
Thank you!" clip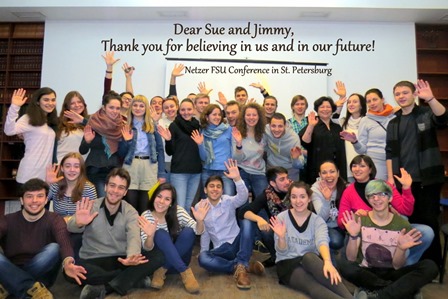 A picture worth a thousand thanks! (Click anywhere on the photo for the "Thank You" clip)
Back to In This Issue