Learning and Doing at IMPJ's recent Biennial conference
Some 1,200 men, women and children participated in the Israel Movement for Reform and Progressive Judaism (IMPJ's) 20th Biennial conference held in Shefayim (near Tel Aviv) June 1–2. The conference theme was "To Learn and to Do" and marked the 25th anniversaries of both the Israel Reform Action Center (IRAC) and Ganei Haim, IMPJ's preschool network (which was actually established with the support of the WUPJ). The panel of speakers and musicians included author Yochi Brandes, economist Prof. Manuel Trajtenberg who headed the Trajtenberg Committee for Social Reform, Knesset Member and leader of the opposition Shelly Yachimovich, musician Shlomo Gronich, and many more.
The biennial included dozens of workshops, lectures, and study sessions, along with discussions on pluralist Jewish educational programming, the achievements of the IMPJ's schools and preschools and their effect on the Israeli public school system, and social action activities.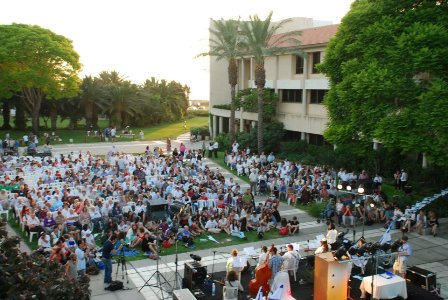 Kabbalat Shabbat services


Gilad Kariv, IMPJ's executive director, noted that there were many highlights at the biennial, including "the moving and spiritual
Kabbalat Shabbat
services with over 1000 people, the conferring of the "
Yotzer Or
" prize (awarded to Jewish-Israeli writers and artists) to author Yochi Brandes and musician Shlomo Gronich, the festive
Kiddush
honoring IRAC. And of course, the recent victory in the Israeli Supreme Court where Rabbi Miri Gold received official recognition by the State of Israel, was very much 'in the air' throughout the conference." He goes on to say that "it would be impossible to describe the success of this conference without talking about the hundreds of teens from the TELEM youth movement and youth from IMPJ's Mechina pre-army program , who were an integral part of this conference. These youngsters were active and lively participants, with some of them even leading sessions." (click
here
to read separate report on Netzer seminar at the conference).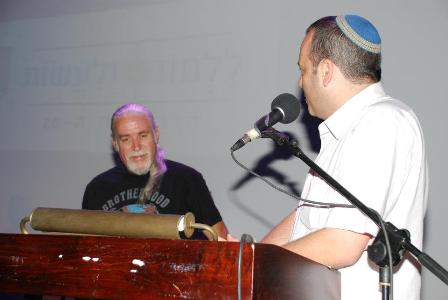 Shlomo Gronich and Rabbi Gilad Kariv


Among the special guests and speakers were Knesset Members Shlomo Mula, Shelly Yachimovich, and Zahava Galon, journalist and politician Yair Lapid, and many more.
Anat Hoffman, executive director of IRAC, says that "Rabbi Miri Gold's case was a particular source of joy for every participant. It was great seeing how appreciative our peers in the movement were at all the hard work IRAC had put in over the last seven years working for this day. The feeling of pride filled the air. The conference was full of dynamic speakers full of praise for both IRAC and the issues we work on everyday."
Rabbi Meir Azari and Yair Lapid
While the Israel Movement has achieved many significant milestones over the years, there is still much to be done in strengthening Israeli society as a pluralist and open environment drawing from the past and looking forward to a democratic and progressive future.