Rabbi Steve Burnstein welcomed by WUPJ as new Saltz Director
The Anita Saltz International Education Center of the WUPJ looks forward to a new and exciting phase in its growth and development as Rabbi Burnstein takes up his post as the new Director.
Rabbi Burnstein has more than 25 years in Jewish education in both the US and Israel. After making aliyah in 1996, he served until 2003 as the Associate Director of the "Pinat Shorashim" Israel-Diaspora Seminar Center exploring the role of Israel in Jewish life. For the past five years he has been Director of Education and Marketing at "IsraelExperts" where he helped people explore the centrality of Israel in Jewish Life through seminars, tours and educational materials. He is a member of Kehilat Birkat Shalom in Kibbutz Gezer, led by Rabbi Miri Gold and also serves as assistant Rabbi and cantor for the community. All of this makes him the ideal person for this position.

Rabbi Burnstein joins Saltz at a busy time in its calendar with upcoming activities in 2012 such as a celebratory 10th anniversary seminar of the Beutel Leadership Seminar (12-22 January), the Bergman Educators Seminar in the summer, various communal and international groups, and international seminars in Europe, Latin America and elsewhere. A priority will be to further develop the distance-learning programs and other virtual services, as well as ensuring that the Saltz brand is promoted as widely as possible.

To that end, Steve will be joining the WUPJ delegation to the upcoming URJ Biennial in Washington.

Burnstein sees opportunities to engage with Diaspora communities to help develop "Israel Engaged Communities". "As part of the WUPJ, the Saltz Educational Center has the potential to impact progressive communities around the world in a meaningful way. By offering tailor-made programs and resources, communities around the world could find a 'one stop shop' in Israel for cross-generational educational initiatives. I'm excited at the opportunity to strengthen connections between our communities and deepen our Jewish knowledge".

Shai Pinto, WUPJ VP and COO, adds "Rabbi Burnstein brings with him a unique blend of educational, business and spiritual skills, which will help us develop the Saltz Center and the service it offers our global constituents. The WUPJ sees its educational work as a core strategic area, using Israel and our center in Jerusalem as a key component in offering high quality educational programs which provide a global forum for Reform Jews to engage in serious, quality Jewish study in Israel."

For more details on upcoming Saltz activities visit our website. You can contact Rabbi Burnstein at saltz@wupj.org.il.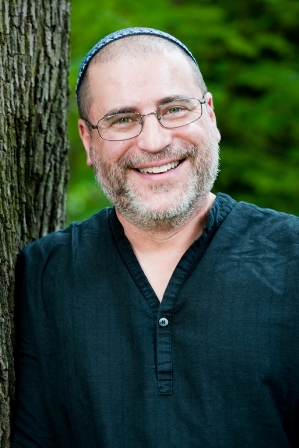 SALTZ Director, Rabbi Steve Burnstein



Back to In This Issue