Unprecedented Tishrei turnout at Reform services in Israel
A record number of Israelis attended High Holyday and Sukkot services at Reform congregations, as more and more Israelis actively seek a non-Orthodox alternative in which they can express their Jewish identities and desire to have Jewish traditions as part of their lives.
According to Anna Kislanski, Director of the Israel Movement for Progressive Judaism (IMPJ)'s Congregation Department, approximately 50,000 people attended a Reform High Holyday service. "We obviously do not and cannot conduct a census of attendees, but from the overall picture we estimate that around 50,000 people took part in at least one Reform service during the month of Tishrei".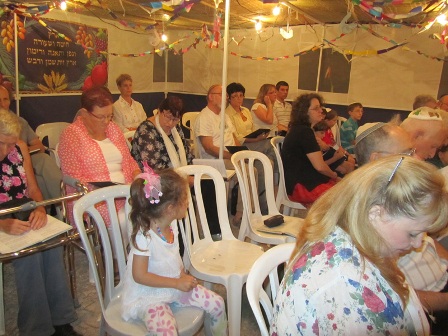 Sukkah at Ma'aleh Tivon

The vast majority of people attending Reform services during the hagim participated in services held at one of the movement's established congregations. These include relatively large and mature communities such as Beit Daniel in Tel Aviv, Kol Haneshama and Harel in Jerusalem, and Ohel Avraham and Or Hadash in Haifa. In addition there was an unprecedented attendance at many of the movement's younger and rapidly growing congregations, such as YAZMA in Modi'in and Bat Ayin in Rosh Ha'ayin.

Over a thousand people attended services that took place in either new (less than 24 months old) congregations, or at ad hoc minyanim organized for the hagim by the movement in response to requests by the local population in towns and kibbutzim where there is no active Reform congregation.

In the north of the country, ad hoc minyanim took place in Rosh Pina, Kibbutz Gesher Haziv and Kibbutz Megiddo. In addition neighborhood minyanim were organized in south Netanya (Poleg) and the north Tel Aviv neighborhoods of Tzahala and Maoz Aviv/Neot Afeka, to enable residents of these areas, which are not within walking distance of the Reform congregations in those cities (In Israel one does not drive on Yom Kippur).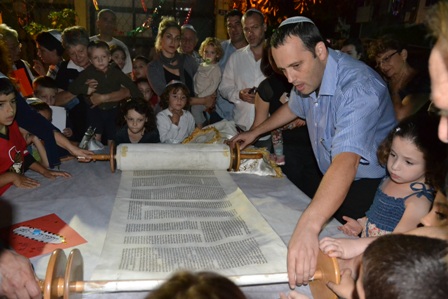 IMPJ Executive Director Rabbi Gilad Kariv conducting Simhat Torah
services at the new Holon congregation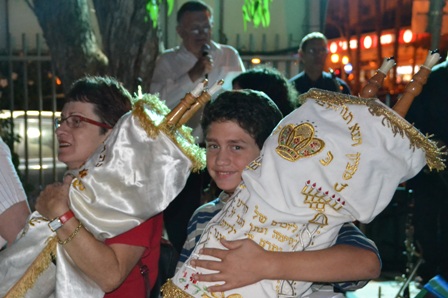 Cantor Freddie Peer leading Hakafot in Holon