Rabbi Fuchs pays official visit to Germany
Newly elected WUPJ President Rabbi Stephen Lewis Fuchs and his delegation arrived in Germany on September 26th, on a two day official visit to Germany. He was accompanied by Michael Grabiner (WUPJ Chair), Rabbi Prof. Dr. Walter Homolka (WUPJ Executive Board member), and Leslie Bergman (EUPJ President). In addition, SAUPJ President Steve Lurie attended the Abraham Geiger Award event.
He met with several senior Federal Government officials including Interior Minister Dr. Hans-Peter Friedrich, Education Minister, Prof. Annette Schavan and Werner Hoyer, Deputy Minister of the Foreign Office.

He also conferred with two State Premiers, Horst Seehofer of Bavaria and Matthias Platzeck of Brandenburg. During some of these visits he was accompanied by Stephan J. Kramer, Secretary General of the Central Council of Jews in Germany.

Before his departure he attended an official military memorial ceremony in honor of the anti-Nazi German resistance martyrs, and laid a wreath to honor those brave Germans who paid the ultimate price for actively resisting the Nazi regime. He was accompanied by Parliamentary state secretary Christian Schmidt.



Rabbi Fuchs laying wreath honoring German anti-Nazi resistance martyrs

Speaking in public in German for the first time ever, he said, "Standing at this place, speaking for the first time on German soil as President of the WUPJ fills my heart to overflowing. My father, Leo Fuchs, of blessed memory, was arrested on Kristallnacht, but he was fortunate, after only a short time in a concentration camp, to be redeemed by relatives in the United States, to where he emigrated immediately upon his release from Dachau, married an American woman, and raised a family. He never spoke German at home".

At the end of the two day official visit Rabbi Fuchs remained in Germany to officiate the High Holiday services. He led

Rosh Hashana

services in Cologne, and will lead the

Yom Kippur

services at the Liberal Jewish Congregation of Hannover. He also paid a private visit to Leipzig, where his family originates. At the end of his German visit, Rabbi Fuchs will be travelling to Kiev.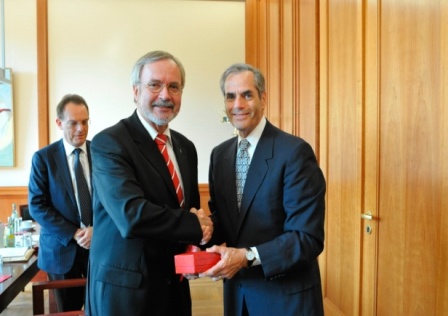 Rabbi Fuchs and Werner Hoyer, Deputy Minister of the German Foreign Office; Mike Grabiner, WUPJ Chair, in the background