World Union welcomes new president
The first six months of Rabbi Stephen Fuchs tenure as president of the World Union for Progressive Judaism (WUPJ), which officially begins on 5 July, promise to see him criss-crossing the globe as he visits many of our regions to enable him to make the connections that are the building blocks of our work.
Rabbi Fuchs will, of course, be spending time with the World Union's chief operating officer, Shai Pinto, and the entire WUPJ team at the hub of our organization – Beit Shmuel/Mercaz Shimshon in Jerusalem - as well as setting up his new home in the city, where he and his wife, Vicky, will spend several months of the year. He will also use this time to get to know the communities and institutions of the Israel Movement for Progressive Judaism (IMPJ). In North America (NA), he will spend time with Rabbi Gary Bretton-Granatoor, VP of Philanthropy, the staff in the New York office, affiliate partners and the NA leadership in general.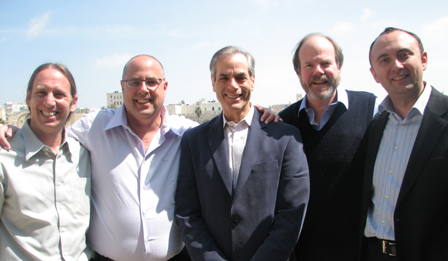 Rabbi Stephen Fuchs, WUPJ President (center), poses at the Jerusalem headquarters in April 2011 with (L-R) Shai Pinto, VP and COO; Danny Jaffe, CFO; Rabbi Joel Oseran, VP, International Development; and Alex Kagan, FSU Director

Between July and December, Rabbi Fuchs will travel to three of the World Union's other regions - the FSU region, the European Union for Progressive Judaism (EUPJ) and WUPJ Latin America.

Together with WUPJ chair, Mike Grabiner, Rabbi Fuchs will represent the World Union on an official state visit to Germany with the leadership of the EUPJ. During this trip, he will attend the Abraham Geiger Awards ceremony for South Africa's Premier of the Western Cape, Helen Zille at the College in September.

As Rabbi Fuchs attaches special significance to the communities, he will join with leaders in Cologne and Hannover in leading High Holy Day services, and will spend Sukkot with World Union communities in Ukraine. In November, he will pay a visit to Latin America, starting with Buenos Aires in Argentina, and will continue to the various other communities in Brazil with Grabiner and other WUPJ lay leaders.

Rabbi Fuchs' first six months as the World Union's president will end with his formal installation which will take place at the Union for Reform Judaism (URJ) Biennial in December in Washington D.C. This historic event will take place during the World Union Special Luncheon on Thursday 15 December, 2011. This event will be special for a second reason as the World Union will honor Rabbi Eric Yoffie with the Micah Award in recognition of his years of service to the URJ. Yoffie will officially retire in December.

Future plans will include speaking engagements at the regional conferences in 2012.

Rabbi Fuchs can be reached through the World Union's Jerusalem office, or via email on president@wupj.org.il.


Back to In This Issue



MESSAGE FROM RABBI STEPHEN FUCHS

As I begin my tenure as WUPJ president, I remind myself constantly of the wise words of Rabbi Tarfon in Pirke Avot (2:21): ìà òìéê äîìàëä ìâîø åìà àúä áï-çåøéï ìäáèì îîðä: "It is not incumbent upon you to complete the task, but neither are you free to abstain from it."

To me, that means that we may not achieve every goal we set for ourselves, but we must never stop trying. Why must we be so unflagging in our efforts? Because not only does the quality of Jewish life depend on our success, but the quality of life in the world at large as well.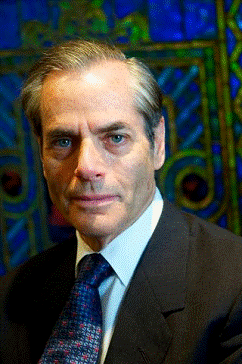 As I take up the sacred task entrusted to me, I join a great team of skilled, knowledgeable and passionate professional and lay leadership in Jerusalem, New York and around the world. Together, we shall work tirelessly to promote the values of Progressive and Reform Judaism – the values of righteousness, justice, caring, compassion and greater Jewish knowledge - in every community that we serve.

Six months from now, after visiting several of our regions, I hope to have a better grasp of their specific hopes and dreams and how the WUPJ can help meet them. I look forward to listening to, and learning from, many of you on my journeys.

Rabbi Stephen Fuchs
President, WUPJ


Back to In This Issue