The easiest way to contribute to the World Union for Progressive Judaism is by making a general, undesignated donation by check or credit card. Gifts that are undesignated enable the World Union to respond to the most critical needs of our Progressive communities as they arise. If you prefer, you may designate your gift for a specific community, congregation or program. Gifts of cash or credit card are deductible for federal income tax purposes in the United States to the full extent of the law.
To make a donation in honor/memory of a loved one, please use the comment box in the donation form to add details.
The World Union for Progressive Judaism welcomes support and contributions from around the world.
For more information on how to donate in North America, please contact our North American office at:
The World Union for Progressive Judaism
633 Third Ave, 7th floor
New York, NY 10017-6778
Phone: 1-212-452-6530
Fax: 1-212-452-6585
E-mail: wupj@wupj.org

Contributions from Canada are payable to:
Canadian Friends of the WUPJ
3845 Bathurst Street, Suite 301
Toronto, ON M3H 3N2
Phone: 1-416-630-0375 ext 299
For online contributions click here

The World Union for Progressive Judaism welcomes support and contributions from around the world. For those who live in Europe, Latin America, South Africa, Australasia, the FSU and the Far East, contributions by credit card can be made by clicking the Donate Now button. For those wishing to send a bank draft or cheque, here is a list of WUPJ Regional offices which will accept your kind donation:
Union for Progressive Judaism in Australia, Asia and New Zealand (UPJ)
POB 347
Balaclava, Vic, Australia 3183
Tel: +612 9328 7644
Fax: +612 9327 8715
www.upj.org.au
upj@upj.org.au
European Union for Progressive Judaism (EUPJ)
Sternberg Centre
80 East End Rd., London N3 2SY, UK
Tel: +44 (0) 20 8349 5651
Fax: +44 (0) 20 8349 5699
www.eupj.org
administrator@eupj.org
Former Soviet Union (FSU)
at WUPJ
6 Shama Street
Jerusalem 94101
Tel: +972-2-6203504
Fax: 927-2-6203525
debbie@wupj.org.il
Latin America and the Caribbean (WUPJ-LA)
Rua Alagoas, 186
01242-000 Sao Paulo, Brazil
Tel: +(55 11) 3206 1160
Fax: +(55 11)3206 1151
www.wupj-latinamerica.org
contato@wupj-latinamerica.org
Union of Jewish Congregations in Latin America and the Caribbean (UJCL)
POB 655
Oranjestad, Aruba, Dutch Caribbean
Tel: +297-82-32-68
Fax: +297-82-82-31
www.ujcl.org
communications_department@hotmail.com
Thank you very much for your interest in the World Union for Progressive Judaism and for encouraging our efforts to ensure the future of Reform, Progressive, Liberal and Reconstructionist Jewish communities and congregations throughout the world.
To transfer contributions of stock to the World Union for Progressive Judaism, please:
Contact our brokers:
UBS Financial Services, Inc.
Attn: Nicole Lyons, Sr Client Associate
Tel: 800-621-0684
Tell Nicole to transfer your stocks to the World Union for Progressive Judaism through:
Account name: World Union for Progressive Judaism
Account #: 5G-70437-58
DTC #: 0221
Give your name to Nicole so that she may inform us of the name of the donor – your name – when UBS Financial advises us of the stock transfer.
Email or call Ann Fields, World Union Assistant Controller, with information on the stock name, number of shares, and the date you or your broker contacted UBS, so we may track the contribution. WUPJ does not consistently receive donors' names from the brokerage, so contacting us is vital.
Ann's Tel: 212-452-6529
Ann's e-mail: afields@wupj.org
Thank you again for your support of the World Union for Progressive Judaism and our vital mission.
Planned gifts, which include bequests, trusts, gifts of life insurance and annuities, may carry many tax advantages.
The easiest planned gift is a simple bequest or living trust. Each helps to ensure that, in years to come, the World Union for Progressive Judaism will be able to continue its vital mission of supporting modern, pluralistic congregations and institutions, developing Jewish communal and youth leadership and advancing social justice.
Other options include making a specific bequest to the World Union of cash, securities or other property; bequeathing the World Union all or a portion of your residuary estate or making the World Union a contingent beneficiary or a remainder beneficiary. We encourage you to speak with your family and financial advisor about your plans.
The following is sample bequest language that you may wish to use:
A general bequest:
"I give (________ dollars), (a specific asset) or (______ percent of the rest, residue, and remainder of my estate) to the World Union for Progressive Judaism (WUPJ) for its general purposes."
A bequest for a designated purpose:
"I give (_______ dollars) (a specific asset) or (_____ percent of the rest, residue, and remainder of my estate) to the World Union for Progressive Judaism (WUPJ) to be used for the following purpose: (for example: International Reform youth activities, Progressive Judaism in Israel or the former Soviet Union, leadership development)."
As with most organizations, the World Union's activities may change over the years, and we must be able to respond to the emerging needs of our Progressive movement communities and congregations. To ensure that your bequest may be used most effectively, we encourage you to include the following language in your will:
"If at any time in the judgment of the World Union for Progressive Judaism it is impossible or impractical to carry out exactly the designated purpose, the World Union shall determine an alternative purpose as near as possible to the designated purpose."
For further information about ways of contributing to the World Union for Progressive Judaism, contact our development office in New York at 212-452-6530 or e-mail us at wupj@wupj.org
This policy statement is intended to set forth the principles applied by the World Union in utilizing funds received from donors.
Contributions made to the World Union which do not specify a particular program or purpose (e.g., a contribution made generally to the World Union) may be used by the World Union for any purpose consistent with its mission.

Subject to paragraph 5 below, contributions earmarked by a donor for a specific program of the World Union may only be used for that program and for no other purpose.

Subject to paragraph 5 below, contributions earmarked by a donor for a specific purpose of the World Union (e.g., for the former Soviet Union, for Israel) but which do not designate a specific program may be used by the World Union only for the specific purpose identified by the donor (e.g., a donation designated for use in the former Soviet Union may be used only to support the programs of the World Union in the former Soviet Union), although the World Union may apply its own judgment in determining how the funds should be expended.

The World Union prepares and the Executive Committee approves an annual budget of anticipated revenues and expenses; however the flow of actual cash receipts are uneven and based on donor considerations or the occurrence of specific fund raising events. As a result, the World Union operates at a cash deficit for certain months of the year but on a cash flow positive basis for other months. In order to better manage its cash flows, the World Union applies the following policies:

a. The Management Committee monitors monthly the cash receipts against the anticipated revenue for the month and the year to date period. If revenues are below budgeted amounts, the committee undertakes a review of all expenses which require cash to determine which expenses that can be reduced or eliminated in order to reduce the projected cash flow deficit

b. The World Union may engage in short term borrowing designed to provide cash to cover short-term cash short falls as contained in cash flow projections approved by the Management Committee. Any such borrowing shall be subject to the following guidelines:

(i) On a fiscal year basis, such borrowing shall be permitted for budgeted monthly cash short falls in order to meet prospective obligations.

(ii) Any such borrowing shall be accompanied by a plan for the prompt repayment of the obligation within that fiscal year. It is intended that the World Union apply all designated funds towards their designation within the fiscal year that they were intended for, and not maintain outstanding debt balance arising from borrowings permitted by subparagraph (i).

(iii) During the period that any such borrowing obligation is outstanding, the World Union shall not undertake new programs from undesignated funds or hire additional staff without due consideration being given to the repayment of such borrowing obligation.

(iv) Borrowings permitted by subparagraph (i) may need to be collateralized by assets of the World Union if commercial in nature.. Any such agreement shall provide for the prompt release of such collateral by the lender upon repayment of the obligation.

If approved in advance by the Management Committee, the World Union may use any cash on hand to pay pending bills where such payment is required to fund existing commitments of the World Union and if such payment is necessary to avoid serious adverse consequences to programs. Any approval of the foregoing use of such cash by the Management Committee shall include a plan for the replenishment or repayment of such cash.

The foregoing financial policies of the World Union shall be disclosed to donors and prospective donors in appropriate publications of the World Union.
OPPORTUNITIES FOR GIVING
BECAUSE OF THE WORLD UNION AND BECAUSE OF YOUR SUPPORT…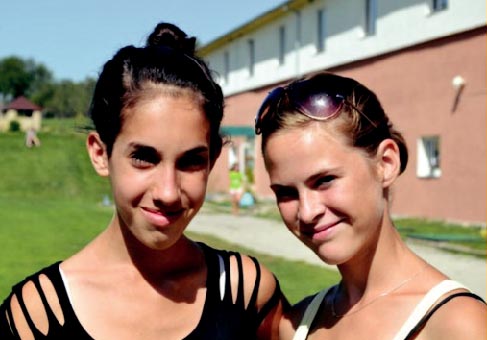 Daria and Ksenia are building a Jewish community in Gomel in the Former Soviet Union.
Letter from Daria Volkova and Ksenia Lyko, whose families are members of the Feodosia "Or Sameach" congregation
We don't want to go home!
What an amazing unforgettable week at Netzer—workshops, tiyulim, Israeli folk dancing, games, competitions and Jewish study, all in one camp!
On the last day, we all cried (even the boys!) because we didn't want to say goodbye. We went home with wonderful memories and want to thank everyone who helped make this camp possible from the bottom of our hearts.
We want to go back to camp!
Thanks to young people such as Daria and Ksenia, the remnants of the Jewish community are connecting with their heritage. Not only did Gomel have a seder, the community paid for it itself.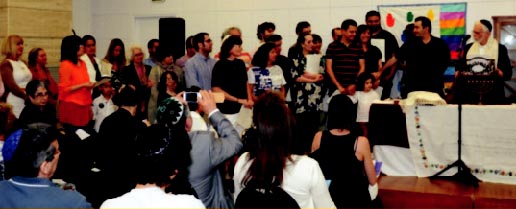 … the Spanish Jewish community is recalled to life. Within the past five years an increasing number of Spaniards
brought up as Catholics, have discovered that they have Jewish roots— descendants of Christian conversos [Bnei Anussim]. Many were told by their mothers or grandmothers that they had Jewish ancestors who practiced Jewish traditions such as lighting candles on Friday evening, abstaining from eating pork, fasting on Yom Kippur. They approached the European Union for Progressive Judaism communities located in Barcelona, Madrid, Alicante, Asturias, La Coruna, Cordoba, wishing to have their Jewish status affirmed. Following several years study with rabbis and teachers they underwent conversion at the European Bet Din (rabbinic court). Over 50 individuals were converted at the European Bet Din in Barcelona in 2011 and 2012 and many more conversions are planned for 2013 and 2014. Because of the work of the World Union, Progressive Jewish life is stirring in the Iberian Peninsula.
BECAUSE OF THE WORLD UNION AND BECAUSE OF YOUR SUPPORT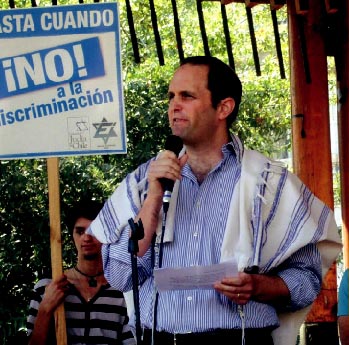 …The Jewish community in Chile is thriving. One of the newest Progressive Jewish communities in Latin America is Ruaj Ami congregation in Santiago, Chile. Over the past few years Ruaj Ami has grown to nearly 100 family units with over 600 worshippers expected for the upcoming High Holiday services. Ruaj Ami's tremendous success derives from the spiritual leadership of Rabbi Haim Koritzinsky who brings a warmth and sense of community which attracts new members, many with young children. Ruaj Ami is unique as it is the only egalitarian congregation in Santiago—a community of over 15,000 Jews. Ruaj Ami is poised to become a leading Jewish community in Chile. You and every member of the World Union family are invited to visit whenever they are in Chile.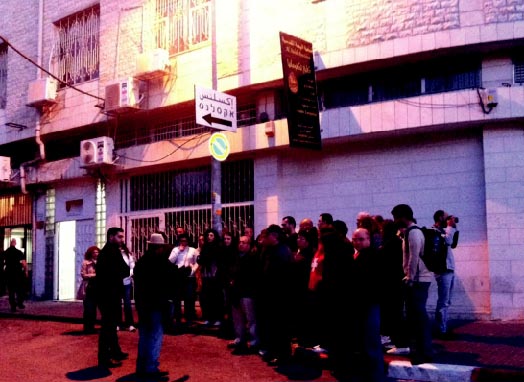 … in Jerusalem, the home of the WUPJ's World Headquarters, we reached out to thousands of Israeli families from all walks of life. They participate in educational programs and reconnect with Jerusalem's history and traditions which are a vital part of their cultural heritage, through a broad range of topics related to Judaism, Jerusalem, equality, pluralism and co-existence. While Jerusalem is culturally diverse, there have been tensions that continue to plague the land of our heritage. Through walking tours, experiential workshops, dynamic classes and cultural exchange programs, the WUPJ actively works for tolerance and understanding for all Israelis.
Your contribution goes directly to support these and other programs, congregation and leadership development, our growing youth movement and the Jewish values of pluralism, equality and social justice.